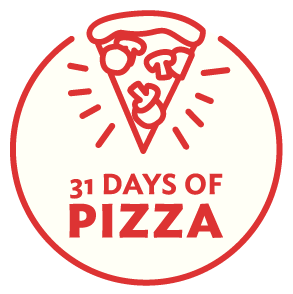 This seasonal vegan pie (shown above) uses abundant fall produce: squash and kale. You can pile the toppings on a layer of fresh tomato sauce and a homemade, gluten-free crust crust, and drizzle homemade cashew sauce on top.
Potato Kugel Pizza via Kveller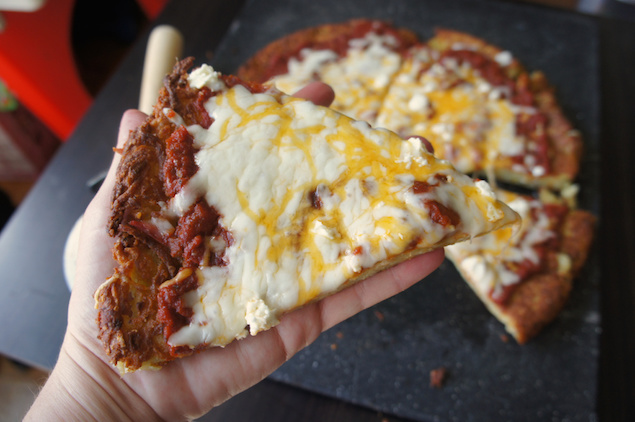 This recipe is usually reserved for Passover, but we couldn't resist the idea of crispy potatoes as a pizza crust, topped with mozzarella, cheddar, and goat cheeses.
Purple Potato and Romanesco Vegan Pizza via Steph in Thyme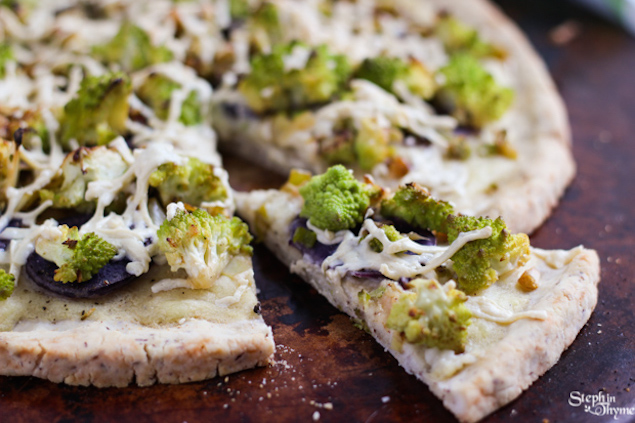 Purple potatoes and romanesco cauliflower might seem like daunting ingredients at the farmer's market, but this vegan pie is simple to prepare. The earthy vegetables combine with vegan mozzarella cheese and béchamel sauce for a dish that's pure comfort food (we could see adding real cheese and cream for a more decadent version). This recipe calls for Betty Crocker's gluten-free pizza crust, you can also use any gluten-free crust recipe you like.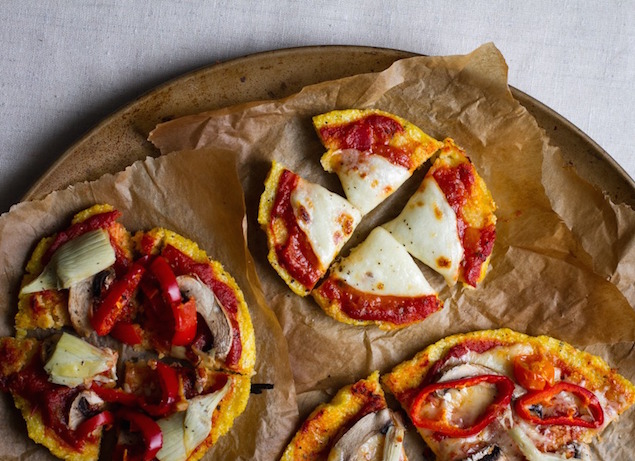 This isn't your traditional pizza crust, but it's fun to make, filling, and particularly great for anyone who likes corn meal crusts. It's also a good way to make use of leftover polenta; you could also save time by cooking the polenta in advance, and letting it set. When you're ready for pizza, all you need to do is add toppings and wait 25 minutes for it to get golden brown and melty.
Breakfast Pizza with Gluten-Free Cauliflower Crust via Cooking Stoned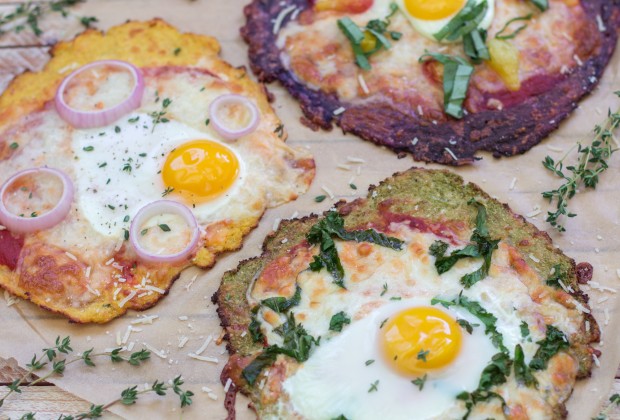 We're all about breakfast pizza, especially when it's somewhat healthy. If you stick to veggies and eggs for these trippy-looking pies, you can forget about the fact that you just ate pizza for breakfast.
The Ultimate Quinoa Pizza Crust via Simply Quinoa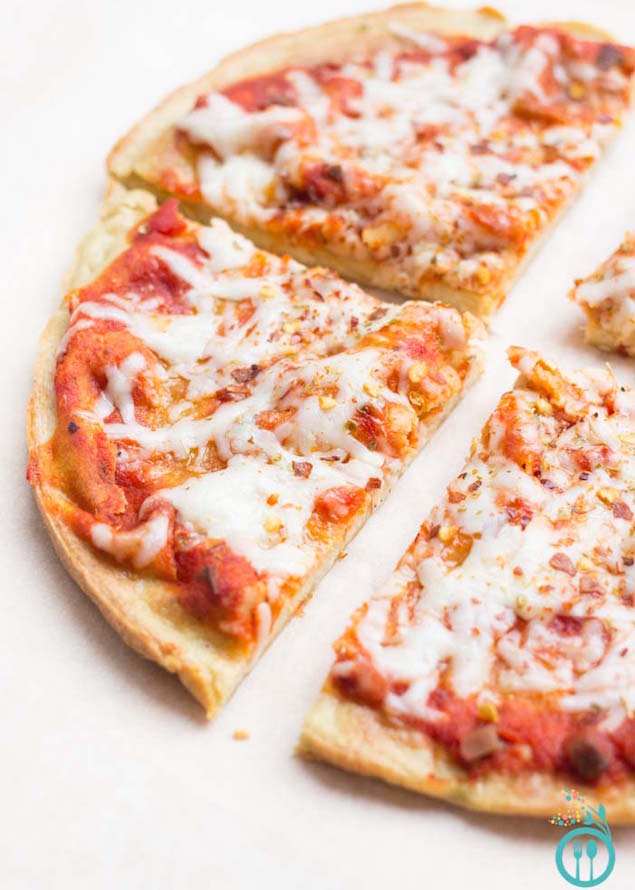 This quinoa-based pizza crust has only five ingredients, which can be easily blended together in a food processor. The recipe uses plain tomato sauce and goat cheese as toppings, but you can get creative and add whatever you want.
Zucchini Pizza Crust with Chipotle BBQ Bacon and Grilled Corn via Closet Cooking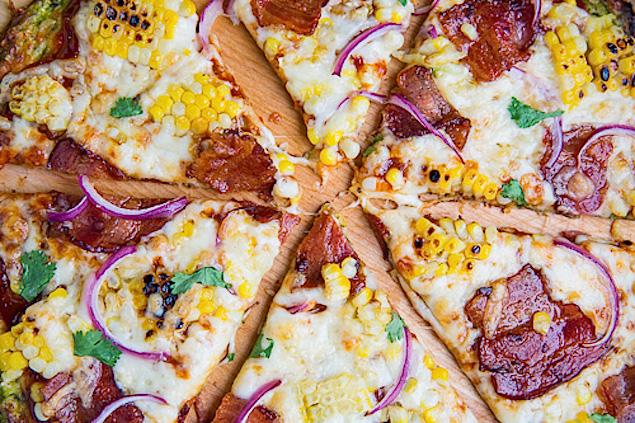 This loaded zucchini pizza takes about 25 minutes to cook, has only 348 calories per serving, and includes bacon—the ultimate win-win situation.
Sweet Potato Pizza Crust via Blissful Basil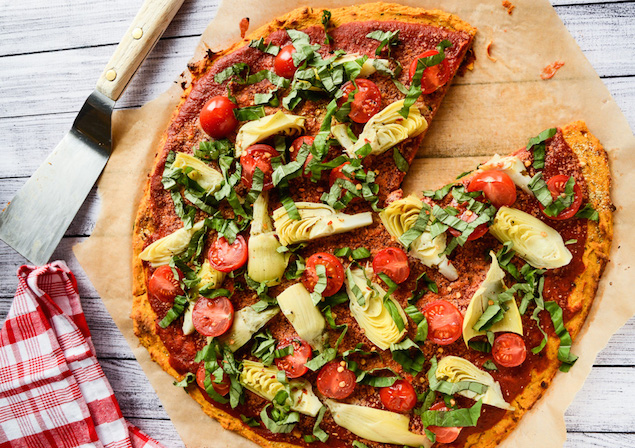 The best part of this sweet potato crust: no need to drain or squeeze out any excess liquid from your veggies, as the starch is very absorbant. This recipe uses artichokes and tomatoes as toppings, but we suggest trying a mix of barbecued chicken, kale, red onions, and smoky gouda, which pair well with the potato's natural sweetness.
Healthy No-Bake Chocolate Fruit Pizza via Super Healthy Kids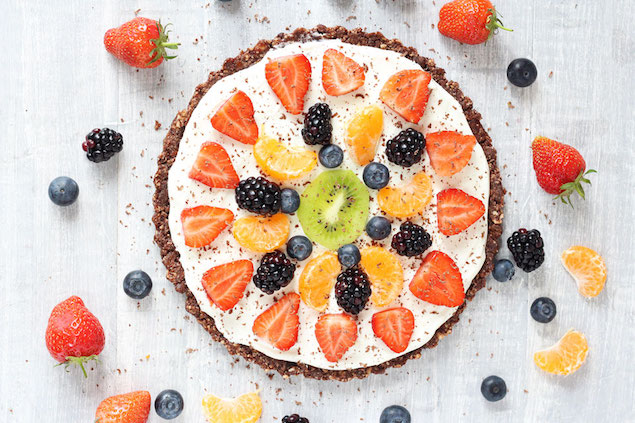 Not only is this dessert pie super easy to whip up, it's pretty good for you, too! The crust is made from almonds, dates, coconut oil, and cocoa powder, and the topping uses a little cream cheese and Greek yogurt for creaminess and protein. Decorate with your favorite fruits, and you're all set to indulge.
Chocolate Cookie Pizza with Salted Caramel Peanut Butter Frosting via Food Faith Fitness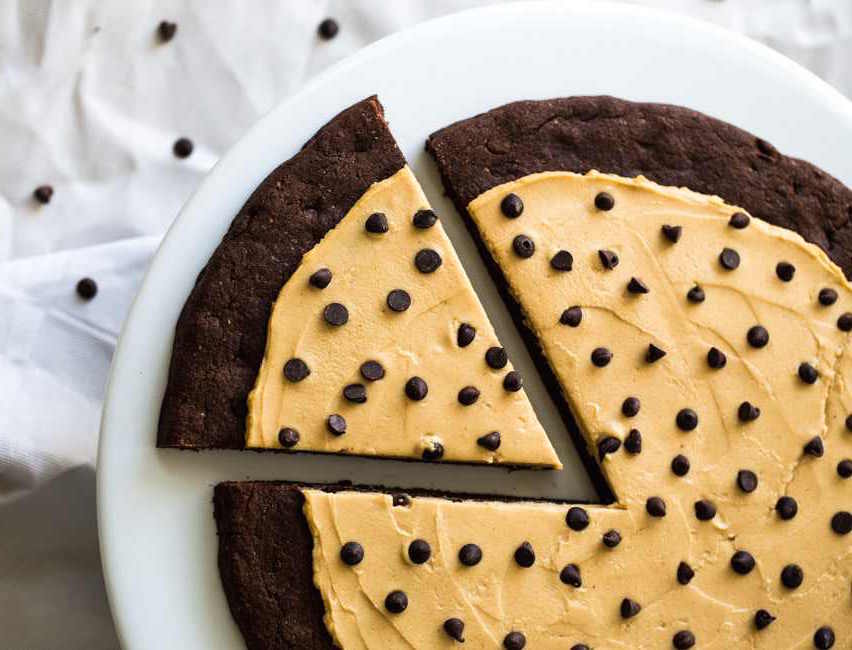 We know what you're thinking: There's no way something this decadent could be gluten free. Oh, but it is. This recipe uses oat flour, cocoa powder, peanut butter, and eggs for its chocolatey crust. For the topping, just mix together salted caramel peanut butter (yes, this exists) with Greek yogurt and chocolate chips.