Love them or hate them, pumpkin beers are abundant right now. So how can you find the best ones? For starters, most pumpkin beers have little to do with actual pumpkin. The gourd's flesh tastes so mild that the flavor doesn't hold up to the mashing, boiling, and hopping of the brewing process. Case in point: A brewery in Pittsburgh calls its pumpkin-style beer a "Nunkin Ale," and nixes pumpkin from the recipe altogether without changing the flavor.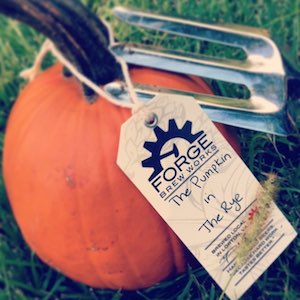 The distinctive pumpkin-y taste derives from pie spicing: cinnamon, clove, ginger, nutmeg, and allspice. Sure, if you don't like pumpkin pie, you won't like most pumpkin beers. There's an increasingly common notion that these additives ruin the beer, which is plain wrong. Ale brewed with spices is as old as, well, ale. Dogfish Head's Midas Touch, for instance, is based on a recipe from the eighth century BC that employs saffron as a principal ingredient.
Pumpkin beer, like all beer, is about execution. Does the brewer achieve those classic fall flavors without going overboard on sweetness? Is the mouthfeel silky and lively, or dull and watery? Does the base beer taste lightly toasted and crisp beneath the layers of spice?
Pumpkin-haters have the numbers on their side: there are plenty of awful pumpkin beers out there — saccharine, one-note concoctions like those from Buffalo Bill's and Southampton breweries. Rather than dwell on the bad, though, let's focus on the five pumpkin beers you shouldn't miss this season.
Southern Tier Pumking
This is probably the most widely available of the tasty pumpkin ales. The 2015 batch might skew a tad sweeter than past iterations, but it still stands out from the rest. The additional prominence of vanilla on the palate evokes pie crust. One cautionary note: if a bartender tries to dip the rim of your glass in cinnamon before pouring this beer, please object.
Forge Pumpkin in the Rye
An interesting and well-executed local option from Virignia, Forge's stylistic mashup combines pumpkin ale with a rye-driven Roggenbier. Adding rye brings an entirely different type of flavor to the beer–think pumpernickel–which plays nicely off the other spices. The rye also lends a heavier mouthfeel that mellows the signature sweetness of pumpkin beers.
Shipyard Smashed Pumpkin
Smashed Pumpkin hits the spices a little harder than some, but it doesn't overwhelm. This beer, not to be confused with Shipyard's Pumpkinhead—its lesser-quality sibling—has balanced spicing and a subtle sweetness that marries nicely with the belly-warming booziness. Keep an eye out for bottles of the version aged in bourbon barrels.
Hardywood Farmhouse Pumpkin
This farmhouse-style beer from Richmond hits all of the usual pumpkin spice flavors, but holds them in balance with the characteristics of a classic Belgian saison — yeastiness, candied sugar, and a touch of barnyard earthiness that, in this case, might even hint at the actual pumpkin used in the brewing process.

Jolly Pumpkin La Parcela
When "pumpkin" is in the name of your brewery, you better know how to make a pretty awesome gourd-based drink. With all its beers, Jolly Pumpkin thrives on funky, sour flavors in the manner of the best Flemish breweries. Things are no different with La Parcela, which emphasizes oaky, tart tastes and dry hints of cocoa. This is the one pumpkin beer for the pumpkin pie averse.