This week has been a big one for food world celebrities visitng DC. Guy Fieri kicked things off last Friday while in town taping Diners, Drive-Ins and Dives, followed by Alton Brown, Jacques Pépin, Ruth Reichl, and more. Just like us, they were eager to document their favorite meals on social media.
Alton Brown
The Smithsonian's Food History Gala on Thursday night brought a number of celebrity chefs to town, including Marcus Samuelsson and Jacques Pépin, who was honored with the first-ever Julia Child Award. Iron Chef's Alton Brown kicked off the festivities early, enthusing over pastas at Red Hen. Good call on that sausage rigatoni.
Want a "capitol" suggestion? Double down at the excellent @RedHenDC pic.twitter.com/ZX3VdQO2pS

— Alton Brown (@altonbrown) October 22, 2015
Jacques Pépin
The legendary French chef celebrated his Julia Child Award at the National Museum of American History on Thursday with a feast prepared by another great: Daniel Boulud. The DBGB chef was inspired by Julia and Jacques for the meal, featuring classic dishes such as Julia's French potato salad and Provencal fish stew. Pépin illustrated the menu, which was donated to the Smithsonian.
Guy Fieri
Flavortown in DC! The Food Network star parked his red Camaro outside one of our favorite sandwich shops: Bub and Pop's. Chef Jon Taub is keeping mum on what he served—the visit involved filming for Diners, Drive-Ins, and Dives—but our bet is on the not-so-little "Lil Petey."

Guy also partied with fellow chef-lebrity José Andrés at Andrés's ambitious cocktail spot, Barmini. According to Fieri's Instagram account, the smoked anejo tequila cocktails and a foie gras waffle (a.k.a. the "foie-ffle") went over well.
Ruth Reichl
Former Gourmet editor Ruth Reichl was in town promoting her new cookbook, My Kitchen Year. We caught up with her over dinner at Buck's Fishing & Camping in Chevy Chase DC, where a cast of top female chefs prepared dishes inspired by recipes in her book.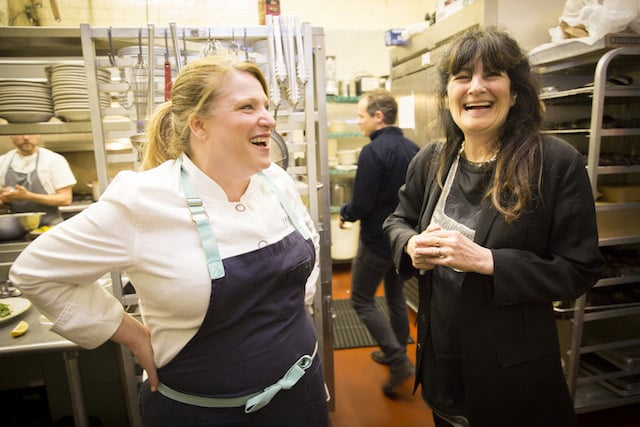 Reichl went on to sign books at the Dupont Circle FreshFarm market on Sunday, and made a quick stop at the new location of José Andrés's veggie-centric restaurant, Beefsteak. She loved the tomato burger (we couldn't agree more).
Beefsteak. A truly delicious vegan burger. DC. Jose Andres strikes again! pic.twitter.com/o6hFJwjj6O

— ruthreichl (@ruthreichl) October 18, 2015


Yotam Ottolenghi
Beefsteak got even more love from chef and James Beard Award-winning cookbook author Yotam Ottolenghi during a talk at Sixth & I. He admitted to only being in DC for 10 hours, but made a point to stop at José Andrés's eatery for a taste of the veggies.
Giada De Laurentiis, Michael Symon, Christina Tosi…
Look out, they're coming! Catch more food world celebs at MetroCookingDC this weekend.
Heading to one of my very fave cities this weekend for @MetroCookingDC… see you there DC!! https://t.co/8YGeM6iHf7 pic.twitter.com/ZaTk2inYsE

— Giada De Laurentiis (@GDeLaurentiis) October 20, 2015