Update: We dropped by the City Vista restaurant, which is pretty bare bones at the moment: no sign, a few tables and chairs, unadorned walls. Still who needs decorations when you can get a Hell Burger and a milkshake? Seven patty options are currently available—offered in double or single—including some of our favorites like the classic Mack and Big Punisher. Southern-style fried chicken sandwiches are also available as specials. Guests can currently pick between the "monster" with sweet barbecue sauce, or an equally humongous "angry" version with spicy green dressing. The restaurant Tweeted that they're open until 9 today, so go snag your own.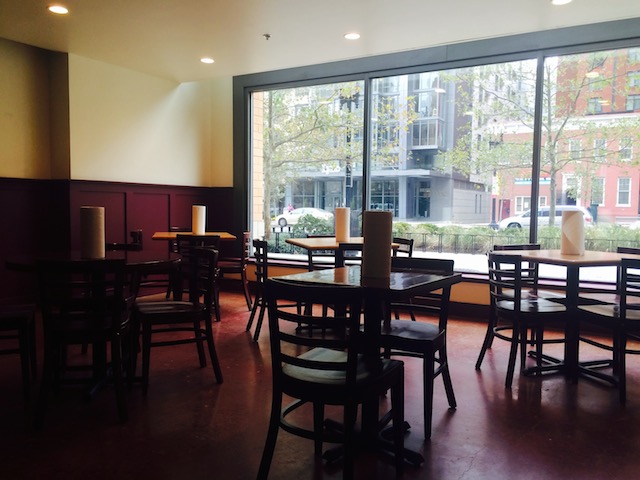 It looks like DC's first-ever Ray's Hell Burger is close to opening at 449 K Street, Northwest. The restaurant Tweeted yesterday evening that they were giving away freebies, though sorry burger fans—should the offer return, it looks like Southern-fried chicken sandwiches sold at the Arlington location.
Come put your hands around me and eat me all up til Im all gone.Absolutely free. 449 K Street 6-8 #rayshellburgertoo pic.twitter.com/O9WyBKirrH

— rayshellburger (@RaysHellBurger1) October 26, 2015
Hell Burger has gone through several changes since first opening in Arlington to raves, Presidential and otherwise. Owner Michael Landrum closed two locations after a landlord dispute, before transforming what was Ray's to Third across the street into a new Hell Burger. The Mount Vernon Triangle branch has been in the works for some time, though continuing complications with the landlord have delayed an opening.
We've reached out to Landrum for details, and will update as they become available.