With more than 12 million visitors a year, National Harbor draws almost three times as many tourists as Old Town Alexandria. But unlike its across-the-river neighbor, the 11/4-mile stretch along the Potomac in Prince George's County sat largely unoccupied just ten years ago.
Developer Milton Peterson bought the property for $5.6 million in 1996, turning what was once just a haven for fishermen into a multibillion-dollar, 350-acre complex geared toward tourists. The harbor is currently home to five hotels and one of the largest convention centers on the East Coast. Coming late next year is an MGM casino—a $1.3-billion project with a luxury hotel and spa.
Footraces, food festivals, and live performances have made National Harbor a place locals visit, too. During the holidays, one of the most popular events is "Ice!," an indoor spectacle hosted by the Gaylord National Resort & Convention Center (201 Waterfront St.; 301-965-4000). In addition to five ice slides and an ice-carving zone, this year's show features 2 million pounds of ice sculptures, spread out over seven rooms, that retell the TV classic Santa Claus Is Comin' to Town. Carvings depict all the main characters. Don't forget your coat: To keep all that ice from melting, the exhibit is kept at nine degrees. "Ice!" is open daily November 21 through January 3; tickets are $20 to $35.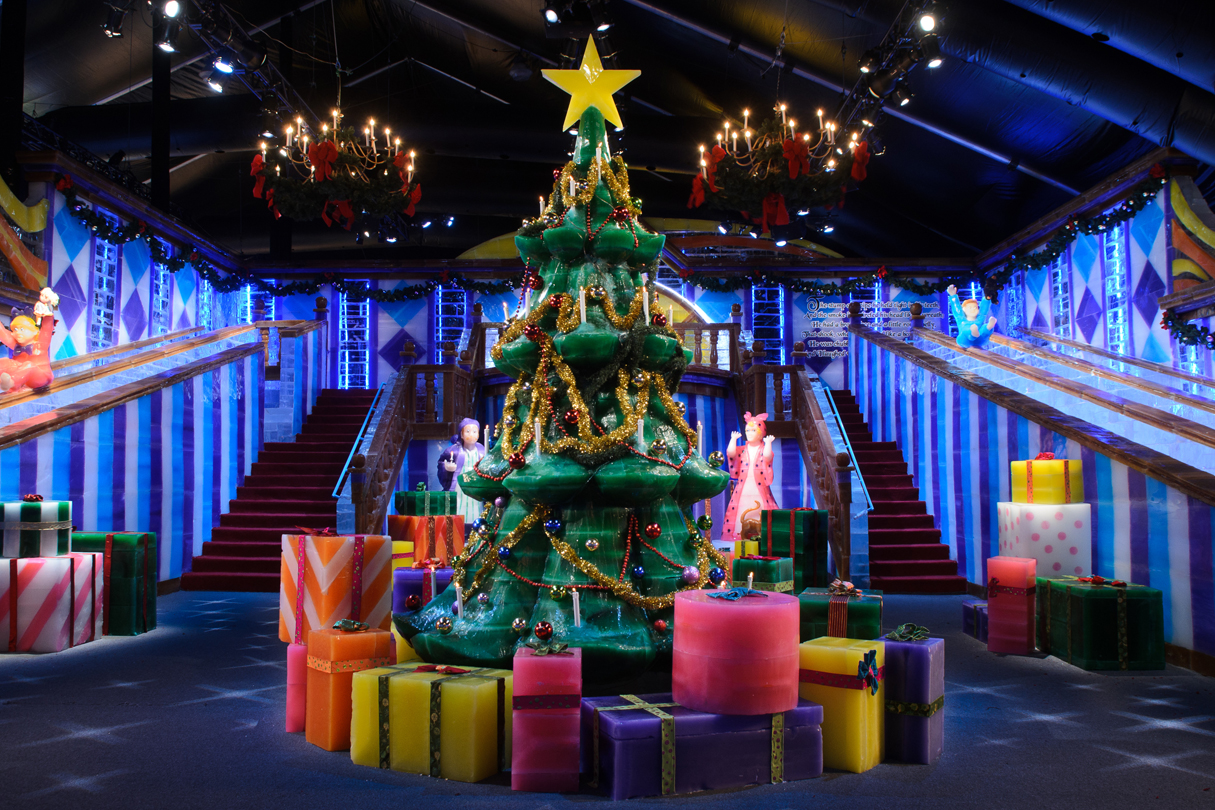 Other holiday activities happen during the harbor's annual tree-lighting ceremony, this year on November 14, when you can have your dog's picture taken with Santa at the Black Dog (141 Waterfront St.; 301-485-1786), watch a fireworks show over the Potomac, sing along with Victorian carolers, and make cards for US soldiers overseas.
If you'd like to explore the area in the morning, start with a coffee or toasted-marshmallow hot chocolate from the Harbor Cafe and Coffee (150 American Way; 301-686-1000) or breakfast at Granite City Food & Brewery (200 American Way; 240-493-3900), which serves such classics as eggs Benedict and a sausage biscuit sandwich. (If you're there later in the day, stop by Granite City for happy hour and one of its beers brewed in-house.)
Both eateries are on American Way, National Harbor's main street, with a pedestrian island running down the middle. If you have kids, Marbles: The Brain Store (131 American Way; 301-839-2579) is a smart stop. The toy store sells games, puzzles, and technology that purport to improve brain functions such as memory and visual perception.
A few doors down is Betty (181 American Way; 301-567-4271), an upscale consignment shop with secondhand accessories from designer brands like Gucci and Louis Vuitton. Follow the store on Instagram to see its latest finds.
A stone's throw away is Stonewall Kitchen (170 American Way; 301-749-6902). The store offers samples of the label's most popular dips and jams, and sells useful kitchen gadgets such as avocado slicers and wine savers. Try not to leave without tasting the wild Maine blueberry jam.
Hungry? Head to the waterfront for Crab Cake Cafe (140 National Plaza; 240-766-2063), where Maryland crab and crabcakes come in sandwiches, salads, and soups, or walk down the street for a beef or veggie patty at Elevation Burger (108 Waterfront Street; 301-567-9290).
For a post-lunch sugar fix, stop into Peeps & Company (150 National Plaza; 301-749-5791)—the harbor's marshmallow store is one of only three in the nation—or backtrack to American Way for old-fashioned treats such as a root-beer float from Goodies Frozen Custard & Soda Bar (kiosk on American Way; 202-630-6455).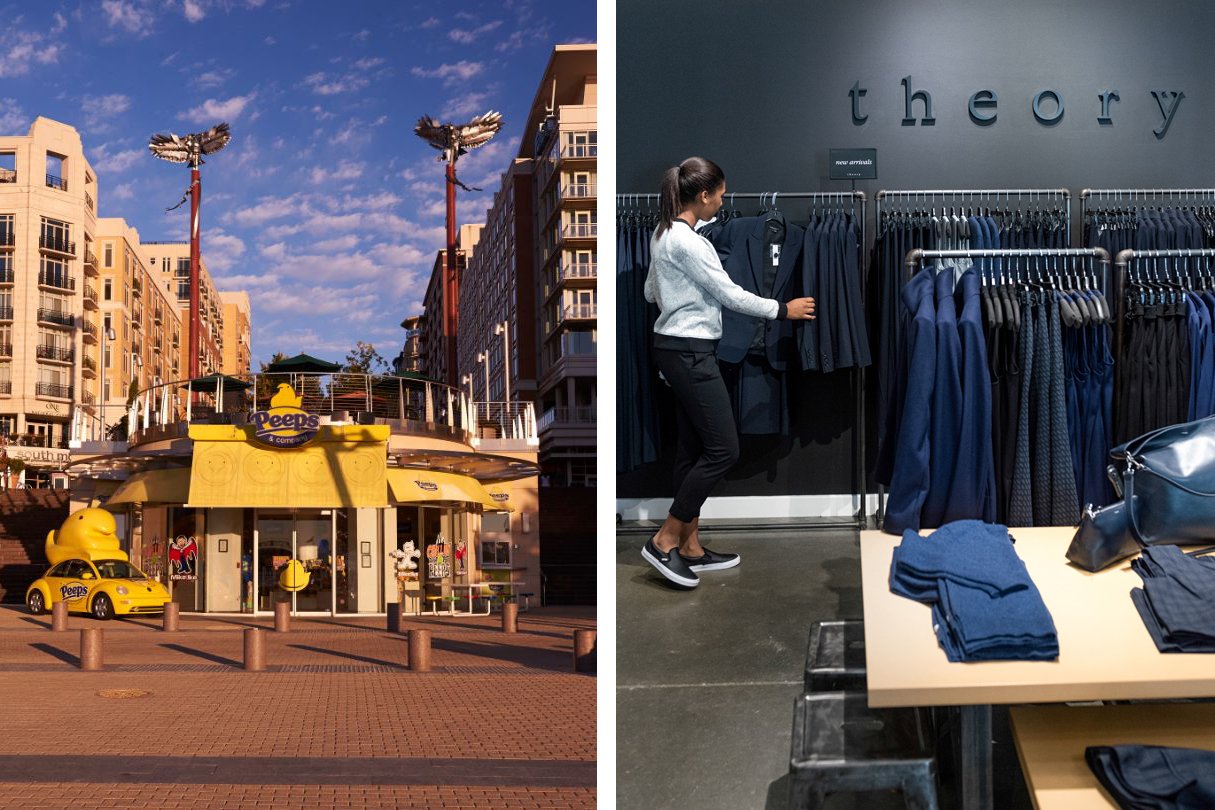 On a nice day, you can sit on a bench on the waterfront and admire the view. Or consider a ride on the Capital Wheel. Keep your eyes peeled for Arlington National Cemetery and the Mall off in the distance. The Ferris-wheel gondolas are fully enclosed and climate-controlled; general admission is $15 ($13.50 ages 3 through 11, $11.25 ages 60 and up).
Saturday afternoons from November 14 through December 19, you can catch a holiday movie outdoors on the plaza. Or get in the holiday spirit at nearby Tanger Outlets (6800 Oxon Hill Rd.; 301-567-3880) with discount shopping at the likes of Diane von Furstenberg and Theory. If a cruise floats your boat, take a ferry ride with Potomac Riverboat Company (145 National Plaza; 703-684-0580) to Old Town, the Mall, or George Washington's Mount Vernon.
For those at the harbor around dinnertime, there's Iron Chef winner Edward Lee's Succotash (186 Waterfront St.; 301-567-8900), which opened in September and serves Southern-inspired cuisine such as baby back ribs and shrimp 'n' grits.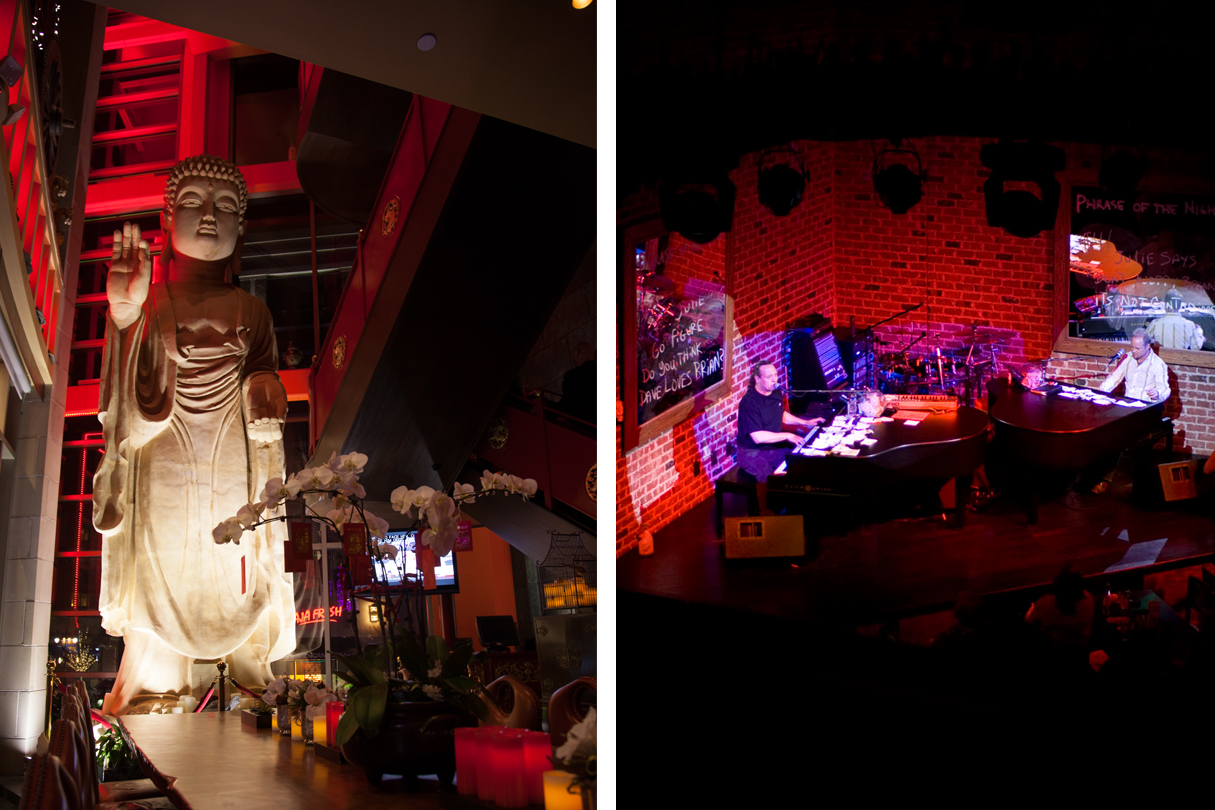 Other options include Grace's Mandarin (188 Waterfront St.; 301-839-3788), with an impressive sushi selection, and the Walrus Oyster & Ale House (152 Waterfront St.; 301-567-6100), which shucks more than ten varieties of oysters.
If you find yourself at National Harbor at night, head to Fleet Street. Bobby McKey's Dueling Piano Bar (172 Fleet St.; 301-602-2209) has live music Friday and Saturday from 8 to 2 am. Or give the mechanical bull a try at Cadillac Ranch (186 Fleet St.; 301-839-1100), an all-American bar that stays open till 2 am on weekends.
This article appears in our November 2015 issue of Washingtonian.