Home-buyers looking to splurge on a house in DC have more neighborhoods than ever to look at these days, thanks to a real-estate market that seems to be immune from cooling off. A quick search of current listings turns up handfuls of houses listing for more than $1 million in places like Shaw, Columbia Heights, and H St., Northeast, complementing the pockets of upper Northwest that have long stood as the District's priciest enclaves.
In fact, there are so many houses hitting seven figures now, the city might need to redefine its benchmark for luxury housing. Eighteen percent of all single-family home sales so far this year have been for at least $1 million, according to the office of the District's chief financial officer.
"With sales of $1 million becoming more and more 'commonplace', it may be time to set the barrier higher in terms of what constitutes luxury," Steven Giachetti, a DC government financial analyst, wrote on the CFO office's District, Measured blog. "This redefinition would also better align the DC market with other expensive housing markets in the nation where $1 million no longer carries the same cachet and exclusivity that it did ten years ago."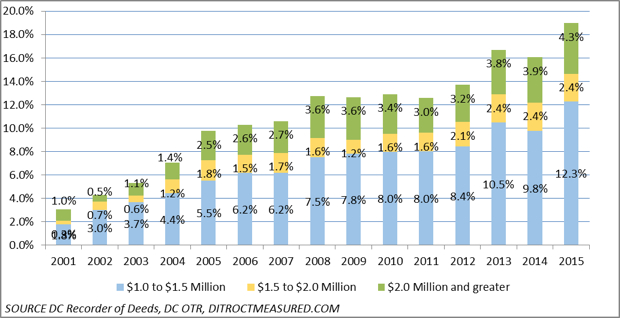 A chart in Giachetti's post shows just how steeply the rate of home sales that eclipse $1 million has risen this century. In 2005, 9.8 percent of single-family residences went for at least that much; in 2001, it was just 3 percent.
With so many houses going for at least $1 million, Giachetti's research suggests $1.5 million or $2 million might be more accurate definitions for the highest bracket of home values in the District—2.4 percent of home sales in 2015 have been for between $1.5 million and $1,999,999, while 4.3 percent have topped $2 million.
The $2 million level also makes it easier to identify the city's priciest neighborhoods (and most lucrative tax bases). While $1 million homes are spread across the city, six neighborhoods—Georgetown, Kalorama, Cleveland Park, Kent, Berkley, and Spring Valley—account for about 75 percent of the $2 million sales. Georgetown alone is home to more than 30 percent of the city's $2 million-plus houses, like this six-bedroom lair on N St. that's on offer just shy of $10 million.