The young server at Inferno Pizzeria wants to know how we like the sunchoke salad.
Like it? We love it—in fact, we tell her, we're thinking of ordering another.
"Really?" she says, her nose wrinkling in disbelief.
Four weeks in, she still hasn't quite grasped the fact that her boss, Tony Conte, is not your usual pie slinger. Then again, to be fair, the fact is not quite graspable. What in the world is the former three-star chef at downtown DC's Oval Room doing at a 39-seat strip-mall pizzeria in Gaithersburg?
De-stressing and staying close to home is the official answer.
In another way, though, Conte is doing pretty much what he's always done: making intricate, layered food that pops on the plate and in your mouth.
Take that sunchoke salad, in which the main ingredient is roasted until it loses its bitterness and takes on the soft meatiness of creamy baked potatoes. You could easily see a chef with a farm-to-table aesthetic sending it out, unadorned, as a small plate demonstrating the deliciousness of a simple thing cooked exactly right, but Conte embellishes this taste with a subtle Parmesan sauce and a scattering of smoked hazelnuts, creating a dish of varying textures and effects.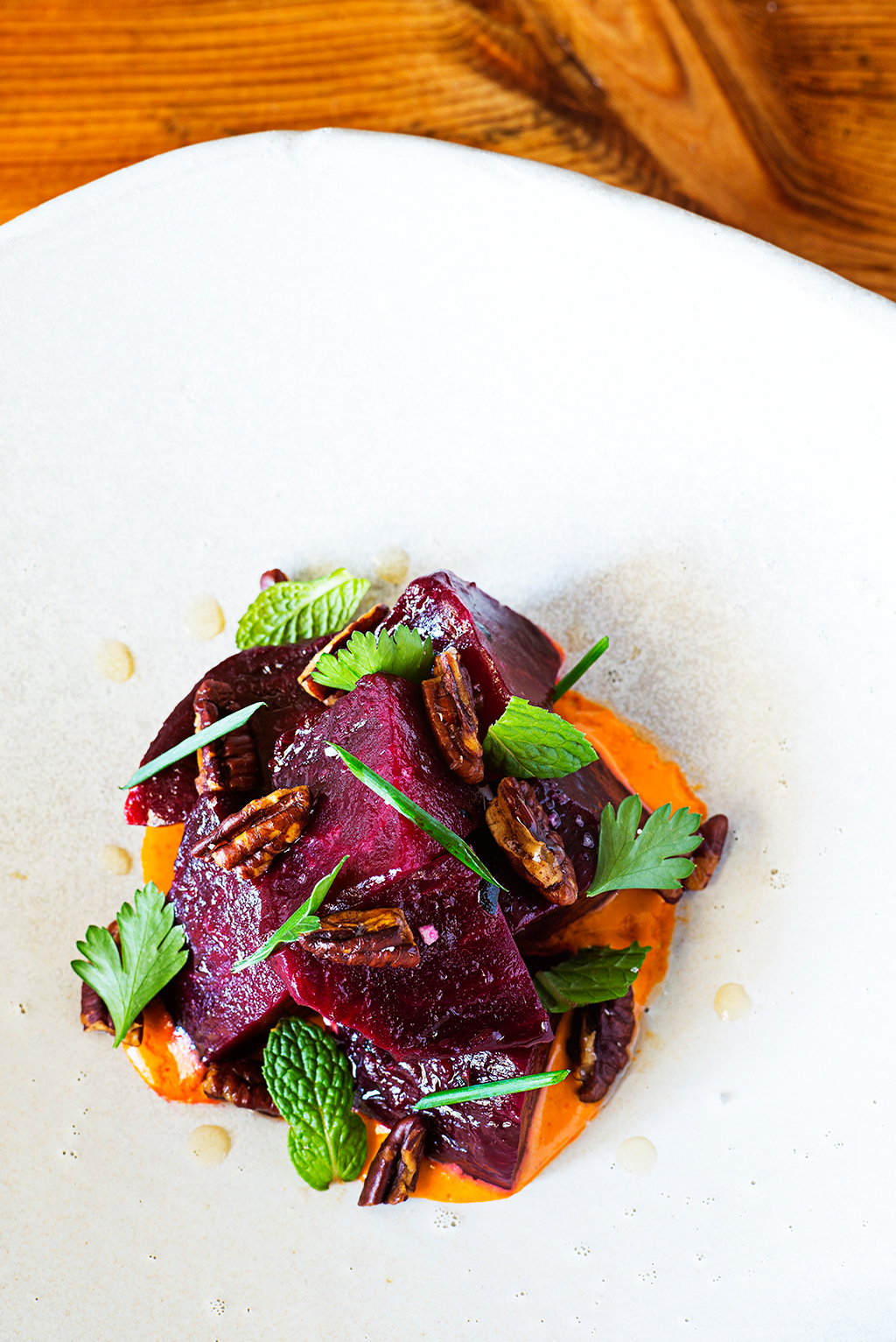 The beet salad is just as complex. The root vegetable is slow-cooked in the wood-burning oven and sauced with a purée the color of a desert sunset (Calabrian chilies, labneh, and honey) along with toasted pecans. If you order this dish and it's not glorious, chances are it's a problem with undersalting; with a menu this small, the kitchen needs to be sharper. (I ordered the plate twice, unable to resist; the second time it was merely good.)
Both dishes feel a long way from their natural home in a more upscale dining room, but how wonderful is it to be able to enjoy them in a relaxed and casual setting with a cold Italian beer and a pizza bubbling away in the custom-made wood-fired oven?
It takes time for pizzerias to learn the sweet spots of their ovens, so inconsistencies of the kind I saw the first time I dropped in are to be expected, but the pies on my most recent visit suggested that Conte and his team are nearly there. The pizzas were superb.
Conte has drawn inspiration from the elegant Neapolitan ideal—thin crusts baked in a wood oven, with toppings applied judiciously, and served without slicing—but his pies are free of the soupiness and floppiness that sometimes characterizes the genre. They're also less blistered on top, which means less char to obscure the vivid freshness of these carefully selected ingredients. Even a simple cheese-and-sauce pizza is a marvel, because the quality of the foundational elements is so good.
But try the combination of heirloom tomatoes, ricotta, arugula, garlic, and chili: It's as intricately layered as the sunchoke salad. Hours later, eaten cold from the fridge, it was still terrific—testament to the excellence of its construction. My favorite is a pizza topped with a wobbly baked egg, salty fontina, and a generous shaving of black truffles. You don't expect to find such luxury in a dish you hold in your hand and devour in six bites.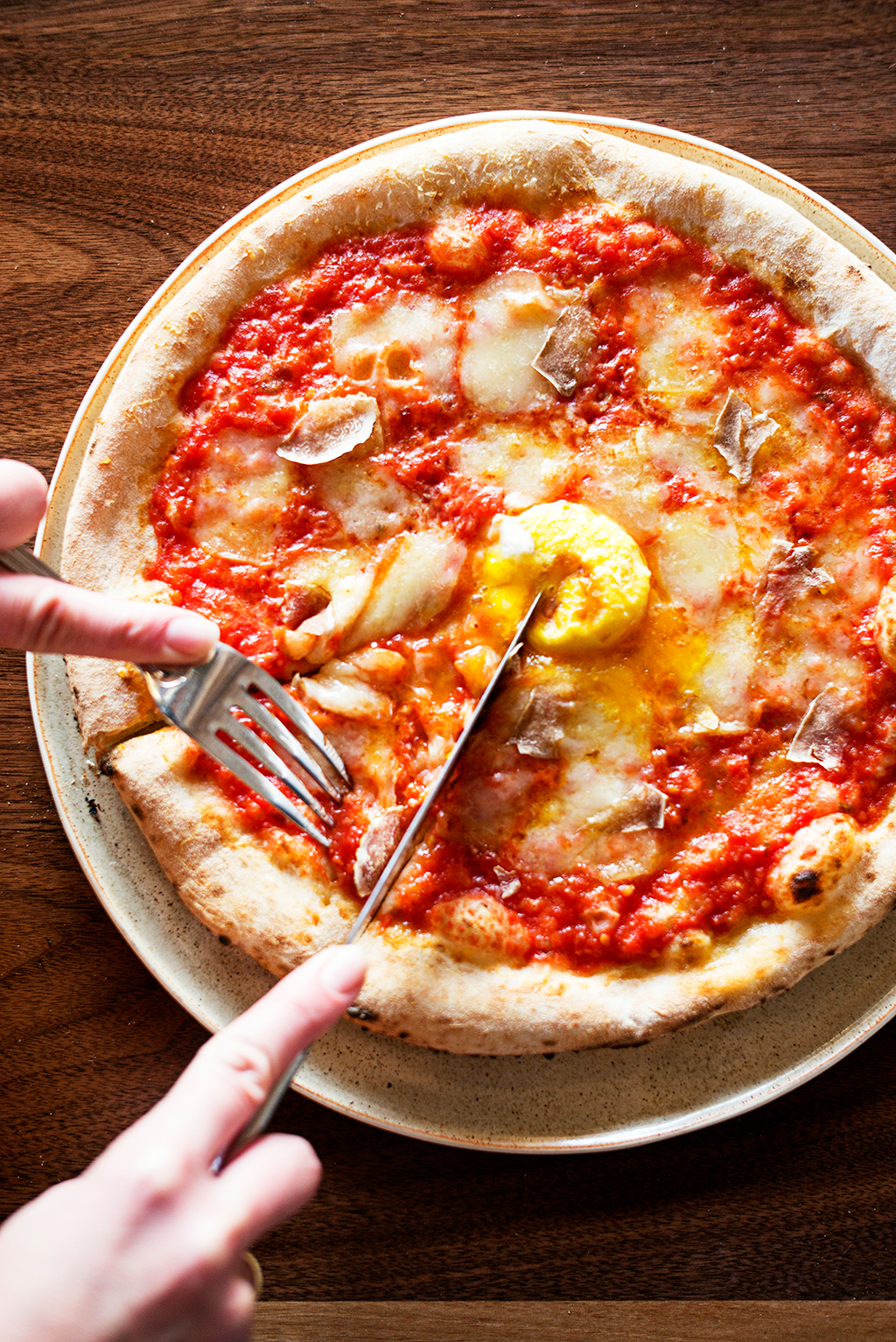 Conte is promising to add some roasted meats down the line. For now, though, you can eat grandly with just pizza and salad.
Oh, and dessert—can't overlook the rich vanilla custard served in a Mason jar with long spoons; dig down to bring up bites of stewed spiced apples and bits of sugar-crusted, rosemary-scented pie crust. Like everything else at Conte's first solo effort, it makes you discover it, slowly, bite by delicious bite.
This article appears in our January 2016 issue of Washingtonian. 
---