Nate McMaster and Jenna Karstens arrived in Washington Thursday night, just in time to watch all of their wedding plans go awry. They live in Seattle, but have family in the DC area, and were set to wed at the LDS Temple in Kensington, Maryland tonight. If you've looked outside at all today, it's pretty clear that the winter storm wasn't going to let that happen. So the ceremony was bumped up to Friday afternoon. Lucky for Nate and Jenna, their photographer, Camille Arneberg of Camille Catherine Photography, is married to a Minnesotan. Used to weather worse than this, he safely drove Arneberg from Reston to DC in time to capture the event.
"Most guests weren't able to make it, and some of the bridal party wasn't there," says Arneberg. "But Jenna and Nate had good attitudes about it."
Nate and Jenna also had good attitudes about the portrait session they'd scheduled at the nearby Strathmore Mansion. After a brief set of family pictures at the Temple, Jenna, Nate, Jenna's Maid of Honor, and Jenna's brother (very slowly, very carefully) made the trek to the property. Arneberg and the couple spent just under 20 minutes outside, snapping pictures together at a variety of locations across the grounds.
"As a photographer, you feel really bad," says Arneberg. "I was not looking good, but at least I was warm. Jenna was shivering and bouncing up and down. She had on peep-toe shoes and they were definitely sinking into the snow. But [the duo] didn't hurry the process and went to different areas of the property. I love working with adventurous couples like that."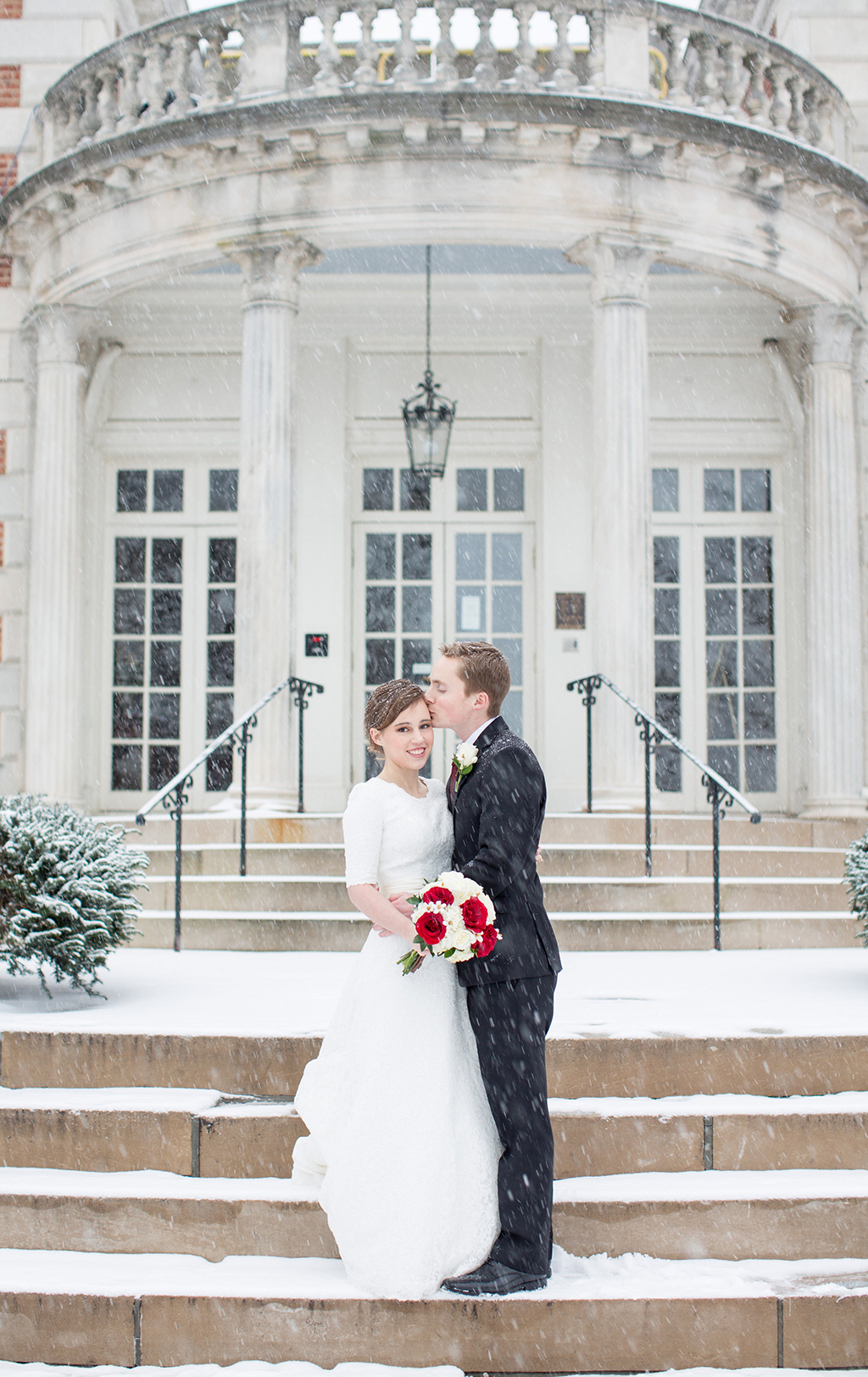 Arneberg shared their story (and these lovely portraits) mere minutes before she had to leave for the second part of Jenna and Nate's wedding: today's abbreviated reception at the Bethesda Marriott.
"They're having a ring ceremony for symbolic purposes for people who couldn't make the Temple ceremony," Arneberg says. "I think the guest list is down to 30 people from 65 or 70, and I don't know if the cake or DJ is showing up."
Miraculously, the couple is still in good spirits.
"I think they're just so happy that they're married that they're taking things in stride,"Arneberg says. "It's a once-in-a-lifetime thing, and I'm glad they'll have keepsakes from this crazy weekend."
RELATED: These Two Washingtonians Spent Their Snow Day Lip-Syncing to Adele's "Hello", and It's Pretty Fabulous