Late night treats have become commonplace among modern weddings, but a great way to localize them and add a "wow" factor for your guests is to bring in your snacks via DC's kitchens on wheels. Some of these amazing Washingon-area food trucks can offer a little something extra to your celebration, while others can cater the whole shebang.
Like B&G on Facebook | Follow B&G on Instagram
The only thing that comes close to going together as well as you and your fiance(e) is doughnuts and fried chicken, especially when it's being served up by this mobile eatery. With fun flavors like maple bacon doughnuts and honey butter fried chicken, there's a little something to please every palate. Price: $1,200 food minimum plus 20 percent truck fee for two hours. Additional $100 fee after 5 PM. If event is taking place outside of a 20-mile radius of their G Street restaurant space, additional fees apply.
What's better than barbecue to add some Southern hospitality to your warm-weather wedding? Throw in some buttermilk cornmeal biscuits with the selection of brisket, pulled pork, pulled and spiced chicken, hot wings, and more, and we can't think of any better way to make your guest feel right at home. Price: Find the catering menu online and email hungry@bbqbusdc.com for more information about booking the BBQ Bus.
There's something about late nights and melted cheese that just go together. The Big Cheese will keep your dance floor fueled with spin-offs of the classic grilled cheese sandwich, including variations such as goat gouda and caramelized onions on multigrain bread or chipotle cheddar with guacamole and jalapeños on sourdough. Price: $100 per hour for truck rental, plus regular menu prices.
Macaroni and cheese (or as we call it, the food of the gods) gets an upgrade with this street side serving: aged white cheddar, chicken meatballs, and fresh cream are just a few things you'll find in your dish of deliciousness. Price: $1,000 minimum includes three menu items for guests to choose from, enough to serve 100 guests. Additionally, there is a truck rental fee of $75 per hour.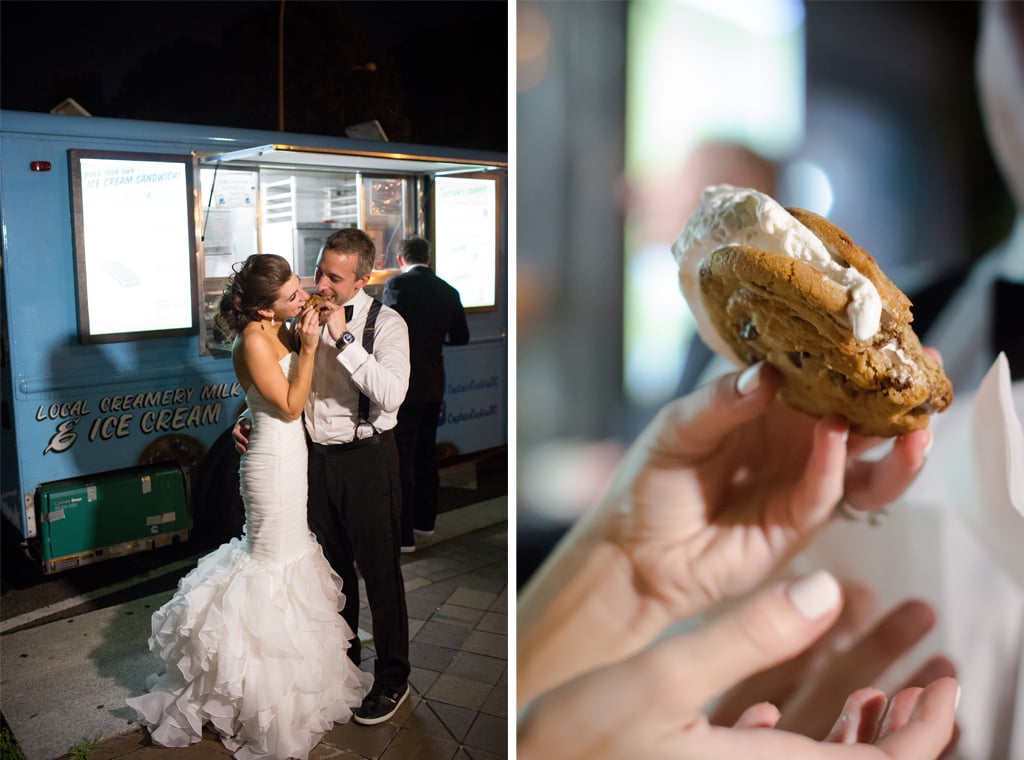 Oh, sure, cake is delicious–but on a hot summer night, there's nothing quite as satisfying as drippy, melty ice cream. End the night with a surprise delivery of Captain Cookie ice cream sandwiches that are made from scratch. Price: Varies based on location, time, and menu selections of event. Fill out the form on the website to receive a quote for your event.
Pies may evoke the image of a holiday-season treat, but Dangerously Delicious Pies' year-round confections are not limited to the sugar spectrum: they also serve up savory pies filled with recipes like ratatouille or beer brats along with cheesey quiches. Price: 15 pie minimum (pies are $35 for savory, $32 for quiches, $30 for sweet) with a $250 truck flat rate (additional $50 for ten to 15 miles out of DC, additional $100 for 16 to 20 miles out of DC). Event must take place within 20 miles of DC.
Pizza was probably your late-night go to in college, and it can be your after-hours snack for your wedding as well. The pies are baked right in the truck and topped with everything from buffalo chicken to tater tots. Price: $900 minimum, price for each pizza ranges between $6 to $24.
Ideal for an Eastern Shore wedding, this truck will bring a taste of the sea with crabcakes, lobster claws, and more. This truck often partners with their sister truck, South Meets East, to include tacos alongside the seafood proteins. Price: Starts at $12 per person plus $200 truck fee.
Proof that everything tastes amazing in a crunchy fried shell, this twist on the eggroll offers a jumbo-sized version packed with everything from a Big Mac-style burger to gyro meat to pulled pork. Price: $75 per hour truck rental fee plus $6 per Meggroll (each Meggroll is cut in half, so one roll can serve two).
So maybe having top DC chef Jose Andres hand-deliver your wedding meal is a bit of a stretch for your budget, but you can still have his top-notch eats at your reception. Andres' food truck, Pepe, will delivery Spanish-style sandwiches to you and your guests to create a curbside Top Chef experience. Price: Fill out the online booking form for more information on bringing Pepe to your event.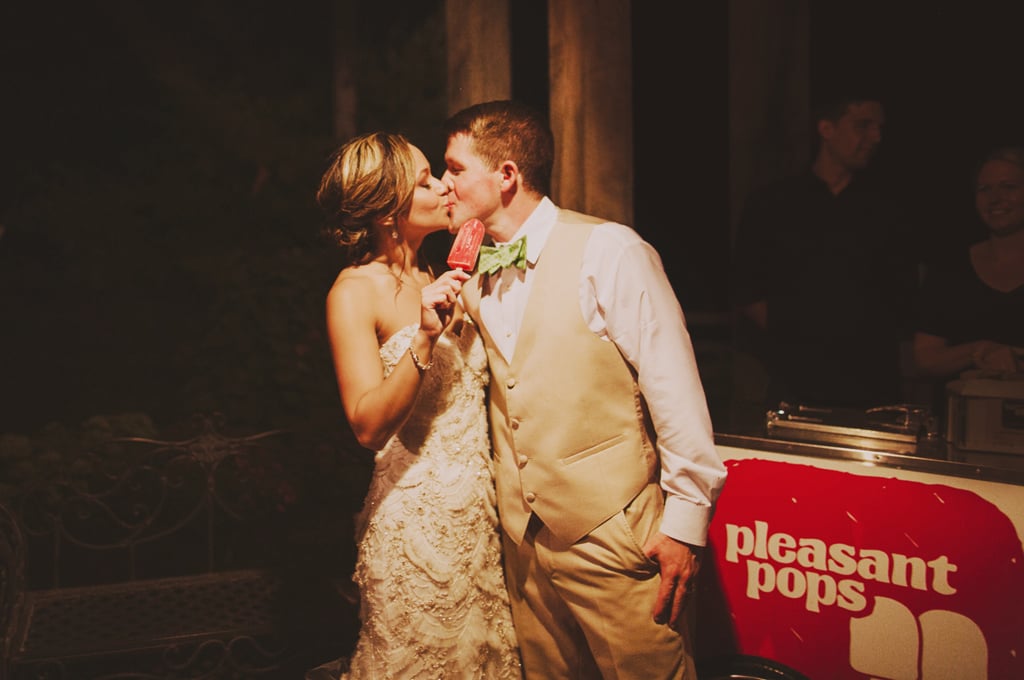 Another hit for DC's hot summer nights, Pleasant Pop's cool, refreshing popsicles will help your guests to cool down before returning to the dance floor. Alternatively, Pleasant Pop's hot chocolate pops work as a perfect treat for a winter wedding reception. Price: $75 per hour (including travel and setup time) plus $2.50 per pop (100 pop minimum).
Cute and tasty options abound with Popped! Republic's DC-themed gourmet popcorn mixes, from "The Obama Mix" filled with "Capitol Caramel" and "Congressional Cheddar" to "Mount Vernon Maple Glaze." Price: $250 booking fee plus $125 per hour (with a three-hour minimum, including setup and breakdown) plus the cost of popcorn (mini bags are $2.25 to $4.50 each).
To finish the night with some South America flair, this truck will dispense tacos, burritos, and bowls, filled with classics like grilled chicken or the more-adventurous Louisiana crawfish. This truck often combines forces with their sister truck, Feelin' Crabby. Price: Starts at $12 per person plus $200 truck fee.