Anyplace Frederick Douglass lived is going to be inextricably linked with black history. In fact, one of the best reasons to visit the Southeast DC neighborhood of Anacostia is to tour the ornately preserved halls of Douglass's estate, Cedar Hill (1411 W St., SE; 202-426-5961). Yet visitors unfamiliar with the area may be surprised that they can also see an avant-garde theater production at the 2½-year-old Anacostia Playhouse (2020 Shannon Pl., SE; 202-290-2328), look at abstract paintings and photography at Honfleur Gallery (1241 Good Hope Rd., SE; 202-365-8392), or gape at one of the biggest chairs in the world—once the site of a Chuck Brown performance.
Anacostia wasn't always a place many people wanted to visit. Along with its surrounding neighborhoods, it had the highest rates of violent crime in DC during the 1990s. The area has since improved, thanks partly to efforts of a local nonprofit, Arch Development Corporation. Still, there's a ways to go. The 1200 block of Good Hope Road, for instance, may be home to the Anacostia Arts Center (1231 Good Hope Rd., SE; 202-631-6291) and Honfleur Gallery—both of which Arch helped open in the past decade—but it's also the site of several vacant properties.
Some of the neighborhood's biggest plans to attract tourism—including building a Wizards practice facility on the campus of St. Elizabeths Hospital and turning the old 11th Street Bridge into a High Line–style park with waterfalls, interactive art, and an amphitheater—won't come to fruition for a few years, but there are still reasons to spend a day in Anacostia.
Visitors can follow the newly installed Anacostia Heritage Trail, which begins on the corner of Shannon Place and Howard Road by the Green Line Metro station. The two-mile path is punctuated by 20 signs—mostly along Martin Luther King Jr. Avenue and Good Hope Road—whose historical markers and old photographs reveal the origins and development of the neighborhood. Following the trail will lead you to the Douglass home along with other community mainstays—such as a circa-1940s neon ANACOSTIA sign (on a now-vacant building at the corner of Good Hope Road and Martin Luther King Jr. Avenue)—and trivia including John Wilkes Booth's escape route over the Navy Yard Bridge through Historic Anacostia (then called Uniontown) after he shot President Lincoln.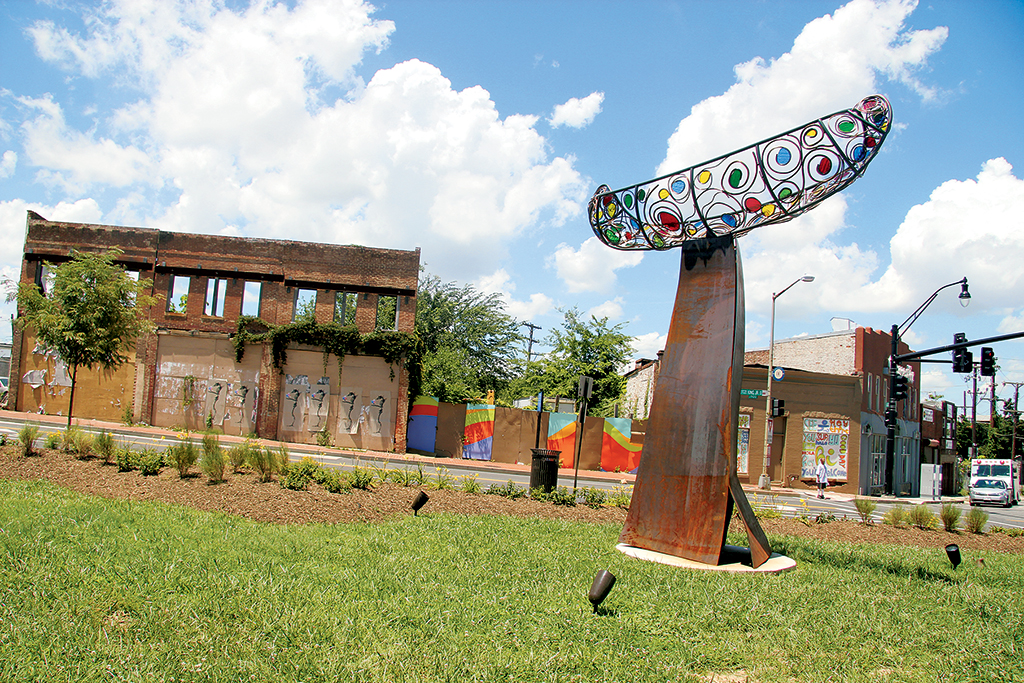 Along the way is Mama's Pizza Kitchen (2028 Martin Luther King Jr. Ave., SE; 202-678-6262), with counter service and a few tables, and Cheers @ the Big Chair (2122 Martin Luther King Jr. Ave., SE; 202-678-3738), known for fries topped with Old Bay Seasoning and crabmeat. The restaurant is across the street from a 19½-foot-tall chair originally built in 1959 as a hard-to-miss advertisement for the now-shuttered Curtis Brothers Furniture.
From there, continue along the trail to Good Hope Road, where you'll find the block with the Anacostia Arts Center and Honfleur Gallery. The center can best be described as an arts-focused mini-mall, with small stores, businesses, and galleries—most prominently, Vivid Solutions Gallery (1231 Good Hope Rd., SE; 202-365-8392), displaying photography and contemporary art, and the newly opened Art-drenaline Cafe (1231 Good Hope Rd., SE; phone not yet available at press time), which serves a $19.95 Sunday brunch featuring a chicken-and-waffle bar. Honfleur is a few buildings away, for those in the mood to ruminate quietly on conceptual paintings. The current exhibit—painted depictions of a city's many borders, à la walls, fences, and industrial doorways—might provide a thought-provoking subtext for viewing the boarded-up properties nearby.
For a better understanding of the area's history, there's the Smithsonian-affiliated Anacostia Community Museum (1901 Fort Place, SE; 202-633-4820), which rotates its collections. February visitors can check out an exhibit on DC in the '60s and '70s that highlights the era's many social issues, such as suburbanization, black power, and antiwar protests. For more history, there's the hilly Frederick Douglass National Historic Site, which, in addition to including the home where Douglass lived the last 17 years of his life, provides a great view of the city's skyline.
If you're driving and there's still daylight, consider heading to the Anacostia Riverwalk Trail. (You can park in a small lot below the Frederick Douglass Memorial Bridge or along Anacostia Drive.) On the paved walkway, you might spot ospreys, great blue herons, and beavers.
Or, if the light is fading and you're going back to Metro or your car, stop along Good Hope Road for one of the neighborhood's best evening outdoor sights: the"Journey Anacostia" sculpture (1201 Good Hope Rd., SE). It's a quirky piece of street art involving a brightly painted mural and, atop a totem pole, a metal canoe that lights up at night. The work, signifying the area's enduring community pride and newfound creativity, is a fitting way to end the day.
This article appears in the February 2016 issue of Washingtonian.