Our Washingtonian Recommends lists bring you the best places to eat, drink, and be entertained—all selected by Washingtonian editors.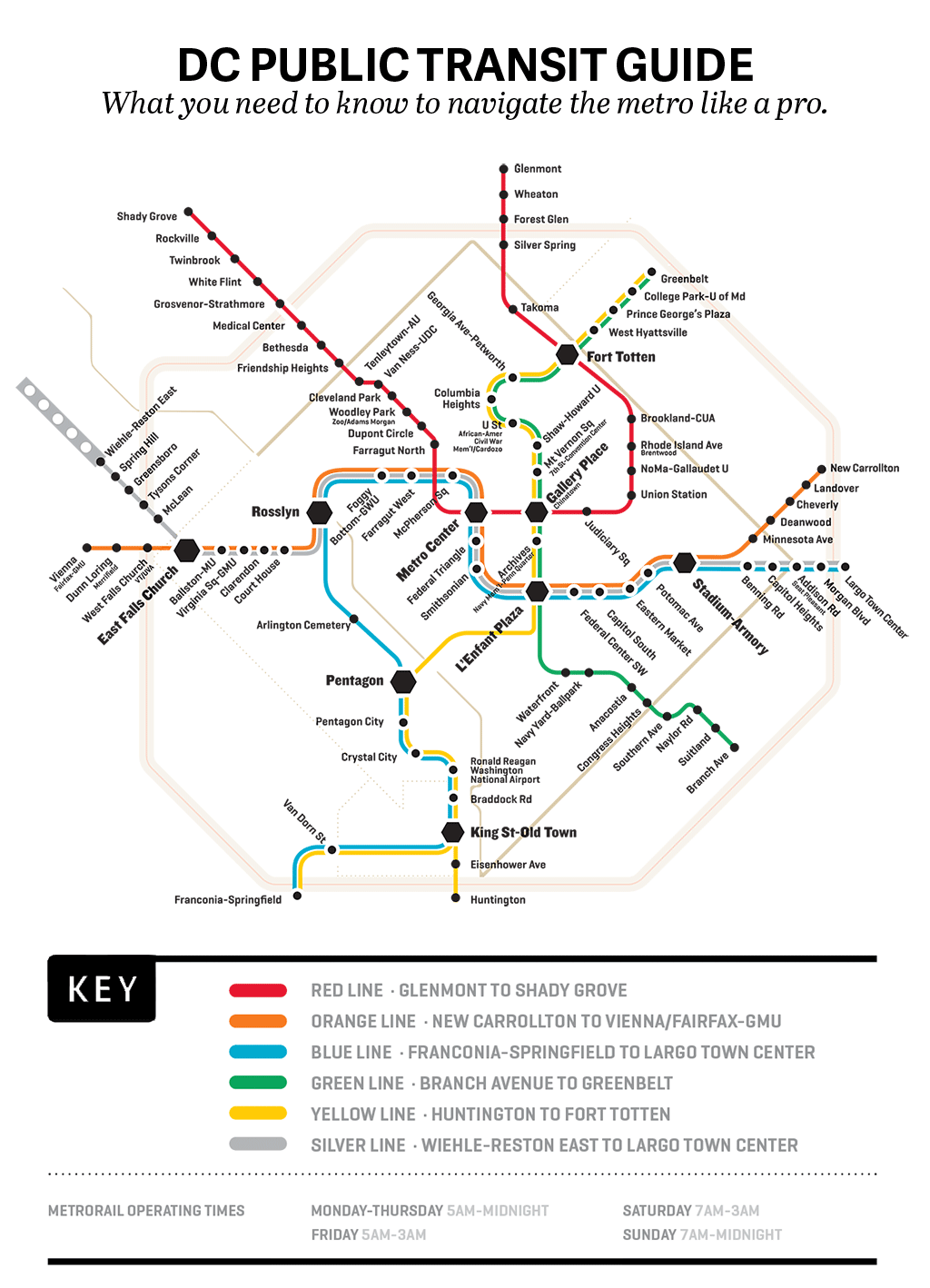 Riding the Metro
If you're staying in downtown DC, it's a very walkable city—but for farther trips, you'll inevitably have to take Metrorail (202-637-7000). Metro opens at 5 am during the week and 7 on the weekends, and runs until 3 am Friday and Saturday and midnight all other days. The system is relatively clean and easy to use, and its six lines and 91 stations service most of the city and all the major suburbs.
It's worth buying a reusable SmarTrip card, which you'll also need if you're planning to use certain station parking lots (daily parking rates and availability vary by station). SmarTrip cards cost $10 and come with $8 worth of fare; they can be bought online at wmata.com, at all Metro stations, and at a few grocery stores and pharmacies around town. SmarTrip users get a $1 discount on all Metrorail rides and cheaper transfers to bus lines. Rides start at $1.75 and max out at $5.90 with a SmarTrip card.
Other things to note: Recent fare hikes, broken escalators, and extensive track work (especially on weekends) have made lots of riders unhappy with the system. When you're on the escalators, "Metriquette" dictates that riders walk up the left side and stand on the right. Eating and drinking is forbidden on Metro, which is why the trains and stations are usually clean and pest-free.
Before you leave, check wmata.com's service status box to see whether any lines are delayed. If you're a Twitter user, follow @wmata or check out the hashtag #wmata to see if anything is amiss.
For those with a smartphone, there are lots of useful apps that provide information on when trains are leaving, as well as bus schedules and maps. Try the Embark DC Metro app for iPhone, the Handy Metro DC for BlackBerry, and the DC Metro Transit app for Android.
Taking the Bus
If you're going somewhere Metrorail doesn't service, such as Georgetown, you can take one of Metro's 325 bus routes. Rides are $1.75 each whether you're paying by SmarTrip or cash. If you use a SmarTrip card, you'll get a 50-cent discount when transferring from rail to bus, as well as unlimited bus-to-bus transfers within a two-hour window. The GPS-based NextBus service will let you know when your bus is coming. Most bus stops have a clearly marked stop ID number. Call 202-637-7000 and, when prompted, enter your stop ID to get an idea of how long you'll be waiting.
Buses on the DC Circulator's (202-962-1423) five lines run between popular tourist spots such as Georgetown and Union Station, cost just $1 to ride, and arrive every ten minutes. The buses are spacious and relatively new, and with their bright-red paint and easy-to-spot signs, you can't miss 'em.
Renting a Bike
Over the past couple of years, the fire-engine-red Capital Bikeshare (877-430-2453) bikes have become ubiquitous around the area—at last check, there were more than 350 docking stations in Washington. For visitors, Bikeshare has two membership options: 24 hours of use for $7 or a three-day pass for $15.
Rides are free for the first 30 minutes, which should be long enough to get you where you're going. If you're coming up on that deadline, you can dock the bike and immediately take out another (or the same one), and the clock resets. Usage fees are posted on each dock, but for 30 minutes to an hour you'll pay $2, and for the next half hour you'll pay an additional $4.
Hailing a Cab
It's usually fairly easy to flag down a cab in Washington, but it isn't always an inexpensive proposition (trips within DC usually cost between $10 and $20). Yellow Cab Company of DC (202-544-1212) can be booked ahead of time, and all DC cabs now take credit cards.
Cash-shy Washingtonians love Uber, the smartphone app that sends town cars, SUVs, or regular taxis to your door and also lets you pay with a card—tip included. Black cars run about 50 percent more than a normal taxi; cabs are the same plus a $2 surcharge. UberX is generally cheaper than a cab.
This article appears in our Washingtonian Welcome Guide.