Chefs Michael Schlow and Michael Friedman share more than the number one baby boy's name from 1952-1998. They both grew up in Jewish homes embedded in thriving Italian-American communities where the cuisine was all about the red sauce and you ate your pizza folded in half, just right. Flash-forward to the present, and you'll find Friedman, from Westfield, New Jersey, and Schlow, from Brooklyn, opening Italian restaurants in the District. We asked each chef how they latched onto Italian cuisine, and what to expect from the pizza ovens at Schlow's Alta Strada (now open in City Vista) and Friedman's All Purpose (coming soon to Shaw).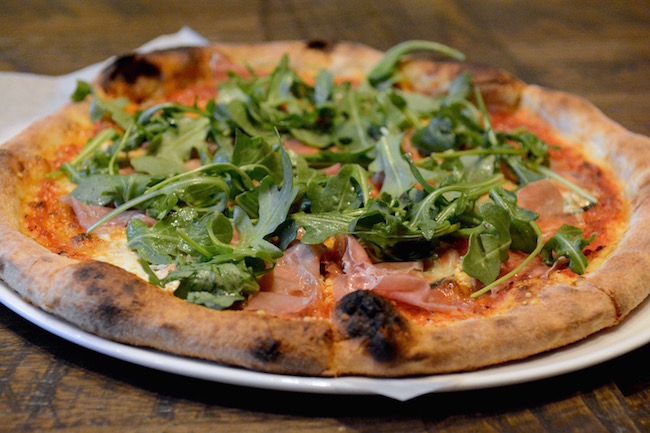 Michael Schlow, Alta Strada

Chef/restaurateur Michael Schlow was born in Brooklyn, but went to high school in Somerville, New Jersey: "Two places with big strong Italian communities." The dishes he grew up on were Italian-American—eggplant Parmesan, cloyingly creamy tortellini alla panna, and calamari salad. It wasn't until he landed a job at Long Island's Sapore di Mare that he saw beyond the world of fettuccine alfredo. "We were expediting in Italian; everything coming in was from Italian purveyors; and the products that were allowed in the door were scrutinized for their authenticity," Schlow says. "It was as close to cooking in Italy without going to Italy and it spoke to me in a way that no other food had spoken to me before."
He says the gig opened his eyes to the diversity of Italian cuisine. "When I was a little kid and even as a young cook, I thought Italy was broken down into two cuisines—Northern and Southern cookin—and there was a dividing line like the Mason Dixon line," he says. "There are 20 different provinces, and they each cook differently, they're about cooking what they see."
At Alta Strada, located in City Vista, Schlow pulled from multiple provinces when developing his pizza. "New York, Rome, and Naples—if you were to combine the best components of those three pizzas, that's what I hope you'll find," Schlow says. He says pizza is personal, but he favors a pie you can pick up and eat with an audible snap, instead of the "soggy" Neapolitan-style pizza that's become so pervasive. "I don't want it black, but I want a little char, a little crunch, a little air," he says.
Schlow says his dough goes through a two-day fermentation, then gets baked in a wood stone oven. "We use a gas-assisted oven for consistency of flame," Schlow explains. "If the wood burns down, the gas goes up, it regulates itself. The wood is for flavor."
The toppings are dealt with restraint—typically couplings that have stood the test of time—such as broccoli rabe and spicy sausage or prosciutto and arugula. "There's a point when too many ingredients can topple a pizza," Schlow says. "What I love about good Italian cooking is the idea of removing an ingredient instead of adding an ingredient. If a product is pristine, the time of year is right, and the cooking technique is correct, why do you have to clutter it with a lot of other things?"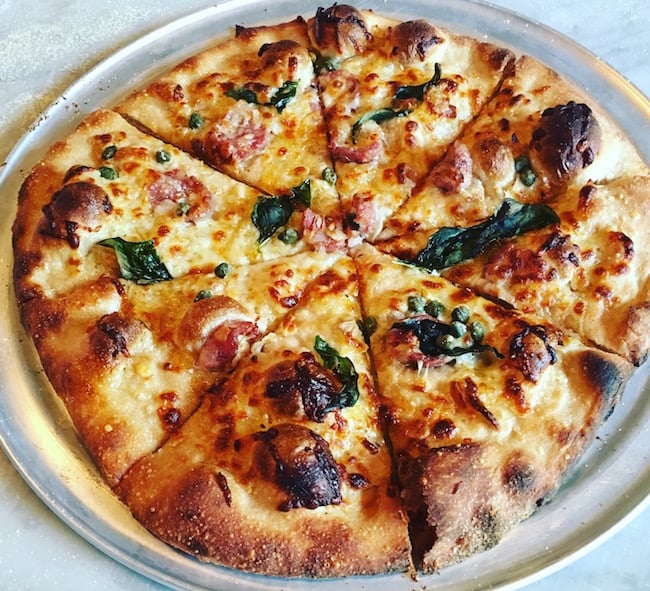 Michael Friedman, All Purpose

Chef Michael Friedman has already demonstrated he can cook comforting bowls of pasta at the Red Hen, but All Purpose will be his first go at making pizza professionally. Fortunately, like Schlow, Friedman has been eating Italian all his life. "I grew up in a Jewish household within a deeply Italian-American community, so the food we ate on a weekly basis was Italian," Friedman says. Friedman's first job was at Duke's Deli, a neighborhood institution where his mother ate when she was in high school. Though it recently reopened under new ownership, Friedman recounts what it was like when he was a teen: "There was a mafioso feel in there—it had a wooden walk-in with a bottle of Jägermeister on the top shelf that you could drink whenever you wanted." It was there, he says, that "Italian became my comfort food."
The All Purpose menu will have a pizza honoring Duke's Deli called Duke's #7, as well as pizzas named for Friedman's other favorite Westfield joints including Cosimo's, Ferraro's,  Sorrento's, and Gennaro's. These restaurants use deck ovens to make New York-style pizza that folds but doesn't snap—something Friedman hopes to emulate by using the same method.
"It's hard to find deck oven pie here; it's hard to find people that even say pie," he explains. "There's great Neapolitan pizza, I have nothing against it, but for this restaurant, I wanted to try to showcase something that gives me an edge." The chef will use domestic flour and plans to add sugar and olive oil to the dough—a no-no for Neapolitan pizzas, which cook in thousand-degree ovens for 90 seconds. "I'm cooking at 550 or 600 degrees, giving me the opportunity to develop more flavor."
Friedman points at an iPhone photo of a test pizza: "You can see the caramelization in the crust—that's what I want. Look at the cheese, it's melted into the dough; the basil is wilted; the sausage has rendered a little of its fat. Everything's working together," he says.
While All Purpose's deck-oven pies will give a nod to Friedman's go-to New Jersey pizzerias (plus old school pizza joints he visited on research trips to New York), diners can expect to see more refined toppings. "We're really trying to create the right flavor profile to give both a nostalgic note and something a little bit newer. We're using the highest quality ingredients, whether it's a pepperoni pie or a soppressata, stracciatella, and honey pie."