Like a team captain after a big win, Aaron Silverman is quick to give his teammates shared credit. The chef/owner behind Rose's Luxury—and Pineapple & Pearls, set to debut April 7—says everything under his new restaurant's roof is a collaborative effort. The all-inclusive tasting menu ($250 per person for food, drinks, tax and tip) showcases several dishes from chefs who aren't named Silverman, two of whom he's particularly jazzed about.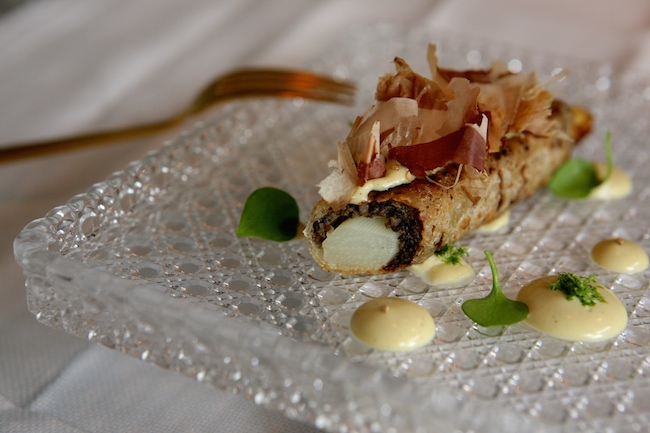 "Scott [Muns], our head chef, has a smoked beef rib dish," Silverman says. "He's excellent at Mexican cuisine, so it's a smoked beef rib with an intricate mole and nixtamalized grits." Washington Post writer Tim Carman, who makes no secret of his love for barbecue, inspired the dish. Another plate Silverman is quick to show off: white-asparagus okonomiyaki from sous chef Jonny Black. A tender asparagus spear coated with mushroom duxelles and chicken mousse is rolled in a rice-flour crepe, then topped with bonito flakes for a play on the Japanese street food.
Finally, Silverman mentions a shaved-ice palate cleanser of his own creation. "It's Taiwanese-style, but it's based off of Japanese kakigōri because of the condensed milk and toppings," Silverman says.  He traveled to Japan in November and brought back an appreciation for cleanliness and simplicity: "Cleanliness in terms of easily discernible flavors, colors, and textures—trying to put less and less on a dish or a drink so whatever you're doing will be a clean expression. And that applies to design too."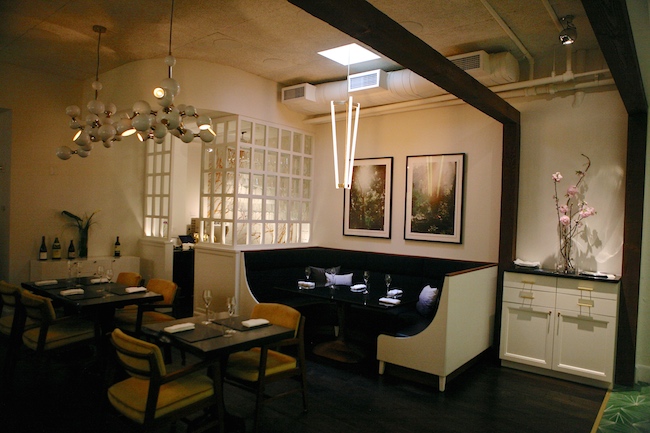 Indeed, the dining room, with its black and white color palette, isn't over-worked or distracting. A large, handsome banquette brackets one side of the room, which hangs with black-and-white wall art by artist Jowita Wyszomirska. But, before you get to the dining room, you'll pass by a wooden bar with white accents that practically screams, "Serenity now!" The seven-seat bar, presided over by beverage director Jeff Faile, looks like something you'd slide into in the Roppongi district of Tokyo, where bars are small, but wallets are deep.
Faile, who joined the Pineapple & Pearls/Rose's Luxury team from Neighborhood Restaurant Group, is leaping away from the Manhattan variations he once pedaled in favor of cocktails so creative that some don't even come in a glass. Take the "oyster tower." The three-tiered "drink" arrives bearing empty oyster shells filled with wasabi-and-green-apple granita spiked with Barr Hill Gin. They may add a second flavor of granita.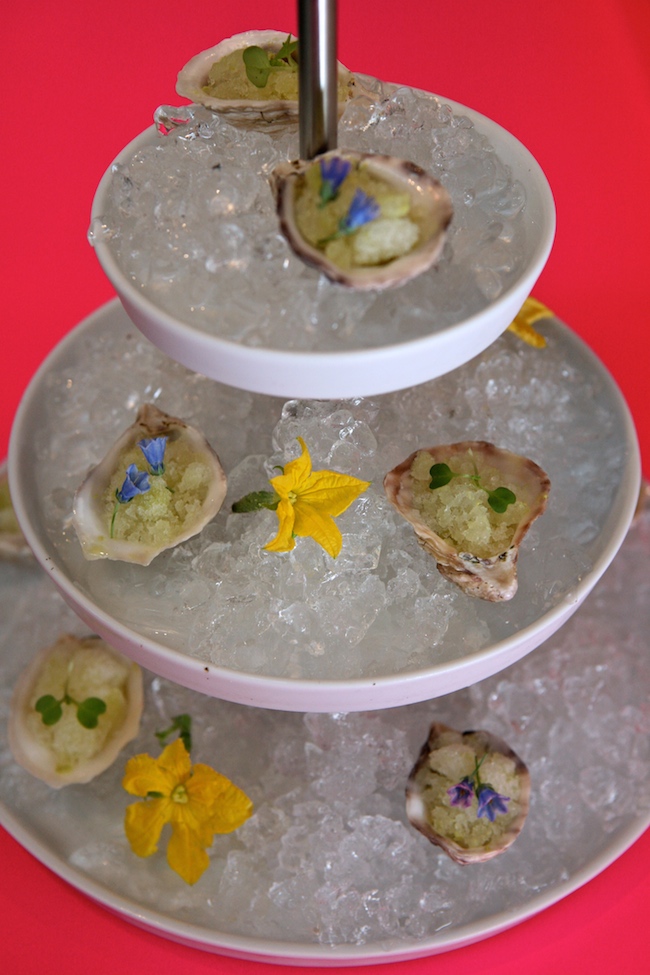 Faile lights up when he talks about working with the kitchen: "Being able to get a nice collaborative effort between a kitchen and a bar is phenomenal. I had that at Palena with Frank Ruta and I learned so much about flavors and how they pair."
The seats at the bar are for reservations only, but the experience is different from the dining room and the chef's counter. "We want the bar to have its own appeal to it," Faile says. There, diners will eat the same tasting menu, however drinks are not included, which drops the base price down to $150. Faile's $20 "show cocktails," are available for purchase, and you can also order classics.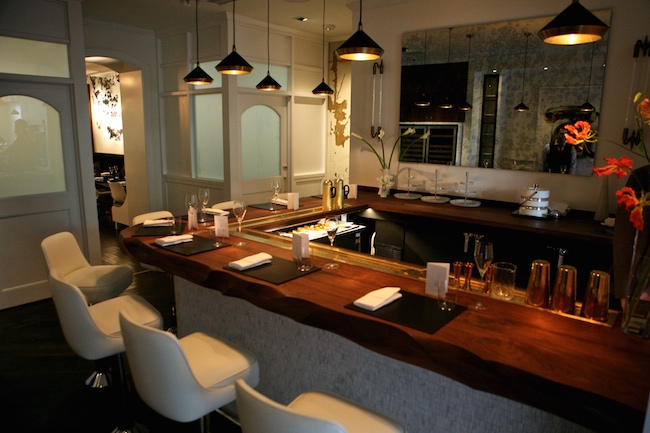 For dining room guests, Faile will march out beverage pairings that eschew college-age myths about mixing alcohols. The progression includes Champagne, Pinot Noir, Chablis, a Belgian quadruple beer and a dessert cocktail that Faile dreamed up with pastry chef Kim Janusz. The nightcap combines Dolin Blanc vermouth, Speyside Scotch, strawberry vinegar from Lindera Farms, and the leftover juice from the compressed strawberries adorning the cheese course.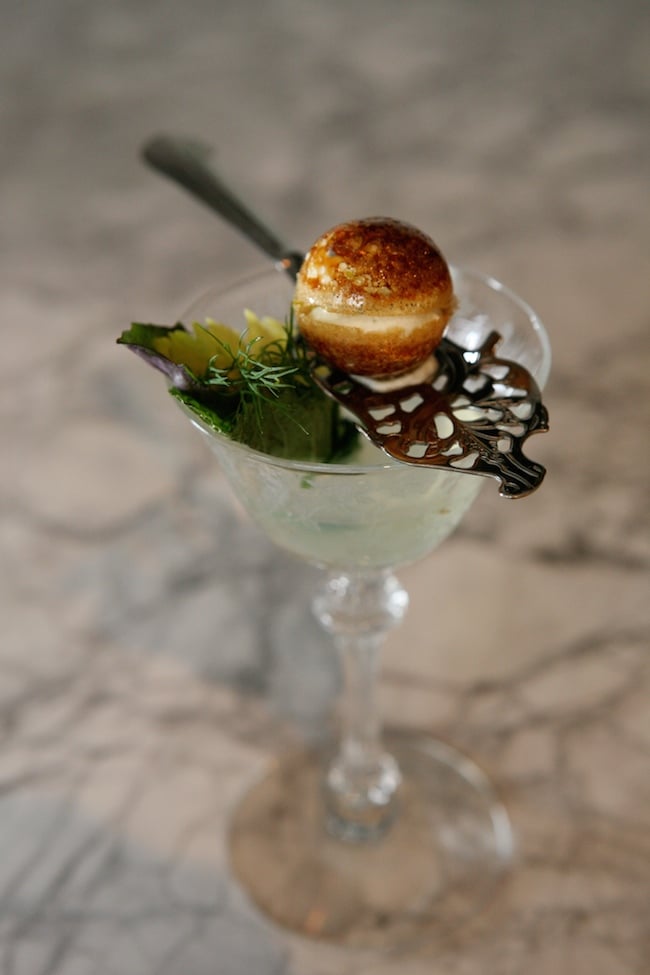 Whether guests dine at the bar or in the dining room, payment is collected online through the reservation system. "A huge part of this concept is making fine dining really fun yet still elegant and refined," Silverman says. "That means getting rid of anything that takes away from pleasure—it sucks to pay that big bill at the end."
Silverman also wants Pineapple & Pearls to be a place of celebration. "We all work harder than we should and don't get paid enough, and that's in every profession, so this is a way to do something special and celebrate," he says. "Fine dining should really be about having a good time instead of some stuffy, formal showcase of 'chef has prepared this for you tonight.'"
Pineapple & Pearls serves dinner Tuesday through Friday. A fresh set of reservations opens up every Monday morning at 10 a.m.. A coffee shop serves sandwiches and pastries Tuesday through Friday from 8 a.m. to 2 p.m. and Saturdays from 8 a.m.to 4 p.m..