Making your rental feel like home can be a challenge, especially if you're trying to make huge changes that your landlord might not sign off on. The solution: stick to simple, thoughtful updates. Artist and DC transplant Julie Bjarnhoff shares eight tips on how to choose a great rental space and how to be mindful when making updates:
1. Create a checklist and stick to it.
Before signing a lease, write down any elements that a new space absolutely must have—and that you can't simply change with your decor—whether an open kitchen, wood flooring, or high ceilings. Then don't relent for slightly more space or a fancier fridge. Those perks might seem enticing, but you'll eventually be happier that you stuck to your priorities.
2. Location, location, location. 
It's a truism for a reason. You can paint or add a closet organizer, but no amount of shopping will bring your apartment closer to your favorite haunts. "We looked at CityCenter, but there were too many suits!" says Julie Bjarnhoff.
3. Nix beige for bright whites.
"The content of beige rooms starts to run together, so you can't tell where the rug ends and the drapes begin," Bjarnhoff says. Instead, she recommends a crisp white backdrop to allow light to bounce around more easily and colors to stand out more vibrantly.
4. Invest in foundational pieces.
A classic, well-designed couch can withstand years, even decades, of use—and multiple rounds of throw pillows and blankets. Likewise with a handmade wool rug or an heirloom-worthy dining table. Skip trends and select only pieces you can live with a long time.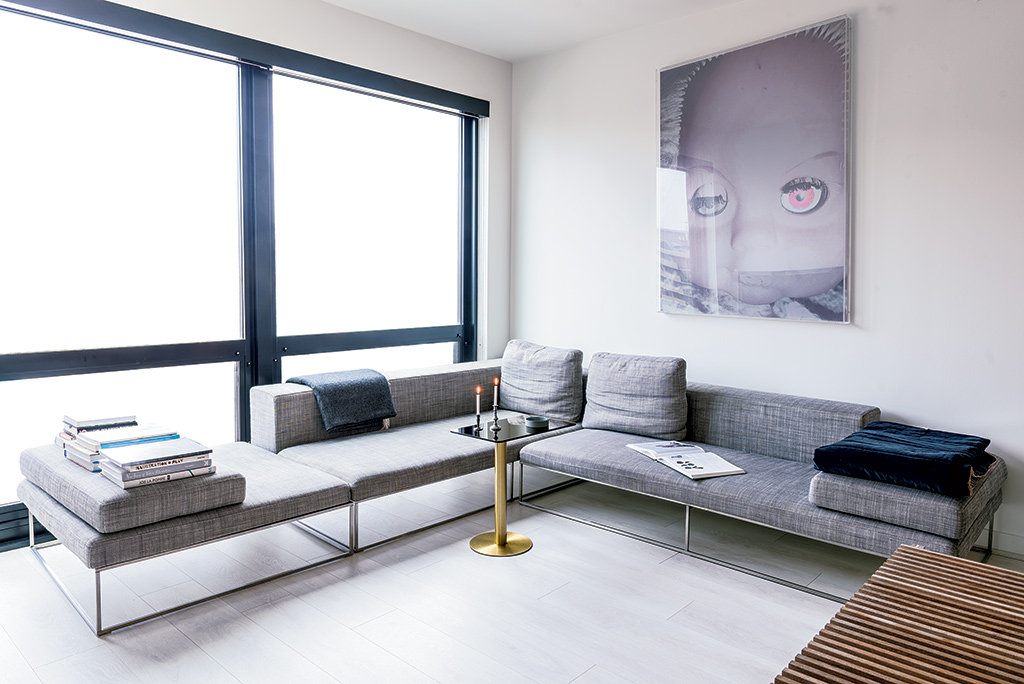 5. Build the space slowly.
It's natural to want to rush to your favorite decor shops and fill up a new apartment so it doesn't look desolate. But Bjarnhoff took her time and let the rooms develop over months. This approach helped her avoid costly mistakes born of impatience and also spread out the cost.
6. Avoid places with hallways when possible.
Unless you're living large, hallways are, in most apartments, wasted space. An open floor plan means more usable square-footage.
7. Keep just what you love.
Bjarnhoff doesn't have cabinets overflowing with candlesticks, vases, and other objects d'art. Rather than accumulate more stuff she'll need to store, she adds pieces to, say, her ceramic collection only when she can't live without them. No Target impulse buys here.
8. Work with texture, not just color.
"I obviously love gray," Bjarnhoff says, "But to keep the apartment from feeling flat, I varied the texture. There's gray leather, gray marble, gray linen. . . . It keeps a small space interesting without becoming overwhelming."
This article appears in the April 2016 issue of Washingtonian.