Each year the AT&T Best of Washington party brings together the city's top chefs, bartenders, and restaurateurs, many of whom appear on Washingtonian's annual 100 Best Restaurants list. Last night, the National Building Museum was transformed into a color-splashed culinary playground for hundreds of guests. Lucky us, we got a taste of every cocktail and crudo, taco and truffle. Here are some of the standouts from the many delicious options—and if you missed out, you can still find lots of them at local restaurants and bars.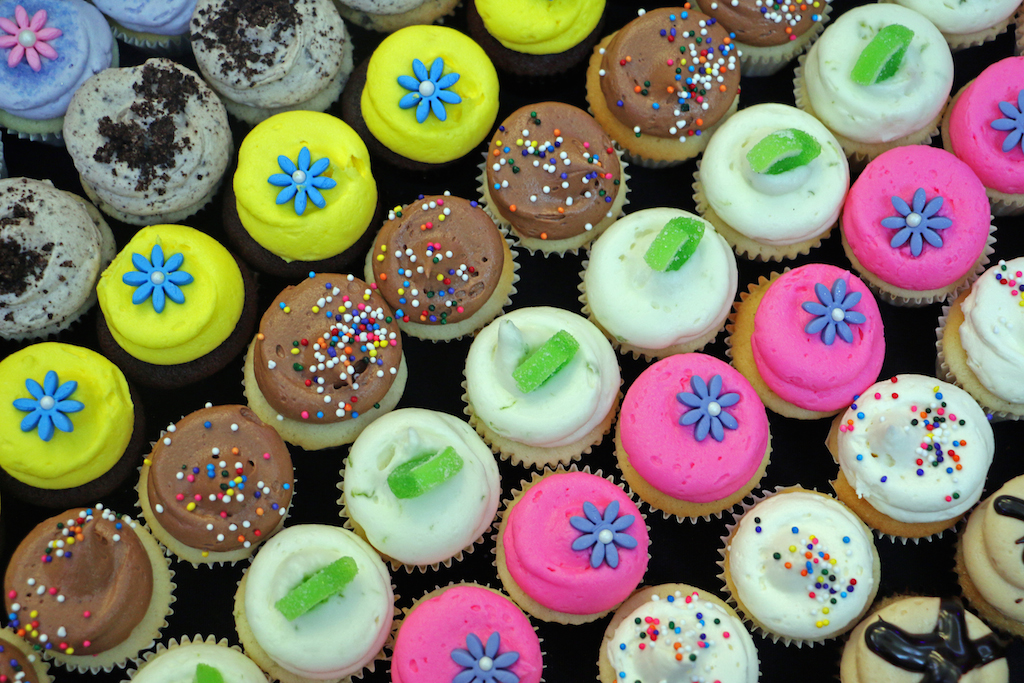 Prettiest presentation: The gorgeously colorful zig-zags of miniature confections at Georgetown Cupcake (we could eat the cookies-and-cream ones all day long).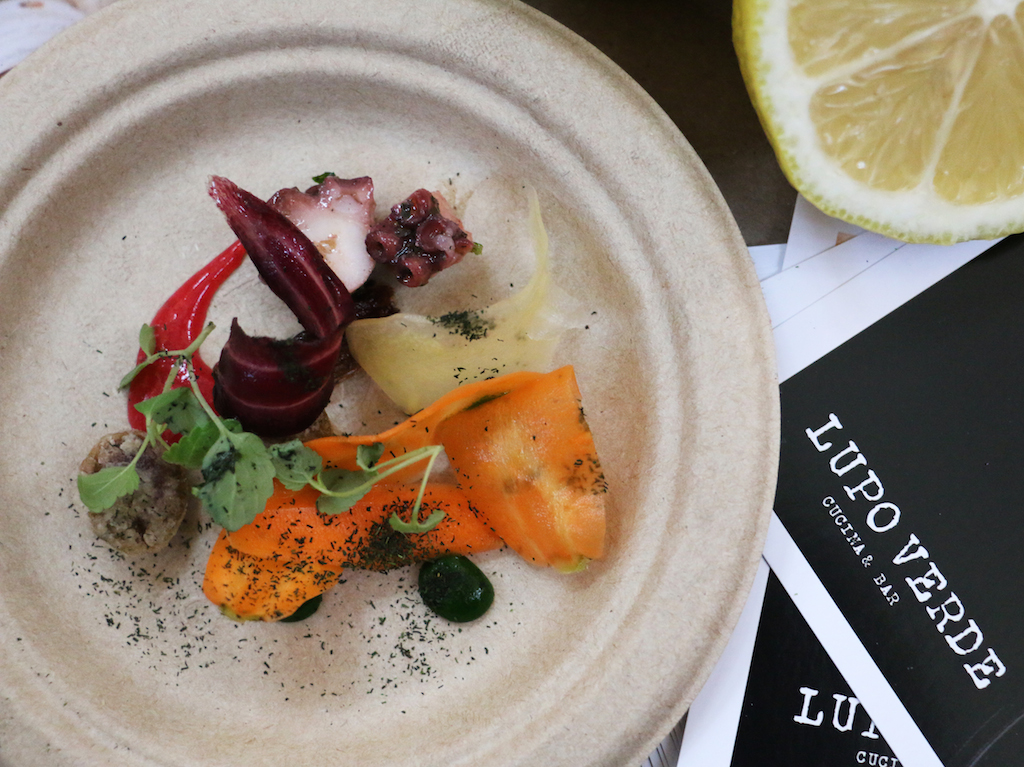 Prettiest plating: Lupo Verde dressed up paper appetizer plates with an artfully arranged octopus salad.
Best cocktail: Many of our favorite mixmasters were out in force, whipping up delicious concoctions from Maketto, Hank's Oyster Bar, Archipelago, and more. Our favorite: the Royal's Newburn cocktail, a spicy blend of Monkey Shoulder scotch, tamarind, cardamom, cinnamon, and a bright hit of lemon.
Trendiest cocktail garnish: Jalapeño, which showed up in Garrison's tart strawberry-and-mezcal sipper and Jack Rose's rye-lemon-and-honey drink.
Best creative dessert: Spotting Daikaya chef Katsuya Fukushima spinning sugar in a full-body animal costume was the first sign things weren't going to be boring at the ramen shop/izakaya's station. His "dust bunny" sweet was a delicious surprise—what looked like bao was actually a snowball of cotton candy filled with crunchy banana, coconut, and sesame.
Best dessert for chocoholics: Clarity's quenelle of creamy, rich chocolate "terrine" dusted with crushed pretzels.
Best dessert to stash for later: Graffiato's bite-sized zeppole—ricotta fritters studded with rainbow sprinkles and dusted in powdered sugar—were of course tastiest fresh from the fryer. But it was hard to resist grabbing a paper bag of 'em for the Uber ride home.
.@Ethiopic_DC proves you can turn a feast into a canapé with their kitfo #BestofWashington pic.twitter.com/pAfdhcVFO8

— Best Bites Blog (@bestbitesblog) June 9, 2016
Best mini-version of a great big dish: Tasty, tinier versions of big dishes was a popular theme (and yes, we had more than one teeny tostada al pastor from Taco Bamba). Ethiopic took the creativity to the next level with a kitfo (spiced beef tartare) canapé, shrinking what's often a family-style feast into a bite-size round of injera.
Best breakfast-for-dinner spread: The folks from Bullfrog Bagels offered slider-sized bagel sandwiches and bialys. Our favorite? An unlikely-sounding combination of a sesame bagel with cream cheese and strawberry preserves. We followed those up with a round of crunchy creme brûlée doughnuts at Astro Doughnuts & Fried Chicken.
Best comfort food: It's hard to go wrong with fried chicken, and Central's bonbon-size nugget over garlic mashed potatoes hit the spot—and still left room to try more.
Best salad: The cool, crunchy potato-and-chickpea papri chaat, doused in yogurt and tangy chutney, at the generously laden Passage to India table.
Best cover model: The juicy creme fraiche wings from Chase the Submarine, which were the star of our most recent Cheap Eats cover.
Best snack for after the after-party: Cocktail attire and Frito pie don't generally mix until the wee hours at the BBQ Joint on 14th Street—which has a takeout window devoted to the street snack—but we were happy to dig into chef Andrew Evans's version smothered in tender pulled pork and chopped onion within the first hour.
Best surprise dish of the night: We've never encountered bibim-gooksu at a cocktail soiree before, but Kogiya's snack-size version of the popular Korean dish made us wish every party came with a cup of spicy rice noodles and kimchee in a bracing, chilled beef broth, topped with soy-garlic marinated ribeye.