Raaja Nemani was working in finance in 2008 when he quit his job and bought a one-way ticket to Argentina, kicking off a 30-country journey around the globe. While volunteering in Argentina, he befriended Aaron Firestein, who'd had a hobby of covering shoes with his artwork since college. Before they parted ways, Firestein drew a custom design inspired by the city blocks in Buenos Aires for Nemani, who wore the shoes for the rest of his trip.
He couldn't believe the reaction he received.
"Everywhere I went, people would ask me about my shoes," says Nemani. "Had this only happened once or twice, I don't think I would have thought anything of it, but it literally happened hundreds of times everywhere that I went. Every city, every little town, every village I went to, I found myself talking about the story behind these shoes, and that was incredibly powerful."
As Nemani repeated the story of Firestein's artwork and their chance meeting in Argentina to many curious strangers, he found that the shoes were a perfect launchpad for connecting with those of different ages, races, cultures, and languages.  After a year and a half spent visiting other countries, Nemani contacted Firestein with a wish to do something to help others feel as connected with other cultures as he now did. His dream would be to buy everyone a plane ticket to travel the world, but since that wasn't feasible, they decided to use shoes.
"We said, 'Well, if there's a different story and place behind every product, when people talk about those products, it's going to spark conversation, it's going to bring people together, it's going to create more shared understanding and mutual respect," says Nemani.
The two friends moved to Chicago, and in 2011, Bucketfeet was born with a mission to connect people through art. Rather than Firestein designing all of the colorful prints and patterns for the footwear himself, every Bucketfeet shoe print is designed by an artist, who is initially paid for the artwork before they earn a $1 royalty on every pair of shoes bearing their design that Bucketfeet sells.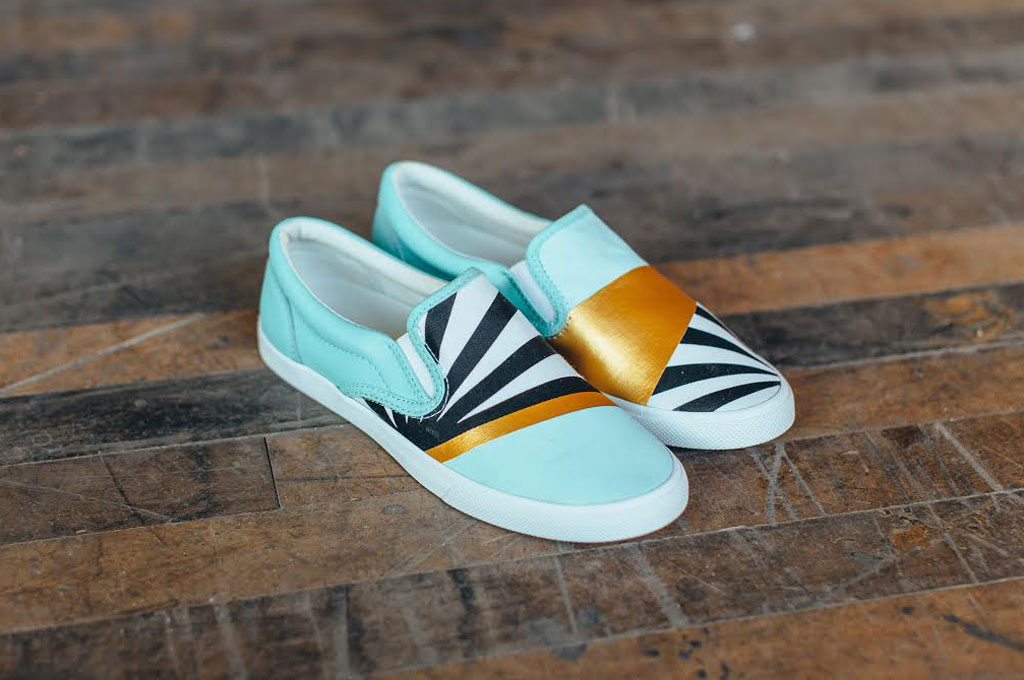 The brand's most popular prints is called "Pineappleade," which depicts a combination of a pineapple and a grenade, designed by Colombian street artist DJ Lu.
"It sort of represents how the farmlands of Colombia have been turned into these war zones," explains Nemani.
The story behind the artist and their design is high on the list of criteria Bucketfeet takes into consideration before accepting a print submission—of which they receive up to 1,000 a week. Since its conception, Bucketfeet has featured the work of over 40,000 artists from 120 countries. For their retail studio location in Shaw's The Shay Development, the brand partnered with local community artist MasPaz to design a custom mural, and Nemani says the brand also plans to collaborate with a DC artist to create a print for Bucketfeet shoes.
DC will be the brand's third studio location, their first outside of Chicago, where the brand is based. DC happened to be the place where Bucketfeet was getting the third-most internet traffic, after Chicago and New York City, but Nemani says they were also drawn by the "very civic-minded community" in DC.
"When we think of our mission as a brand of creating a brighter world, I don't know if there's many markets in the country or in the world that are as much about affecting change, being a part of the conversation, being sort of leaders, than in DC," says Nemani. "I can't say enough how excited we are [for DC] to be that first foray outside of Chicago."
Bucketfeet is slated to open mid-July at 1924 8th St., NW.