Jamie Watts, as usual, was way ahead of the pack.
It was early in the Clarendon Day 10K, and Watts was the first to reach Jefferson Davis Highway, with nothing but empty lanes for miles ahead.
The route was supposed to be easy. A long downhill at the start, a ribbon of flat pavement unfurling to the finish. Now that she'd hit the flat highway, she'd settled into her practiced rhythm—steady, and more confident.
Soon, you could hear it. The cheering and whooping, then the clapping.
"You go, girl!"
"You've got this!"
If you were listening to the scene rather than watching it, you might have guessed Watts was in the lead—a star with a cheering section. But what you wouldn't have seen was the moment she tripped on a curb, catching herself on her palms. Or the way she dodged the street grates on Wilson Boulevard and was forced to tread ever so gingerly on the downhill slope.
Or most important, the reason she had the race to herself: A fixture on the local running scene, she gets to start before everyone else.
Jamie Watts has cerebral palsy. She was born seven weeks early with lungs that weren't fully developed, resulting in spastic diplegia. It's a type of CP that gnarls the body's lower half, causing stiff and downright uncooperative legs.
"Think of the leg of someone without cerebral palsy like an open hand," Watts explains. "My leg almost feels like a clenched fist."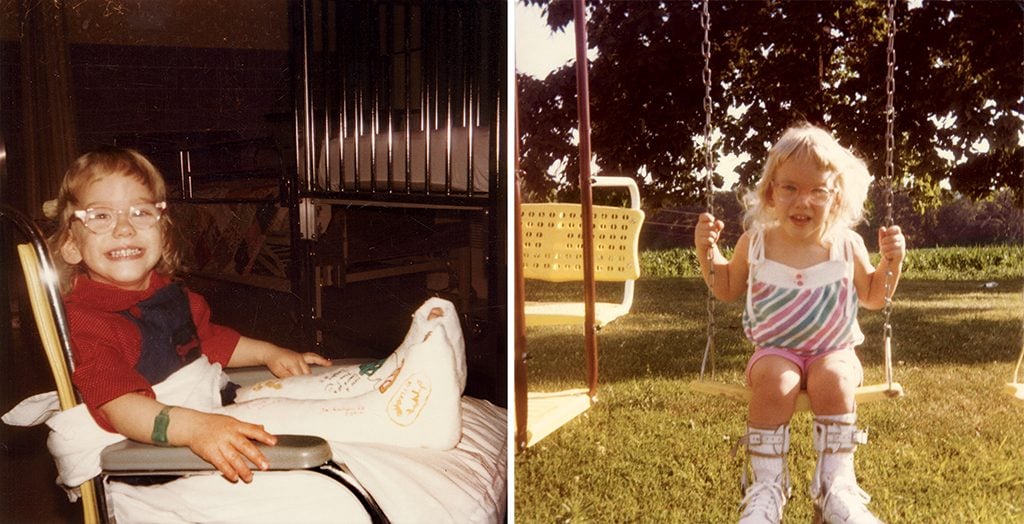 Thus, where average runners can skip over potholes in a single stride without much thought, Watts has to home in on every step to get her body to cooperate. Plant cane out front, swing left foot forward, twist hips, then follow with the right. Repeat. Don't fall.
Each stride is a complicated series of movements, every dip and bump in the pavement a hazard. Even the plastic mats at the start and finish lines she calls "death traps."
For Jamie Watts, running is less a race against the clock than an obstacle course. It's pretty much the last form of physical activity her body was born to do. Lately, it's the thing in life she loves most.
She took up the sport back in 2012. She was going to Italy with her mom and wanted to get in shape. "I didn't want to be the one who is always the last on the bus," she says.
The trip ended. The interest in running didn't. Workouts in her Pentagon City apartment building begat her first race bib, which begat the personal challenge that eventually led to her pounding the Northern Virginia pavement on this cool, overcast September morning: At age 33, she decided she would run 34 races in the year before she turned 34.
Watts lost every single one. But instead of retiring her Mizunos, she kept going.
• • •
At first, no one was supposed to see Watts run.
She'd always hated how she looked standing or walking, and she didn't want anyone to make a big deal out of her exercising. But after six months of training for her Italy trip, she thought she was ready to try a 5K. She picked a race that would take place well away from the District: the Marine Corps Marathon's Gender Defender in Quantico.
Watts rode the train south alone, then made her way to the packet pickup. Although she'd dressed headband to sneakers in her power color—hot pink—she was nervous. Just let me finish, she kept thinking. I don't want to be embarrassed.
For a Marine Corps event, the race had seemed kind of cutesy—pink T-shirts for the women, blue for the guys—but after the starting gun went off, not so much. "I knew right away that I was in trouble," Watts remembers, "because the pack takes off and you've got 600 fit Marines who will leave you in the dust in like 2.2 seconds."
Watts immediately fell behind. Significantly behind. She was only a quarter mile in when she heard a radio crackle to life. A call was going out about a runner in distress. She knew it meant her.
"I could just feel it, like, unraveling," she says.
I knew right away that I was in trouble because the pack takes off and you've got 600 fit Marines who will leave you in the dust in like 2.2 seconds.
Sandra Osborn-Peters, the event coordinator, had spotted Watts at the start and was now en route to her. Up ahead was a treacherous set of train tracks to cross, and Osborn-Peters had begun imagining the worst.
"We had just fired the starting pistol and everybody was going across, and there comes this woman with this bright-pink cane and this bright-pink shirt on," Osborn-Peters says. "I was terrified because we'd never had somebody with a disability like that participate in any of our events."
Osborn-Peters fell into step alongside Watts, her radio still buzzing, then casually slid the volume down as the two got to talking about the three miles Watts logged on the treadmill each morning. About her job with Bender Consulting Services, a firm that acts as a liaison between the disabled community and companies. About her lap swimming.
This is what happens when you meet Watts for the first time. She's a collector of people, "constantly magnetizing them in her direction," as her college friend Scott Lawrie puts it.
And so she magnetized Osborn-Peters. Before they knew it, the 5K was nearly over and the women were approaching the finish line. Watts could see it was nearly empty. Most of the racers were gone—already toweled off and headed for home. But then she heard her name being blasted at her from across the street.
"JAMIE! GO, JAMIE!"
Before the race, Watts had collected another new friend: Walter Reed employee Kimi Donahue, who recalls, "She just popped up and said, 'Will you take my picture?' " Now Donahue and her daughter had popped up at the finish line—they'd stayed behind to cheer Watts in.
The next day, Watts was so sore she couldn't stand up in the shower. She registered for another race anyway. How could she not, after the memory of that sweet sight, a small audience for her finish, a full 90 minutes after she'd begun?
• • •
Some things to know about Jamie Watts:
She didn't walk until she was three.
In elementary school, she used arm crutches and then a cane with four points.
She didn't graduate to a single-point cane until sophomore year of high school.
Her favorite cane was always the clear one—she thought it was the most invisible.
Watts was the only kid in Eolia, Missouri, population 401, with an obvious disability. Her best friend was the school superintendent's daughter. When no boy asked either girl to the prom for two years straight in high school, the two stayed home and dyed their hair to look like Rachel's on Friends.
A few years later, Watts was salutatorian.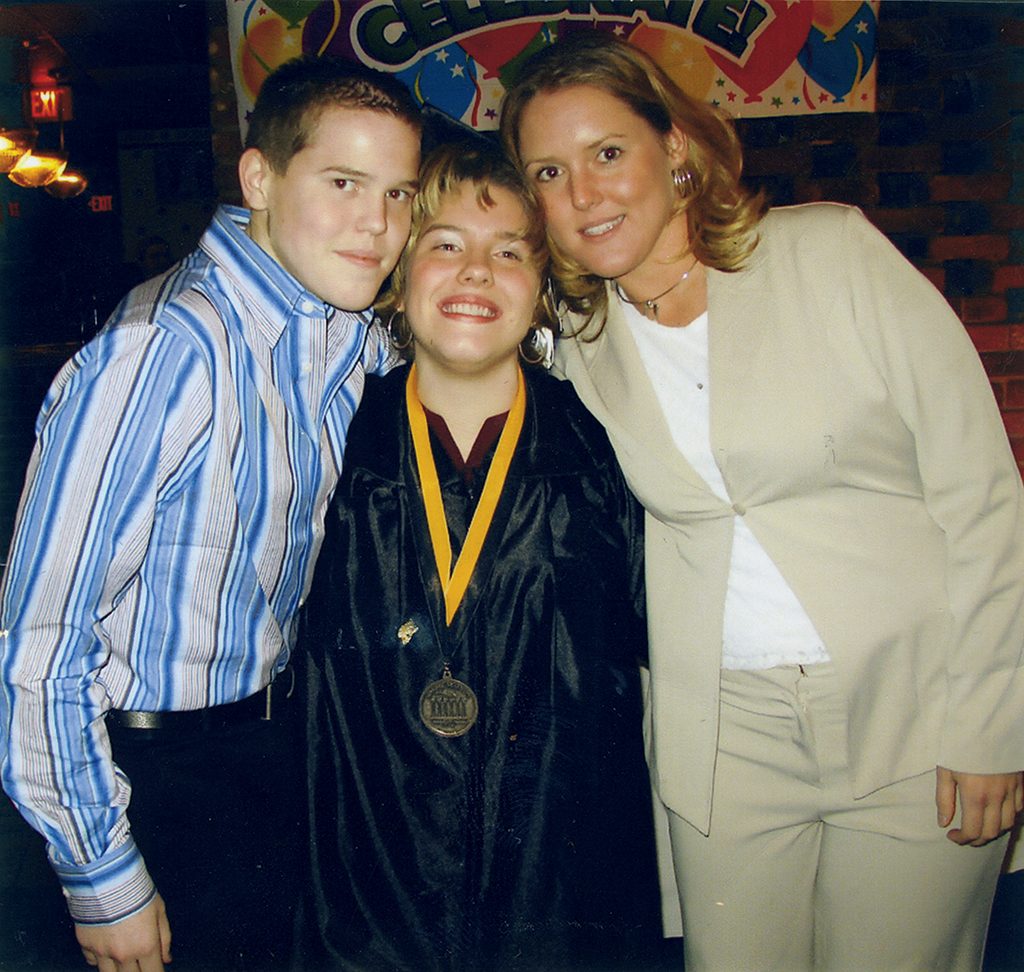 Her disability meant she couldn't ride a bike. But when she was nine, her aunt and uncle found a special $812.25 tricycle from Scotland—and charitable donations to help pay for it—so she wouldn't have to sit on the front porch watching her cousins tool around the neighborhood. The local newspaper ran a story headlined "Youngster Rides a Bike For the Very First Time and Loves It!"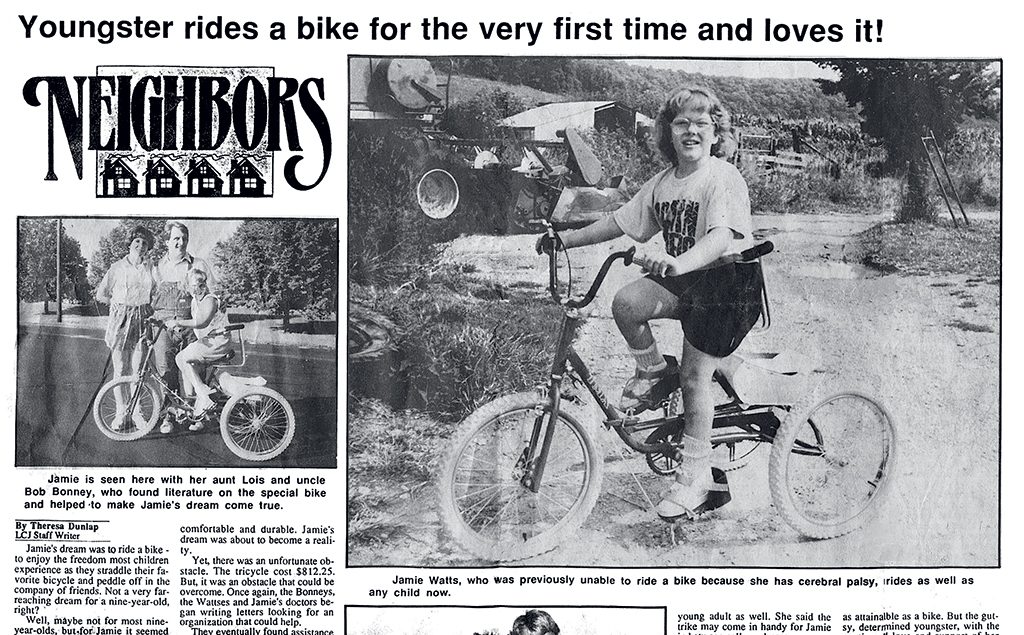 At the University of Missouri, Watts rode a scooter around campus.
During her first summer as a DC intern at the Labor Department's Office of Disability Employment Policy, she had to change dorms at George Washington University because she couldn't get to the elevator in the first one. She was relocated to a building empty except for two boys, one of whom also had CP. Every night for the first three weeks, she cried herself to sleep. "You don't tell anyone that I'm having a hard time," she instructed her mother. "You tell everyone I love it."
Today she makes her own way about town quite nicely, thank you. DC's public transit—not to mention its job market—makes it hard to imagine living anywhere else.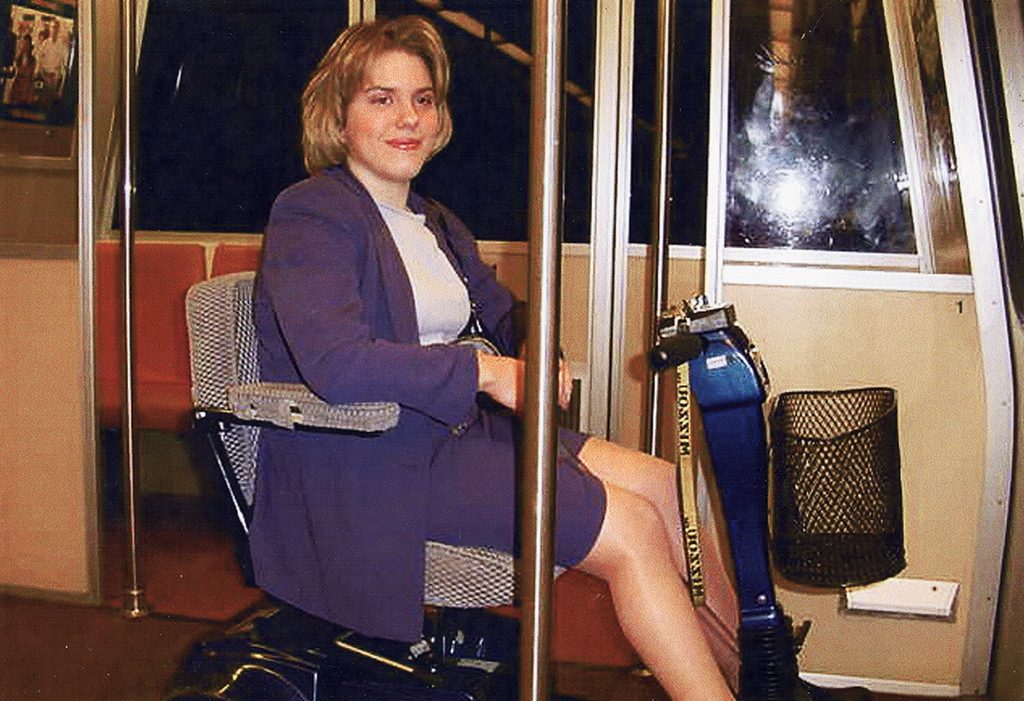 One night during freshman year of college, Watts was up studying till 2:30 AM. She turned out the lights but realized she'd left the printer on. In the dark, she tripped and slammed her face into a desk chair. Her two front teeth shattered, and her first thought was: I'm in communications—how am I ever going to get on TV now? But instead of going to the dentist the next morning, she went to class because, "let's be real, if the person who sticks out in class skips, people know." When her peers gasped at her gory mouth and split lip, she had a response: "Well, you should see the other guy."
• • •
One of Watts's best friends—the superintendent's daughter, Carrie Vanderford Sanders—does marathons and triathlons.
She heard Watts had taken up running and doubted it could be true: "I'm just like, 'You're a runner? No, you're not a runner.' "
What do you mean? Of course I am. Watts challenged her friend to a 5K.
In the fall of 2013, the two met up for the race, at a winery in Virginia. It was a tough course, full of hills and gravel. "There's a part that's almost vertical downhill," Watts says, "and you're just like, 'Oh, I'm going to die. This is where I'm going to die. My headstone goes here: Disabled runner goes down.' "
She went down—she always does. But she finished. Says Vanderford Sanders: "She's like . . . 'Just because it doesn't look like your [version of] running doesn't mean I'm not a runner.' And she is a runner—I'm totally convinced."
One day, Watts was scrolling through Facebook and saw an article about a woman who had spent a year running races to equal her age. I bet I could try something like that.
She decided: 34 races before her 34th birthday.
She told no one.
On June 14, 2014, the day after Watts turned 33, she took a picture before the gun went off at race number one. Maybe she'd fail—there could be tough weather, scheduling conflicts, one bad fall too many. But maybe not. Maybe she'd notch all 34, and if so, wouldn't it be cool if she had some kind of record?
The next weekend, Watts ran the Fit Foodie 5K in Fairfax, race number two.
By the end of it, she'd collected a team of boosters who would help her through her entire challenge: Pacers Running, the company that organizes more than 40 races a year in Washington. Race director Lisa Reeves heard about Watts's goal and agreed to start her early—before the roads closed—at any event she wanted. This way, she could be sure to finish before the roads reopened to traffic.
At race number three, Pacers' Freedom Four Miler in Arlington, Watts started 15 minutes early, feeling anxious about other people wondering why she was so slow. Almost two hours later, with everyone else already partying in a nearby bar, she made her way toward the finish. As she came up the hill, she saw runners streaming out of the bar to cheer her on: "I'm used to finishing in silence. When I got there, there was this giant mass of people. They just like literally poured into the street, and I was just so overwhelmed."


Watts ran number four on July 4, one of her favorite holidays. She did the Latinas Leading Tomorrow 5K on July 12 (number five) and made the Crystal City Twilighter on July 26—the anniversary of the passage of the Americans With Disabilities Act—her seventh.
On October 4, she started the day at RFK Stadium with Run or Dye (number 16) and finished it with the Dead Man's Run (17) through Congressional Cemetery.
The following weekend, Watts and a friend had plans to run another Halloween-related race: the Monster Glow Dash, a nighttime event on Summerseat Farm in Mechanics­ville. When they arrived, the setup wasn't what they'd envisioned. The course led through a field of high grass before diverting into the woods. Given that the race was after sunset, Watts had assumed the trail would be well lit. Instead, garden lights were set up on the ground, yet spaced so far apart that she couldn't see anything but pitch black from one to the next.
Every ten feet or so, her feet caught on a root, sending her face-first onto the ground. Please, God, she thought, don't let me break my face, because I've got to go to work Monday and I can't be all scratched up.
On she went.
From time to time, runners stopped to make sure she was okay. Some stayed with her for a bit, then forged on before the next one came along. After almost two hours, Watts emerged from the woods, freezing and exhausted, number 18 behind her.
• • •
By now, Watts was a fixture at Pacers events.
Unofficially, she'd also become a face of the company. "Jamie isn't the fastest of runners. She actually starts our races…about 30 minutes before the race starts. She also finishes them in last place. But, that is more than fine with her," Pacers owner Chris Farley wrote on the company blog announcing its new slogan. "She is inspiring. She is 'For EveryRun.' "
In December, when Watts arrived at the Mall for race number 25, Jingle All the Way, she met a runner whose daughter has CP. It was the girl's tenth birthday, and she'd gotten a bib but then refused to show up, saying, "Mom, I don't want to go, because I don't think there'll be anybody like me."
"Well," Watts told the woman, "you just tell her I'll see her at the next one."
(Months later, a man at the National Press Club 5K asked to take Watts's picture so he could show his daughter with CP.)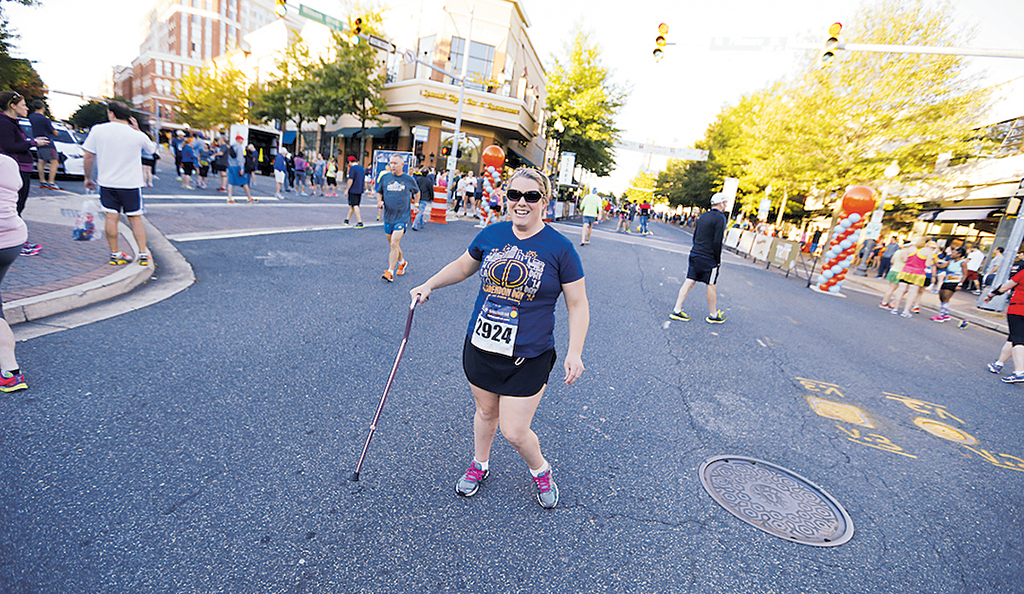 Watts ran number 27 with her mom, Carolyn Gregory. It was New Year's Day in St. Louis, and the Commitment Day 5K took place in freezing temperatures.
The weather was harder to handle on the day of race 32. It was March now, and when she showed up for the Four Courts Four Miler in Arlington in her usual running skirt (plus leggings), a cold rain was falling. Pacers' Lisa Reeves handed her a trash bag and told her to pull it on over her clothes.
But I look really cute! Watts refused.
A quarter mile into the race, she heard the radio call:
"JAMIE IS NOT WEARING THE TRASH BAG.
"I REPEAT, JAMIE IS NOT WEARING THE TRASH BAG."
Oh, for heaven's sake, she thought and pulled the plastic over her head.
Watts was the last person on the course that day, and as an Arlington police car followed her up the final hill, a race photographer snapped the moment: her hair a matted mess, police lights flashing over her shoulder, a blinding smile on her face. This is Carolyn Gregory's favorite picture of her daughter.
• • •
Watts's birthday is June 13. She had nearly three months to go, with 32 races already behind her.
Then she saw the George Washington Parkway Classic on the Pacers calendar for April. It was the company's marquee event of the year, and she realized it could be her 34th race.
There was only one problem. The Parkway Classic is a full ten miles, almost seven miles longer than her usual courses and a distance she hadn't yet attempted. Watts already has to work twice as hard as the average athlete to maintain muscle, and attempting a ten-miler would mean even more hours in the gym. It would be tough. But when Pacers agreed to support her the whole way, she couldn't resist.
The morning of the race, the alarm on Watts's iPhone—set as "Get Up to Run Foxy"—went off at 3:30 AM. At 5:55, she took off. "No matter what happens, we keep going," she said to her Pacers team beforehand. "Unless something really bad happens and I have to go to the hospital—then okay. But no matter what happens, we keep going."
No matter what happens, we keep going.
Pacers always sends a volunteer with Watts. This time it was the CEO's 67-year-old mother, Pat Dalby, who helps keep the company's books and is sometimes referred to as Chief Financial Mom. Right away, Dalby worried about the conditions. Because the roads wouldn't close to traffic until 8, when the race officially began, they would be restricted to the Mount Vernon Trail—in the dark. There were no trail lights, and they hadn't packed headlamps. Wet leaves underfoot kept causing Watts to slip and fall.
"I was so concerned she was going to get hurt," Dalby remembers. "I said, 'You need to tell me exactly what I need to do to help you.' "
They worked out a system: To get back up, Watts would hold onto her cane with one hand and onto Dalby with the other. When her shoes came untied, Dalby would duck down to fix them.
At 8, the starting gun went off for everyone else and it was safe for Watts to get out on the road. She had hit the four-mile mark by now. With the sun in the sky and the even, dry surface of the parkway under her feet, she picked up the pace.
Before the race, when others had asked if Watts was prepared for all ten miles, she'd said, "Look, I've got the first six—it's going to be my friends that get me through the last four."
Sure enough, right around mile seven, Watts felt her tank running out of gas.
I don't know if I can do this, she thought.
She said nothing.
In the movie version of Watts's life, this is the part where the frames slow down, the theme to Chariots of Fire starts playing, and then you see them right when Watts does: a couple of fans holding a banner up ahead. She doesn't think they're cheering for her (Aw, they must be waiting for a friend—isn't that nice?), but you know they are, and then as soon as she gets a little closer, she knows, too.
Katie!
Her best friend, the first one she'd made in DC. The friend who moved away like so many in Washington do—now here, on the course, a surprise.
When Watts saw Katie Comer, she burst into tears. She ran to her. They hugged.
And on she went.
I'm used to finishing in silence. When I got there, there was this giant mass of people. They just like literally poured into the street, and I was just so overwhelmed.
By the time Watts reached the final stretch, through Old Town Alexandria, the allotted race time had ended and the roads had reopened. She was about six hours in, with more than a mile to go—on Old Town's treacherous brick sidewalks. Plant cane out front, swing left foot forward, twist hips, follow with the right. Repeat. My friends are waiting for me.
At six hours and 32 minutes, Watts crossed over the mat, the last death trap of her "34 by 34." Before she could get sucked up by her crowd of well-wishers, Pacers' Lisa Reeves leaned in and hung a medal around her neck. "That event for me in general is a very emotional event," says Reeves. "Months and months of planning go into that…but having Jamie finish last year was just the cherry on top of that cake."
Jamie Watts runs a 30-minute mile. It isn't most people's definition of running. But Jamie Watts defines running differently: "Fast is faster than you were yesterday."
She finished 40 races by her 34th birthday and went on to do another 36 this past year. In May, she ran the Marine Corps Historic Half, her first half marathon. She started at 2:28 am. It took her seven hours and 53 minutes. She wore pink.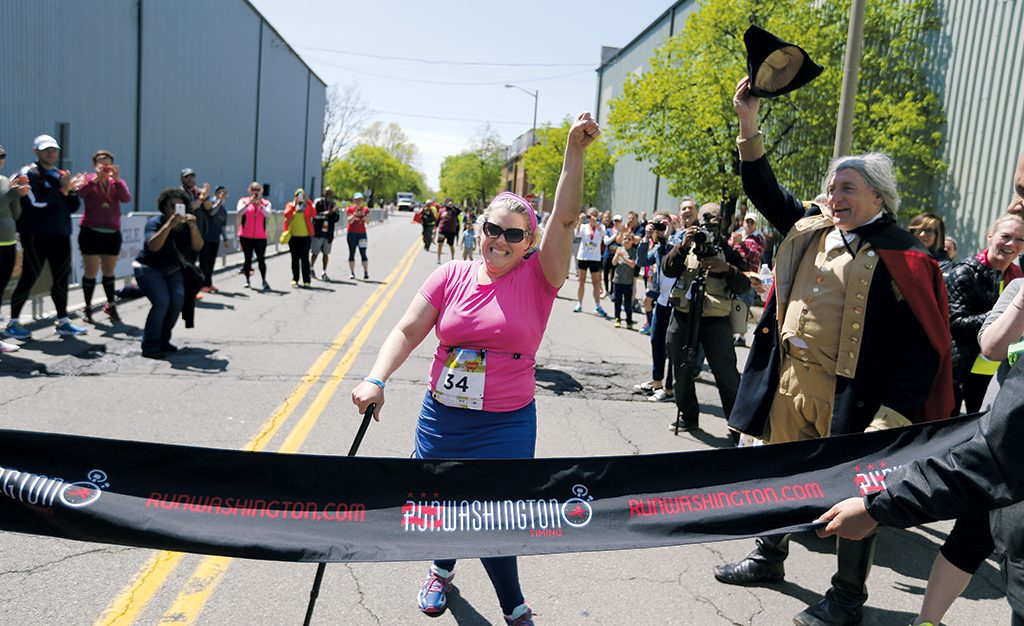 Assistant fashion editor Caroline Cunningham can be reached at ccunningham@washingtonian.com. On Instagram, she's @carolineryancunningham.
This article appears in our July 2016 issue of Washingtonian.