A Craigslister with a keen sense of branding and the cultural zeitgeist is marketing his 1963 AMC Rambler as the "Ultimate Pokémon Go Vehicle."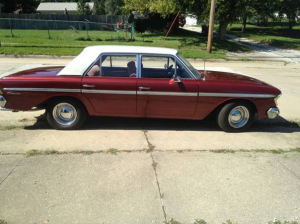 The seller asks potential buyers to reexamine their Pokémon Go M.O.: "Are you walking around like a fool, trying to catch Pokemon on foot? Loser! You need to get mobile, young Jedi." Tough, but fair.
For all the Pokémon Go-friendly features, the Chantilly-based car is a steal at $5,500. Indeed, the seller promises "comfortable seating for your whole Trainer team," along with "360 degree windows" that "allow you to search every direction for Pokémons." What's more, the trunk offers "ample space for all your Pokémon tracking gear, plus snacks and punch." The odometer, clocking in suspiciously at exactly 99,999 miles, is less a cautionary note about the car's future lifespan than it is a testament to its status as a "Pokémon War Wagon."
You can find the full posting here. And should you rather have someone else do the driving in your Pokémon Go endeavors, this charitable human is offering his or her services as a Pokémon Go chauffeur across Northern Virginia, water and snacks provided.
Of course, please do not drive and Pokémon.