In little more than a month, REI, the outdoors retailer, will open a 51,000-square-foot flagship store right across the street from the NoMa Metro station. That's the location of the former Uline Arena, which hosted the Beatles' first-ever US concert in 1964 and, more recently, a parking garage.
A lot's changed. On a tour of the site, set to open October 21 with a three-day block party, REI revealed some of the upcoming features of its fifth-ever flagship, including community spaces, an "adventure station" for local outdoor-trekking advice, and an in-store La Colombe coffee shop.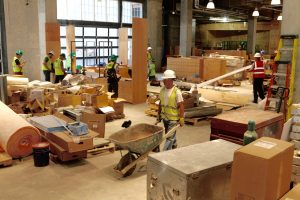 The store will be arranged with a "marketplace concept" in mind, featuring separated sections that host different gear—bicycling, winter sports, shoes, etc. The concept will go beyond just each section's offerings though, showcasing distinctive architectural finishings and "personalities," according to REI.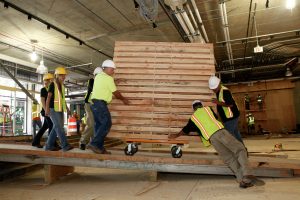 Builders couldn't raise the ceiling on the historic Uline property, so in order to make space for tall equipment such as kayaks and canoes, they excavated portions of the floor down to the foundation. This means the store slopes slightly downward from the entrance, with different levels further sectioning off departments for the marketplace concept.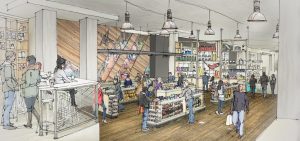 Philadelphia-based coffee shop La Colombe—which has locations in Blagden Alley and Chinatown—will have its own partially contained space inside (it's to the left in the above concept photo). People can pick up a cup while they browse, but the coffee shop will also have its own entrance and hours for early birds who visit before REI opens for business each day.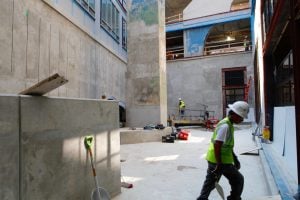 The store will have a courtyard space for shoppers and coffee-drinkers (above). REI says it will feature a large-scale mural from a "prevalent outdoor artist" whose name it's not ready to disclose (although the retailer did say it is not Banksy).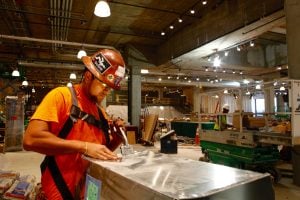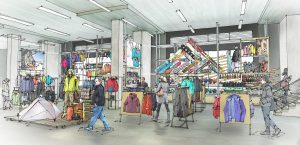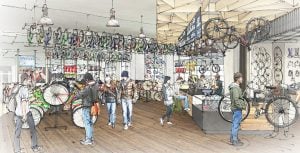 In addition to sections for biking, seasonal sports, footwear, and Patagonia merchandise, the store will feature a community room to serve as a meeting place for outdoor-focused groups. There will also be an "adventure station," in which REI staff will advise shoppers on local options for hiking, kayaking, or any other outdoor sporting trip.