Our Washingtonian Recommends lists bring you the best places to eat, drink, and be entertained—all selected by Washingtonian editors.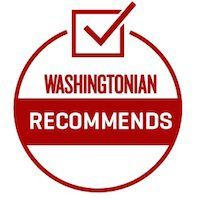 Dating is hard enough without picking a place to actually meet. Will you have to scream over booming hip hop to find out where he lives? Will you go broke on drinks if you end up hanging out for four hours? Is this even a date?! Save your worrying for your wardrobe, and consult our guide to first date bars in DC.
When you're looking an intimate conversation: Left Door
You could kill your chances of a second date by taking someone to a bar so loud you can't even have a conversation. Left Door is, blessedly, a little quieter and a little more sophisticated than your average 14th Street haunt. Plus, the staff makes sure it's never overcrowded, so you don't have to worry about some chick with elbows as pointy as her stilettos constantly bumping into you. But the main reasons to come here are the expertly made cocktails (served in lovely vintage glassware) and knowledgeable bar staff. When your date reacts positively to a Sazerac, you won't need to scream, "WHAT? YOU'RE HAVING A HEART ATTACK?" 1345 S St., NW. 
When you want to impress your date without spending a lot of money: Bar Charley
If you go on enough dates, you could easily go broke on booze in this town. At the same time, you don't want to seem cheap. Bar Charley offers some serious cocktails at serial-dater prices during happy hour all night on Mondays and until 6:30 pm Tuesdays through Fridays. Classics like the Old Fashioned and Jack Rose are only $6, while draft tiki drinks go for $5. Glasses of wine and draft beers are also $2 off. Even when it's not happy hour, many of the cocktails are $10 and under. That should leave enough money in your budget to return with your date—or another one—the next day. 1825 18th St., NW.
When you're hoping to get laid: El Centro D.F.
Hot date? Smoking. Sexy underwear? Washed 'em last night. Now you just need an excuse to get your bodies a little closer, which means your best bet is a night of dancing and some tequila. At both locations of El Centro D.F., DJs spin international music on Fridays and Saturdays beginning at 11 pm. Can't dance? The Georgetown outpost offers free salsa lessons every Wednesday from 9 to 10 pm. 1819 14th St., NW; 1218 Wisconsin Ave., NW. 
When you don't drink: Calabash Teahouse & Cafe
Your options don't have to be evening cocktails or afternoon coffee. Shaw's Calabash Teahouse & Cafe, from a fifth-generation herbalist, offers colorful couches, vegan nibbles, and dozens of exotic teas and chais. Bonus: the "Love Potion #10″—black tea, ginger, and spices—is supposed to have aphrodisiac properties. 1847 Seventh St., NW.
When you're not sure if it's actually a date or not: Tryst
So that kinda cute acquaintance wants to get together, but you're not sure if his/her intentions are romantic? Adams Morgan hangout Tryst straddles the line between casual date hangout and platonic meeting spot. Yes, you can get a glass of Sauvignon Blanc or a Right Proper brew. But if need be, there are just enough people on laptops that you can play off the encounter as "networking." 2459 18th St., NW. 
When you're not sure if your date will live up to their Tinder profile: A&D 
Your date may or may not be too good to be true, and you may or may not be interested anyway. A&D is a good spot for a noncommittal drink, especially during happy hour (all night Monday, 5 to 8 pm Tuesday through Friday) when you can get $5 drafts and $8 house cocktails. You can linger for a long time, or get in and out quickly. If you decide you really like the person, you'll be happy you chose a place with such flattering, dim lighting. If it doesn't work out, though, you might want to stick around. You'll likely be able to meet someone else at the bar. 1314 Ninth St. NW. 
When you need an activity in case the conversation sucks: The Board Room 
You never really know someone until you've sized up their Scrabble skills. At the very least, board games and beer are an easy way to break the ice. (Or Don't Break The Ice!) A game of Life is an easy segue into your family and professional priorities, while an affinity for Cards Against Humanity can reveal a twisted sense of humor. Just don't start with Monopoly if you're not sure how the date will go. That game never ends. 1737 Connecticut Ave., NW. 
When you want a romantic backdrop: Whaley's
If you can't charter a private yacht, you can at least survey the water from Whaley's. The newish Navy Yard seafood spot provides nice views of the Anacostia River plus a bright bar that feels like vacation. Start with rosé and some oysters, then take a walk on the boardwalk to cap off the evening. 301 Water St., SE.