Longwood University—in the dot-on-a-map town of Farmville, Virginia—is adding Jeffersonian columns to the 1970s Brutalist building where the school's Lancers play basketball. Other improvements are also on tap: IT upgrades, new signs, a grand campus entrance featuring still more columns. Altogether, the cost exceeds $5 million. But Longwood has to look its best. It's going to be on TV.
Last September, Longwood—3½ hours south of Washington—was chosen as the site of 2016's sole vice-presidential debate. The idea that this small, rural campus could host a national political face-off first struck university president W. Taylor Reveley IV during a class he was teaching on the American presidency. A student asked if such an event could ever happen at Longwood. "The idea just kind of lodged in there," he says.
Reveley, who is from a long line of college presidents—his father presides over William & Mary—began taking stock. Longwood had a beautiful campus, proximity to DC, and a swing-state location: "I gathered some of the great gurus at Longwood to think about if we thought we could make a real run at this."
It didn't hurt that the group included his chief of staff, Justin Pope, a former AP re-porter, and Longwood vice president Victoria Kindon, who had worked with the Obama campaign to facilitate a social-media push in 2008. The gurus were pretty keen.
Every campaign cycle, about 75 schools express interest to the Commission on Presidential Debates. CPD reps, accompanied by the Secret Service, kick the tires of just 16 campuses. Their visit to Longwood last June ended with lunch at the president's house. As a former managing director of the Miller Center, the University of Virginia's presidential-and-policy-studies forum, Reveley knew some of the CPD folks. Lunch involved geeking out over debate trivia. On a second visit, the CPD approvingly went through Longwood's attributes: a large venue, but not too large, with rooms where the debaters could prep without running into each other and a big space for the press. The commission admired the campus's energy.
By this point, excitement was building—"like showing up on the list of people the President is thinking about for the Supreme Court," Reveley says—but Labor Day came and went without news. Two weeks later, as Longwood's gurus started getting nervous, Reveley's secretary opened his door during a meeting: Mike McCurry, former press secretary to Bill Clinton and cochair of the CPD, was on the phone.
"Are you busy on October 4 next year?" McCurry asked.
"I hope so," Reveley responded.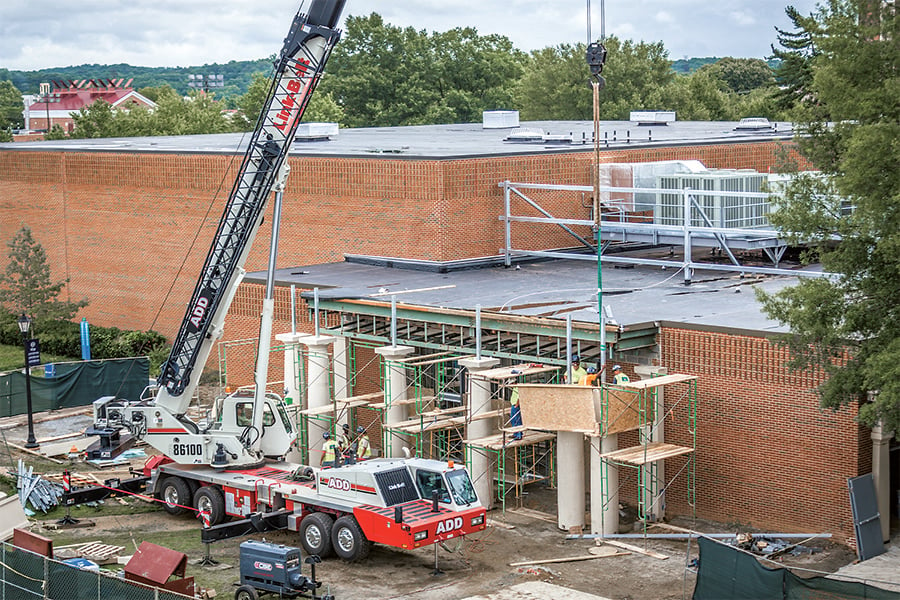 For a little-known school, a debate isn't just a chance to see celebs. It's a way to put yourself on the map—with all that means for enrollment and the bottom line. Within 24 hours, Longwood launched a website and held a campus rally. (Kindon deejayed, playing campaign classics such as "Signed, Sealed, Delivered.") The school has since sent debate-themed goodie bags to potential students and plastered ads on Capital Bikeshare depots in DC.
Is the spotlight helping? So far, says Reveley, Longwood has gotten contributions from about a thousand more donors than it had at this point last year. Kindon is planning a survey for after the debate to gauge shifts in the university's reputation and alumni satisfaction. With help from volunteers, it's sending monthly newsletters and mass texts about the debates.
But, says Reveley, the biggest priority is to make sure students see it all. Undergrads get the lion's share of the university's tickets. In a nearby quad, others will be able to watch the debate on a big screen, eat street food, visit promotional tents for partners such as Snapchat, and, of course, marvel at all the new columns.
This article appears in our September 2016 issue of Washingtonian.