Target has pulled masks with painted-on smiles and red noses from shelves. McDonald's is cutting its mascot's hours. Police are urging parents not to let their kids dress for the circus on October 31. Some Halloween events—including DC's Nightmare on M Street bar crawl—have banned clown costumes altogether. Clown hysteria has gripped the nation in the wake of "creepy clown" reports and social media threats from clown-themed accounts, even though many turn out to be hoaxes.
Lost in this madness: the outrage of decent, hard-working, professional clowns.
Washington is home to a small but close-knit clowning community. And its members say they've had enough of what they see as unfounded coulrophobia and that people scaring children—and often the news outlets covering them—don't even know what a clown is.
"If somebody is doing something threatening in a gorilla suit, we don't say, there's a gorilla threatening people," says Matthew Pauli, a former member of the Big Apple Circus and a co-founder of DC's Clown Cabaret. "So when someone says there's a creepy clown, well, is there a creepy clown? Or is there someone in a clown suit? Let's start with that."
Rich Potter, another cabaret co-founder who has toured with the Ringling Bros. circus, thinks that while some of the sightings have been fakes, the rumor of a clown scaring people is interesting enough that it spreads.
"The internet is gasoline on those fires," he says.
As these performers see it, fear of clowns is a trend bolstered by movies and pop culture. But even fictionalized images of clowns can be perverted by the zeitgeist. In Stephen King's It, the clown was a monster disguising itself, not an actual circus performer.
"It's a trigger," Potter says. "I've been talking to people about my work, and someone will pick up on the word 'clown' and jump into the conversation to say, 'I'm afraid of clowns!' and it's like, 'Were you part of this conversation, or are you just reacting to a word?' "  
Clown Cabaret has a monthly showcase at the Logan Fringe Arts Space where regional clowns perform their best ten-minute routines or develop new material. It's a chance for performers to hone their craft. One of the most important rules of clowning is that audience members should never feel uncomfortable or embarrassed, let alone afraid.
"The water is going in my face, not yours," says Karen Beriss, a longtime magician and the third founder of Clown Cabaret. A clown should be vulnerable and relatable, and "reflect society," she says, but any shame or embarrassment befalls only the clown.
"People think I'm going to do something to them," Pauli says. When he chooses an audience volunteer, he tries to put that person at ease as he leads them onstage. If anyone has had a bad experience with a clown, he adds, they weren't in the presence of a true professional.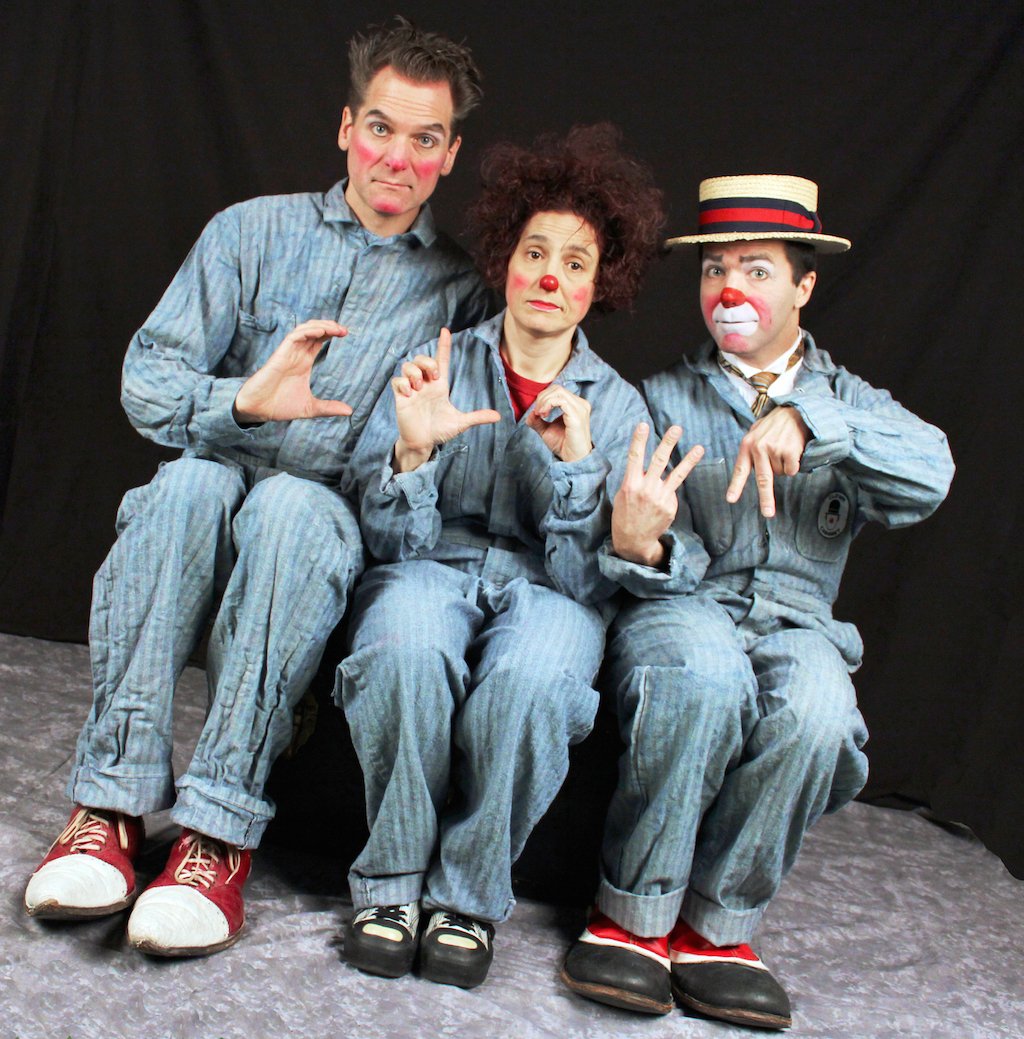 Dody DiSanto, who teaches a clown course for master's students at the Academy for Classical Acting at the Shakespeare Theatre Company and George Washington University, calls clowning an essential skill for actors.
"We mine for openness, availability, and the willingness to play—structures that are paramount to actor presence," DiSanto writes in an email. "A stark contrast to this phenomenon of 'creepy clowns.'"
The Clown Cabaret founders say even clowns' makeup has been misused and misunderstood. Painted-on smiles and eyebrows that arch halfway up the forehead are meant for three-ring circus acts where audiences watch clowns from far away, in low-lit tents. These clowns favor subtler looks.
"A little red on the nose, chin and cheeks," Potter says. "A little liner to make the eyes pop."
The makeup should say, "I'm here to play," Pauli says.
But many good frights come corrupting something whimsical and innocuous, right?
"If you take something that is supposed to be innocent and subvert it for the purposes of horror, that's good horror, but the creepy clown has been done more than vampires at this point," Pauli says. "When American Horror Story did its circus season, I thought, wow, they're not even trying anymore. The only way that's going to be interesting is if it turns out the clown is actually the hero. Because you've set up the expectations and played right into them. It's just lazy."