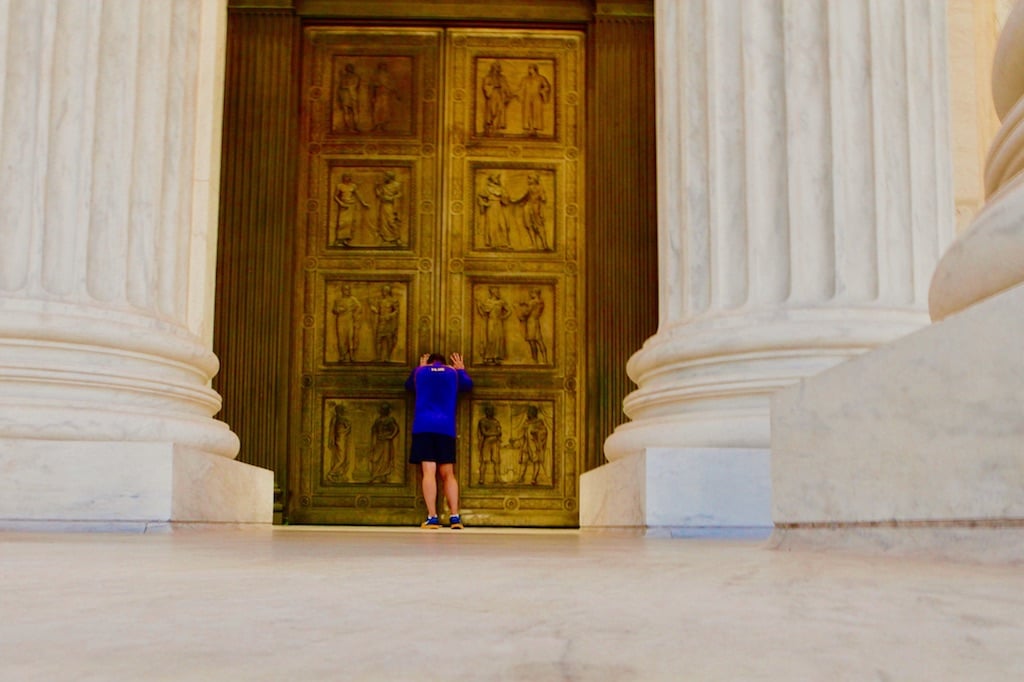 ***
Elaina Plott writes: Something to meditate on, when it comes to the future of the Republican Party.
Many Republican operatives I've interviewed over the last couple of months, most of them anti-Trump, have viewed this election as a chance to "break the fever." That fever, of course, being Trumpism, the aggressively populist, in parts white nationalist, sentiment that has riled the Republican base during this election cycle.
That "fever break" was contingent upon two things. The first is obvious, that Hillary Clinton prevail over Donald Trump this evening. The second is less so, that her victory be a complete blowout, an Obama-Romney, Johnson-Goldwater brand of rousing defeat. Only then, these operatives say, can the GOP, and thus conservatism, begin the process of rebuilding, and excise those ghastly 2016 elements altogether.
Folks, it ain't happenin' tonight. Win or lose, Trump has shown, definitively, that he and his brand of Republicanism have staying power. That's something that Paul Ryan, Mitch McConnell, and every self-described party leader will be forced to contend with long after tonight.
***
ADAMS MORGAN UPDATE: Thirty people are waiting to get into the pop-up Bar Ilegal. CNN is playing outside.
***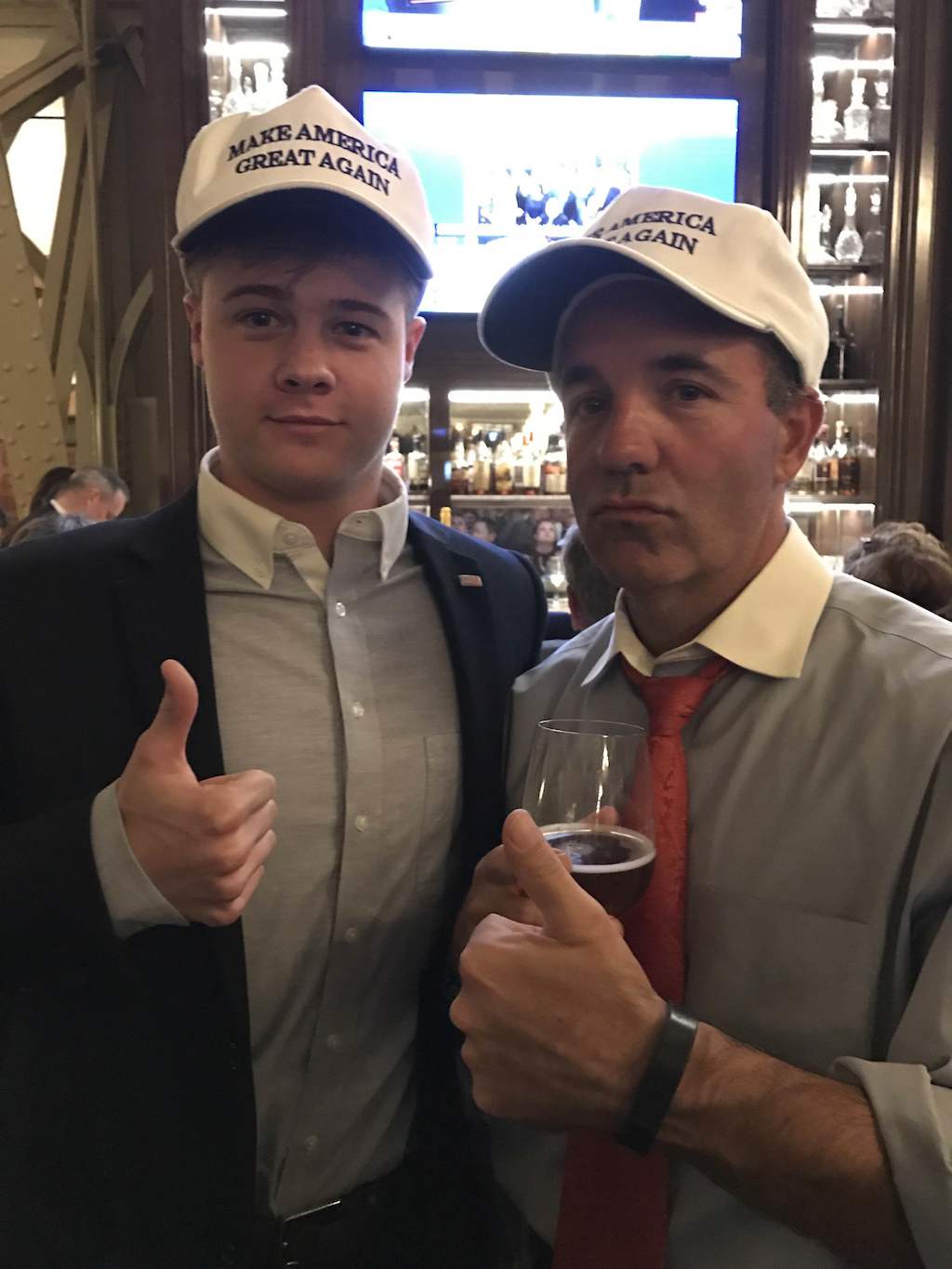 Elaina Plott reports from the Trump Hotel: Brothers Preston Parry and Matt Keelen are here wearing matching Make America Great Again hats. Preston's a Hill intern, Matt is in public affairs. They're anxious for Florida to be called.
***
Some scenes from viewing parties, by Caroline Cunningham: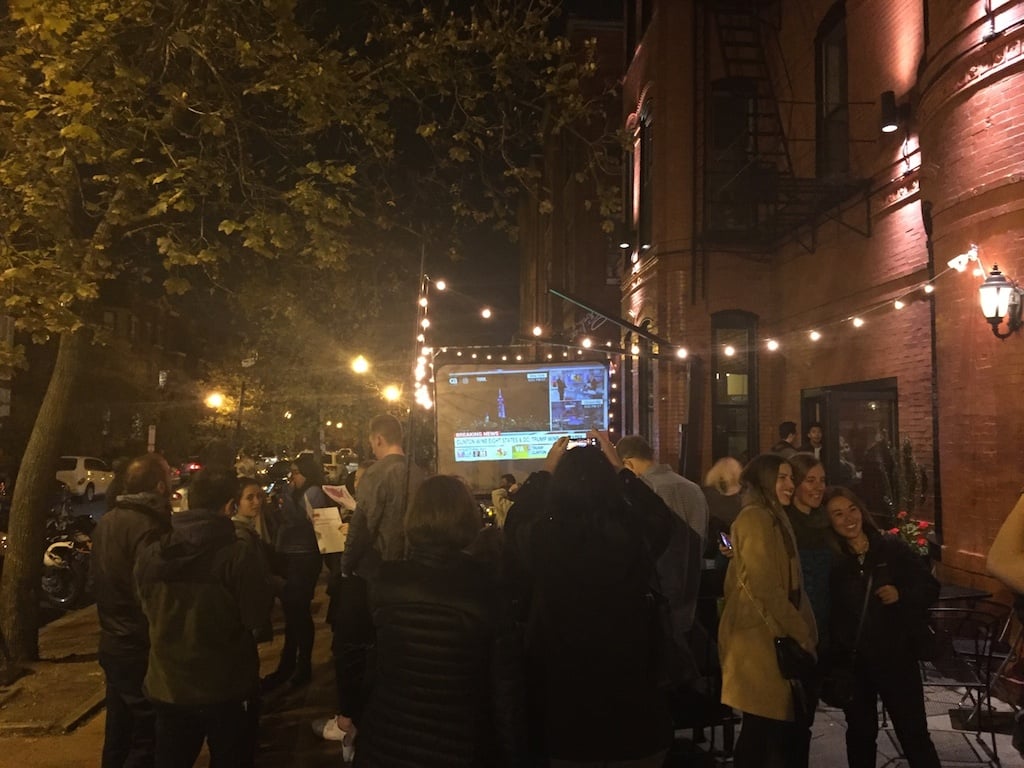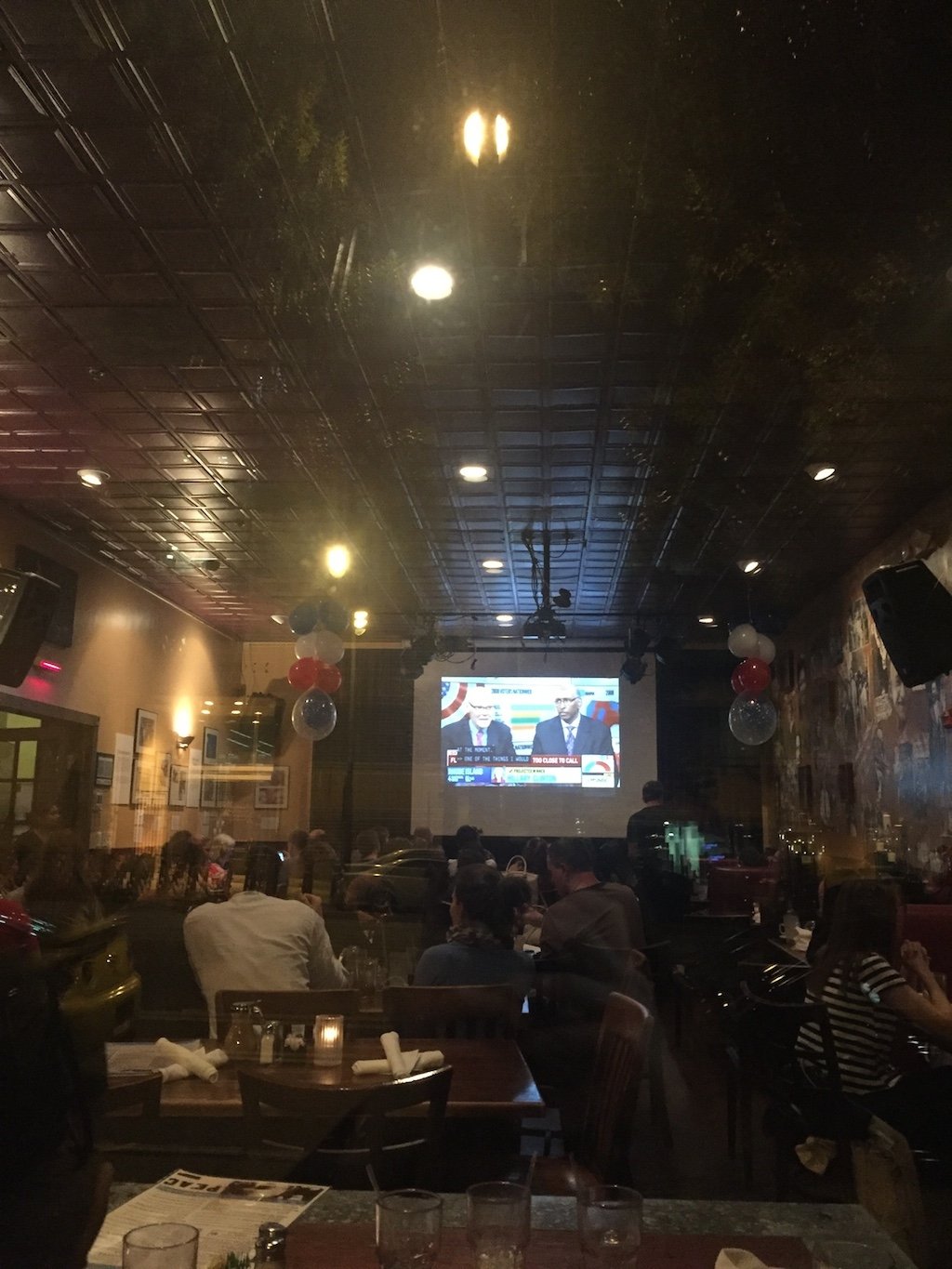 ***
ADAMS MORGAN UPDATE: Overheard in AdMo, uttered in the low red light coming off the Virginia projection map. "Sweetie, we can go to the liquor store on the way home."
***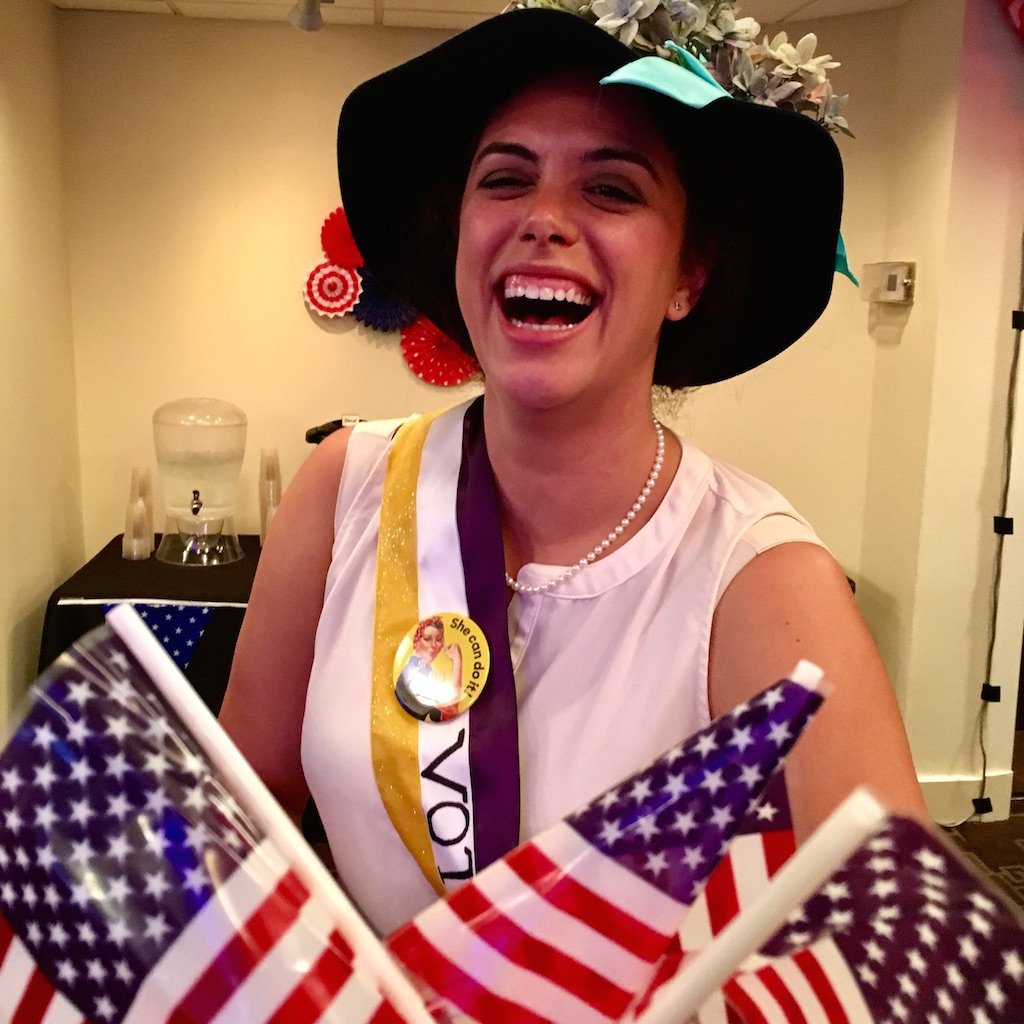 ***
Elaina Plott reports from the Trump Hotel: A string of Trump leads flash across CNN — Michigan, Virginia, New Hampshire. The cheers here are deafening. "It's like the frickin' Super Bowl!" beams one woman by the bar. "If we fuckin' win," she adds, "we're gonna fuckin' drink."
"Booooo" goes the bar crowd as CNN calls New Mexico. "Lock her up!" shouts one gentleman. A quick change of tune, though, as the network calls Louisiana for Trump. "Those're good folks," the same gentleman says with a grin.
***
Greta Weber reports from the watch party at Sixth and I: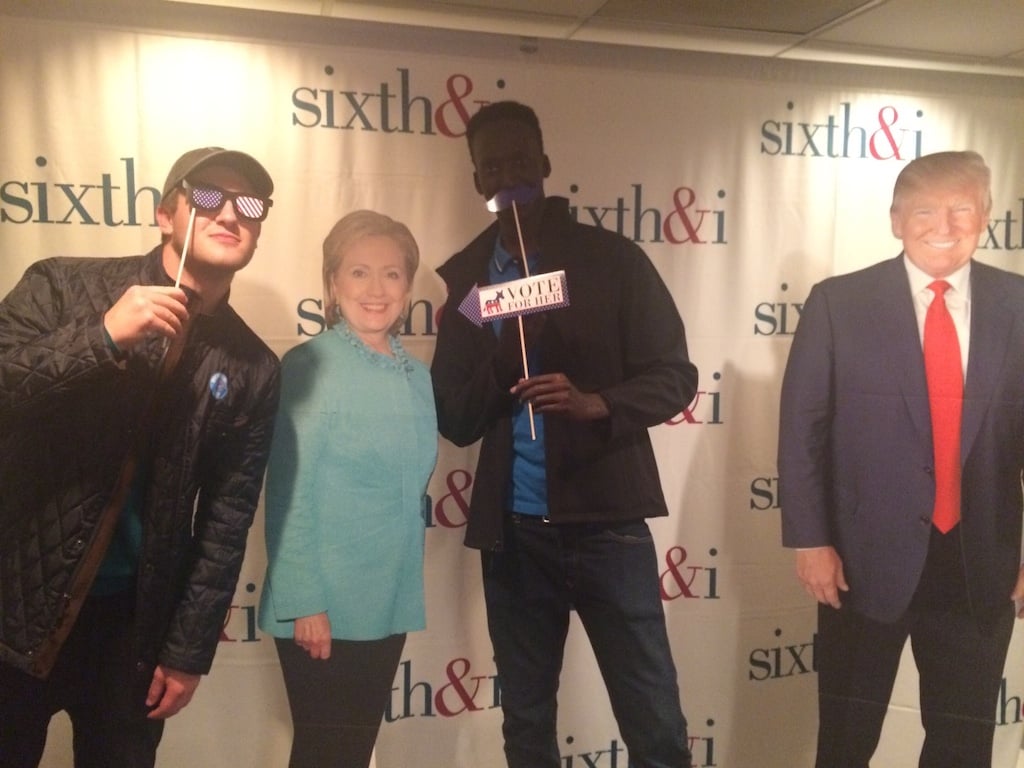 Ryan Fidell, 21, voted for Clinton today. "I'm happy it's over. I'm happy we're available to move into some different conversation." He lives in Capitol Hill, and says the air around his neighborhood has been "cold." "It's exhausting for the city."
Mohamud Mohamud, 25, is from Somali and just became a US citizen in August. It's exciting I was able to vote for the first time ever in my life because we don't have voting in my country." He voted for Clinton. "Compared to that guy, she's perfect."
***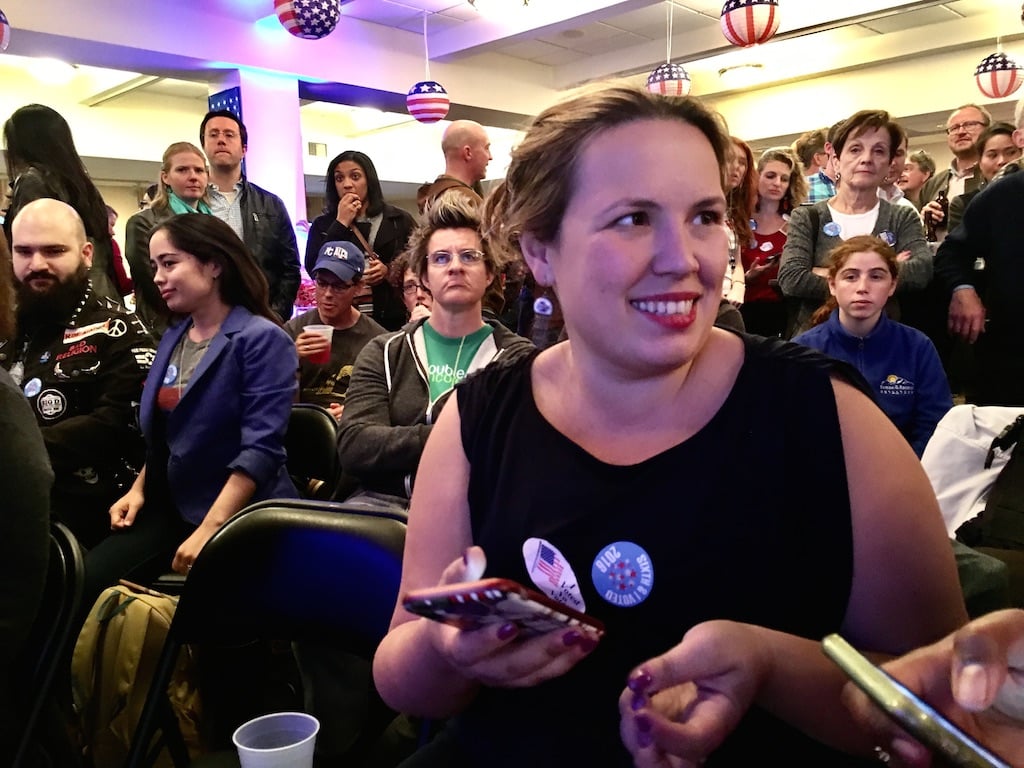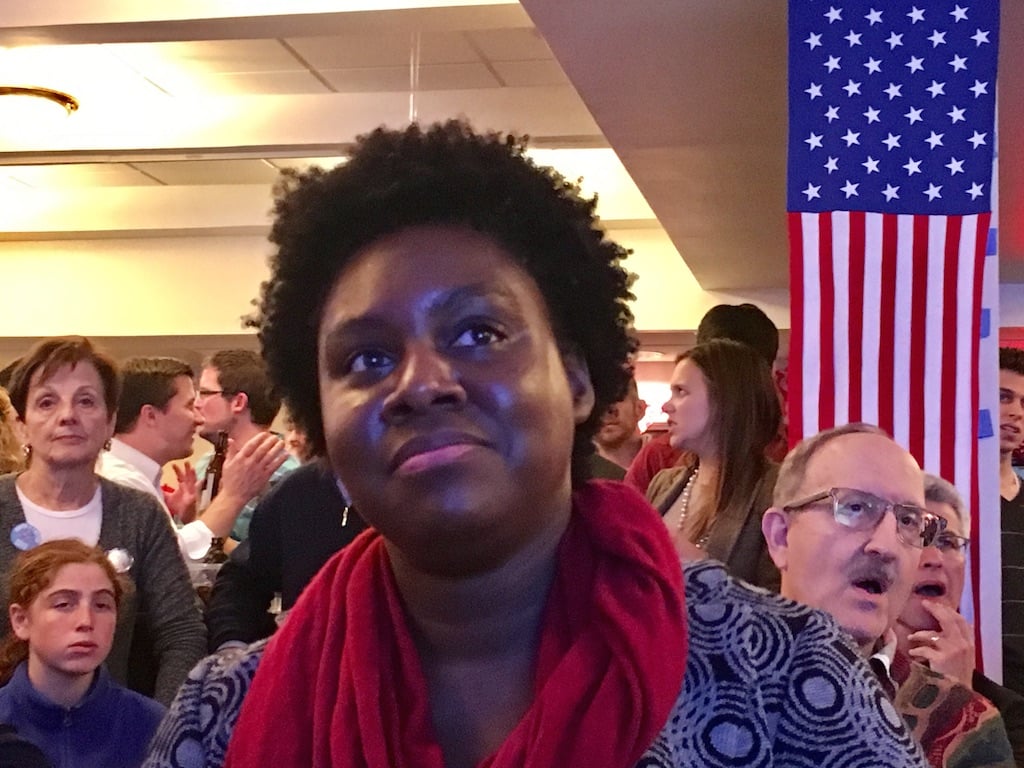 ***
TRUMP HOTEL UPDATE: "People in the Trump hotel are chanting 'Drain the Swamp' as Trump's electoral vote lead grows larger," Benjamin Freed reports.
***
ADAMS MORGAN UPDATE: The Black Squirrel is out of clean pint glasses right now. "It's hard to separate low feelings about Florida from desperate thirst, but the mood is for sure low," Amanda Whiting reports.
***
The election-watching scene at the Washington Free Beacon tonight: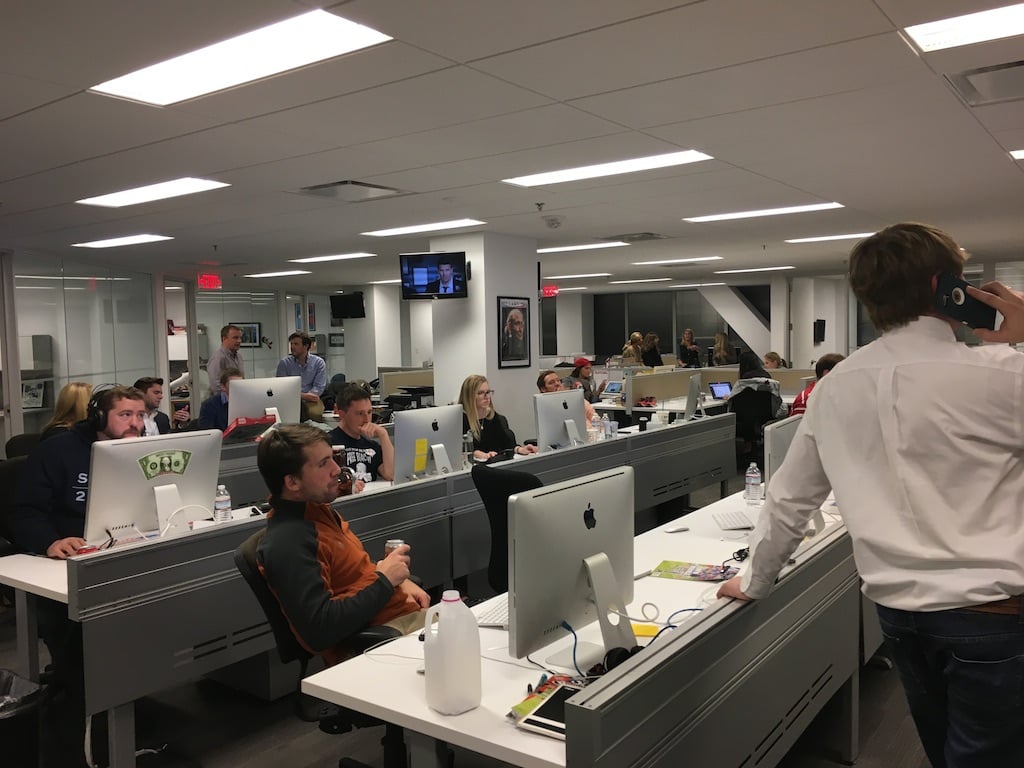 ***
TRUMP HOTEL UPDATE: Elaina Plott describes Washingtonian's weird interaction with a Trump Hotel manager: 
An odd thing just now.
My colleague Ben Freed and I have been milling about the lobby of the Trump Hotel, chatting with a lovely assortment of folks.
We paused to sip on drinks and catch up on Tweetdeck when a woman named Pam Halpern approached us. "You're reporters? How fun. I'll tell you—I voted for Kasich," she says. Pam is from Seattle, she's a private investigator. She says she's "fiscally conservative, socially liberal" and felt that neither candidate represented her. Our conversation lasted maybe five minutes.
Ben and I began tapping away at our laptops when the Trump Hotel marketing and sales director, Patricia Tang, approached us. She said she would have to ask us to leave the property if we continued speaking with guests. Told us to close our laptops. "I'm happy to grab the assistant manager if you'd like," she offered.
We closed our Macbooks, noted that Halpern approached us, presumably the conversation she had just witnessed. Tang waved her hand. "Yes," she said. "That's my assistant."
Tang left, and a few minutes later Halpern strolled by once more. "Did I mention to you that we're going to Old Ebbitt after this? To hang out with the Democrats," she said. I relayed to her what had just happened, asked her if she was in fact Tang's assistant.
"Uh, wrong person," she said. "I'm from Seattle."
She smiled, then skipped off to the bar. "Anyway, do join at Old Ebbitt after!"
***
ADAMS MORGAN UPDATE: This is Shelby, who's slinging drinks at the Ventnor Sports Cafe. She's wearing her "Donald Eres un Pendejo" shirt. Shelby absentee-voted in Maryland, which means she didn't get an "I Voted" sticker. The lack of such a sticker has been a hit to her "social media presence," Shelby says.
While at the Ventnor, Amanda Whiting checked out a couple of Election Night drinks: The Bad Hombre (left) and the Pantsuit.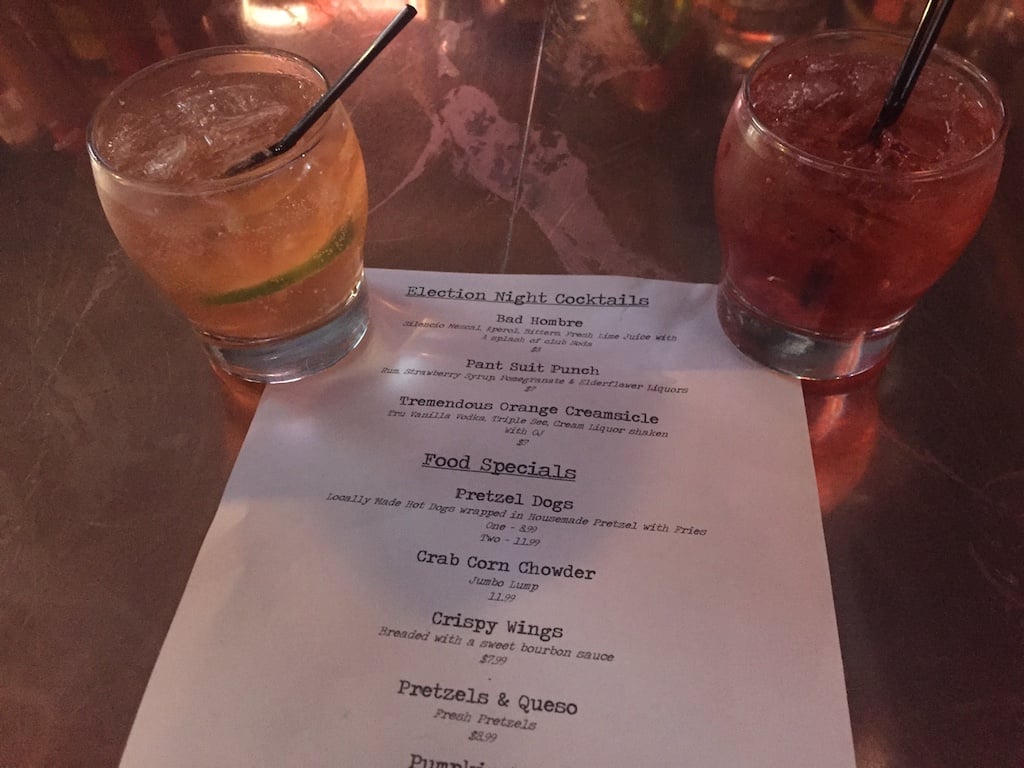 ***
The Trump Hotel's marketing director has approached our Benjamin Freed and Elaina Plott and asked them to stop interviewing people. Plott says she followed someone who approached them, wanting to talk about John Kasich. If this gambit proves successful, it may be the first time the Trump Hotel has spurned publicity.
***
An update to our #Eatthevote coverage: Jessica Sidman and Anna Spiegel have tried the Hillary and Donald cocktails at Logan Tavern. Here's which one they preferred!
***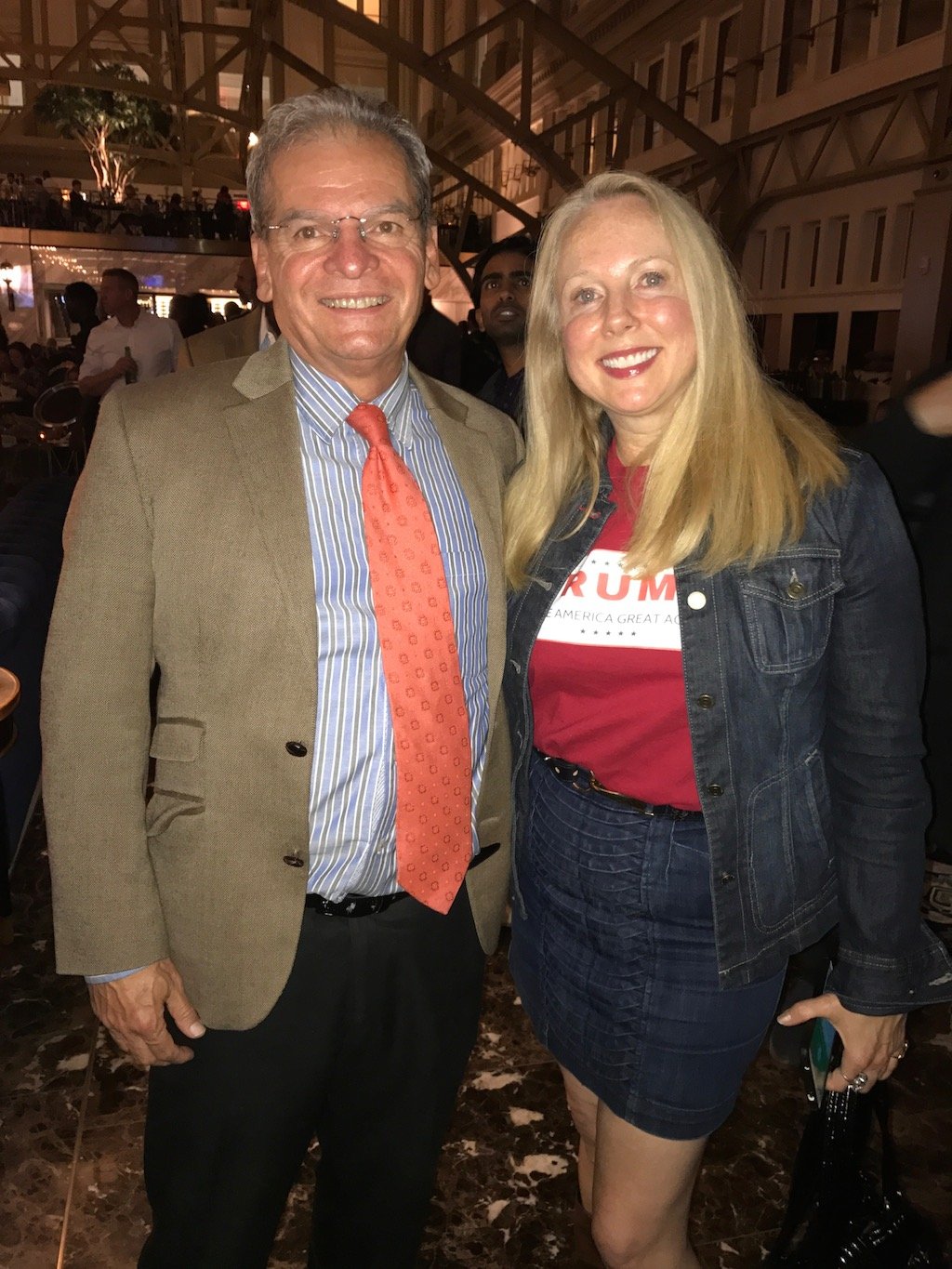 Elaina Plott reports from the Trump Hotel:
Tanya and Gary Reams drove up from Mason Neck, Virginia, to watch returns from the lobby of the Trump Hotel. It's their first time here.
Tanya is a corporate lawyer, the daughter of a State Department official. Gary works in IT. And a funny thing: He ran for lieutenant governor in Virginia in 2001, on the Libertarian ticket, against Tim Kaine. (He's a "decent man," Gary says, but he fears Kaine will be "crushed" by the Clinton orbit.)
Tanya voted for Trump this morning; Gary voted for Johnson. They arrived to the polls around 7:15am with ice still crusting the windshield.
Gary brags on his wife. "You want to know something really cool? She was a poll worker this morning. She handed out literature for Trump."
Best part? She got to meet her first choice candidate, Carly Fiorina. They took a photo together. "She was super nice," Tanya glows. "Prettier in person. Very pretty, very warm. Just lovely. She touched my hair and my hands, and I touched her, and I said, 'Oh, I'm so sorry, I touched you!' And she said, 'That's fine.'"
"Corruption" is the biggest issue for these two. "At least the Republicans recognize his deficiencies, and are willing to check and corral him. Clinton surrogates…no one will say no to her," Gary says. But he felt his vote in Virginia wouldn't matter much anyway. So he voted for Johnson.
The daughter of a State Department official, Tanya grew up around dictatorships—in Egypt, in India, in the Philippines. "Neither candidate is a natural fit for me. But Trump is still the clear choice—he doesn't have the history of corruption, the abuse of power."
She's put off folks—people around her, the press—parroting the idea that well-educated women are only interested in Clinton. "It's not true," she says. "To say we'd vote for someone just because she's a woman, it's almost like an insult. We're so much more than that."
If Trump loses? "We'll carry on," they say, their faces serene as cheers for Clinton—CNN's just called Maryland for her—break out around them.
***
What the heck is going on in Florida? The vote is seesawing! If you're weak of heart, you may want to avoid CNN for a half-hour or so. Back at the Trump Hotel, Benjamin Freed reports: "Cheers throughout the lobby of the Trump Hotel as networks show Clinton and Trump in dead heat in Florida."
***
Shaw residents and Hillary supporters Hannah and Chris Klann show off their only-in-DC shirts for Sarah Zlotnick.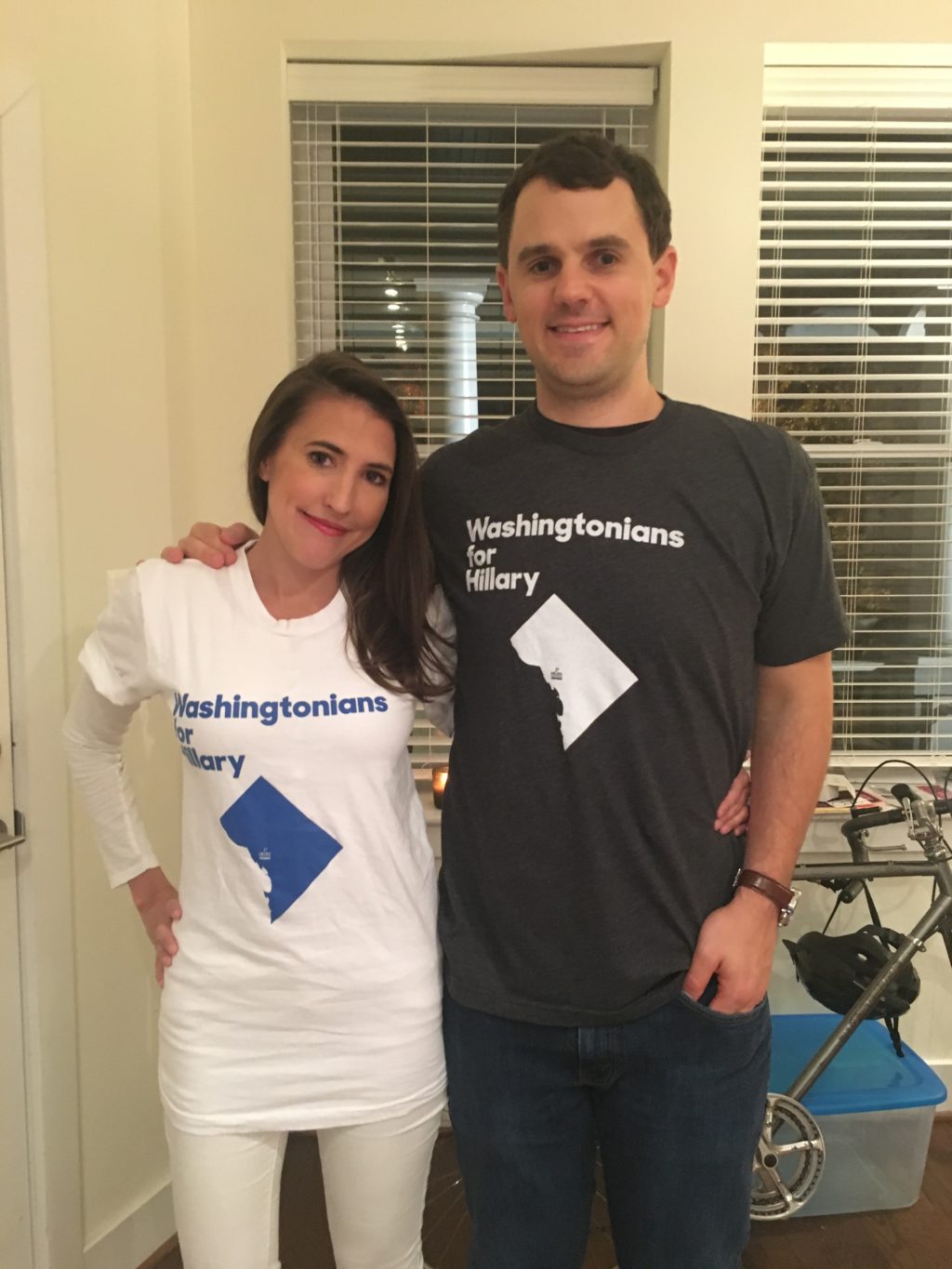 ***
ADAMS MORGAN UPDATE: L'Enfant is SRO, Amanda Whiting reports, and it's one in, one out at Jack Rose.
***
Bar Pilar is too packed to get to the bar, Anna Spiegel reports. "Too bad," she tells the Live Blog, "they have a 'Rodham Cowboy' Special: a whiskey shot with a white wine chaser."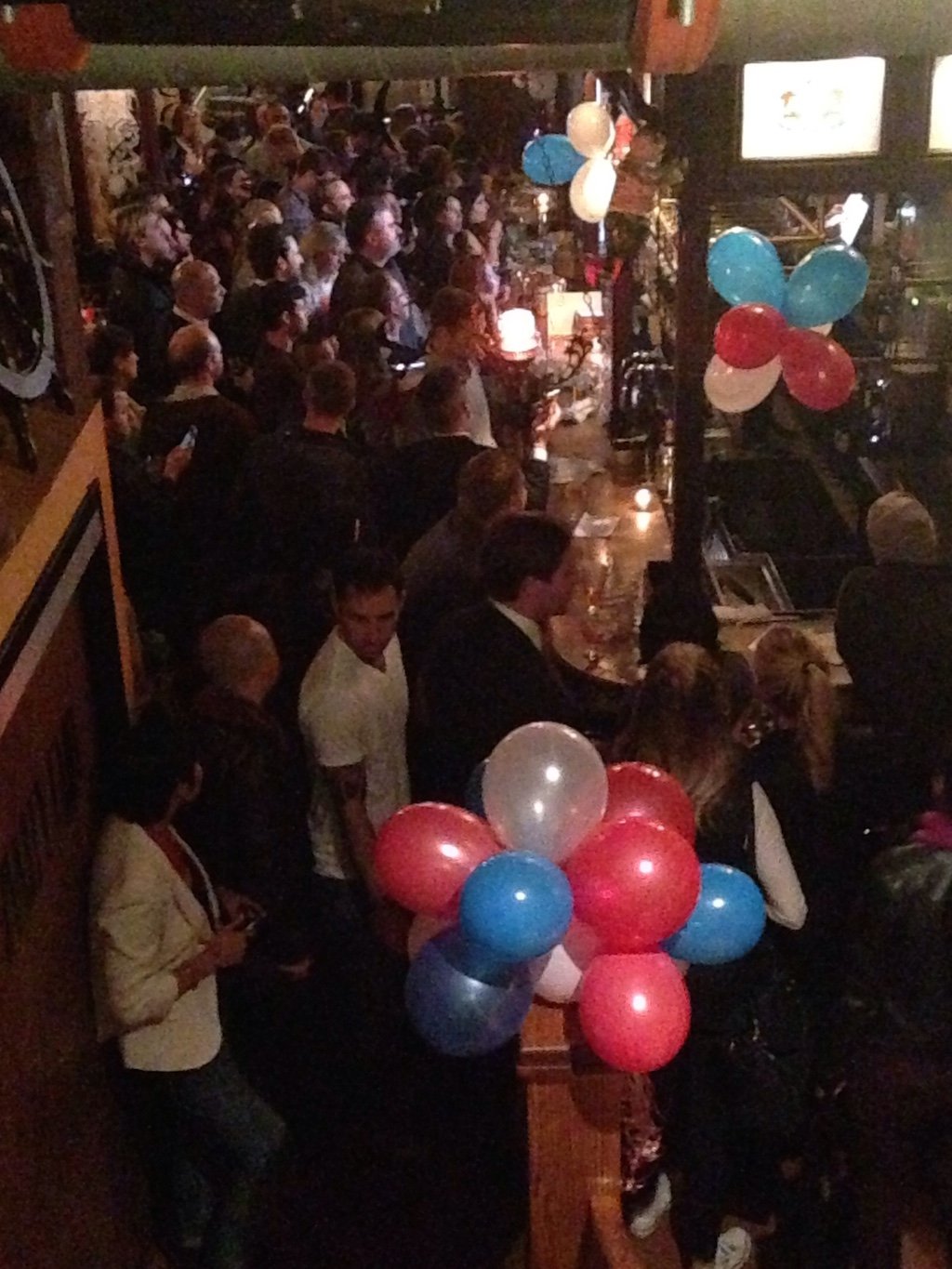 Jessica Sidman spotted a couple of VIPs at Bar Pilar:
Look who showed up to Bar Pilar! pic.twitter.com/GQkQzyZWOl

— Jessica Sidman (@jsidman) November 9, 2016
***
The USA Today party features an open bar and ska, reports Washingtonian friend (and Pietasters frontman) Steve Jackson. Looks like a rager in the works!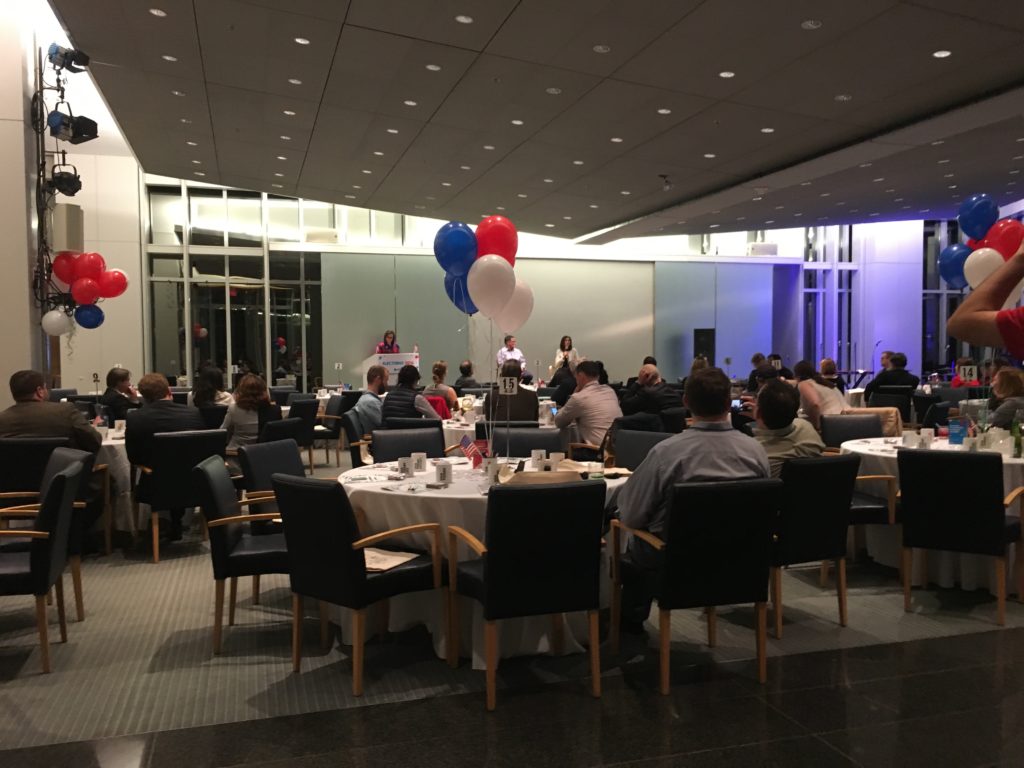 ***
Our Evy Mages is out photographing!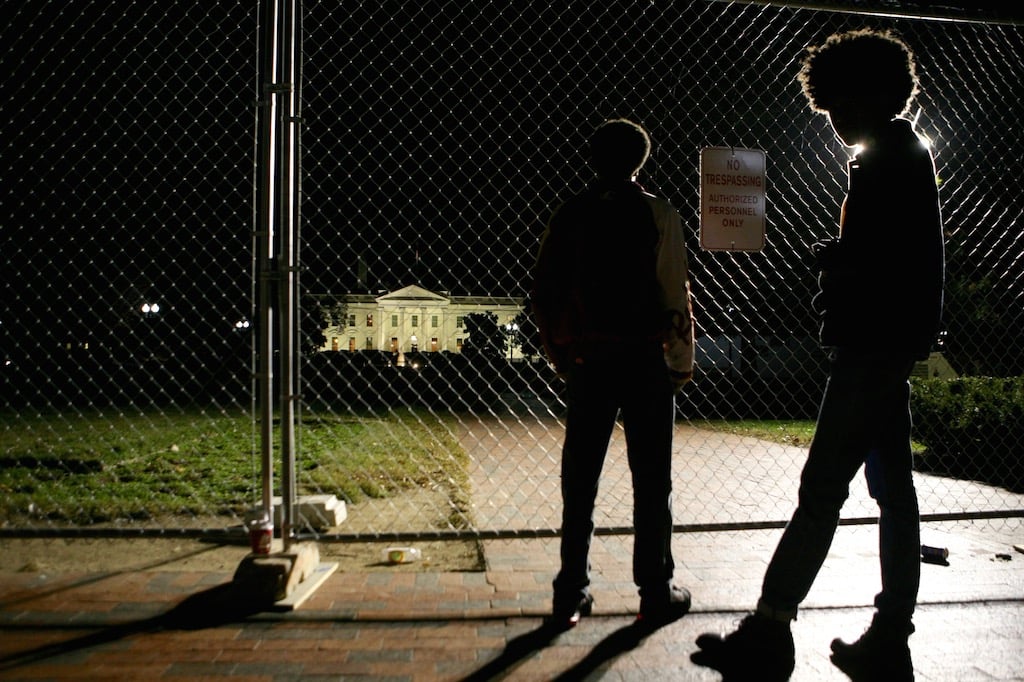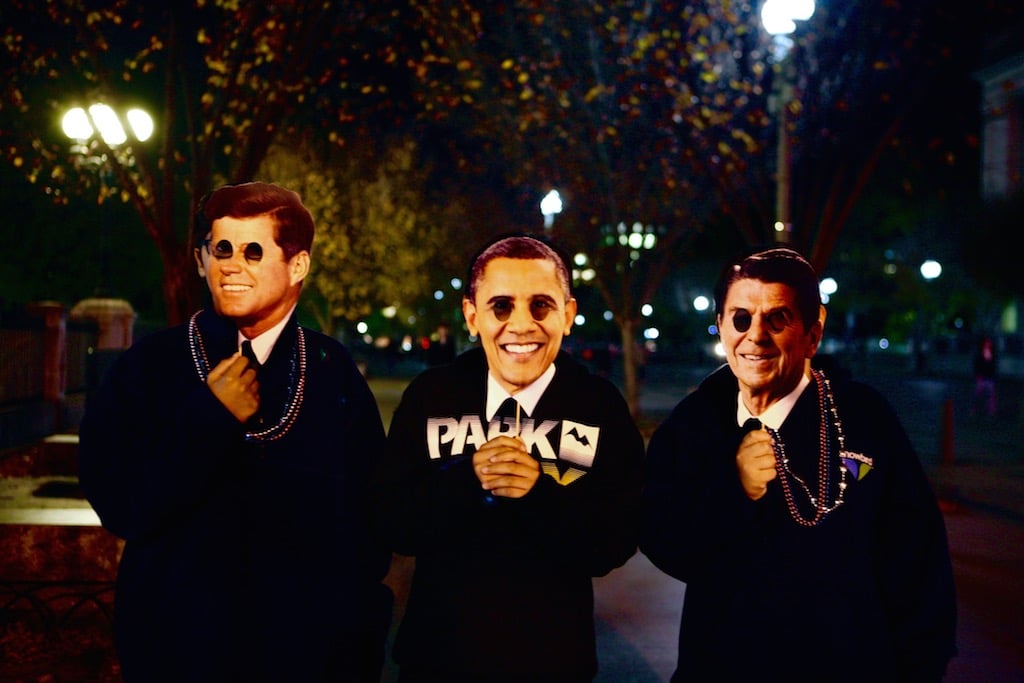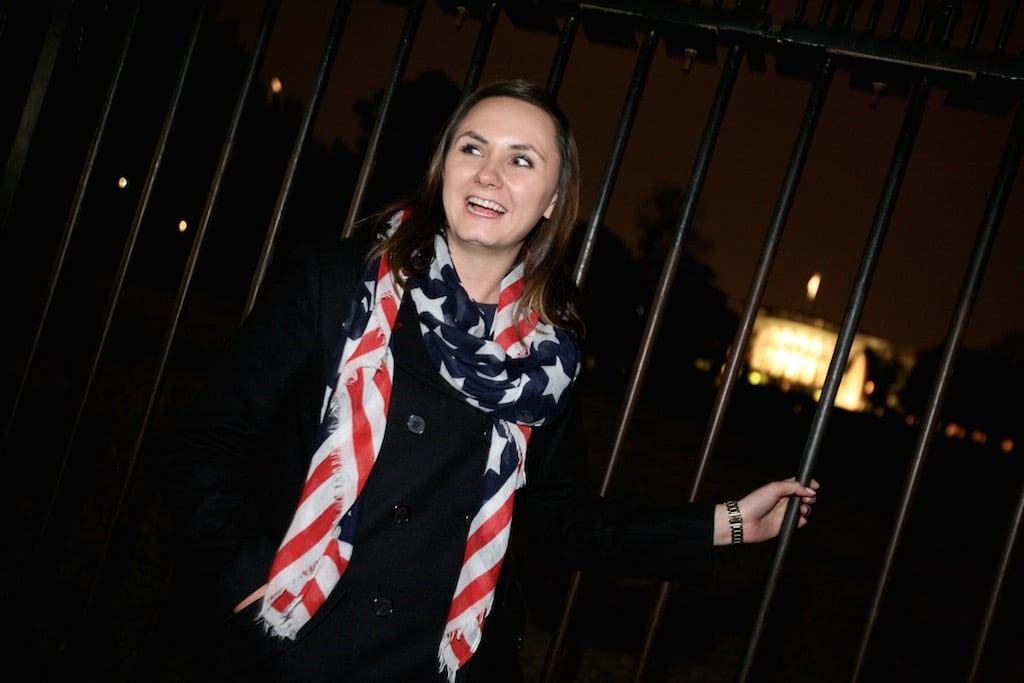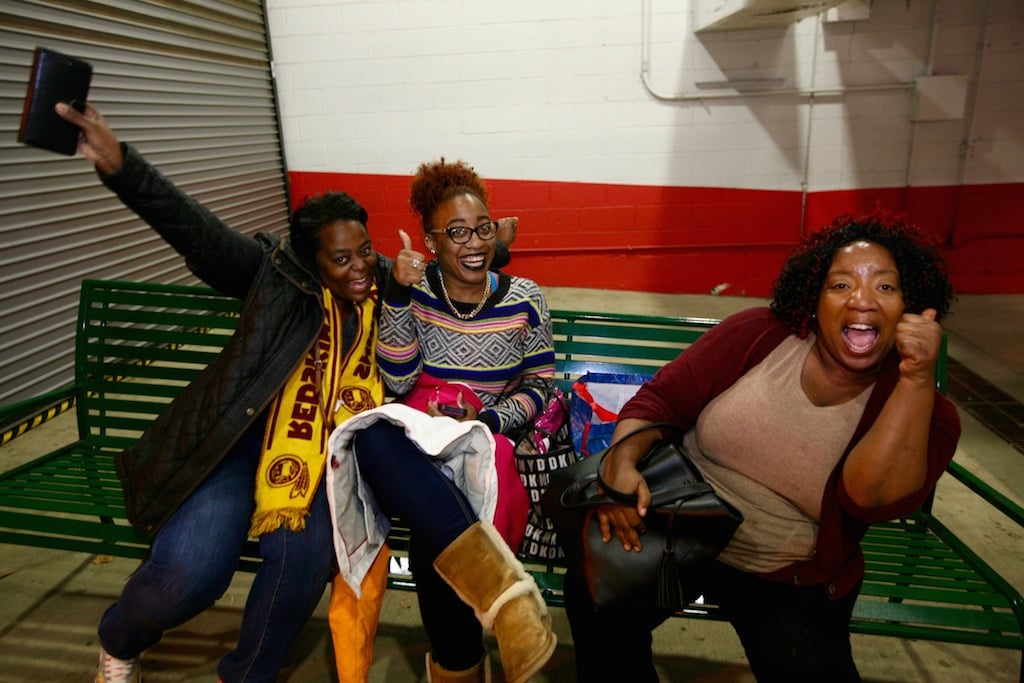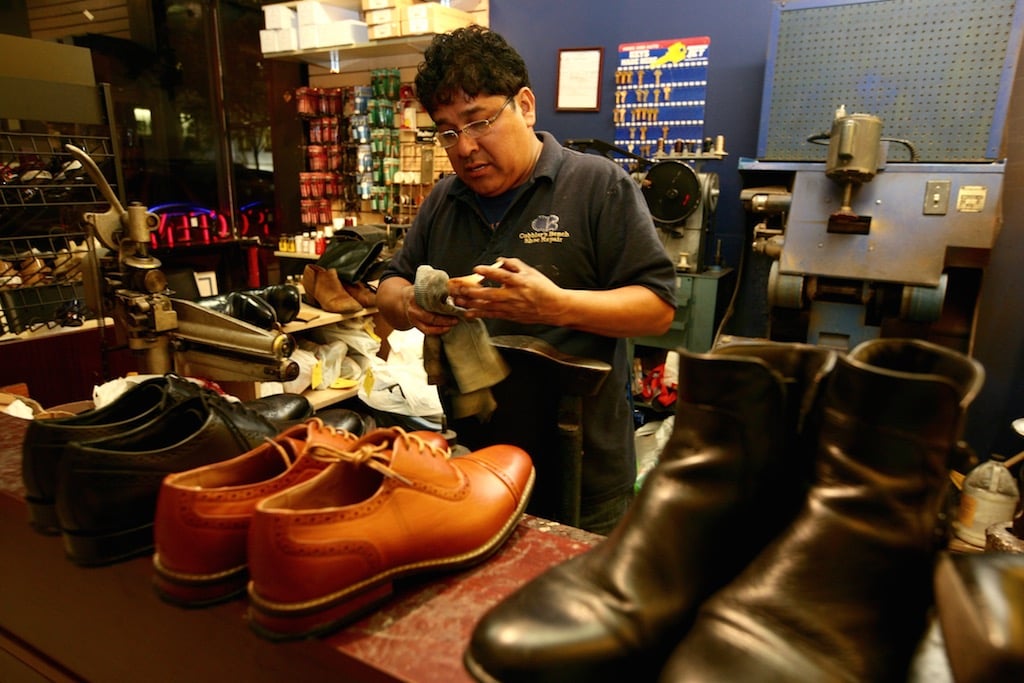 ***
PHYSICAL THERAPY UPDATE: Amanda Whiting says people at her PT joint don't think they've rehabbed a Trump voter all day. "Unless he was being real quiet about it," says Bruce, one person there. Physical therapists work 7 am to 7 pm shifts, which mean they mostly vote early.
***
There is a "not insignificant number of Make America Great Again hats being worn here in the lobby of the Trump Hotel," Elaina Plott reports. Benjamin Freed, who's also at the Trump Hotel, sends along this photo of the lobby, which is SRO. Two TVs are showing Fox News; CNN and MSNBC have one screen each.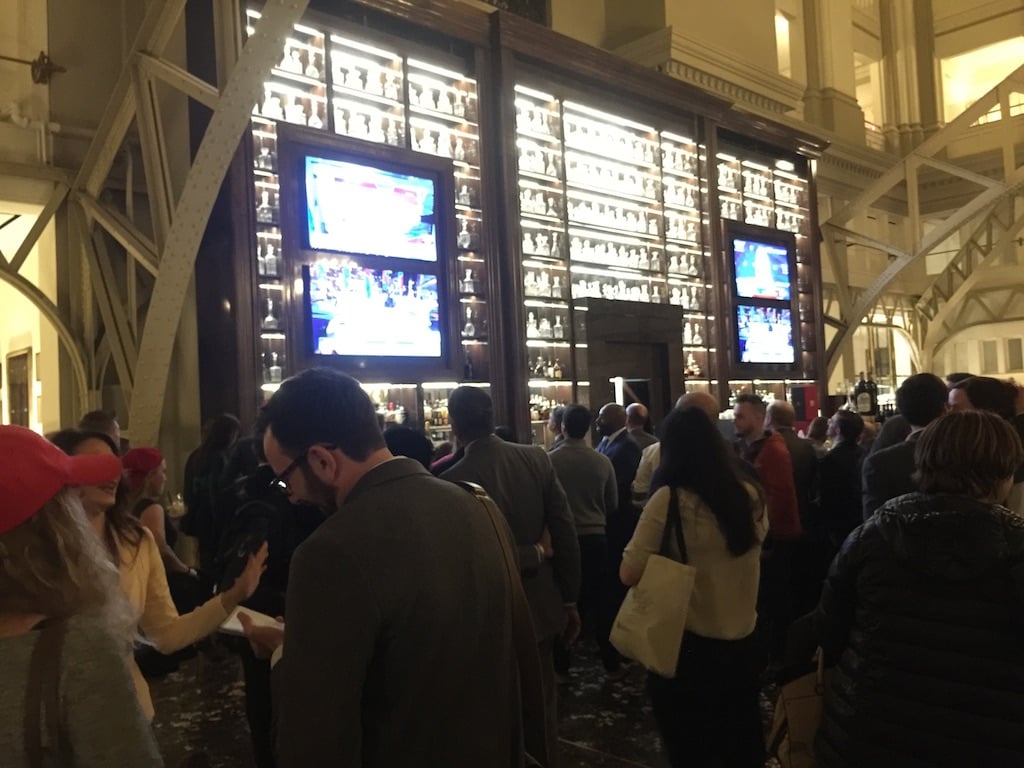 ***
Look at this cute dog at the Jefferson!
***
Abe Lincoln is attending the #NeverTrump party at Lincoln, Caroline Cunningham reports.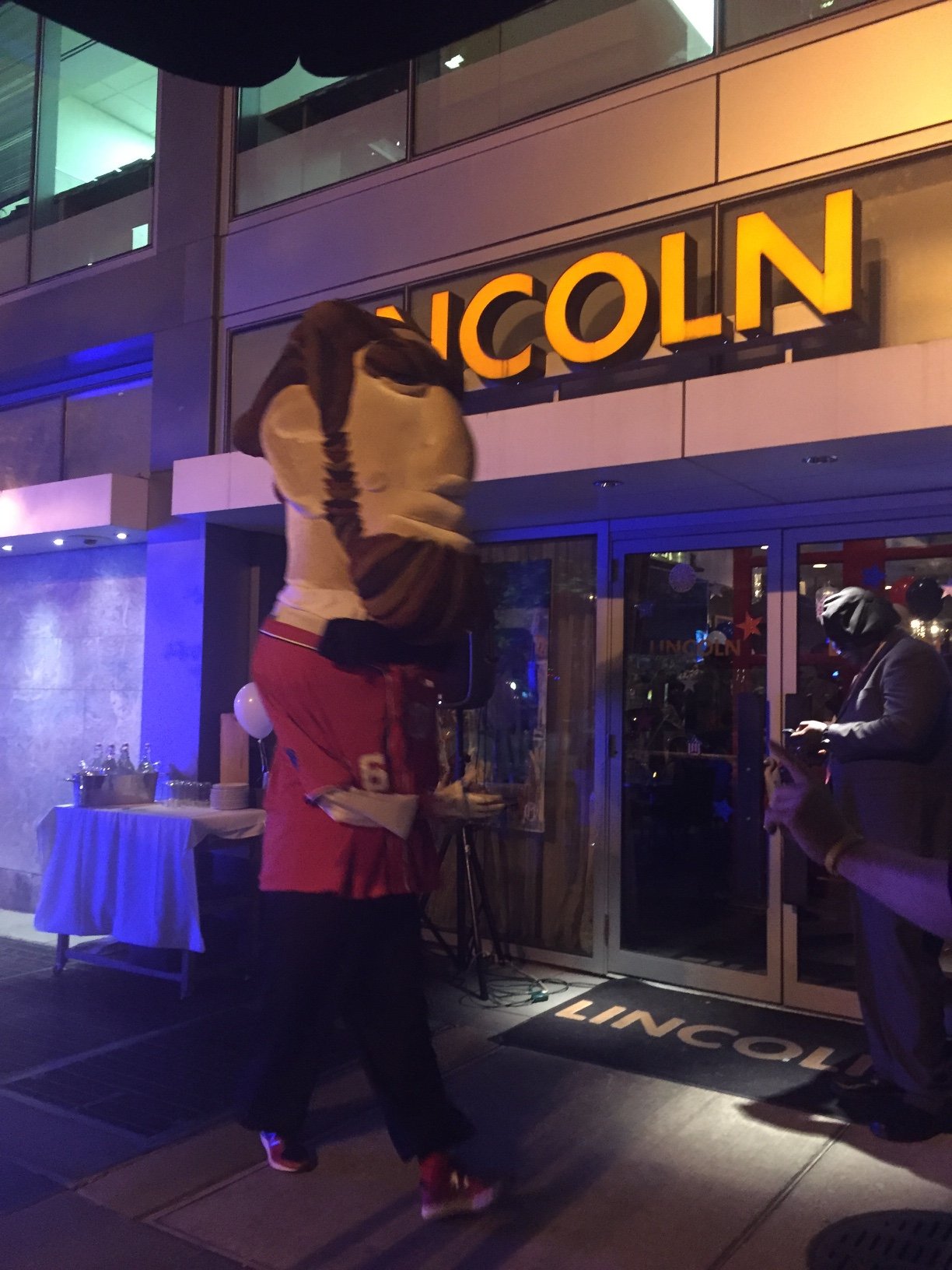 Some more scenes from the #NeverTrump party: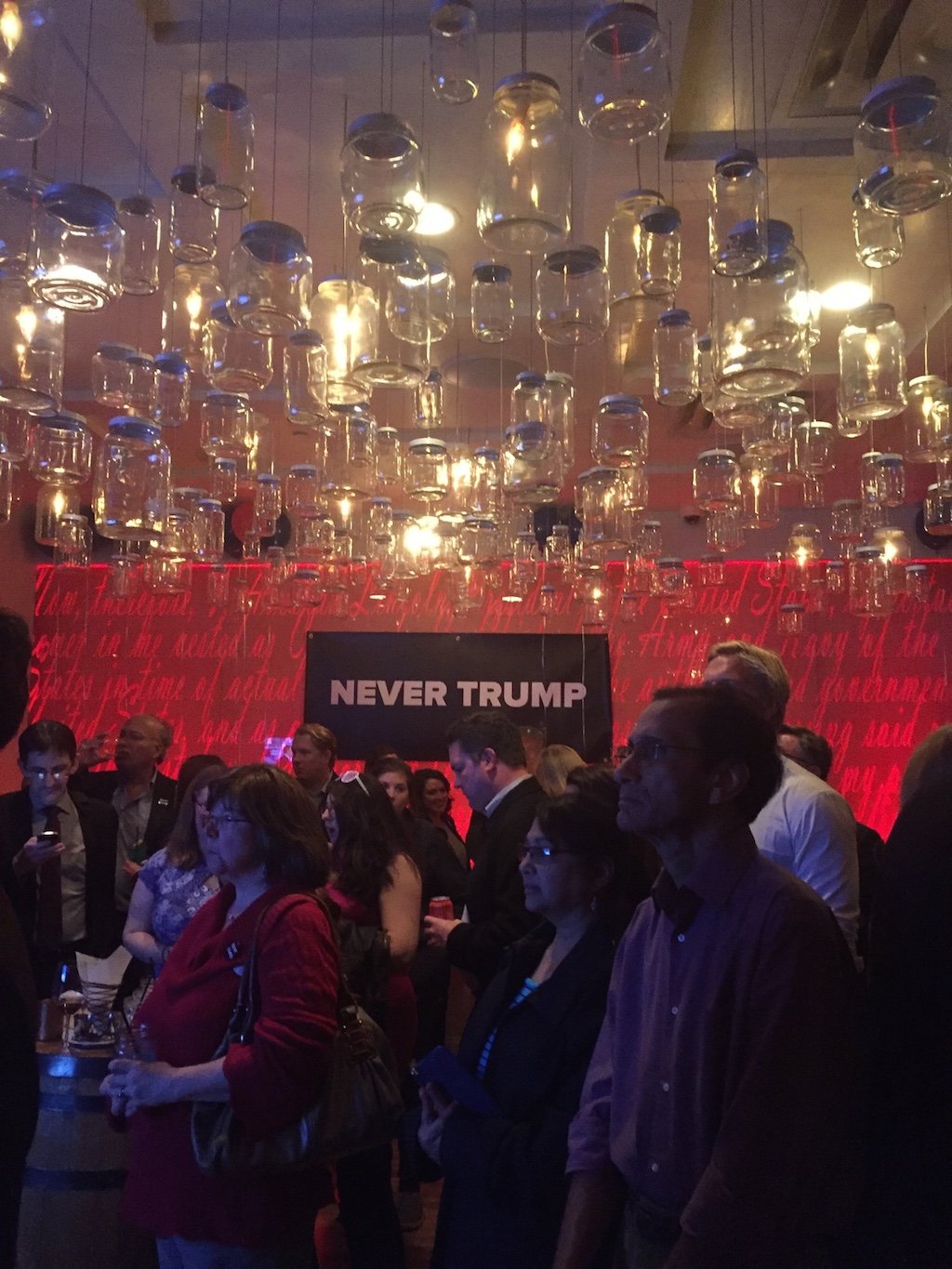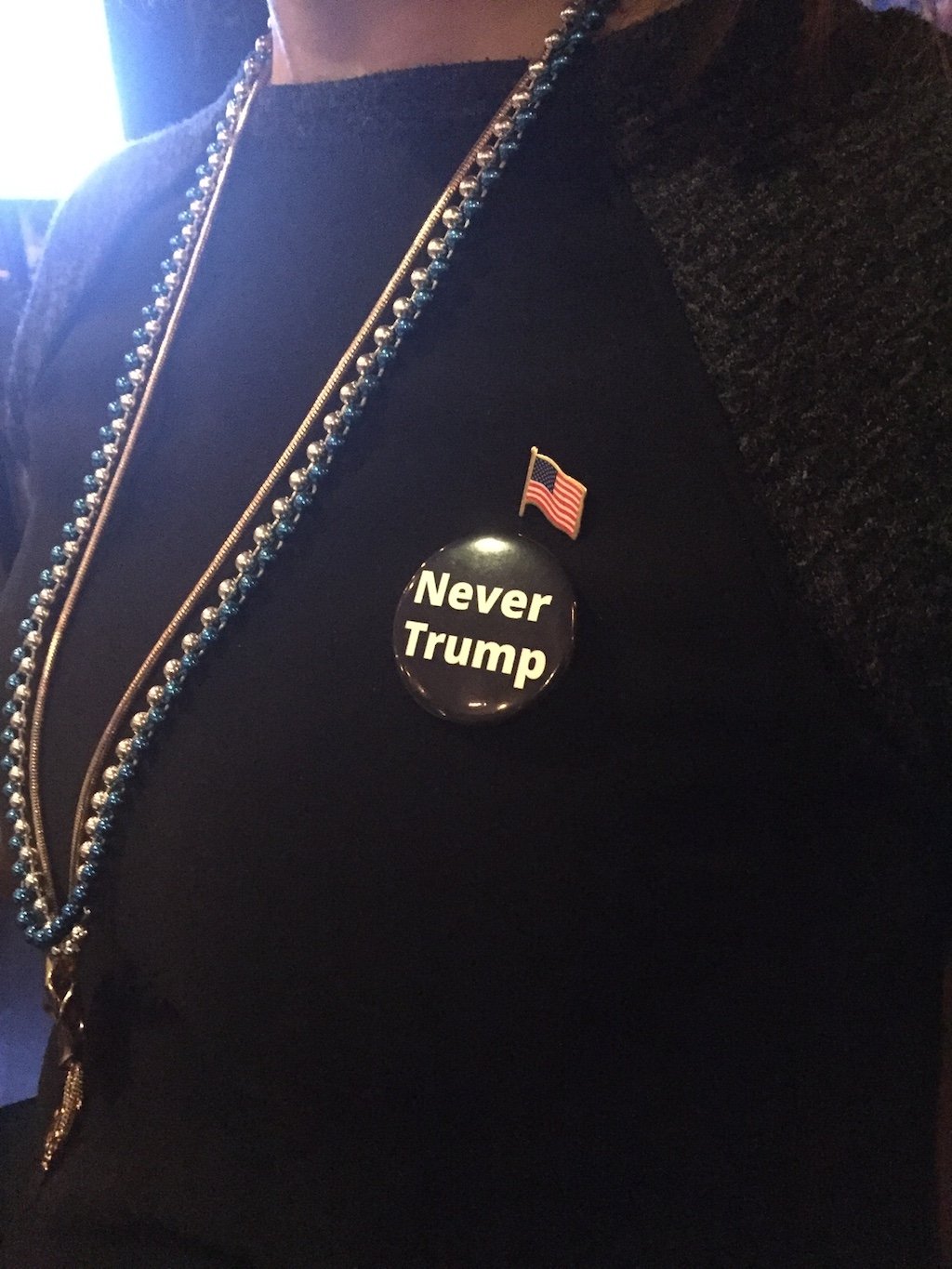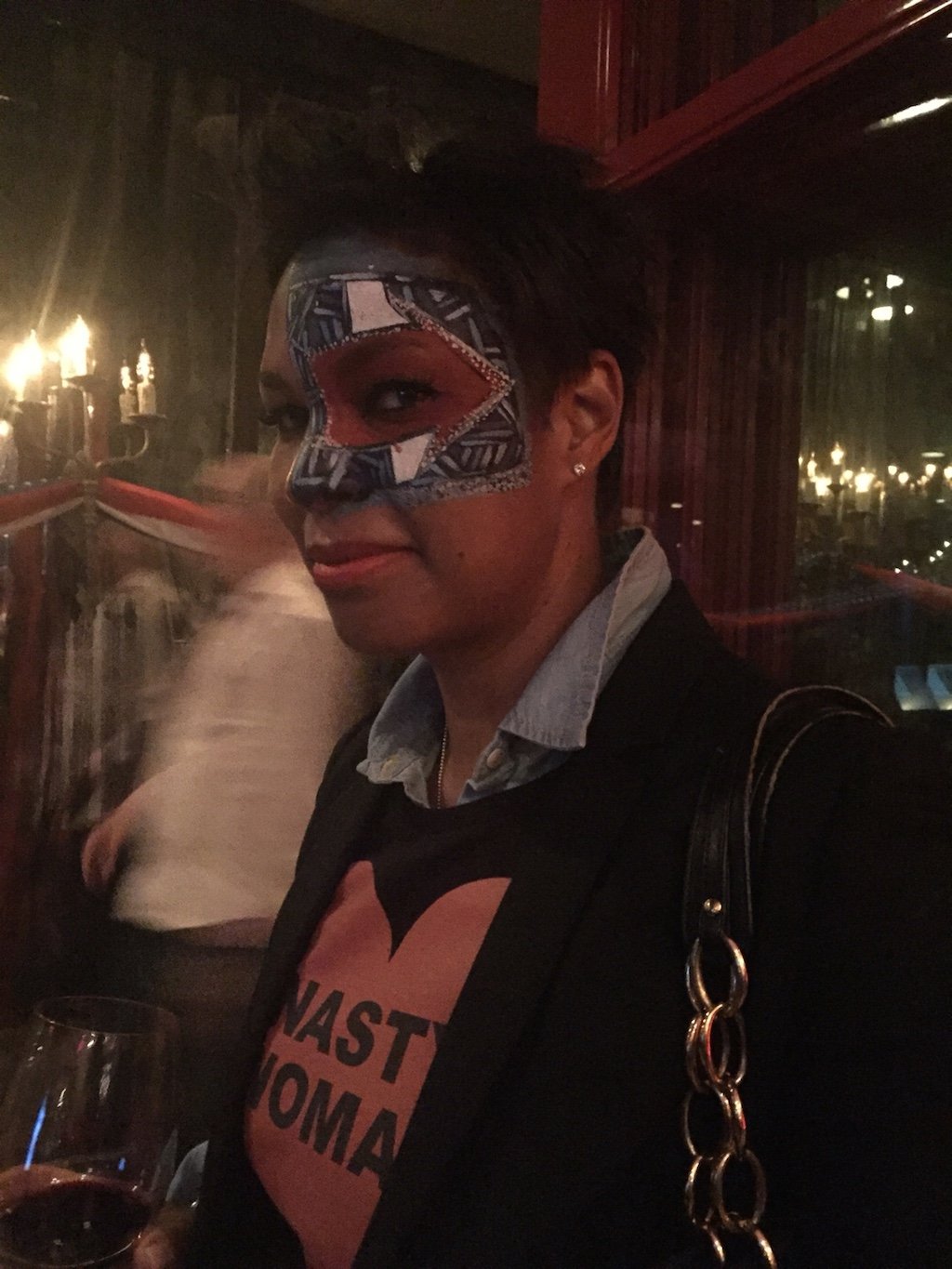 ***
"Socialist campaign trail mix" is on sale at Logan Tavern tonight, Jessica Sidman reports. You get "a mix of candied walnuts, pecans & pistachios served in a classic NYC street vendor coffee cup." The Logan Tavern wasn't born yesterday: The Socialist trail mix is FREE.
Socialist campaign trail mix at Logan Tavern #eatthevote pic.twitter.com/wQGjxzaV4p

— Jessica Sidman (@jsidman) November 9, 2016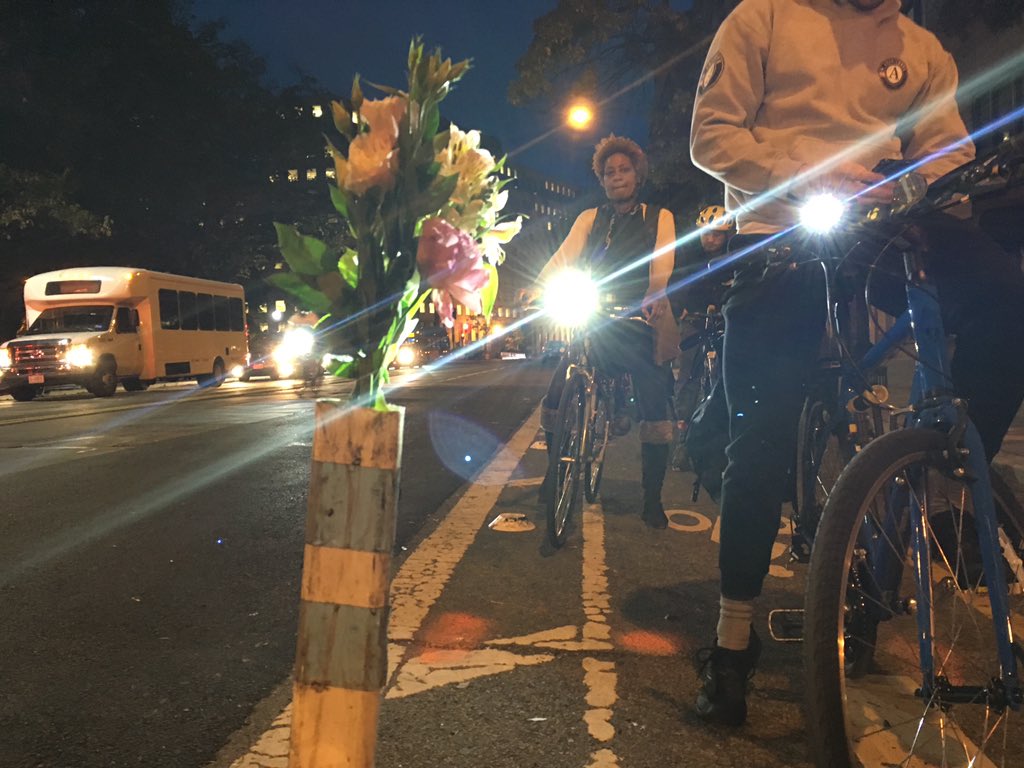 A group of cyclists is decorating the cycle track on 15th St., Northwest, with flowers. The decorations are planned for V Street all the way to the White House. Nelle Pierson says the flowers are meant to celebrate the suffragist movement that led to the passage of the 19th Amendment, giving women the right to vote, in 1920.
***
REPORT: CNN cameras are in the Pennsylvania Avenue cycle track, blocking hardworking bike commuters from their trips home, according to this photo on Twitter. Washingtonian will contact CNN to ask about this alleged gross violation of the urban compact.
Hey .@DDOTDC any chance you can get @CNNPolitics to move their people and cameras off the Penn cycle track? Serious hazard #bikedc pic.twitter.com/UdQ2HZQban

— TwoWheelsDC (@TwoWheelsDC) November 8, 2016
***
People have been leaving "I Voted" stickers at the grave of Belva Lockwood, the first woman to run a full presidential campaign. Lockwood is buried in Congressional Cemetery, and our Greta Weber wrote about her groundbreaking run recently.
People left their "I Voted" stickers at the grave of Belva Lockwood, 1st female presidential candidate, at Congressional Cemetery in DC pic.twitter.com/yLtQZNGqfQ

— Sarah Kaplan (@sarahkaplan48) November 8, 2016
***
Welcome to Election Night 2016! Washingtonian reporters are fanning out around the region to get a sense of how this important night is unfolding right here. We've got all kinds of election info for you already: Where to vote (goodness gracious, you don't know this yet???); what baked goods you can scarf down while you watch the results; and, possibly most important, the food and drink specials at area restaurants and bars.
All day long, our Jessica Sidman and Anna Spiegel have been taste-testing candidate-themed food specials. Trump's ahead! They're out on the prowl now for more specials.
And we have some important legal news for restaurateurs: Giving out food to people with "I Voted" stickers is illegal! What a buzzkill! Nobody tell José Andrés–he's giving out tacos at Oyamel tonight!