Retailers have been marketing Hillary Clinton and Donald Trump tchotchkes and souvenirs for months—but what happens now that the election is over? Straight to the garbage with everything bearing the loser's moniker? Float them out onto a barge and fire a flaming arrow at them? Sorry, not quite.
For some DC retailers, there isn't much Clinton and Trump paraphernalia left on their shelves. At Chocolate Moose in downtown DC, some of the election souvenirs have sold so well—such as their rolls of Donald Trump toilet paper—that they're but distant memories.
"It's kind of a crap shoot when you're ordering it because you don't know how much to order," says store manager Beth Lehnert .
In the instance of the toilet paper, they had to reorder multiple times (Lehnert estimates they've sold 200 or 300 of the $12 rolls). And in general, they've sold a lot of Trump-themed products, including a mini bar of soap called "Trump Little Hand Soap" that Lehnert says "blew out."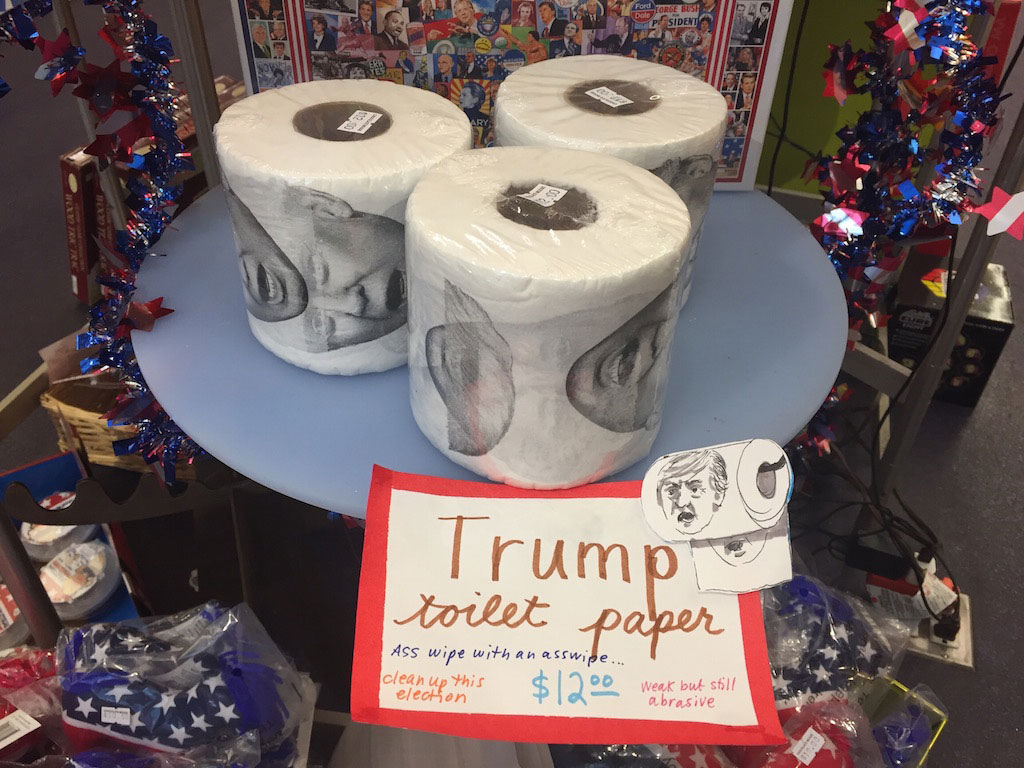 Trump's popularity at souvenir shops seems to be a running theme, as Jeong Kim, who owns a T-shirt stand on 15th Street, Northwest, said that she too has sold mostly Trump T-shirts and hats. Jim Warlick, owner of White House Gifts, said he also doesn't have a lot of Trump gifts left, and that White House Gifts sold a lot of "Make America Great Again" hats in addition to candidate bobble heads, which he says haven't always been so popular during past elections.
But as for what's left, at Chocolate Moose, which needs shelf space for holiday merchandise, many of the political products will get packed away and saved for the inauguration. Lehnert says that in past elections, anything that's in favor of the winning candidates tends to sell well among the flood of tourists that travel to Washington for the inauguration. As for the loser, those will likely be sold for a discounted price.
Kim says that her T-shirt stand doesn't have much left to sell—mostly because she ordered far fewer shirts this year. During past elections, she might have sold ten candidate shirts a day, but she says this year she only sold a couple each day. A look around her neighbor's T-shirt stands also revealed small stocks of Trump or Clinton products—though there were multiple Obama family tote bags hanging prominently out front. Nonetheless, Kim intends to leave any lingering Clinton and Trump merchandise outside, figuring a tourist will eventually scoop it up.
For White House Gifts, he plans to keep everything that doesn't sell in his personal collection with hopes to sell it later on, give it to the American Political Items Collectors, or lend it to museums. Warlick says he has a personal collection that is made up of over a million past and present campaign buttons, posters, and inauguration products, most of which is stored in 800 plastic bins in a warehouse.
"Usually [the candidates'] material still has some value after—particularly this one because of the historic significance of it," says Warlick.
Though Trump and Clinton products would seem to be the obvious choice for political gift store browsers, Warlick says that Obama items have been more popular than either candidate's swag.
"Obama legacy items are outselling both Hillary and Trump—and that will only increase as we get closer to his last day," says Warlick.