If you're not interested in the Black Friday stampede or the Cyber Monday supersales, a craft show might be what you need as the holiday season approaches. NPR's All Crafts Considered is coming back for its fourth year now on Tuesday, November 15. The public broadcasting network's lobby will be transformed to host a variety of vendors with Washington locals and more.
Washingtonian talked to DC vendor Katie Stack about her local business, Stitch & Rivet, where she designs bags and accessories. This is her second year participating in All Crafts Considered.
When and how did you start Stitch & Rivet?
I started it under a different name in 2003. I was living in Chicago and working in a professional theater full time in the costume shop and I just wasn't quite making enough money. Some people were having a craft show and they were like, "Hey, let's make some things and have a craft show" and I was like, "okay, great" because I'm either gonna have to get a second job or sell something (laughs). So I started my business just based on the need to make more money. I kept it going and in 2012 I had moved to DC and was working for the Shakespeare Theatre Company here in town. I decided that I was ready to go out on my own and focus myself on my business and I quit my day job – which is crazy – and I started working for myself full time. I've been doing this full time for four years and I opened the little shop Stitch & Rivet, which is our workshop and a small retail shop. I got the keys at the end of 2013, we opened in early 2014.
What sparked your interest in bags and accessories? 
My degree program in college was in pattern making and costume design. I had been working in a costume shop and doing what's called "costume crafts." So I handled if there were changes to shoes, if there were bags that needed to be made for characters, if there was painting and leatherwork and that sort of stuff needed to be done. I had been doing leatherwork at my day job for several years.
What other Washington crafts shows have you been in?
I had been a vendor in Eastern Market for a couple of months and before I was at Eastern Market, I was at the Fenton Street Market in Silver Spring. I've been at Crafty Bastards for the last few years. I'm sort of a known quantity on the craft scene, I guess.
How did you hear about All Crafts Considered?
I had first heard about it from some friends who had been vendors the first year and I didn't know what it was. They were just like, "We did this show at NPR and it was so cool and there were all these NPR people there. A lot of crafters listen to NPR in their studios while they're working so you hear these voices all the time. You know the voices and you recognize them. Then to go do a show and have those people be there in real life is really exciting. A lot of the employees of NPR come and shop at the show. You'll be talking to someone and you'll realize that it's somebody from the station and you'll hear them and realize who they are. It's a little thrilling. The first year I did it, which was last year, I was talking to someone and I realized it was one of the ladies from Invisibilia, which is one of the podcasts that NPR does, and I was like "Oh my gosh, that's Lulu Miller, that's so cool!" You know, because I had been listening to her talk to me for like several episodes and it was interesting to see that person in real life.
What are you looking forward to for this year's All Crafts Considered?
This is my second year, so I know a little more what to expect. I'm looking forward to meeting more people from the neighborhood. Last year, they did a big advertising blitz so there was a lot of people from surrounding office buildings who were there and that was really cool. It was a very quick show. You go in the early afternoon and you set up and then you're there and it's done. You meet a ton of people and it's really exciting. Their lobby is gorgeous and then you pack up all your stuff and you go home. It's very satisfying.
Do you have anything new lined up?
I'm part of the Made In DC program, so I have some new designs of our DC flag screen printed bags and I'll be bringing those out at the show. I think that that's gonna be exciting because people are excited about DC pride.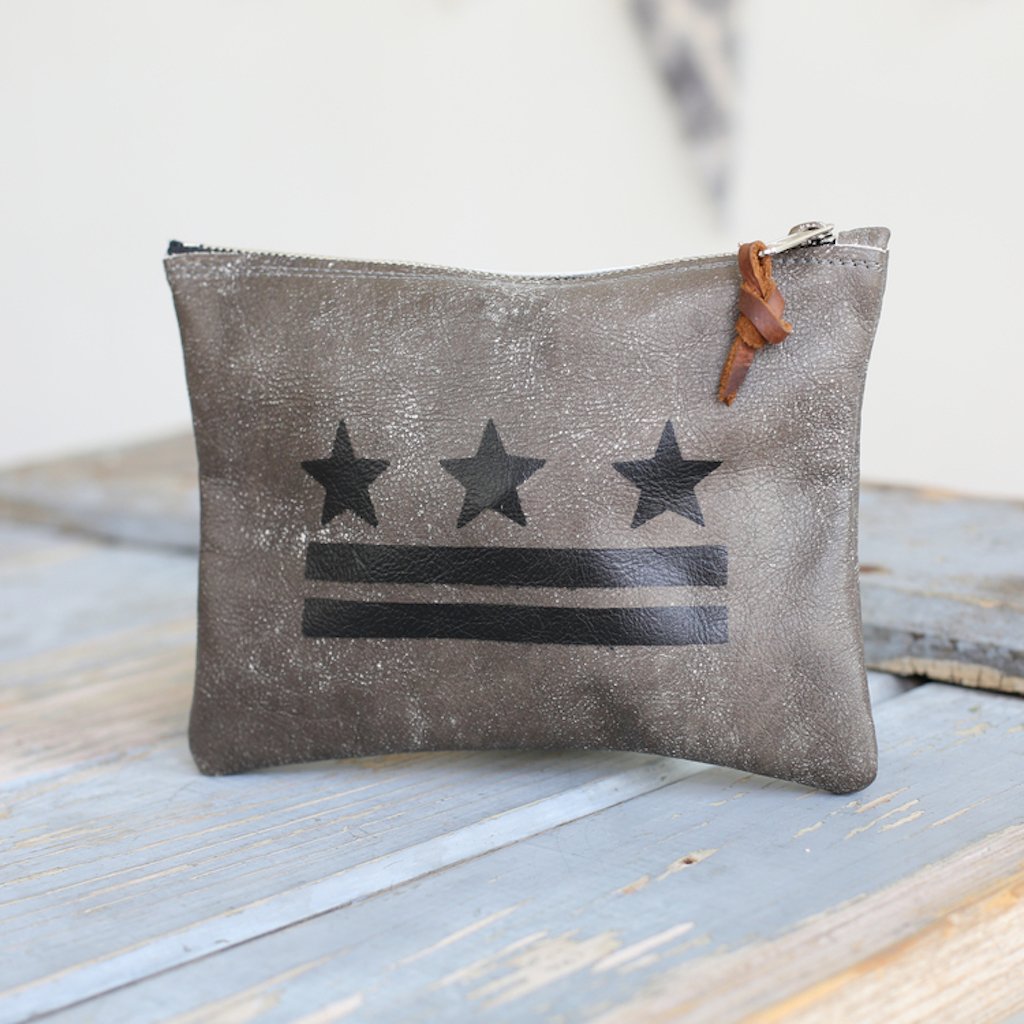 Any other vendors to look out for?
You do these shows and you see a lot of the same people over and over again. So when you go, it's like getting together with all of your really good friends and having a little party, only you're not the one throwing the party (laughs). Two of my neighbors here, where my studio is, are Marcella Kriebel and Rachel Pfeffer and they're doing the show as well. I'm excited to see them and their new work. Rachel has a necklace that she's done that says "Nasty Woman," and I'm pretty stoked for those. Marcella's been working on her new Cuban cookbook, and I'm hoping that she'll have a few new drawings based on that.
Why do you like participating in this show?
It's just a really cool show put on by really nice people. I know that sounds so cheesy, but it's true. For me, this is kind of the show that kicks off the holiday season. A lot of people are there to get a preview of everyone's new work for the holiday season. I think that that's a really cool thing for people to see what's local and what's new. When crazy political things happen, a lot of times people rally around small businesses and handmade things and I'm hoping that's what happens this season.
All Crafts Considered will take place on Tuesday from 3 pm-8 pm at NPR's headquarters at 1111 North Capitol St., NE. Read more here.