Best Park in Northern Virginia:
Fountainhead Regional Park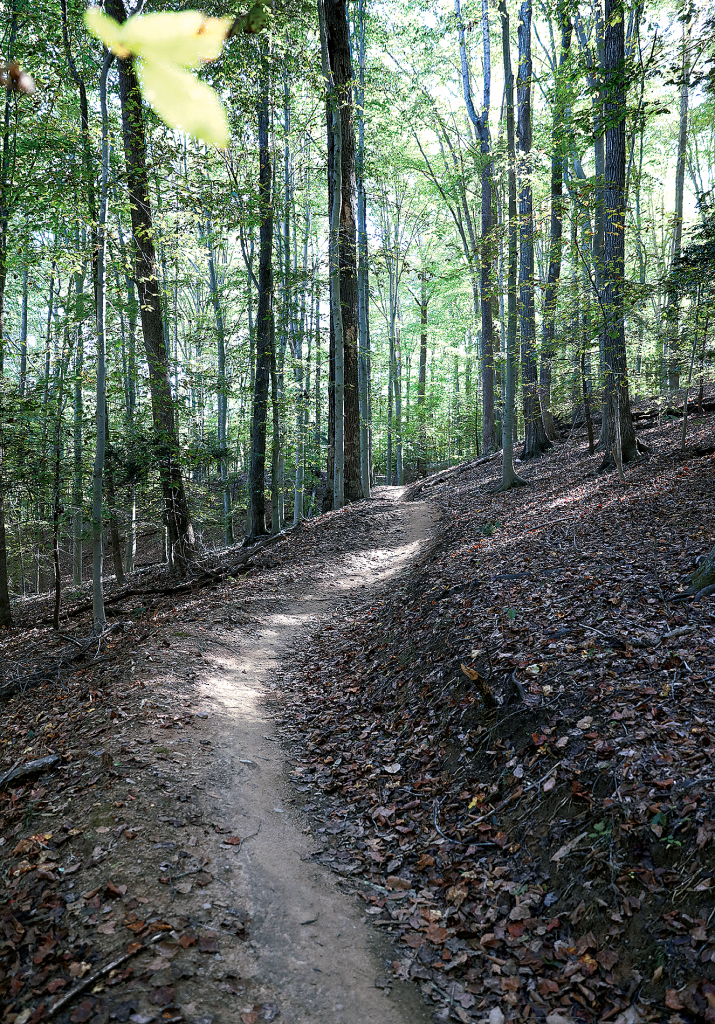 Located in Fairfax Station on the Occoquan Reservoir, this place is for water lovers. The reservoir—which feels more like a river—snakes through the tree-lined landscape, forming numerous coves to explore. There's a boat ramp for those who bring their own, as well as kayak, canoe, and powerboat rentals. A long fishing pier overlooks the clear water, where anglers can hook largemouth bass and white perch. The park also features hiking and equestrian trails (should you have your own horse) plus a mini-golf course. It's home to world-class mountain biking as well, with single-track loops for beginners, intermediates, and experts.
For more information, go to novaparks.com, click on "parks," then on Fountainhead Regional Park.
Best Park in the Maryland Burbs:
Wheaton Regional Park
Brookside Gardens may be Wheaton Regional's most well-known attraction, but the acres of indoor and outdoor flower displays aren't the park's only draw. There's a nature center with rescued animals, including snakes and box turtles, and a wildlife observation room where tall windows look out to trees filled with woodpeckers and songbirds during the day and flying squirrels in the evening.
Kids can ride a miniature train or a carousel. A horse stable offers guided rides. There are tennis courts, a small fishing lake, a picnic area, and an ice-skating rink. The many trails for bikers and walkers include four miles of paved paths within the park that connect, on the western side, to the paved trails of Sligo Creek or, at the eastern edge, to the Rachel Carson Greenway Trail and the Northwest Branch Trail.
For more information, go to montgomeryparks.org and search for Wheaton Regional Park.
Best Park in DC:
Rock Creek Park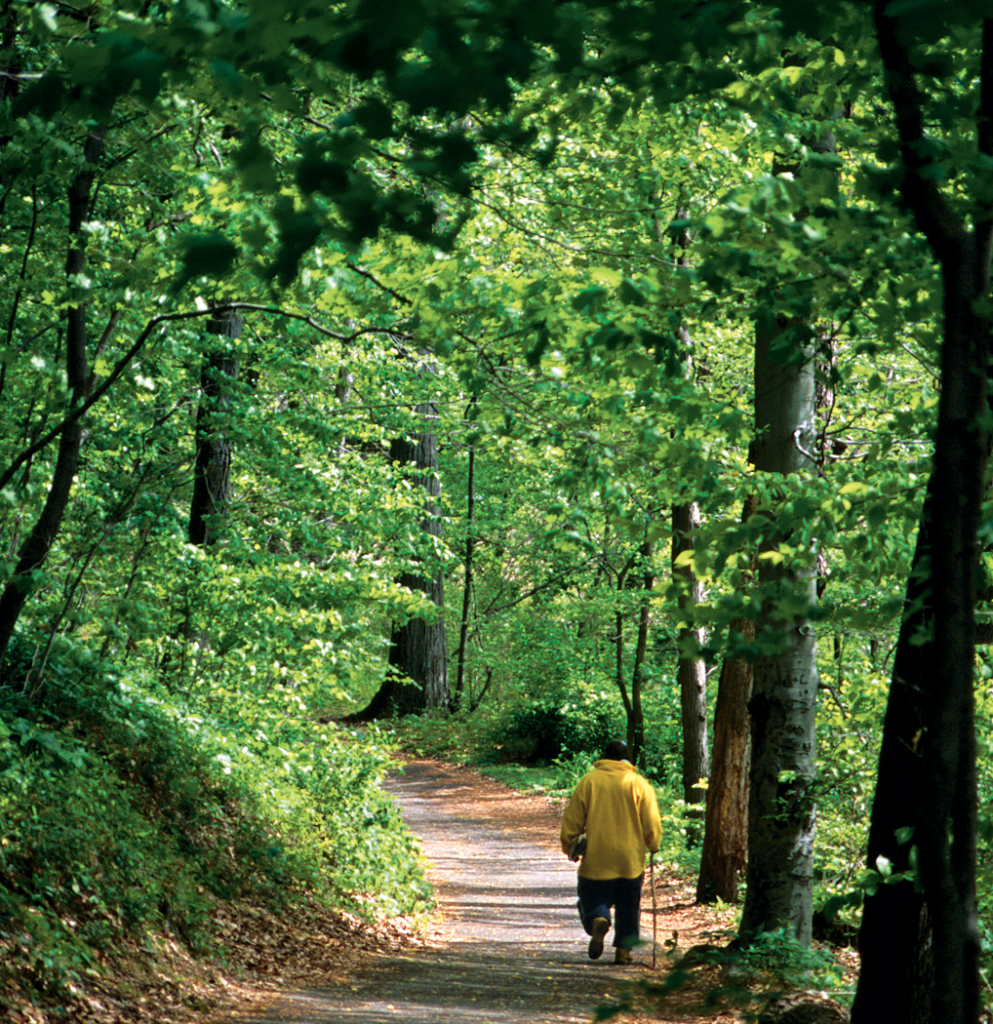 Even if you've lived in DC just a few months, you've probably heard about—if not ventured into—Rock Creek Park. Sure, its wooded trails are a refuge from the political diatribe and other urban distractions, but there's so much more that even longtimers may miss: a quaint planetarium and nature center, a horse stable offering lessons and trail rides along the beautiful creek that gives the park its name, a historic working mill, Civil War fortifications, and a golf course. Though the main traffic artery, Beach Drive, is undergoing rehabilitation for the next few years, you can still easily access the amenities.
For more information, go to nps.gov and search for Rock Creek Park.
Best Park With Kids:
Watkins Regional Park
This old-fashioned park in Upper Marlboro features a nature center with birds, reptiles, and amphibians. It's also home to Old Maryland Farm, where children can enjoy a hay ride or chug around on a miniature train. The park's highlight is the Chesapeake Carousel, built at the turn of the last century and magnificently restored. There are miles of hiking and biking trails, plus a mini-golf course; soccer, football, baseball, and softball fields, tennis courts; and 34 campsites.
For more information, go to pgparks.com and search for Watkins Regional Park.
Best New Biking Option:
Anacostia Riverwalk Trail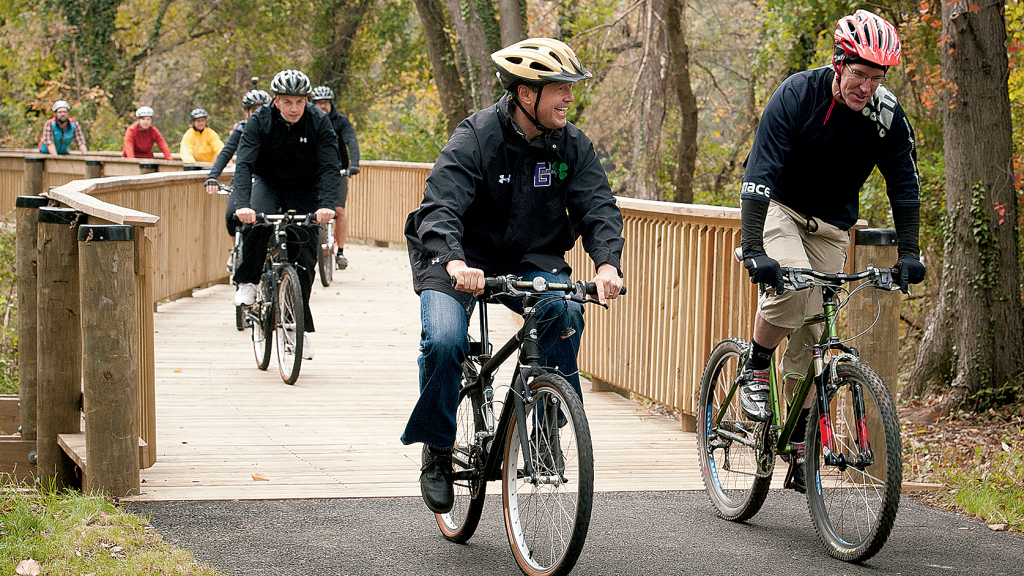 The name is misleading. Yes, you can walk on this trail, but the opening of a new four-mile segment in October created amazing possibilities for bicyclists. The new segment runs from Bladensburg Waterfront Park in Maryland and follows the eastern side of the Anacostia River from its headwaters down past Kenilworth Aquatic Gardens to Anacostia Park. The path has boardwalks extending over the river; if you're lucky, you'll see herons and egrets wading on the banks. The south end connects with bike lanes to cross the river into DC near Nationals Park.
Eventually, the trail will run all the way up the west side of the river. For now, once you cross into Southwest DC, the pathway extends four miles up to Benning Road. There, a bike lane crosses the Benning Road bridge to rejoin the mid-portion of the new trail. In all, it's a nearly 20-mile ride. Want more? The northern end of the ride links to the Anacostia Tributary Trail system, with 25-plus additional miles of trail.
For more information, go to anacostiawaterfront.org.
Best Hiking in Wine Country:
Sky Meadows State Park
About an hour from DC, Sky Meadows in Delaplane, Virginia, is nicely situated amid picturesque wineries. It includes a variety of hiking paths—all well marked and labeled for beginner, intermediate, or expert level. There's an intermediate path up to the scenic Piedmont Overlook as well as options for several loop trails, from five to seven miles, which intersect with the Appalachian Trail. The Ambassador Whitehouse Trail offers a view of Paris—Paris, Virginia, that is.
When driving to the park on Route 17, you can stop at Three Fox Vineyards or Delaplane Cellars. Or, after hiking, check out Naked Mountain, Fox Meadow, Chateau O'Brien, Arterra, Barrel Oak, Blue Valley, or Linden Vineyards, all nearby.
For more information, go to dcr.virginia.gov/state-parks and search for Sky Meadows.
Best for Bird Lovers:
Mason Neck State Park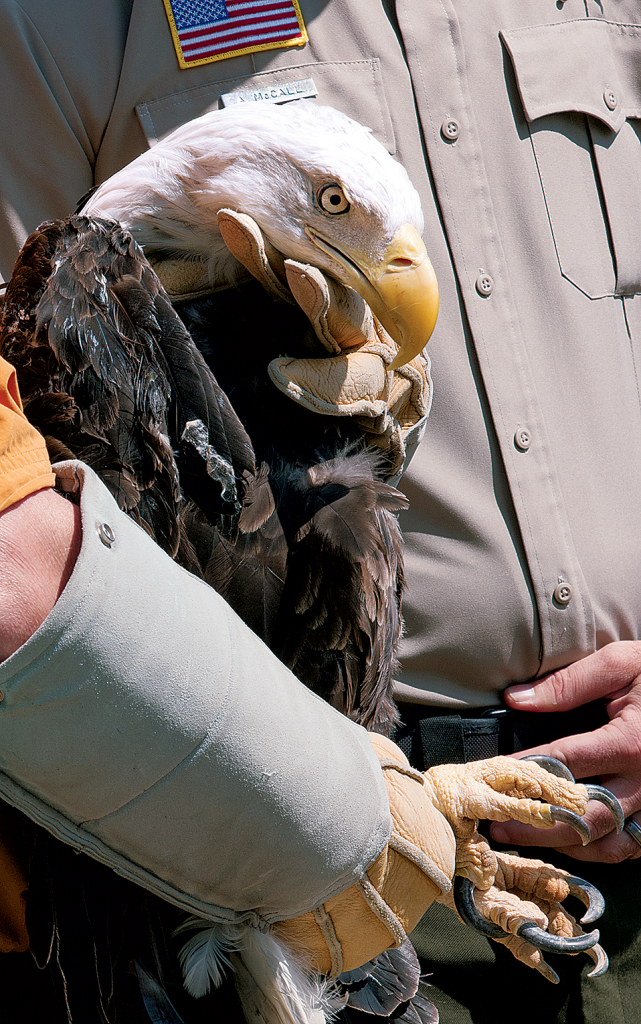 This 1,800-acre, forested park in Lorton rests on a quiet peninsula of the Potomac River and abuts Mason Neck National Wildlife Refuge, the largest freshwater marsh in Northern Virginia. The park is a great place to rent a kayak or canoe and paddle through the marshes to see bald eagles, blue herons, ospreys, and a wide variety of other shore as well as songbirds. The park offers guided canoe trips and full-moon kayak tours on summer and fall weekends. There's a picnic area, a playground, and three miles of paved trails. Bicycle rentals are available.
For more information, go to dcr.virginia.gov/state-parks and search for Mason Neck.
Best Mountain Biking:
Patapsco Valley State Park
Moab, Utah, is renowned as the best place in the country for mountain biking. Patapsco Valley State Park in Ellicott City is nicknamed the Moab of the East for its single-track biking trails, which run through the forests along the Patapsco River.
The park is broken into sections—such as Avalon, McKeldin, and Hollofield. The Avalon area boasts some of the most technically difficult terrain, including the 2.2-mile-long Ridge Trail with its exposed roots, rocks, bumps, and steep climb to a ridge overlooking the river. There are also tunnels, water crossings, log ramps, severe switchbacks, and rolling hills. But don't worry—there's also plenty of terrain for beginner and intermediate bikers, including several miles of paved trails for non-mountain bikers.
For more information, go to dnr.maryland.gov and search for Patapsco Valley State Park.
Best Park to Zip Around in:
Lake Needwood
The Go Ape adventure course in this park near Rockville is more than a series of ziplines. The course ($58 for ages 16 and up, $38 for 10 through 15) features balance challenges, two Tarzan swings, and treetop platforms to test your fear of heights. After a briefing on how to attach the rock-climbing-style harness to the safety cables, patrons are on their own to climb the ladders, tiptoe from tree to tree across swinging logs, then zipline back down.
After the high adventure, you can chill out on the small lake with a kayak or paddleboat rental. Or visit adjacent Meadowside Nature Center to view rescued raptors, including a bald eagle.
For more information, go to goape.com, click on "locations," then on Maryland.
Best Waterfall Views:
Great Falls National Park
Nothing comes close to Great Falls when you're talking waterfall views. Here's a tip: While the torrents of water crashing over the rocks on the Potomac River may be seen from both Maryland and Virginia, the view from Virginia is far better because you're looking up toward the cascades rather than from the side. The River Trail, along the steep cliffs of Mather Gorge, south of the falls, allows for additional views. From these cliffside perches, you can watch kayakers try to paddle up into the frothing whitewater or you can marvel at rock climbers scaling the sheer rock faces.
For more information, go to nps.gov and search for Great Falls National Park.
Best Standup Paddleboarding:
Black Hill Regional Park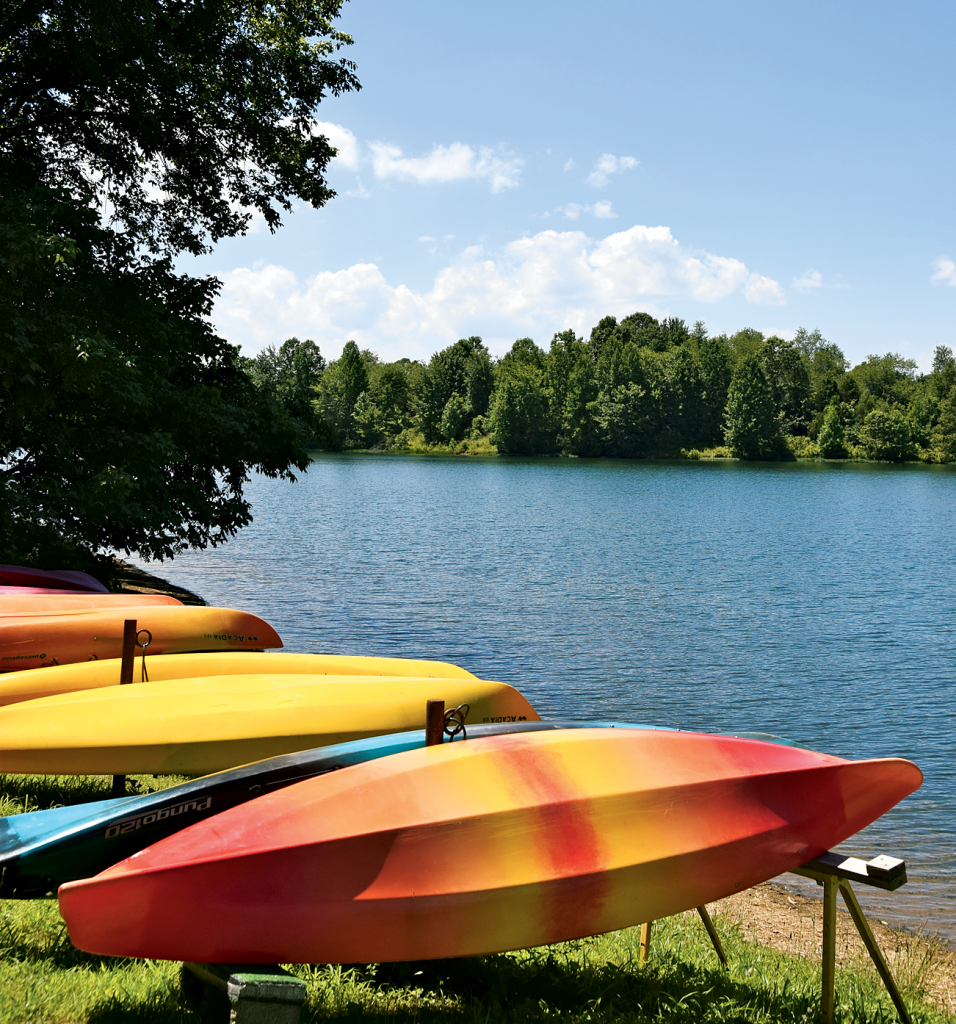 Forget the pricey paddleboard rentals in Georgetown on the choppy Potomac. Black Hill Boats in Boyds, Maryland, rents paddleboards for only $13 an hour. Plus, you can venture out onto Little Seneca Lake, which is so calm and still that the surrounding forest reflects on the water, for amazing views in all directions. The 505-acre manmade lake includes hidden coves with ghostly dead trees jutting through the water. Canoes, rowboats, paddleboats, and kayaks can be rented, and the park runs guided 45-minute nature tours on a pontoon boat.
For more information, go to montgomeryparks.org, click on "parks," then on Black Hill Regional Park.
Best Fishing Pier:
Leesylvania State Park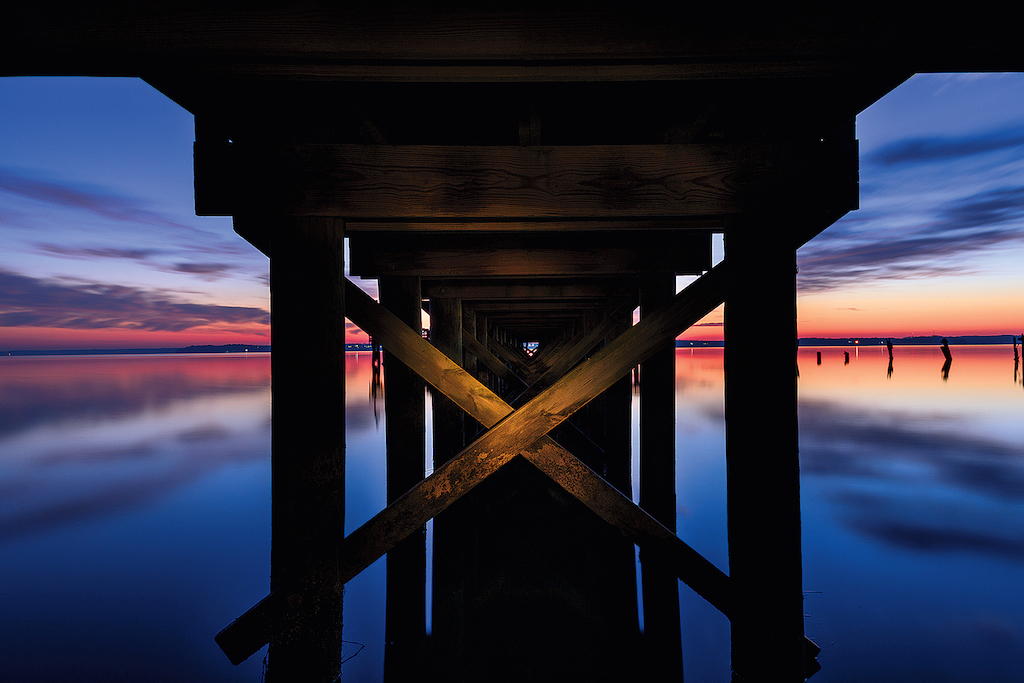 At this park in Woodbridge, a 300-foot-long, handicapped-accessible fishing pier extends into a tidal section of the Potomac River that's renowned for largemouth bass. Striped bass, perch, and catfish are also abundant. Boat ramps allow for easy boat fishing, and you can fish all night from the pier or a boat if you register your vehicle with the park beforehand. Canoe and kayak rentals are available during daylight hours. The park includes eight miles of hiking trails, a snack bar, a playground, an amphitheater, picnic shelters, and a long sandy beach.
For more information, go to dcr.virginia.gov/state-parks and search for Leesylvania State Park.
This article appears in the April 2017 issue of Washingtonian.