Washington has as many college students, about 450,000, as it does federal-government employees. As developers recognize the profit potential in this student body, they're partnering with universities: They get to build on school land, and the schools get to help shape vibrant neighborhoods.
Catholic University, in Brookland, was the first mover.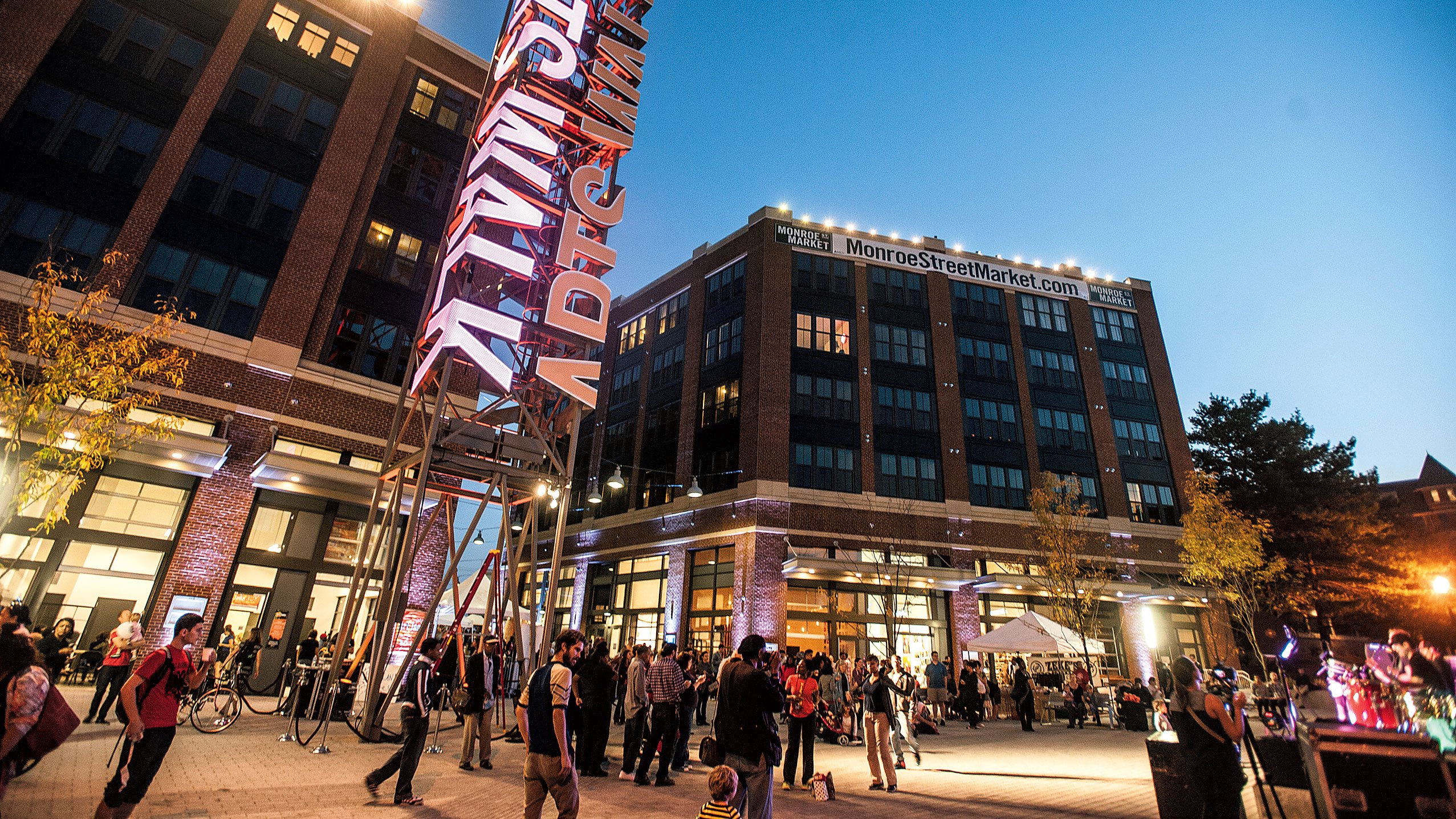 The school's administration had long wanted to repurpose land along Michigan Avenue occupied by old residence halls. In the early 2000s, when the area started to gentrify, Abdo Development and Bozzuto signed on to 11 acres of the university's grounds to build Monroe Street Market, a complex of residences, shops, and artist studios next to the Brookland Metro. Catholic saw it as an opportunity to attract more students and faculty to the neighborhood—many of both now live in the Monroe Street apartments and townhouses—plus, the school uses the shops and restaurants as a recruiting tool.
The development opened in 2014 and was a boon for a previously underserved neighborhood, adding amenities such as Starbucks, Busboys and Poets, and Barnes & Noble. Of course, those things help real-estate values, too—prior to Monroe Street Market, in 2013, the median home price in Brookland was $375,000. In 2016, it was $520,000.
Gallaudet, the nation's oldest university for the deaf, is taking an even more active role in revitalizing its environs.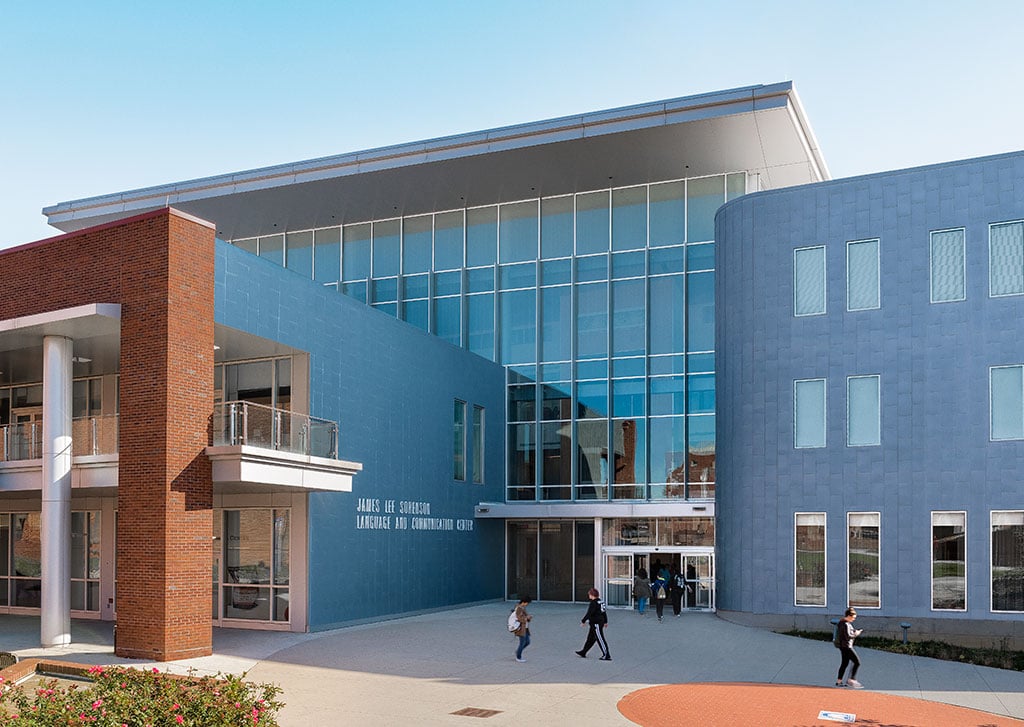 It has partnered with JBG to redevelop seven school-owned acres along Sixth Street, Northeast, near Union Market—including one that's currently the market's parking lot—into a neighborhood tailored to the deaf. The Sixth Street project is expected to break ground next year and finish in 2020.
It will use DeafSpace, a set of design principles pioneered by the school that caters to how deaf people use space. But that doesn't mean it won't also benefit hearing neighbors, explains Fred Weiner, assistant vice president for administration at Gallaudet. For instance, better lighting will make it easier to see hand signs and will generally improve safety after dark.
JBG plans to build apartments above the buildings' ground-floor areas—for which Gallaudet is focused on finding the right retailers. Any businesses that move in will have to go through training in deaf culture and American Sign Language. To benefit neighboring Trinidad and Ivy City—both gentrifying areas with many families in need—the university also envisions including an early-childhood-education center that will teach both English and ASL.
The University of Maryland is at the forefront of Washington's largest college-led neighborhood transformation.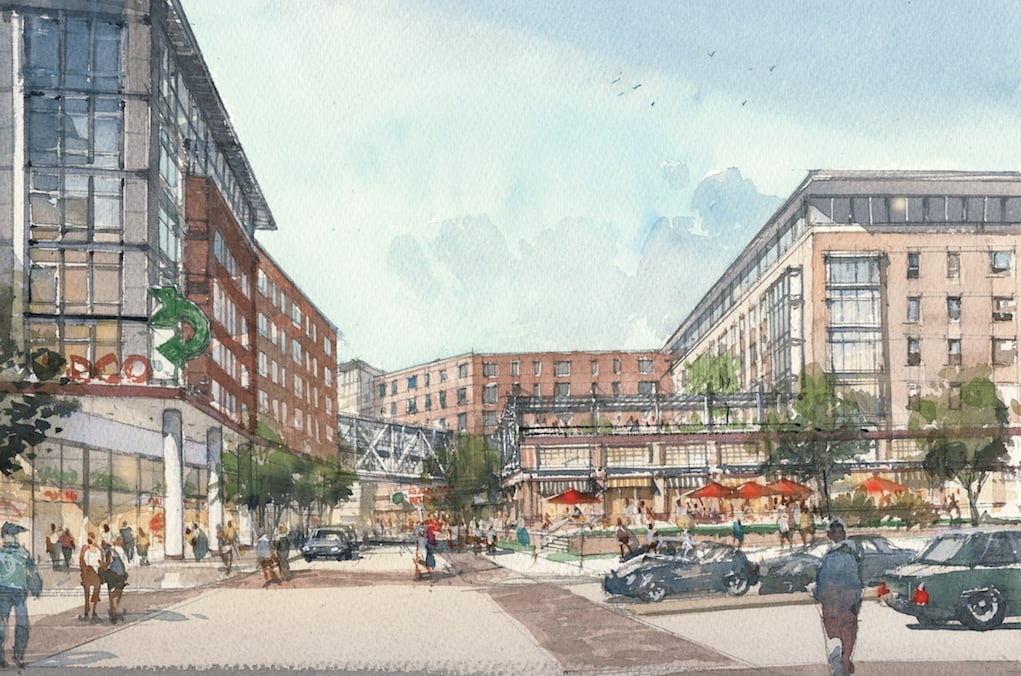 The College Park City–University Partnership—a nonprofit funded by the University of Maryland and the city of College Park—aims to make the neighborhood around the university one of the nation's best college towns by 2020. It's working with developers such as Toll Brothers and Southern Management to recast Route 1, long known for seedy motels and dive bars, as Prince George's County's answer to Ann Arbor.
New apartments and a Target have recently arrived. A trendy hotel, with a restaurant from Mike Isabella, is slated to open in July. Whole Foods is coming this year, as is a hip arts venue/restaurant/bar called MilkBoy and a food hall/performance space from developer Scott Plank. Inspired by a visit to Brookland's Monroe Street Market, university administrators selected Bozzuto to develop a similar retail/residential project that should break ground next year.
Ken Ulman, the University of Maryland's chief strategy officer for economic development, says three factors finally aligned to kick-start the revitalization: The school got a new, forward-looking president, Wallace Loh; the city and county became singularly focused on attracting businesses and families; and DC's hot real-estate market began spilling into College Park.
The Partnership also addresses quality-of-life issues that affect both campus and the broader community. New "safety ambassadors" report problems such as broken streetlights and graffiti. The Partnership started a charter school, College Park Academy, in an effort to change the perception of local public schools. And a forgivable-home-loan program has allowed 17 university employees to buy houses in College Park, where real-estate values have steadily climbed since 2012.