Chestertown
Where to Eat
1. Chester River Wine & Cheese
Pick out your picnic provisions—imported cheeses, salamis, antipasti, and bottles of wine—from this gourmet shop and spread a blanket by the river. Don't forget a scoop of gelato for dessert. 117 S. Cross St.; 443-282-0220.
2. Evergrain Bread Co.
Since opening shop in 2010, owner/baker Douglas Rae has single-handedly introduced the Eastern Shore to proper croissants. In addition to heavenly baked goods and breads, Evergrain serves sandwiches plus coffee from Ceremony Coffee Roasters in Annapolis. 201–203 High St.; 410-778-3333.
3. Lemon Leaf Cafe
A tasty selection of salads, soups (try the cream of crab), and sandwiches makes this cozy spot a favorite destination for lunch. If you arrive in time for breakfast, order the flannel cakes, a cross between crepes and pancakes, served with house-made apricot syrup. 337 High St.; 443-282-0004.
4. Luisa's Cucina Italiana
Locals love Luisa's Italian specialties and pizzas, prepared with ingredients from area farms. A family from Naples runs the restaurant, so you know the penne caprese and veal piccata are the real deal. 849 Washington Ave.; 410-778-5360.
5. Uncle Charlie's Bistro
It's about a mile from downtown—and not much to look at from outside—but Uncle Charlie's scores high marks for its crabcake sandwiches, thick burgers, and seafood entrées, such as shrimp and grits, cioppino, and shrimp scampi. Regulars know to save room for a scoop of house-made bourbon-and-bacon ice cream. 834-B High St.; 410-778-3663.
Where to Shop
1. The Bookplate
You could easily get lost among the stacks of new and used books at this town favorite, which specializes in local and regional titles (as well as Iberian pottery, thus the "plate" in its name). The shop also hosts a revolving list of literary events, concerts, and, like any good independent bookstore, a friendly cat, Keke. 112 S. Cross St.; 410-778-4167.
2. Chestertown Electric
Owner David Hoatson, a retired military engineer, has assembled a retro-cool inventory of antique desk fans, vintage light bulbs, and early-20th-century lamps. The store/electrical-repair shop is open only Fridays from 5 to 7 and Saturdays 11 to 1, but you can call Hoatson to arrange to stop by another time. 324 Cannon St.; 410-778-0313.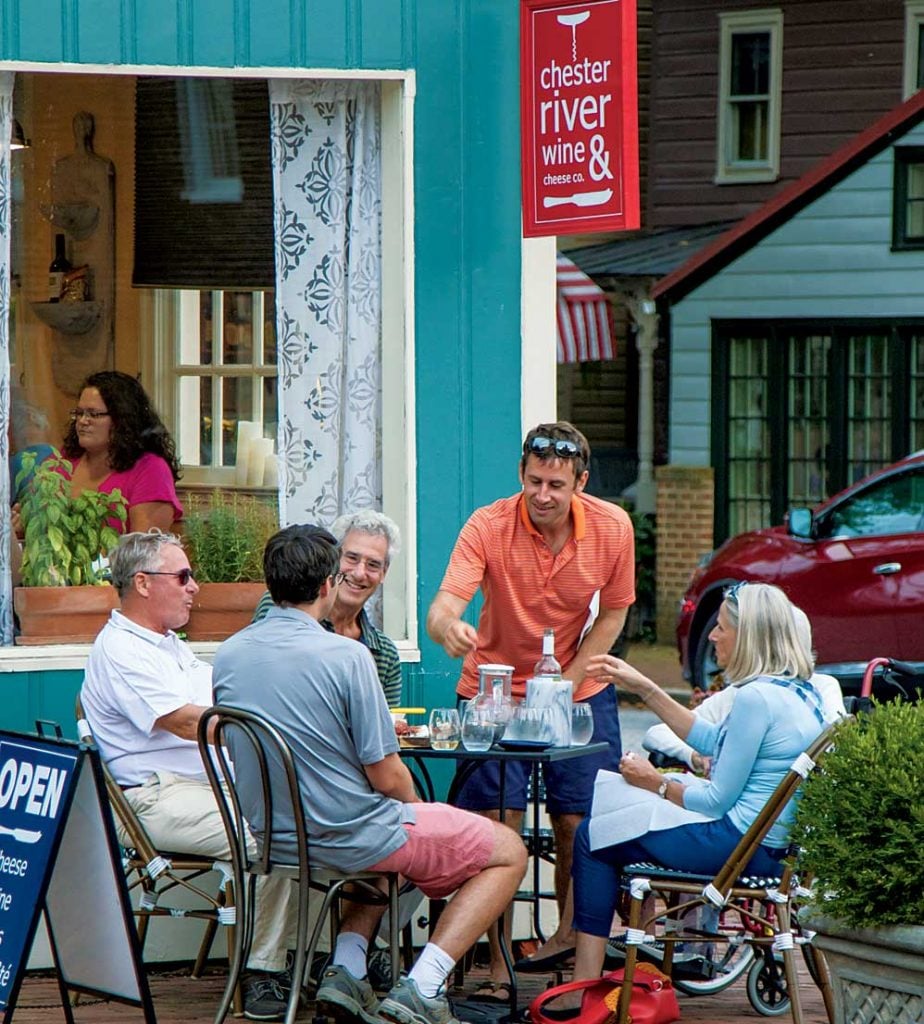 3. Create
This newish gallery brings together the work of six of Chestertown's best-known artists: Robert Ortiz (furniture), Rob Glebe (metalwork), Patti and Dave Hegland (glass), Marilee Schumann (pottery), and Faith Wilson (mixed media). Curated by local gallery owner Carla Massoni, Create also includes works by guest artists from around the country. 113 S. Cross St.; 410-870-9808.
4. She She on High
The original "she's" of this new shop are owner Chris Tilghman and former owner Katie Daulton, who have assembled an eminently browsable blend of home goods and gift items, including cotton floor mats with funky patterns, painted wooden tables, and striking stemware you won't find anywhere else in town. 321 High St.; 410-778-9000.
What to Do
1. Chester River Packet Company
A great way to get out on the water is aboard the River Packet, a 1920s-style, 65-foot yacht that sails Thursday through Sunday. Evening cruises include a buffet and bar; Sunday excursions mean brunch accompanies the river views. From $20 for adults. Reservations required. 410-635-0321.
2. Chestertown Farmers Market
Kent County remains largely agricultural, so you know the produce at this busy Saturday-morning market is fresh. In addition to myriad vegetables, you'll find local cheese, lamb, grass-fed beef, and even antioxidant-rich aronia berries, plus some 20 artisans selling their wares. Open 8 to noon. High and Cross sts. at Fountain Park.
3. Garfield Center for the Arts
This grand old movie house opened in 1928 before going dark in the early '90s. These days, it hosts a mix of plays, open-mike nights, and live music. This season's Roots Series celebrates early rock, blues, R&B, bluegrass, and folk with three upcoming concerts. See garfieldcenter.org for a schedule. 210 High St.; 410-810-2060.
4. Schooner Sultana
During two-hour public sails on the Chester River, passengers can hoist sails or man the helm of this 1768 schooner replica. Along the way, Captain Michael Fiorentino and his mates relay historic information about the boat and the ecology of the river. Remember to cover your ears when the crew fires the cannon. Tickets $30. 410-778-5954.

Easton
Where to Eat
1. Bartlett Pear Inn
After eight years of serving some of Easton's most sublime dinners, Bartlett Pear Inn is now open only for breakfast and lunch (private parties for dinner). Go for flatbreads topped with ground lamb, bowls of grilled veggies over quinoa, and grilled cheese sandwiches pumped up with slices of beef short rib and brandied cherries. 28 S. Harrison St.; 410-770-3300.
2. Bas Rouge
With its gilded chandeliers and rich continental cuisine, Easton's newest fine-dining destination feels more Old Europe than Old Eastern Shore. The prix fixe dinners roam from tuna tartare to braised pot-au-feu and run $85 to $100 per person. Pricey, yes, but cheaper than a flight to Charles de Gaulle. 19 Federal St.; 410-822-1637.
3. Hill's Café and Juice Bar
Wander beyond the bottles of Milk of Magnesia and Bayer aspirin and you'll discover this petite luncheonette at the back of historic Hill's Drug Store. Grab a stool at the circa-1928 marble counter and order a malted milkshake with your chicken-salad sandwich. Local gossip comes free. 32 E. Dover St.; 410-822-9751.
4. Krave Courtyard
There's no prettier setting for an al fresco lunch in Easton than on this cafe's brick-lined patio. Sample the sandwiches on house-made bread or order a mug of soup and watch the world go by along Dover Street. 12 W. Dover St.; 410-980-5588.
Where to Shop
1. Bountiful Interiors
Washingtonians with second homes on the Eastern Shore hit Bountiful Interiors to furnish their houses in Tidewater style. Interior designers help customers navigate the 20,000-square-foot showroom to pick out the perfect glass-topped cocktail table, pheasant-print pillow, or outdoor chaise. 218 N. Washington St.; 410-819-8666.
2. Dragonfly Boutique
Miles, a Jack Russell terrier, might be first to greet you at this popular women's clothing shop carrying a thoughtful selection of Sail to Sable resortwear, Trina Turk cocktail dresses, GiGi purses, Paige jeans, and shirts by Island Company and Fifteen Twenty. 21 Goldsborough St.; 410-763-9262.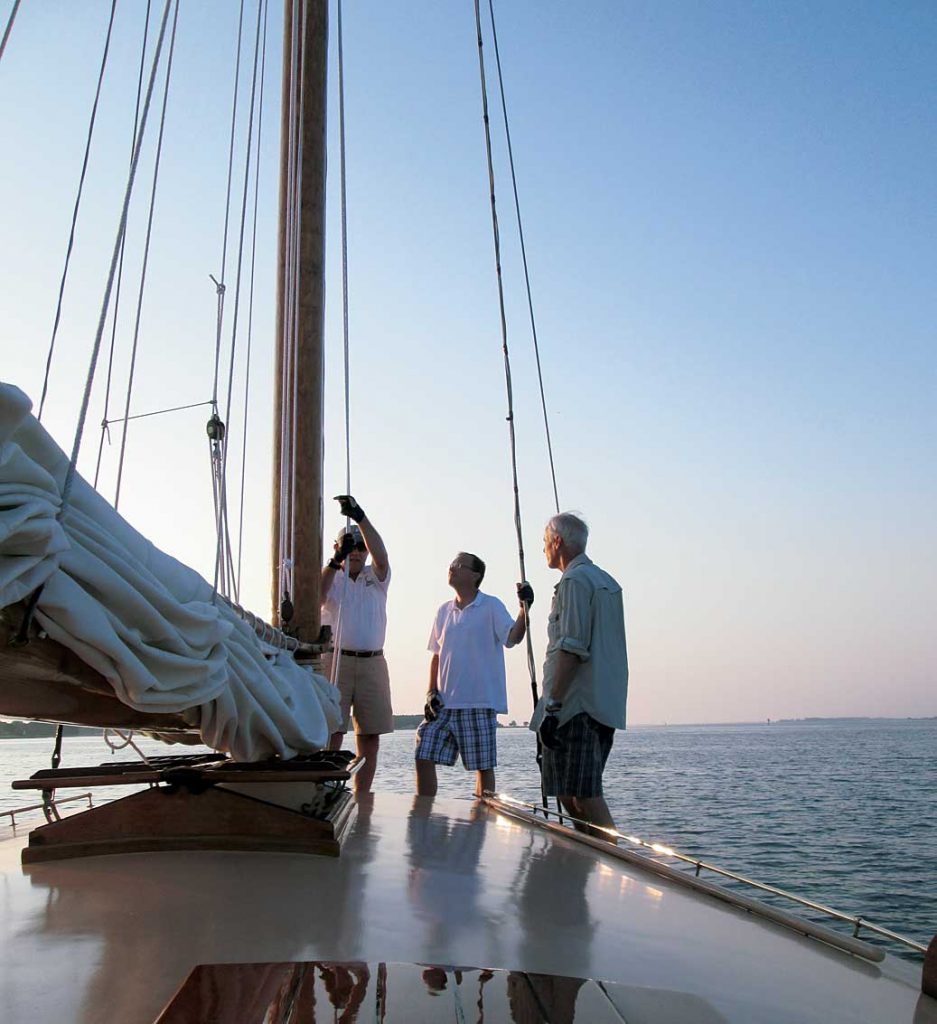 3. Frugalicious
This consignment shop is the place for good deals on designer duds by Prada, Ferragamo, and Gucci, as well as bargains on lightly worn items from Talbots and J. Crew. Recent finds: a python-print Escada jacket ($148), a St. John knit top ($45), and a new $3,200 Chanel bag ($900). 5 N. Harrison St.; 410-822-3355.
4. Troika Gallery
Each year from April to December, Easton celebrates its arts scene on the first Friday night of every month with gallery walks, and artist-owned Troika has been hosting art lovers from the start. Stop by any day to check out the works by a mix of regional, national, and international artists. 9 S. Harrison St.; 410-770-9190.
What to Do
1. Academy Art Museum
Easton has been named one of America's best small arts towns, and this museum is a big reason why. This spring, see marble and bronze sculpture by Shelley Robzen, print and collage creations by Steven Ford, and the touring exhibition "FABRICation," a collection of works utilizing colorful fabrics by seven artists. 106 South St.; 410-822-2787.
2. Avalon Theatre
When the Avalon opened in 1922, it was billed as the "showplace of the Eastern Shore." It still is. The beautifully restored Art Deco movie house is the place to see live music in the area. This month's highlights include singer/songwriter Richard Shindell, bluegrass musicians the Lonely Heartstring Band, and the Count Basie Orchestra. 40 E. Dover St.; 410-822-7299.
3. Eastern Shore Food Tours
Bill and Kathy Bernard's tours are a great way to get a taste of the local cuisine as well as local history. Tour-goers meet Easton's chefs and food-related business owners while sampling the goods and learning from the Bernards about events that shaped the town. $59 per person; tours also offered in St. Michaels and Cambridge. 443-786-4471; eatingeaston.com.
4. Easton Cycle and Sport
The Eastern Shore is flat, which means bicycling is an excellent way to get around. This shop rents hybrids and road bikes and supplies Talbot County bike maps. It also rents kayaks, canoes, and paddleboards, for those who'd like to splash about the Tred Avon River. Reservations recommended. 723 Goldsborough St.; 410-822-7433.

St. Michaels
Where to Eat
1. Gina's Cafe
This tiny Tex-Mex spot serves up big flavors—quesadillas stuffed with blackened salmon or tacos with ahi tuna, burritos filled with crabmeat, and fresh tortilla chips overflowing with vegetarian toppings. Watch for 99-cent sangría nights. 601 S. Talbot St.; 410-745-6400.
2. Justine's Ice Cream Parlour
A town mainstay since 1987, Justine's is known for its "wall of shakes," a handwritten menu of creative concoctions ranging from chocolate-marzipan (chocolate sauce and pistachio ice cream) to a German-chocolate-cake shake made with butter-pecan and chocolate ice creams, coconut, and hot fudge. 106 N. Talbot St.; 410-745-0404.
3. Lan's Tapas and Wine Bar
If the weather's nice, grab a seat under the strings of lights on Lan's deck and tuck into small plates of grilled-octopus salad or lamb "lollipops." There are more than 25 varieties of wines by the glass, plus live music in the winter. 103 S. Freemont St.; 410-745-8001.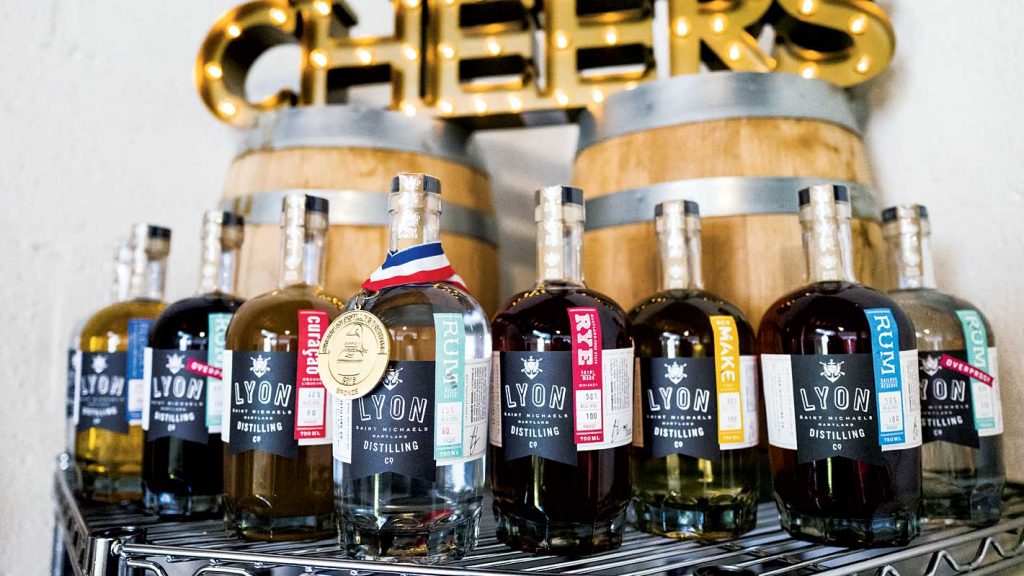 4. Limoncello
This cheery Italian eatery on St. Michaels' main drag makes a tasty lunch stop. Try the flatbread "pizzettes" or risotto spiked with fat Gulf shrimp and asparagus. End your meal with a glass of the house-made limoncello liqueur. 200 S. Talbot St.; 410-745-3111 .
5. Stars
Even if you're not a guest at the luxe Inn at Perry Cabin by Belmond, you can take in the glorious Miles River views from its restaurant, Stars. The scenery doesn't come cheap, however—crabcakes run $42 for dinner. Swing by for lunch and you'll be rewarded with lower prices and the same great scenery. 308 Watkins La.; 410-745-2200.
Where to Shop
1. Gatsby's Collection
It's hard to miss this shop as you approach St. Michaels. Just look for the statues of lions, elves, and topless mermaids out front. The goods inside are just as eclectic—a mix of antiques, furniture, and decorative items, from taxidermy to Gothic chandeliers to a marble bust of Ernest Hemingway. 1007 S. Talbot St.; 410-745-3700.
2. Iron Will Woodworks
Owners Mark and Tracey Miller scour the country for interesting finds for their home-decor shop. You'll find vintage Coke coolers, ancient wagon wheels, wood and leather trunks transformed into coffee tables—and every item comes with a tag describing its history. 605 S. Talbot St.; 267-221-5107.
3. Ophiuroidea
This jam-packed boutique, also known as "The O," offers coastal home decor, boho beach clothing, and a wide selection of jewelry made from sea glass. The tiny shop is in an old mill building sandwiched between the St. Michaels Winery and Eastern Shore Brewing. 609 S. Talbot St.; 410-745-8057.
4. Simpatico, Italy's Finest
A touch of the Old Country in St. Michaels, Simpatico sources items such as Cipriani pastas from Venice, hand-painted ceramics from Gubbio, Busatti table linens, and Murano-glass jewelry straight from the Mediterranean. 106 Railroad Ave.; 410-745-0345.
What to Do
1. Chesapeake Bay Maritime Museum
Get the scoop on 400 years of bay culture, ecology, and history at this waterfront museum where you can also explore a screwpile lighthouse and a working boatyard (aspiring boat builders can apprentice for a day) or cruise the Miles River aboard the Winnie Estelle, the museum's 1920 workboat. 213 N. Talbot St.; 410-745-2916.
2. Classic Motor Museum
Opening April 22 and set in an Amish-style barn, this addition to the Eastern Shore will showcase up to 20 automobiles. You'll find pre–WWII classics such as a Model T, plus Nixon-era muscle cars. Placards relate the stories behind the cars, including a 1920 Buick convertible, one of the first cars to cross the Bay Bridge in 1952, with Maryland's governor Theodore McKeldin aboard. 102 E. Marengo St.; 410-745-8979.
3. Lyon Distilling Co.
"Buzz for booze" reads the small sign above the doorbell at this tiny distillery, now in its fourth year. Inside, you can sample several rums, corn and malt whiskeys, a rye, and, if it's available, something called "beersky," a whiskey made with hefeweizen. 605 S. Talbot St.; 443-333-9181.
4. Sail Selina II
A trip on the Selina II is a throwback to the Gilded Age, when elegant wooden boats plied the Chesapeake. These days, the 42-foot-long yacht—the largest surviving vintage catboat in the world, according to its owner and captain—takes passengers on sunset Champagne cruises, beer-tasting tours, and monthly moonlight cruises. 101 N. Harbor Rd.; 410-726-9400.
This article appears in the April 2017 issue of Washingtonian.