Lush Life
Pam Allen moved 19 times during her marriage to Coast Guard admiral Thad Allen before he retired in 2010 and the couple settled down in Vienna. They chose an Arts and Crafts–style house with a large back yard, but the only plants thriving in it were some shrubs and a thicket of poison ivy. "My goal was to create something that we were actually going to use—and have color," says Pam.
For years, she bought fresh flowers for her houses because she was never in one place long enough to cultivate a proper garden. To make the most of the opportunity she had long awaited, she hired Joshua Dean of Wheat's Landscape.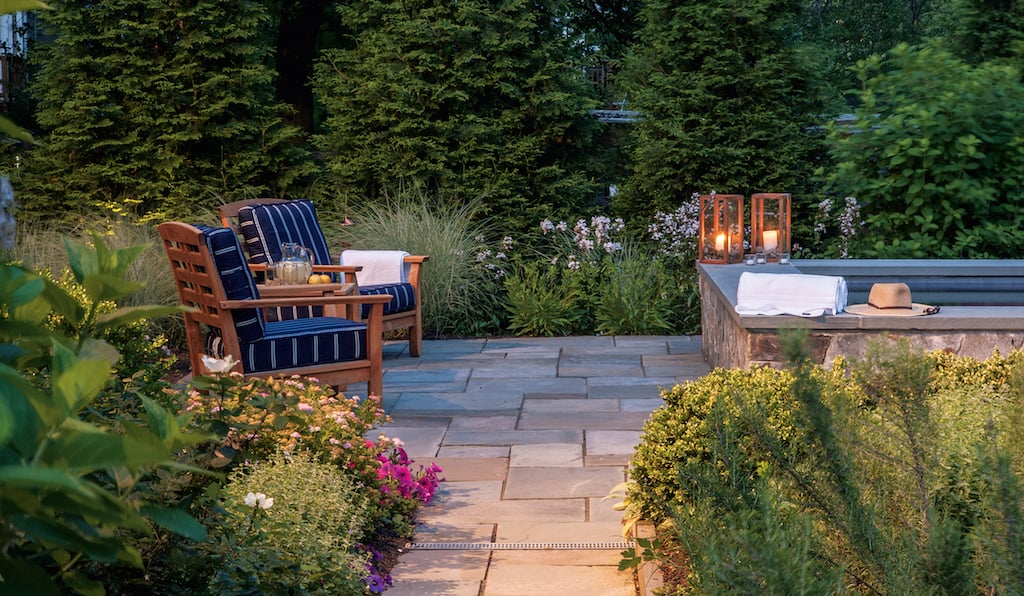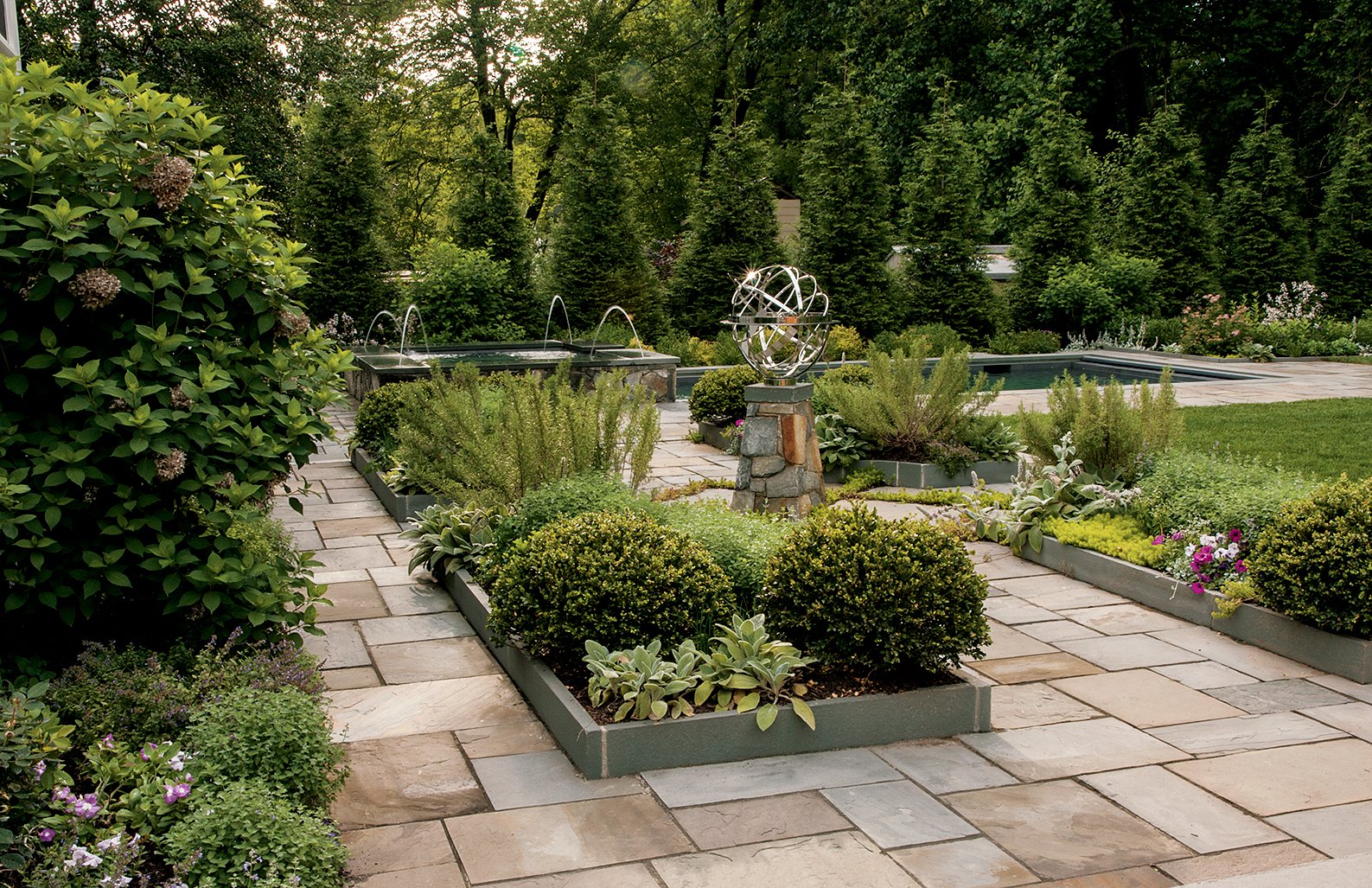 Dean took inspiration from the gardens of late-19th-century England, delineating shade and sun gardens, an herb garden, and an arbor covered in climbing roses and wisteria. But the borders can't totally contain the profusions of flowers and plants that bloom steadily from April through October. "I loved the tension created by the natural forms of the plantings straining and breaking through the formal lines of the spaces," Dean says.
A stone terrace visually connects an outdoor fireplace and living area on one side with a pool and spa on the other. At the center lies the herb garden, which surrounds the crowning touch of Dean's design: a custom armillary sphere made in England with nautical-grade stainless steel—a nod to the admiral's seafaring career. Pointing due north from its spot on a Carderock plinth, it's engraved with the distances in nautical miles to the locations where the Allens got married, where Thad Allen's parents were married, and where their children and grandchildren were born.
"I had suggested the armillary because of its relationship to navigation," Dean says. "It's also a very English feature to go with the garden style."
Everything Zen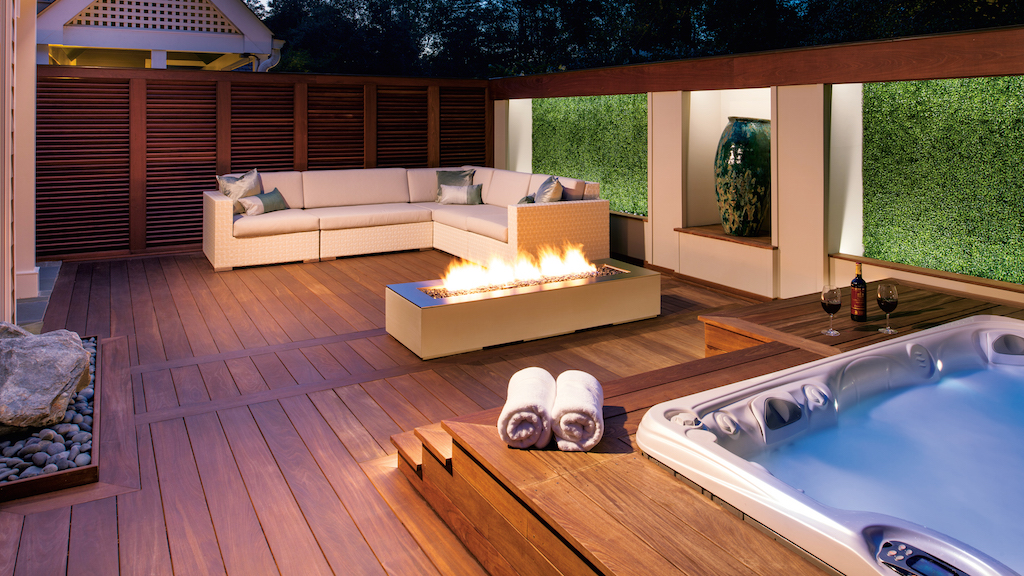 Though their new home in McLean had a large patio and pond out back, Patty Smith knew she wanted a separate outdoor space all to herself. The overgrown stone patio and trellis off the first-floor master suite she shares with her husband, Jim, wasn't going to cut it. "I wanted a Zen garden," says Patty, who works in finance for a real-estate developer. "I was looking for a place for relaxation—and some privacy."
Smith called Anthony Wilder, whose team had worked on her previous house in Potomac. Under the lead of architectural designers Anthony Wilder and Maria Fanjul, the same group returned to realize Smith's Zen vision. "It was a natural choice to embrace the four classical elements—earth, water, air, and fire," Fanjul says.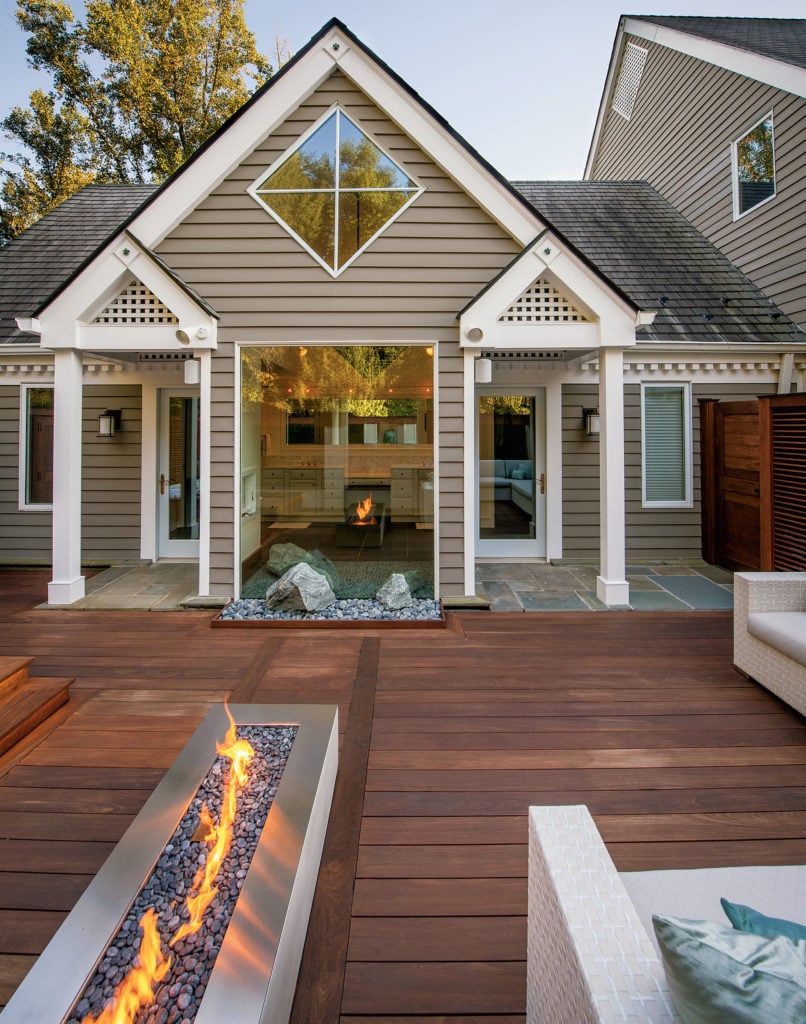 The designers first replaced a bathroom wall with plate glass. They split boulders and bolted them down on either side, making it appear as if they pass right through the glass. A linear fire pit offers a visual divider between a seating area and a hot tub, and a rear wall lined in artificial boxwood blurs the division between the terrace and the trees beyond.
The new terrace faces the front yard, so concealing it from the outside was a priority. The designers lined the outer walls with tall skip laurels, "so all you see are these broadleaf evergreens," says Wilder. Fanjul, Wilder, and Keira St. Claire-Bowery designed the deck and louvered walls from hand-cut ipe wood. The louvers provide air circulation.
Smith uses the terrace and hot tub three to four times a week, weather permitting. She and Jim have yet to invite anyone inside: "Maybe I'm just not ready to share."