Midcentury Makeover

The modest 1950s ranch in Kensington was the kind of house most people walk by and never think of again—white siding, red brick, bland landscaping. But its new owners saw the ingredients of a midcentury-modern gem: single-story layout, pretty lot, and south-facing front exposure.
"The bones and the structure seemed good," says Jason Gerson, who shares the house with his wife and young daughter.
So the family hired architects Lou Balodemas and Veena Shahsavarian to transform the place. Though the entire renovation is dramatic, the front porch addition makes the biggest impact. Its butterfly roofline and jolts of tangerine lend a decidedly Palm Springs vibe.
Extending the porch for nearly the length of the facade allowed room for a sliding glass door from the kitchen. When it comes to boosting curb appeal, including two points of entry is a risk, but the clever design leaves no confusion over which is the front door.
Upon closer inspection, you'll notice unexpected details, such as the metal-panel siding installed in alternating widths to add subtle texture. Or the grooves that allow the siding to catch and bounce light at different angles. But the most surprising thing—given the remodel's visual magnitude—is that a third of the house is original.
Get the Look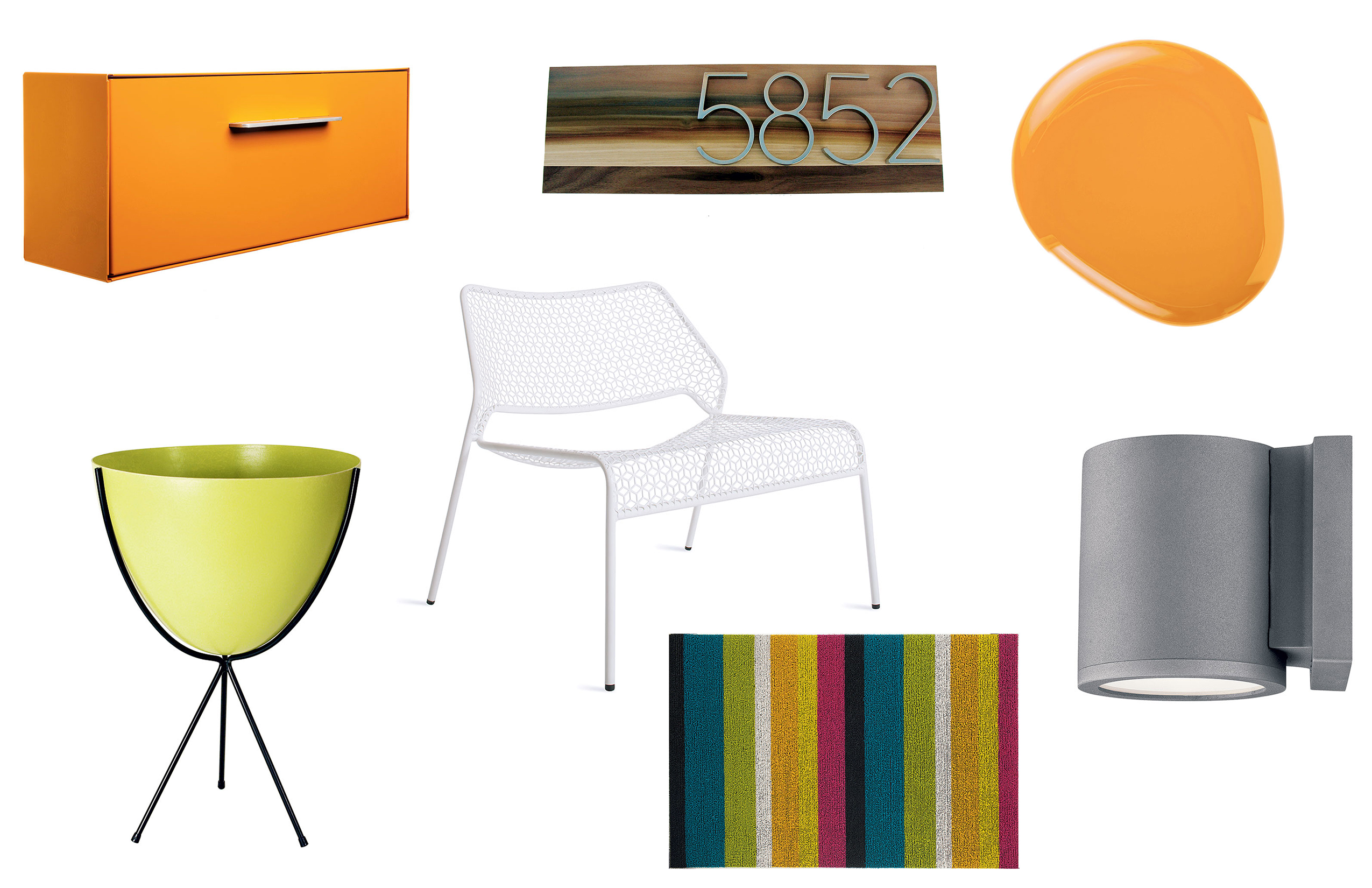 Mailbox: Wall-mounted "Modbox," $159 at modboxusa.com
Planter: "Retro Bullet," $160 at hiphaven.com
Doormat: "Shag Bold Stripe," $52 at chilewich.com
House Numbers: Modern address plaque in poplar and walnut, $70 at Good to the Grain on Etsy
Seating: "Hot Mesh" lounge chair, $299 at bludot.com
Door Color: "Tangelo" by Benjamin Moore
Lighting: Tube LED wall sconce, $180 at lumens.com
Cottage Upgrade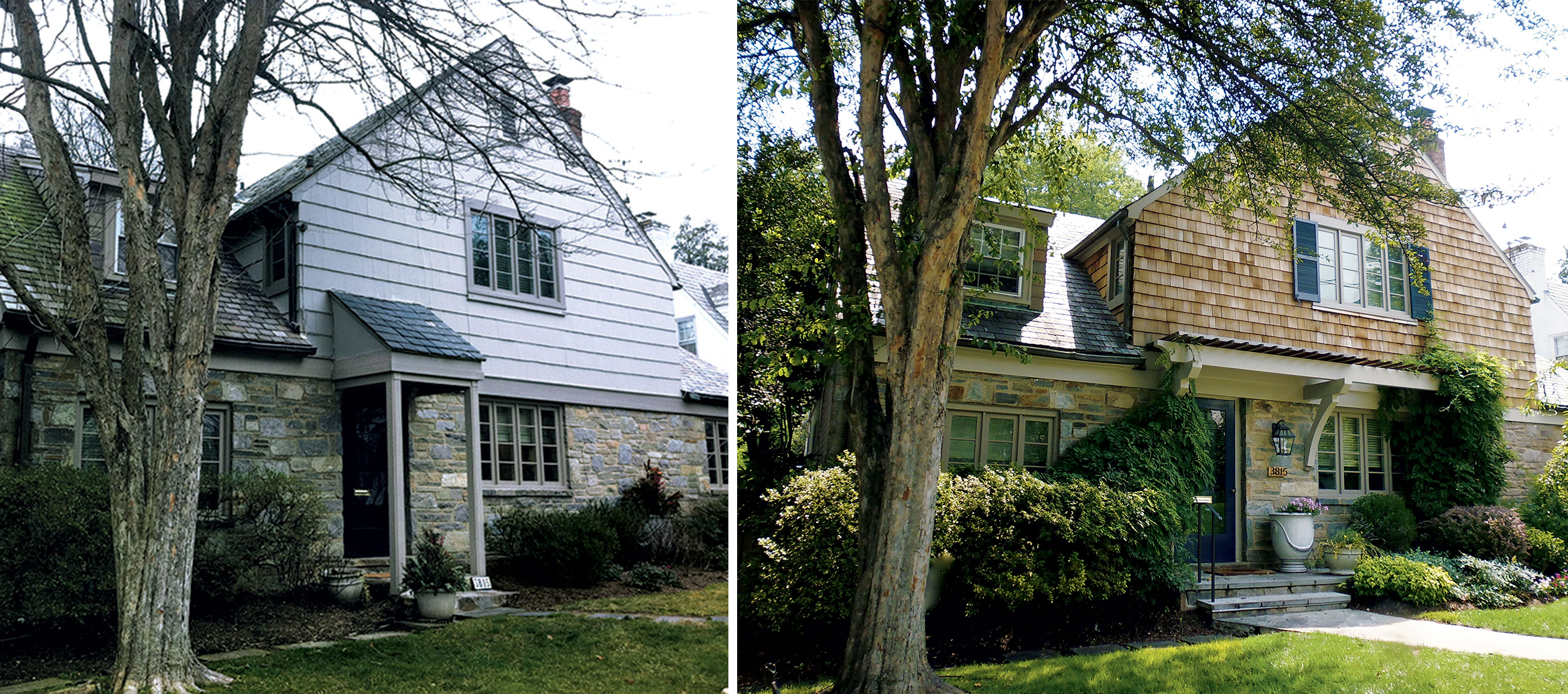 This charm-packed cottage in American University Park proves that a few relatively minor updates can yield striking results.
Architect Jim Rill says the homeowner wasn't interested in altering its structure or footprint—she simply wanted "a cuter house." He convinced her that introducing Craftsman-style elements was the best way to revive it from its 1930s drabness.
Rill broadened the front porch to create a more welcoming entry and make room for a generous urn to fill with flowers. Instead of a typical roof, he covered the porch with a trellis, a technique he more commonly uses on houses in Florida. Greenery now climbs up the trellis, integrating the home into the lush landscaping.
Though the stone lower half of the facade is original, Rill replaced the upper half's shabby siding with new cedar shingels. They're made of stained wood, so even as they age, they'll retain their bright golden hue. Finally, the house got working shutters—not the kind that are just glued on—and a coat of deep navy paint on the front door.
While the sum of the changes is significant, Rill says he's proud that the house didn't lose its understated appeal: "We didn't want to be too ostentatious—it is a cottage."
Get the look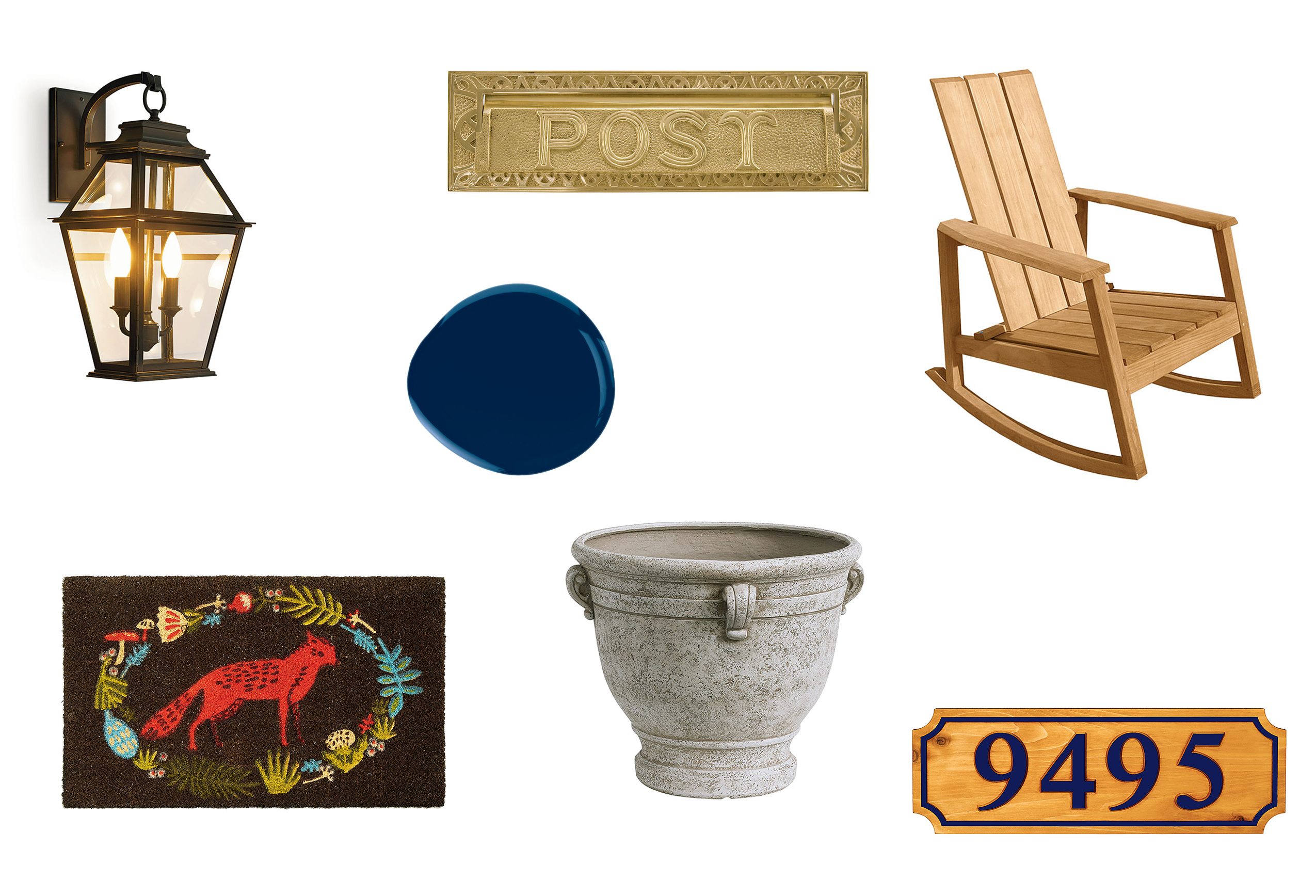 Lighting: "Cambridge" sconce, $389 at Restoration Hardware
Mail Slot: Polished-brass "Post" mail slot, $70 at signaturehardware.com
Doormat: "Ringed Fox,"$38 at Anthropologie
Door Color: "Navy Blue" by Fine Paints of Europe
Planter: Large "Brittany" pot, $129 at Pottery Barn
Seating: "Aspen" rocking chair, $735 at Country Casual Teak
House Numbers: Cedar address sign, $160 and up at the Carving Company on Etsy