Click here to listen to an audio version of this story

In 2007, a small group of African-Americans were touring James Madison's recently renovated mansion on his Montpelier estate in Orange, Virginia. Iris Ford, a 68-year-old cultural anthropologist whose ancestors had been enslaved at a neighboring plantation, looked out over the property's South Yard—the area where Madison's domestic slaves lived and worked—and saw slabs of wood indicating where the slave quarters were. The grass around them was brown.
"Where are my people?" Ford asked the site's chief archaeologist, Matt Reeves. "You spent $24 million on the Madisons, and all my people get are dead grass and railroad ties?"
She didn't realize it then, but her statement helped set into motion a nearly ten-year process of reviving the enslaved community's history and building it into the landscape. More than 100 slaves toiled for the father of the constitution and his wife, Dolley, while they lived at Montpelier. Six generations were born into slavery there.
"African Americans deserve an explicit expression of their hard work," Ford says. "And not just their physical work but also their mental work—the whole package."
Ford, her cousin Madlynn Anglin, and several other descendants of Montpelier and the surrounding plantations have been intimately involved in making sure the Montpelier staff, many of whom are white, did justice to their ancestors' lives.
The result is a new exhibition called "The Mere Distinction of Colour," now open to the public. Replacing the railroad ties are fully-built replicas of domestic slave quarters. Inside each one is the story of an enslaved family and details about their lives. Though not much is known about Madison's slaves, the Montpelier staff has pieced together documents, artifacts, and oral histories to tell as complete of a story as they can.
In doing so, they hope to educate visitors about slavery's inextricable role in the founding of our country while giving the descendant community a sense of ownership and belonging in the Montpelier institution they've been mostly left out of until now.
"It's hard for African-Americans to celebrate their place in the founding generation, because it's not a happy story," says Montpelier's Education Director Christian Cotz. "But there are moments to celebrate, and there's the perseverance of the human spirit to celebrate, so I hope that we can help provide that in some way."
***
When I visited Montpelier on a hot June afternoon, dozens of people were working to finish the exhibit before it opened. Archeology students were digging in the South Yard, looking for the original post holes from the fence that separated the work space from the rest of the property. Since it started in 1987, the student archeology program has dug up invaluable objects owned by slaves—a piece of a parasol, a pipe, wooden marbles, a ceramic doll's leg—that now live in a dimly lit display case in a room in the mansion's basement.
Leontyne Peck, a retiree from Charlottesville whose ancestors were enslaved in nearby Madison County, found the pipe and marbles during one of the archeological digs. Her family is genetically related to Henry Clay Sr., a senator who ran for president three times in the early 19th century. Clay was a good friend of Madison's and visited Montpelier several times. So although Peck is not directly linked to Montpelier's enslaved, she still feels a strong connection to the place.
"Each time I do a dig, I felt as though I was touching the spirit of the enslaved workers who were at Montpelier," Peck says. "It's a serious pursuit and piecing together, painstakingly, the lives of the people who were there."
My visit to Montpelier was the day after a noose was found in the National Museum of African American History and Culture. One was found before that outside of the Hirshhorn museum, and two more have been found around the DC area since. In response to the noose found in the African-American museum, NMAAHC director Lonnie G. Bunch III said, "This was a horrible act, but it is a stark reminder of why our work is so important."
"The Mere Distinction of Colour" echoes the work that the African-American museum does. During the exhibit's development process, the Montpelier staff reached out to the NMAAHC for guidance and advice on how to approach the history of slavery in America. Cotz considers the museum to be the exhibit's "mothership identity."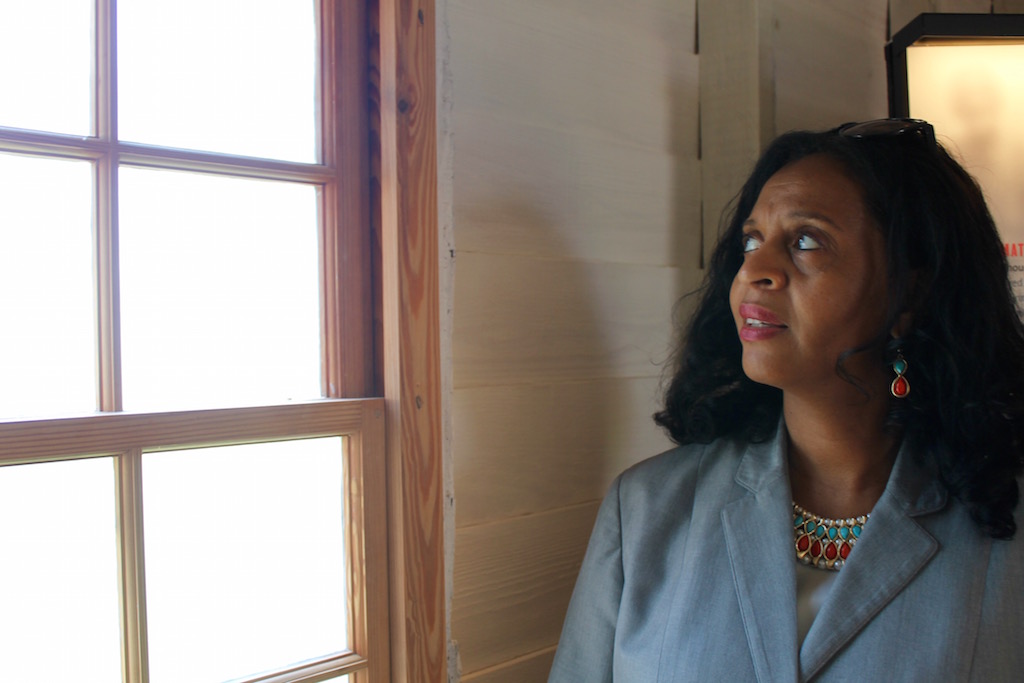 During one of their meetings, Cotz expressed concern that using the word "rape" in the exhibit would make people too uncomfortable. Rex Ellis, the associate director for curatorial affairs at NMAAHC, put his arm around Cotz and said, "Son, you're already making people uncomfortable. Just keep doing what you're doing."
Cotz took that to heart. "Rape" does appear several times in the exhibit. And although Cotz does think about how white Virginians will respond to what he considers a "provocative and pushy" (albeit honest) interpretation of how the one of the founding fathers dealt with slavery, he thinks it's worth it.
"Some people are going to have a really hard time with this," he says. "I'm really proud of Montpelier for going through with it."
***
After I finished touring the exhibit, I sat with descendant Rebecca Gilmore Coleman under a large tree in Madison's backyard. Coleman, 76, had recently had knee surgery and was getting drove around in a golf cart to see the exhibit's progress. She had kind eyes and a coiffed bob.
Rebecca's great-grandfather George Gilmore was born a slave Montpelier around 1810. He worked on the plantation as a carpenter, and after he was emancipated, he built a cabin across the road from Montpelier. Rebecca's grandfather and father were born in the cabin, which still stands today as the first freedman's site in the country to be preserved and open to the public.
Although she grew up near the cabin site, Coleman went most of her life without knowing it existed. Her father never told her anything about her past, including the fact that her great-grandfather was James Madison's slave. But when she got into watching Alex Haley's Roots in the 1970s, she started asking her father questions.
So one day he took her to the cabin and told her everything he knew. Coleman says that changed her life. "It felt like, oh man I know who I am," she says. "You felt as though all these years you really didn't know yourself. I really didn't know myself."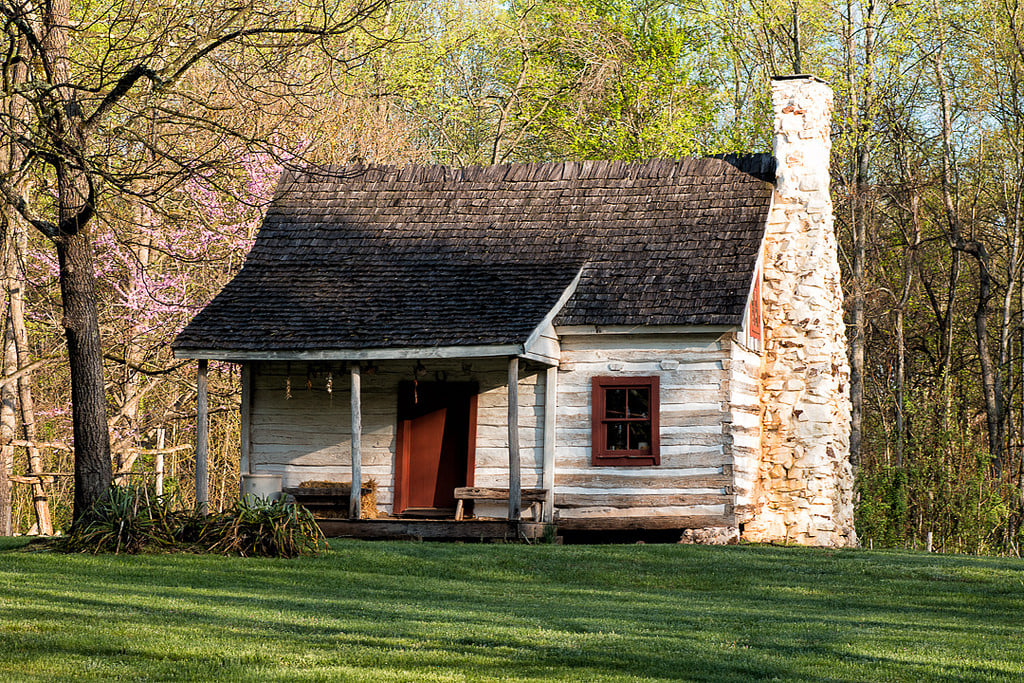 Every time she goes back to that cabin, Coleman feels the weight of her past.
"When I go to the front porch, the feeling of George standing on that front porch comes over me—overlooking those beautiful Blue Ridge mountains," she says. "And I say, you know, 'George stood here,' and he…."
Between breaths, she started to cry. "I'm looking at what he looked at back in the 1800s. That makes me feel even more of a part of Montpelier."
Now, with the exhibit open to the rest of the community, she hopes other people have the opportunity to connect with the past like she has.