If you take exit 266 off the Pennsylvania Turnpike and make a couple of right turns, you'll soon find yourself in the petite village of Mount Gretna. There's no town per se, just a heavily wooded oasis dotted with neatly kept Victorian-era vacation cottages, whose owners decorate the porches with twinkling lights, lending a fairy-tale air to the place.
Under the tall oak trees sits a beautiful 700-seat, open-air playhouse, the site for live theater since 1927. Its actors mostly hail from New York City, and the stage has hosted the likes of Bernadette Peters, Sally Struthers, Loretta Swit, and a pre-Moses Charlton Heston. Professional jazz and classical musicians also perform as part of the Music at Gretna concert series, and a sprawling, nationally recognized art show is held nearby the third weekend of every August.
What's with such an active arts scene in Middle-of-Nowhere, PA? Credit the Pennsylvania Chautauqua, which has been attracting the intelligentsia to its summer programs in the arts, education, recreation, and religion for the past 125 years. Chautauqua is a vestige of the late-19th-century adult-education movement that brought programs and lecturers to rural areas, beginning with the New York community of the same name.
Besides the arts, the other big draw that keeps vacationers coming back—the population can more than double on summer weekends—is Conewago Lake, a.k.a. Mount Gretna Lake, with its eight-acre beach. This is one of those old-fashioned swimming holes you didn't think existed anymore—complete with over-water swings and floating docks—all overseen by a cadre of teenage lifeguards who likely have the coolest summer jobs in Lebanon County.
Do
Stop at the visitors' center, in an old post office (by the parking lot off Carnegie Ave.; 717-964-1830), and pick up a copy of "This Week in Mount Gretna" before strolling the tree-lined paths of the Pennsylvania Chautauqua campus and its Victorian cottages, Hall of Philosophy, outdoor playhouse, and historical society (206 Pennsylvania Ave.; 717-964-1105). To register for one of the summer programs—which range from mosaic-making workshops to author talks to family nature walks—go to pachautauqua.info.
Mount Gretna Lake & Beach offers swimming, canoeing, and a well-stocked snack bar. Don't forget to take a photo of the kids on the enormous Adirondack chair. Weekends can get crowded, so visit on a weekday if possible. 130 Lakeview Dr.; 717-964-3130.
Gretna Theatre (200 Pennsylvania Ave.; 717-964-3627) presents five shows every summer, including this month's performance of Man of La Mancha. Music at Gretna's summer series also begins in July, and the organization sponsors a tour of historic homes the first weekend in August (717-361-1508).
Eat
Cozy Le Sorelle Porch and Pantry (106 Chautauqua Dr.; 717-964-3771) is a good bet for breakfast or lunch, while Mt. Gretna Hideaway (40 Boulevard Ave.; 717-675-7987) has a popular outdoor deck and pub menu for dinner. For dessert, the singular Jigger Shop (202 Gettysburg Ave.; 717-964-9686) has been serving up ice-cream treats for more than 100 years.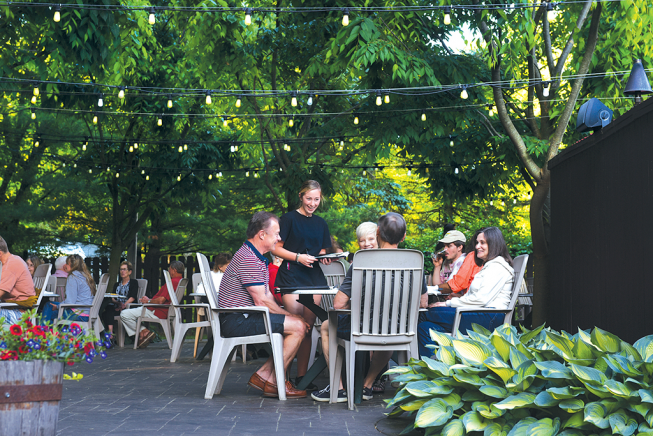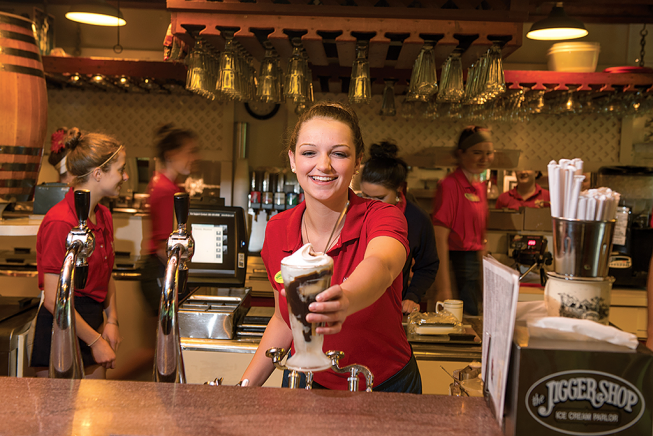 Stay
The Arts and Crafts–style Mt. Gretna Inn (16 Kauffman Ave.; 717-964-3234) offers filling breakfasts and seven guest rooms, from $149 a night. Or families may want to rent one of the Victorian cottages, many right on the Chautauqua camus, from sites such as vrbo.com.
Along the Way
Within an Hour
Before merging onto Route 15 from I-270, detour into Frederick to stock up on apple butter, strawberry-rhubarb jam, and hot-pepper relish at McCutcheon's Factory Store (13 S. Wisner St.; 301-662-3261). Or refuel on locally roasted beans at Gravel & Grind (124 S. Carroll St.; 301-682-2651), a combination bike and coffee shop.
Less Than Two Hours In
North of Frederick, Route 15 soon turns rural. You'll pass Cunningham Falls State Park (14039 Catoctin Hollow Rd.; 301-271-7574), where you can check out the rescued birds at the adjacent aviary. Gettysburg is another half hour north.
Two Hours In
After passing Shepherdstown, Pennsylvania, you'll pick up the Pennsylvania Turnpike and head east about 35 minutes until taking exit 266 for Mount Gretna. If you get hungry along the way, stop at John's Diner (146 Sheraton Dr.; 717-774-5004), just off the turnpike in New Cumberland. The Politsopoulos family has been serving Greek diner specialties, including moussaka and pastitsio, for more than 40 years.