What to Do
The restored 1938 Silver Theatre is a local institution. It screens independent and foreign movies, film festivals, documentaries, classics, and more recent favorites on a daily changing roster. Tip: The Silver Babies series, typically Friday mornings, invites new parents and little ones to cry, nurse, and enjoy a show, free of judgment. 8633 Colesville Rd.; 301-495-6700.
Since opening in 2011 in a former JCPenney, the Fillmore has hosted some of the world's biggest acts—Guns 'n Roses, Mary J. Blige, and John Legend, to name a few. With room for just 2,000 people, it treats concertgoers to a more intimate experience than a lot of area venues do. Blues Traveler, Jurassic 5, and 311 are among the artists lined up in the coming months. 8656 Colesville Rd.; 301-960-9999.
Get a rare look into the past 200 years of medicine and medical training, particularly on the front lines of war. Rows of bones and other specimens from the Civil War illustrate how doctors catalogued and studied the causes of fatalities. For the not so faint of heart, several cases display preserved body parts and diseased organs, including a complete brain and spinal cord. The collection also includes the bullet that killed President Lincoln. 2500 Linden La.; 301-319-3300.
The shiny, modern new building has come to be known as a symbol of this suburb's recent rise in coolness. It features open space, floor-to-ceiling windows, cozy furniture, and a fully equipped media lab with a 3-D printer. Lectures, classes, book discussions, performances, and children's activities round out the offerings, making it one of the neighborhood's biggest hubs of activity. 900 Wayne Ave.; 240-773-9420.
Where to Eat
Dishes at this understated Ethiopian haunt are as colorful as they are flavorful. Choose between traditional woven and regular tables, light vegetarian options and heartier meat dishes. The spicy misir kik wat(red lentils) and mouth-melting gomen besiga (collard greens and beef) are standouts. The restaurant doubles as a market with shelves of Ethiopian spices, coffee beans, wine, even hair products and clothing. 8201 Georgia Ave.; 301-448-1625.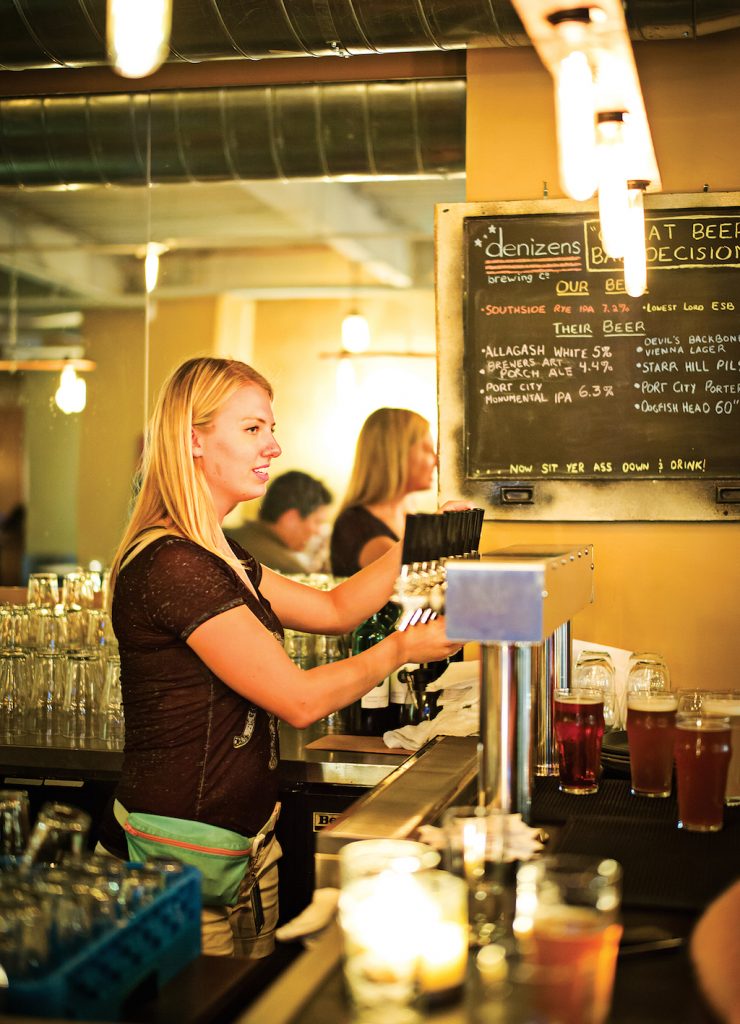 Silver Spring's first brewery celebrates local sourcing for its brewed-on-site craft beers, plus serves burgers and shareable bites—some with Latin and Indian flavors. Take a tour of the brewery, and on a nice night enjoy the dog-friendly beer garden, where you can linger under twinkling patio lights while watching the Metro whiz by. 1115 East-West Hwy.; 301-557-9818.
Low-key decor and a menu of simmering Burmese flavors make this place a neighborhood favorite. Bring a group so you can try as many curries and sauces as possible. The mango and papaya salads make a crunchy start to the meal, and the desserts are not to miss. 930 Bonifant St.; 301-585-0500.
The hand-cut-noodle soups make for some of the most comforting bowls around—and if you grew up Chinese, as this writer did, some of the most nostalgic. Fresh-made dumplings and steamed bao, prepared and seasoned to authenticity, are also fantastic. Bonus if you bring a picture of your own NaiNai to add to the wall of grandmas. 1200 East-West Hwy.; 301-585-6678.
On top of its excellent house-made charcuterie, this Georgia Avenue spot excels at industrial-chic: Glass garage doors? Check. Bar made of old doors? Concrete floors? Check and check. Belly up to the open-air counter for a cocktail and a butcher's board of meats, cheeses, and pâtés, or dine inside on a juicy steak, lamb roast, or burger and fries next to the meat cellar of cured-on-site salamis and hams. 8226 Georgia Ave.; 301-585-5800.
Where to Shop
Borrow an in-house turntable and order a cup of small-batch roasted java at this über-cool coffee-and-record shop, complete with reclaimed wood, orange accent walls, and Edison bulbs. The vinyl collection tends toward dance and electronica, though you'll find an assortment of reggae, jazz, '80s, and disco. Albums are for purchase with a "try before you buy" option, and local deejays and artists perform regularly. 1200 East-West Hwy.; 301-588-8000.
More than 45 regional farmers and vendors arrive each Saturday morning with fresh produce, flowers, meats, cheeses, bread, honey, and more. Due to the market's growing popularity, the booths have spread across busy Fenton Street into nearby Veterans Plaza. Live music and a juggler for kids add to the jovial vibe. 911 Ellsworth Dr.; 202-362-8889.
Get fitted for a bike the same way you would a pair of really nice shoes. At Silver Cycles, experts make sure you leave with the perfect machine for you. You'll find bikes for kids, commuters, and weekend warriors alike, as well as cycling clothes and accessories. Tune-ups and repairs are available. 8307 Dixon Ave.; 301-585-1889.
The vast selection of tools and home-and-garden supplies—plus an exceedingly knowledgeable staff who can answer almost any DIY question—make Strosniders a community mainstay. While those employees can make quick work of your visit, you'll want to keep browsing for housewares you didn't know you needed. 815 Wayne Ave.; 301-565-9150.
This article appears in the July 2017 issue of Washingtonian.