People looking to rent in DC can breath a slight sigh of relief this week: according to data recently released by Apartment List, the average rent for a two-bedroom apartment in the city has gone down by .4 percent over the past year. This means that while apartments in DC remain pricey—the average 2-bedroom costs $1,550, well above the national average of $1,160—for now, they're not getting much higher.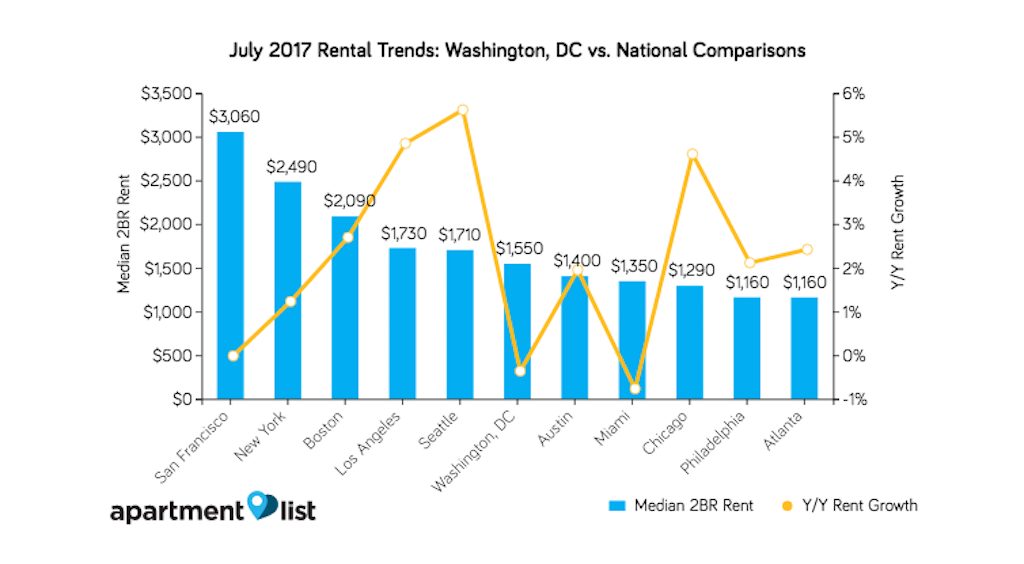 When looking at the numbers nationally, it's easy to feel a slight sentiment of schadenfreude—DC's negative .4 percent growth rate is one of the lowest in the country, while cities like Los Angeles, Seattle, and Chicago are seeing significant hikes of 4.8 percent, 5.6 percent, and 4.6 percent, respectively. But Chris Salvati, an analyst with Apartment List, says cities such as Seattle are also experiencing a significant economic boom, which could help renters absorb these higher costs.
Salvati says the slight drop in average rent that DC is experiencing is not uncommon in pricier cities such as San Francisco and New York: "This is a trend we have seen in  a couple of other really big, expensive metros. At a certain point, when a place reaches a certain threshold of expensiveness it becomes difficult to absorb additional rent hikes."
So, if you're planning on scouting out a new apartment, now is not a terrible time to do it. But don't expect prices in the city itself to dip significantly—for that, you're better off looking somewhere well outside the city limits. Properties in Waldorf, Maryland saw a whopping 3 percent dip in average rent prices over the past year.