Setting out to prove public-transit skeptics wrong, two Catholic University students, Victoria Principato and Cate Boyle, recently embarked on a 27-day journey across the United States (and back) using only trains, ferries, busses, metro systems, and their own two legs to do it.
The trip was the second iteration of an internship program called Summer by Rail, coordinated by the National Association of Railroad Passengers with the mission of proving how much of the country is connected by means other than car traffic.
Principato, a finance major entering her senior year, was fascinated by the economic impact of train stations in small towns. Boyle, who just graduated with a degree in civil engineering, viewed the experience with a focus on infrastructure. Together, they hit over 30 cities and towns, small and large—and both can name them all off the top of their heads:
They started in New York City on July 31 and took the train to Burlington, Vermont. From there, Principato and Boyle took a train to Montreal and then a Canadian rail line to Toronto. They crossed back over to the US at Niagara Falls and got on the train in Buffalo, New York to head to Chicago. There was a day trip to Kalamazoo, Michigan. Upon returning to Chicago, Principato and Boyle hopped on a westbound train, with stops in Denver; Glenwood Springs, Colorado; and San Francisco. They took another train down the California coast, stopping in Sacramento, Santa Barbara, and Los Angeles.
Then came the crown jewel of this epic journey: a 36-hour ride from Los Angeles to Kansas City, Missouri. From there, they took a train to Jefferson City and St. Louis, followed by another train south to Marshall, Texas. (Then came the trip's first car segment: a drive from Marshall to Jackson, Mississippi, to promote the construction of a rail line connecting those cities.) From Jackson, they headed to New Orleans and then drove along the Gulf Coast, stopping to speak to several mayors along the way about the railroad damage caused by Hurricane Katrina.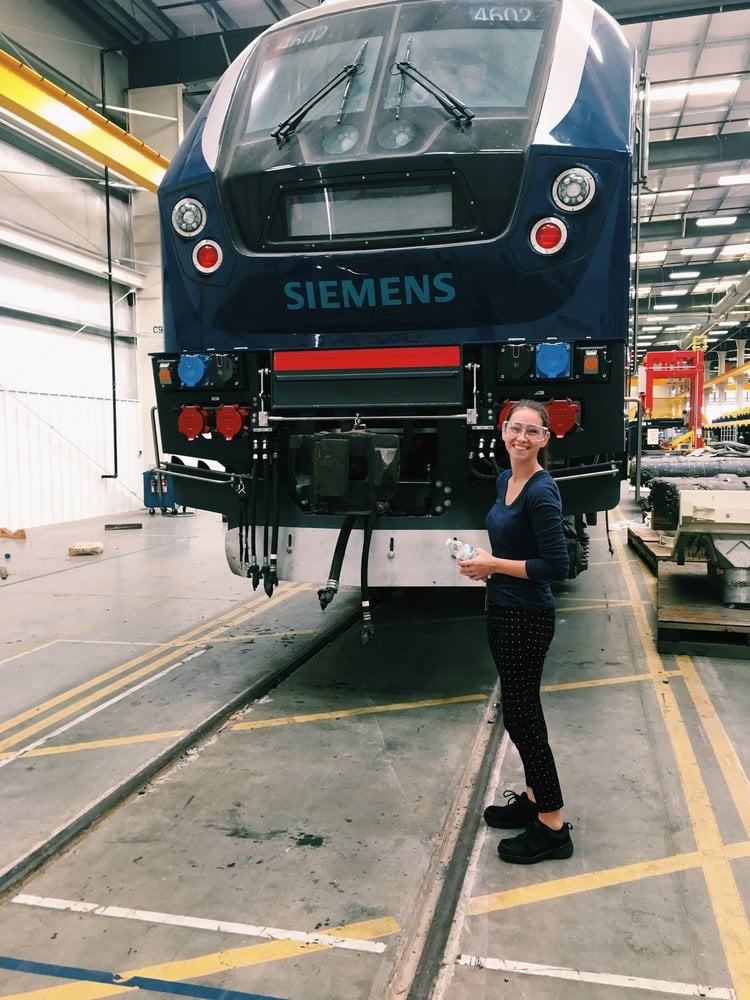 Their last leg took them from Hattiesburg, Mississippi to DC's Union Station, where they arrived last Saturday, punctuating their trip with a Capital Bikeshare ride along the Mall.
Reflecting on their travels, Principato and Boyle have a few words of advice for those looking to leave their cars behind during future cross-country travel.
What to Bring
This might seem like a no-brainer, but a comfortable blanket goes a long way. Principato brought a sleeping bag liner—a thin blanket made specifically to keep you warm, while still being lightweight enough to fold and fit easily in a backpack. Boyle brought a travel pillow-blanket: a blanket that rolls into a pillow and slides onto a suitcase for easy transport.
Also important to remember is a power strip (if you're planning on bringing electronic devices). Principato and Boyle each had a phone, iPad, and computer on the trip—mostly because they were expected to take photos and write for the National Association of Railroad Passengers' Summer by Rail blog. Sleeper cars usually have just a single outlet, so the power strip was crucial for keeping all their devices charged.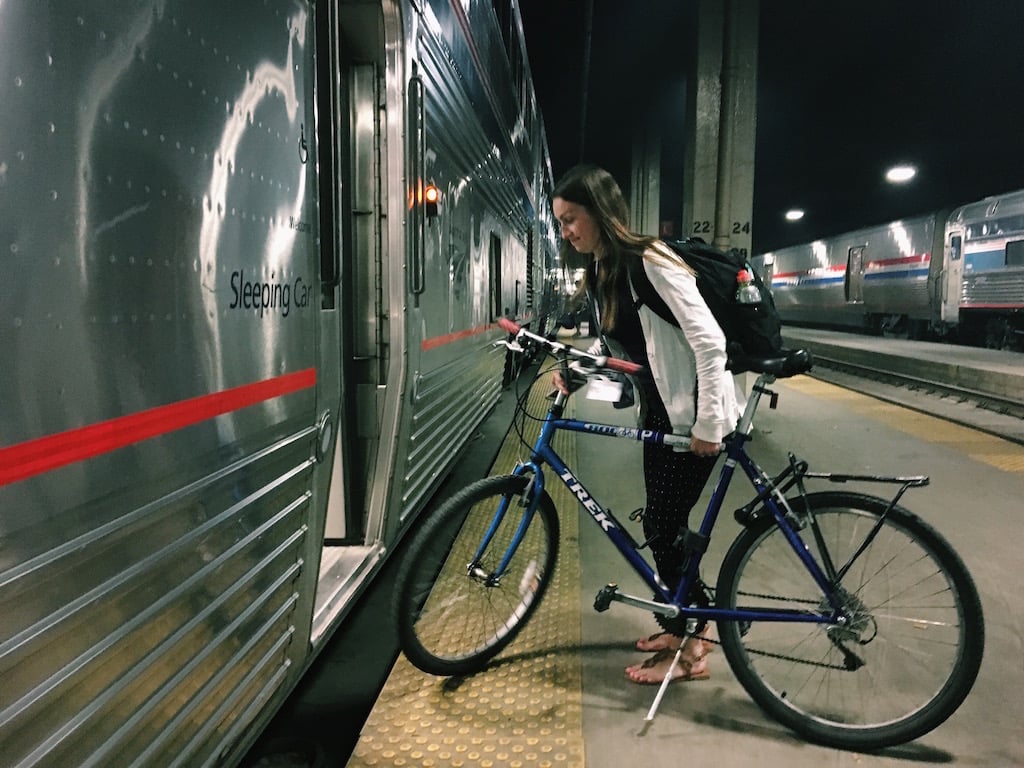 Although bikeshare systems have become increasingly common over the past few years, Principato and Boyle also suggest bringing a bike along if you're planning to stop in small towns. In the past, train passengers were required to take apart and box up bikes in order to bring them aboard, but now it's easy to check them just like large pieces of luggage. That way, once you arrive at a stop, you can hop off the train, grab your bike, and ride into town.
What to Do on the Trip
Although Principato and Boyle downloaded books and movies to their iPads in anticipation of long stretches on the train, both stress the fact that public transit is a communal experience—and you should treat it as such. By striking up conversation with other people on the train, especially in the dining car, Principato and Boyle were able to pass the time while also learning about their fellow passengers.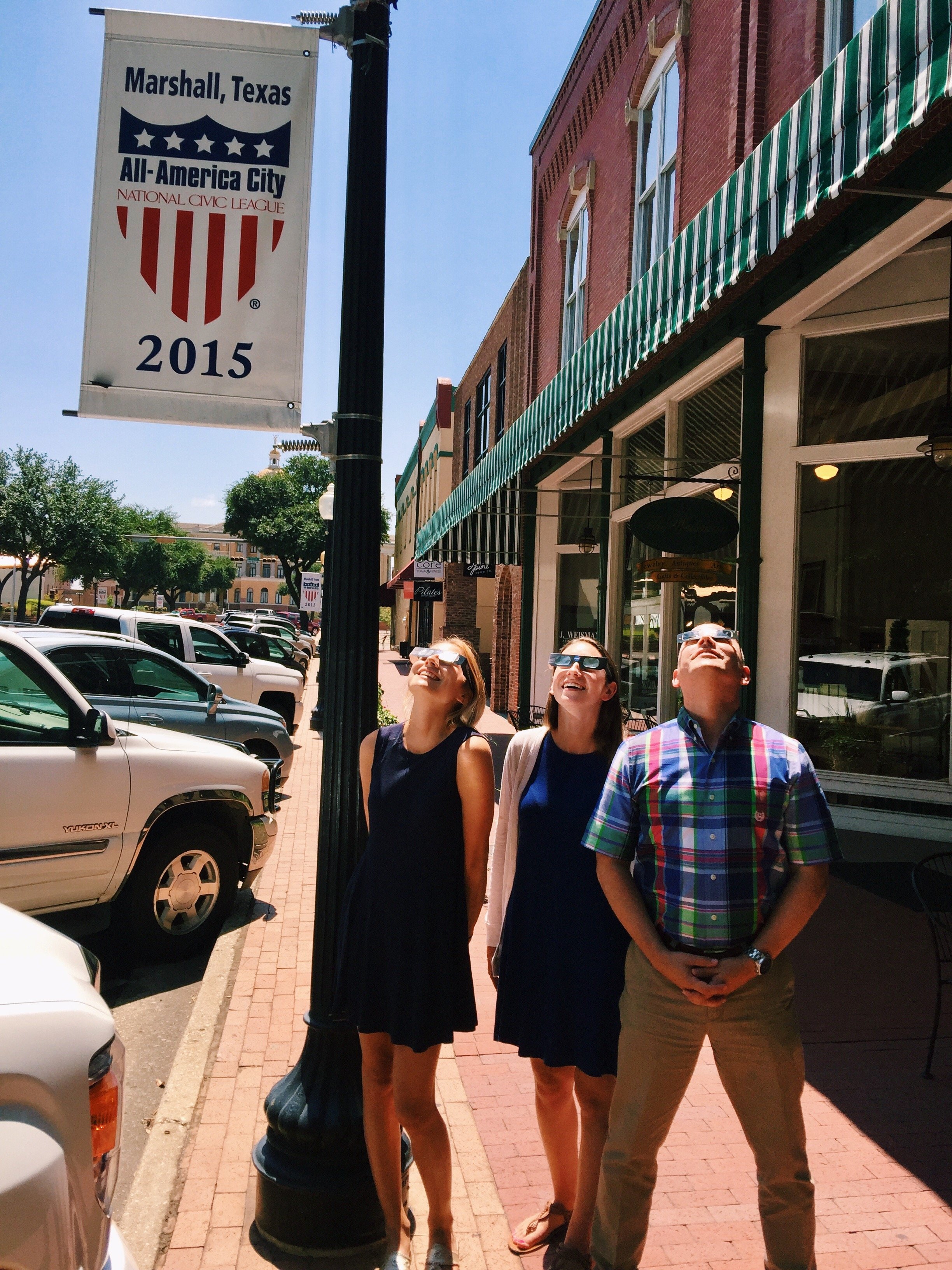 Another suggestion: Head to the observation car. On certain rail lines, breathtaking scenery is enough to occupy you for hours, and the floor-to-ceiling windows of the observation cars make it a bit easier to get lost in your surroundings. Principato and Boyle found this especially true on the Coast Starlight, which runs directly along the Pacific from Los Angeles to Seattle.
In the observation car on the rail line from Denver to San Francisco, representatives from the National Park Service narrate your surroundings for an hour every Thursday through Sunday. The route goes through the Rocky Mountains (including 30 different tunnels) and across the Continental Divide.
Why You Should Take a Really Long Train Ride
On several of their long-distance train rides, Principato and Boyle met Europeans who were used to traveling by EuroRail, and decided to use the same mode of transit to see the US. These travelers were often fascinated by the fact that Americans could take a train for 24 hours and still be in the country.
So, long train rides are a great way to actually see the US (as opposed to flying over it), without having to rely on Google Maps or worry about running out of gas. Plus, the food isn't bad either. Pro tip from Principato and Boyle: Get the most expensive item on the menu (like the steak) and always order dessert because all meals are included in the sleeper-car rate.