A couple years ago, Will Sullivan and Kyle Crosby met on a Google group for cider enthusiasts—"CSC" or "cider-maker seeking cider-maker," as Sullivan calls it. Both consultants and living in DC at the time, they decided to get together at Glen's Garden Market in Dupont, where they quickly found they shared the same vision for a new DC cidery.
Their venture, Supreme Core Cidery, will open a facility and tasting room near the US National Arboretum in the next few months. In the meantime, they're producing cider out of Charm City Meadworks in Baltimore. Their first one debuts this Sunday, September 10, at Glen's Garden Market, where it all started. (Sullivan and Crosby will lead tastings at the Dupont location from 11 AM to 2 PM and the Shaw location from 2:30 PM to 5:30 PM.)
From the start, the duo was set on producing what they call "West Coast-style cider with craft beer sensibilities," meaning cider made with a mix of local apples (think Pink Lady, GoldRush, Winesaps) that are sourced seasonally and fully fermented for maximum dryness.
"We're calling it 'West Coast' in homage to the guys in the Pacific Northwest who revitalized the pre-Prohibition American tradition of using readily available apples to create high-quality ciders," Sullivan explains. That means they're not using rare apples grown specifically for cider production, like some European producers, or apple juice concentrate shipped here from a foreign country, like some American mass cider producers.
This first release is fruity and lightly effervescent like you'd expect, but it's also dry with 6.9-percent alcohol and only one gram of sugar (compared to 22 to 24 grams in an average 12-oz. can of cider). "The goal for us is to be able to take the apples completely dry," Sullivan says, "but still maintain residual flavor and mouthfeel—without adding any back-sweeteners or diluting with filtered water."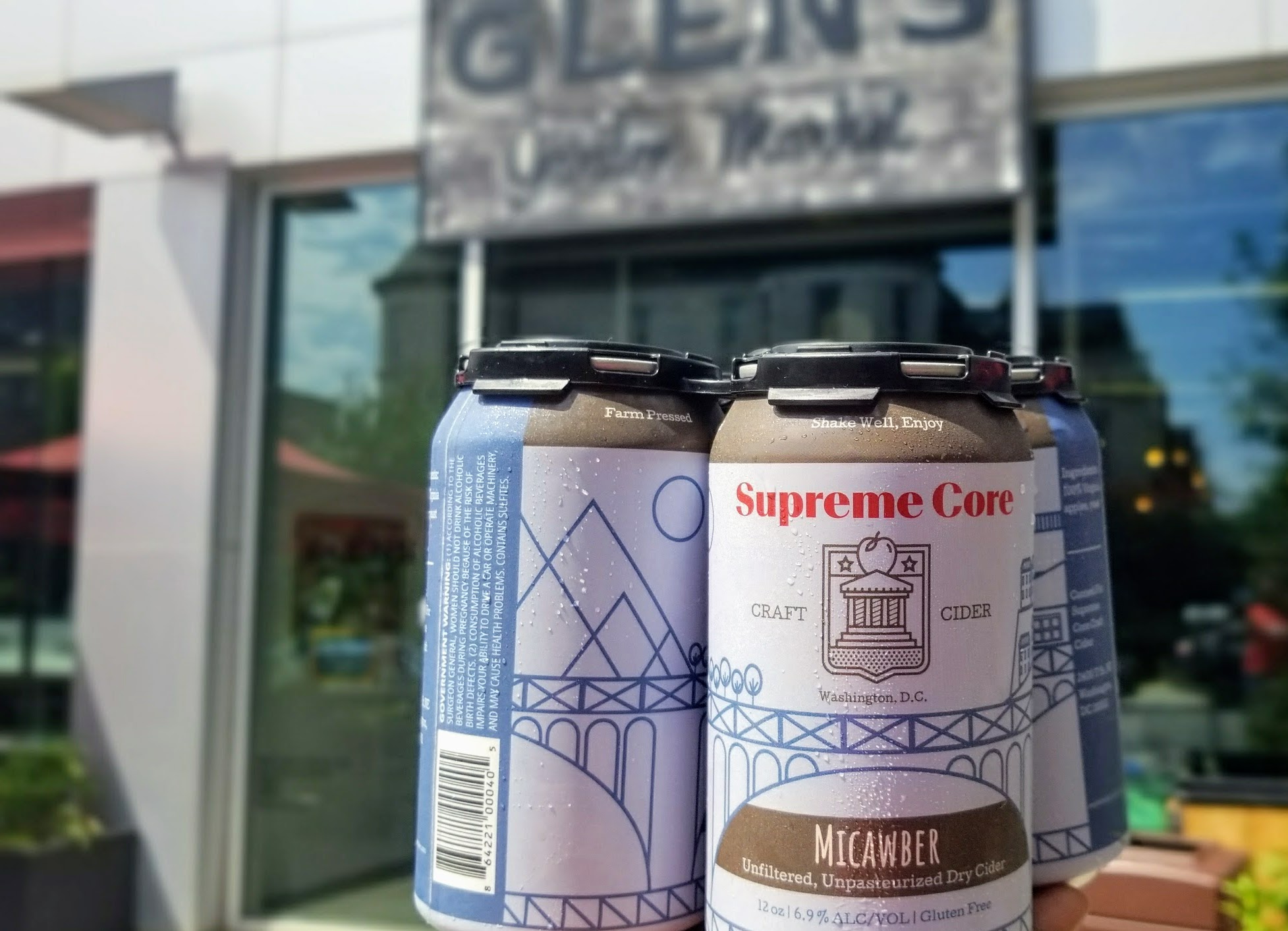 Sullivan and Crosby source all apples for Supreme Core ciders from farmers in Virginia, often visiting orchards to choose the apples they think are best and modifying their recipes based on the apples' seasonally changing flavor profiles. Because the apples involved are commonly available, the price point is relatively low. Expect around $10.99 to $11.99 for a four-pack.
Supreme Core is marketing itself to craft beer fans, which is why the ciders are packaged in 12-oz. cans and kegs, rather than glass bottles (a common choice among craft cideries looking to set their products apart). Sullivan and Crosby hope that people who prefer IPAs and sours, or something dry with a high alcohol content, will like their products.
Their first release is called "Micawber," which comes from the name of the overly optimistic Dickens character in David Copperfield. "It's fitting," Crosby explains "since we're really just two guys with families who quit our jobs to take a big risk on this exciting career." As for the name Supreme Core, the owners held a public competition to come up with the best moniker for the cidery. Sullivan and Crosby love the way it riffs on both DC and apples (Supreme Core, get it?)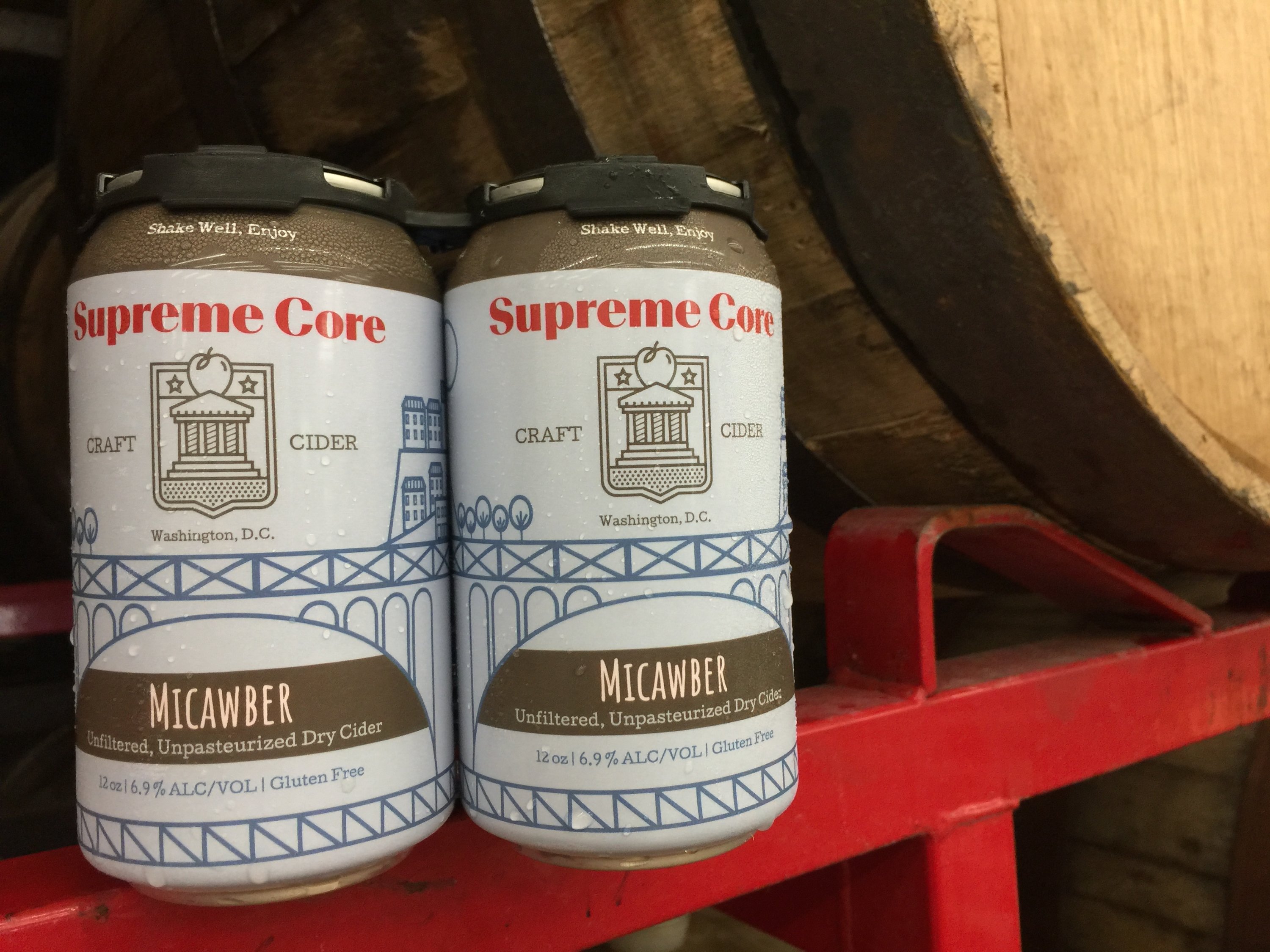 In the next few weeks, Sullivan and Crosby plan to release several more ciders, including a version of Micawber aged in oak rye barrels. They also have a few collaborations in the works with local breweries and distilleries. Look out for "some interesting things with fruit and herbal infusions," Sullivan says.