Last month, a Ford minivan prowling around Arlington created a stir when it appeared to be driving autonomously. But, as WRC-TV reporter Adam Tuss and ARLNow publisher Scott Brodbeck discovered, the vehicle was actually being operated by a man dressed as a car seat. In the moment, though, the whole operation seemed a bit shady when the driver refused to respond to Tuss's tapping on the window and pleas for an interview.
The Virginia Tech Transportation Institute claimed credit for the "driverless" van, saying it was part of an autonomous-vehicle research project. On Wednesday, Virginia Tech and Ford provided a bit more information on the experiment—along with some pretty remarkable photos of the costume's assembly and how ordinary pedestrians reacted to it.
Ford and Virginia Tech are trying to develop a method by which self-driving cars will interact with people with whom they share streets. If autonomous cars are to be widely used in the future, the thinking goes, they'll need to be able to communicate with humans to signal when they're about to accelerate or brake. After all, a driverless car can't wave or nod you through the intersection, and your raised middle-finger means nothing to a self-operating machine.
"We need to solve for the challenges presented by not having a human driver, so designing a way to replace the head nod or hand wave is fundamental to ensuring safe and efficient operation of self-driving vehicles in our communities," John Shutko, a Ford researcher who specializes in "human factors," says in a news release.
With every major car manufacturer and big tech firms like Amazon and Google developing autonomous vehicles, the goal is to create some kind of industry standard that can be applied around the world. (According to Wired, Ford is working with 11 other carmakers.)
For the Arlington experiment, Ford outfitted a Transit Connect van with a light bar mounted inside the windshield. Ford and Virginia Tech then devised three signals to alert people to the car's behavior: two white lights moving side-to-side for when the vehicle is coming to a stop, a solid white light when the car is driving, and a rapidly blinking white light to indicate it's about to start moving again.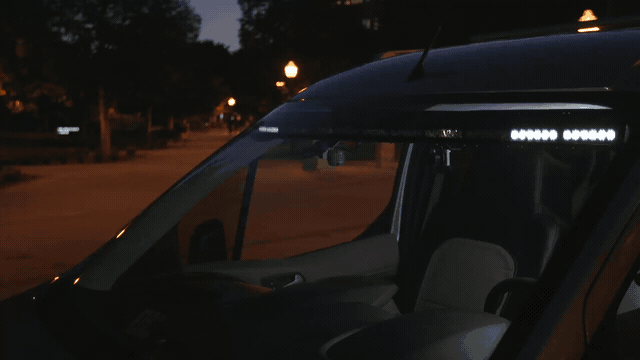 But Ford and Virginia Tech weren't ready to entrust this social experiment to an actual autonomous van. Enter the seat suit: Virginia Tech devised an apparatus that resembles the bucket seats in a Transit Connect van, which a driver then donned before rolling through Arlington testing out the signals.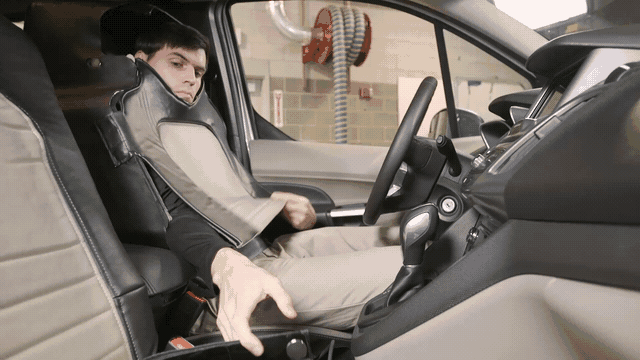 Over 150 hours and 1,800 miles of driving, the car and its costumed driver tested out that blinking light bar in more than 1,650 interactions with pedestrians, cyclists, and other motorists around Arlington. Cameras mounted around the van capture a mix of unassuming bystanders and a few surprised reactions.