The new Pod hotel in Chinatown is now home to three ventures from veteran DC nightlife entrepreneurs Eric and Ian Hilton: a Southern-style diner, a rooftop bar specializing in wallet-friendly drinks and seafood, and now a subterranean whiskey den. The latter, Crimson Whiskey Bar, opens on Monday night.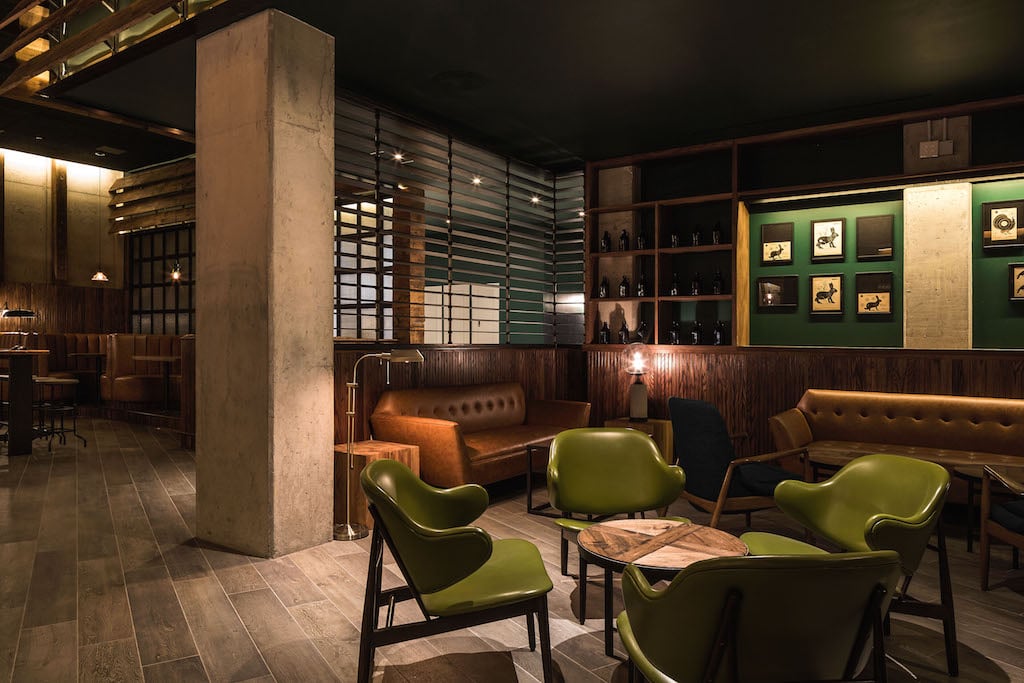 Like at the diner and rooftop, the whiskey bar's drinks and food skew Southern. American-made brown liquor (rye, bourbon) is a big focus of the bar, as is small-batch moonshine. The Hiltons teamed up with Gray Wolf Craft Distilling in St. Michaels, Maryland for a private Crimson label of the corn-based spirit, which patrons can sample in cocktails or sip straight. ("It almost tastes like tequila, but that shouldn't scare you," says Hilton). Specialty drinks start at a moderate $8 for a classic old-fashioned, or hover around $13 for classic martinis and Manhattans.
The dimly-lit space is designed with drinking in mind, but patrons will still find plenty of options on chef Lawrence DiJospeh's menu. Grazers can order Virginia ham boards, deviled eggs topped with pork rinds, and fried jojos—spiced potato wedges—with crispy okra and peppercorn ranch for dunking. For heartier plates, try pork ribs glazed in rye-peach barbecue sauce or cornmeal-fried oyster po' boys.
Crimson Whiskey Bar is currently set to open at 5 PM daily, but may take drinkers earlier for happy hour and on game days at the nearby Verizon Center. Or, just because.
"We might open to catch the early-starters from DOJ [Department of Justice]," says Hilton.
Crimson Whiskey Bar. 627 H St., NW. Open at 5 PM daily.