To see the rest of our Explore the Shenandoah package, including scenic drives, panoramic hikes, and cool caverns, click here.
Three towns where you can get a taste of the Shenandoah Valley's history, architecture, food scene—and pride.
Staunton
Founded in 1747, Staunton (pronounced Stanton) is the kind of picturesque charmer that quickens the pulse of period-film location scouts. Its hilly streets offer a variety of architectural styles, mostly from the 19th and early 20th centuries. Follow the walking map put out by the Historic Staunton Foundation (20 S. New St.; 540-885-7676) or join the group on a free Saturday-morning walking tour (through October). The Newtown neighborhood boasts the earliest homes, the prize being the 1791 Stuart House (120 Church St.), with its imposing two-story portico and Chinese Chippendale gate. Local legend says it was designed by Thomas Jefferson as a wedding gift for his friend Archibald Stuart, and the home is still occupied by Stuarts six generations later.
All that gorgeous—and affordable—housing, not to mention an abundance of produce and grass-fed livestock, has made Staunton an arts-and-culture magnet. Everyone, it seems, turns out for the Saturday farmers market, held downtown near the Wharf, a row of refurbished warehouse lofts. Inspired performances at the American Shakespeare Center's timber-frame theater—a recreation of London's Blackfriars Theatre—are well worth the price of admission (10 S. Market St.; 540-851-1733).
Stay: The 1920s Stonewall Jackson Hotel (24 S. Market St.; 540-885-4848) and its circa-1950 red neon rooftop sign, both local landmarks, were given new life after extensive 2005 renovations.
Eat and drink: The Shack (105 S. Coalter St.; 540-490-1961), a hard-to-book 26-seater, made chef Ian Boden—who returned to Virginia after cutting his teeth in Manhattan—a local star. Zynodoa (115 E. Beverley St.; 540-885-7775) is a longtime favorite thanks to its surprisingly urban styling and deep ties to local farmers. Newtown Baking co-owner and native son Bill Willett and his crew wow patrons with made-from-scratch breads and sweets plus breakfast, lunch, and dinner Wednesday through Saturday (960 W. Beverley St.; 540-885-3799). Sample local estate-grown wines at Ox-Eye Vineyards' downtown tasting room, in a refurbished horse-and-wagon-era "scale house," once used for weighing farm commodities (44 Middlebrook Ave.; 540-849-7926).
Winchester
During the Civil War, Winchester changed hands more than 70 times—so often that the town became known as the shuttlecock of the Confederacy. Winchester's strategic location at the Valley's northern mouth—60 miles from the Potomac and 77 miles west of Washington—made it a coveted prize, a gateway between the Northern states and the Breadbasket of the Confederacy.
Today's Winchester, a bustling, well-preserved city of 27,000, remains a Valley gate­way, and seeing it through the lens of the Civil War offers deeper insights. At the Civil War Orientation Center's visitor center (1400 S. Pleasant Valley Rd.; 540-542-1326), get an overview of the seven battles that raged in and around town. Winchester's Greek Revival courthouse, built in 1840 and now home to the Shenandoah Valley Civil War Museum (20 N. Loudoun St.; 540-542-1145), served as a prison and a hospital. The war-era graffiti scratched into the plaster walls takes you there. Every year, during the third weekend in October, reenactors at Cedar Creek Battlefield, 17 miles south of town, stage the final Valley clash between Union and Confederate troops (8437 Valley Pike, Middletown; 540-869-2064).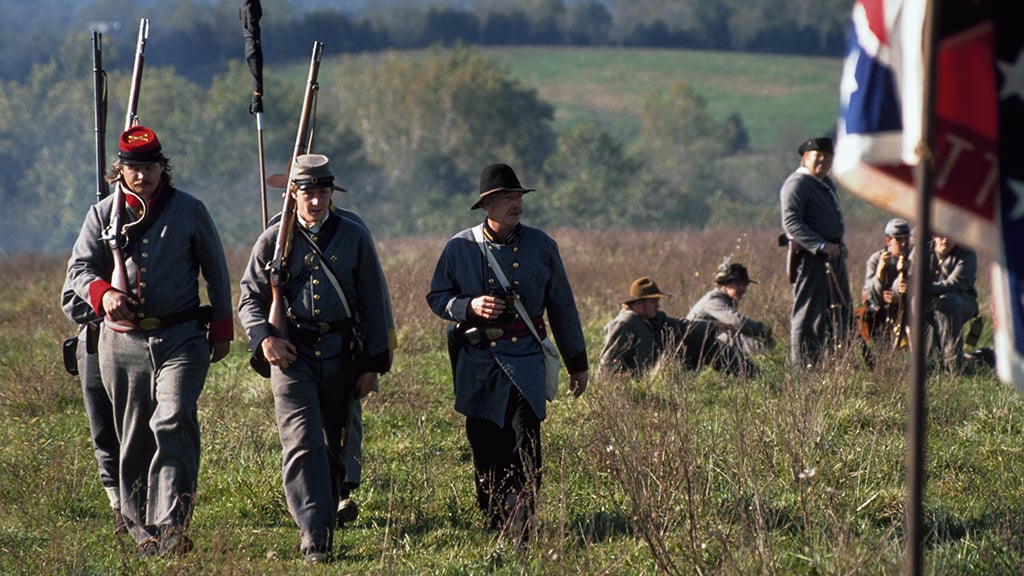 After the war, Winchester emerged as an apple capital. The orchard heyday, like the war, is long over, but as a cultural touchstone, the apple still rules. If you're in town over Columbus Day weekend, drop by Marker-Miller Orchards (3035 Cedar Creek Grade; 540-662-1391), just southwest of town, for its annual Apple Harvest Festival.
Stay: The 90-room George Washington Hotel (103 E. Piccadilly St.; 540-678-4700), built in 1924 and beautifully refurbished in 2008, is centrally located in Old Town Winchester.
Eat: Choose from the many restaurants along Winchester's popular brick-paved pedestrian mall, such as vegetarian-friendly Fresco Kitchen (6 S. Loudoun St.; 540-664-5541) or Roma Old Town Wood-Fired Pizzeria (21 & 23 N. Loudoun St.; 540-667-2743). Or head to Bonnie Blue Southern Market & Bakery (334 W. Boscawen St., Winchester; 540-686-7490), less than a mile outside town in a spruced-up 1920s Esso station. Try the Dixie Pig—a pulled-pork-stuffed baked potato—at this comfort-food haven known for its fried oysters and smoked meats.
Lexington
Though a quarter the size of Staunton and Winchester, Lexington holds its own, culturally speaking. Part of its appeal is the bohemian, mountain/river-town vibe. If Winchester is the gregarious market hub, Lexington is more soulful and introverted. It's a great place to kick back after a hike, paddle trip, or back-roads bike trek. The lovely Maury River runs through town, and the James isn't far. The nearby Appalachian Trail brings through-hikers.
One way to take in the town is by horse-drawn buggy. The Lexington Carriage Company (540-463-5647) offers narrated history drives. Stop at the Washington and Lee campus and visit the Lee Chapel and Museum (100 N. Jefferson St.; 540-458-8768). Robert E. Lee commissioned the brick-and-native-limestone building during his tenure as president (1865–70) of what was then called Washington College. Lee is buried beneath the chapel, and his horse, Traveller, is interred near the museum entrance. The chapel displays restored Confederate battle flags, on a rotating basis, from regiments of the Army of Northern Virginia.
Stay: A posh boutique inn, the Georges (11 N. Main St.; 540-463-2500), occupies two of Lexington's oldest buildings.
Eat: Lexington's first farm-to-fork restaurant, Red Hen (11 E. Washington St.; 540-464-4401), helmed by chef Matt Adams and his pastry-chef wife, Becca Norris Adams, offers a rich, warm experience. The 85-year-old Southern Inn (37 S. Main St.; 540-463-3612), updated in 2011 after a lightning-sparked fire, is beloved for its comfort food—and is instantly recognizable by the red-and-green neon sign out front.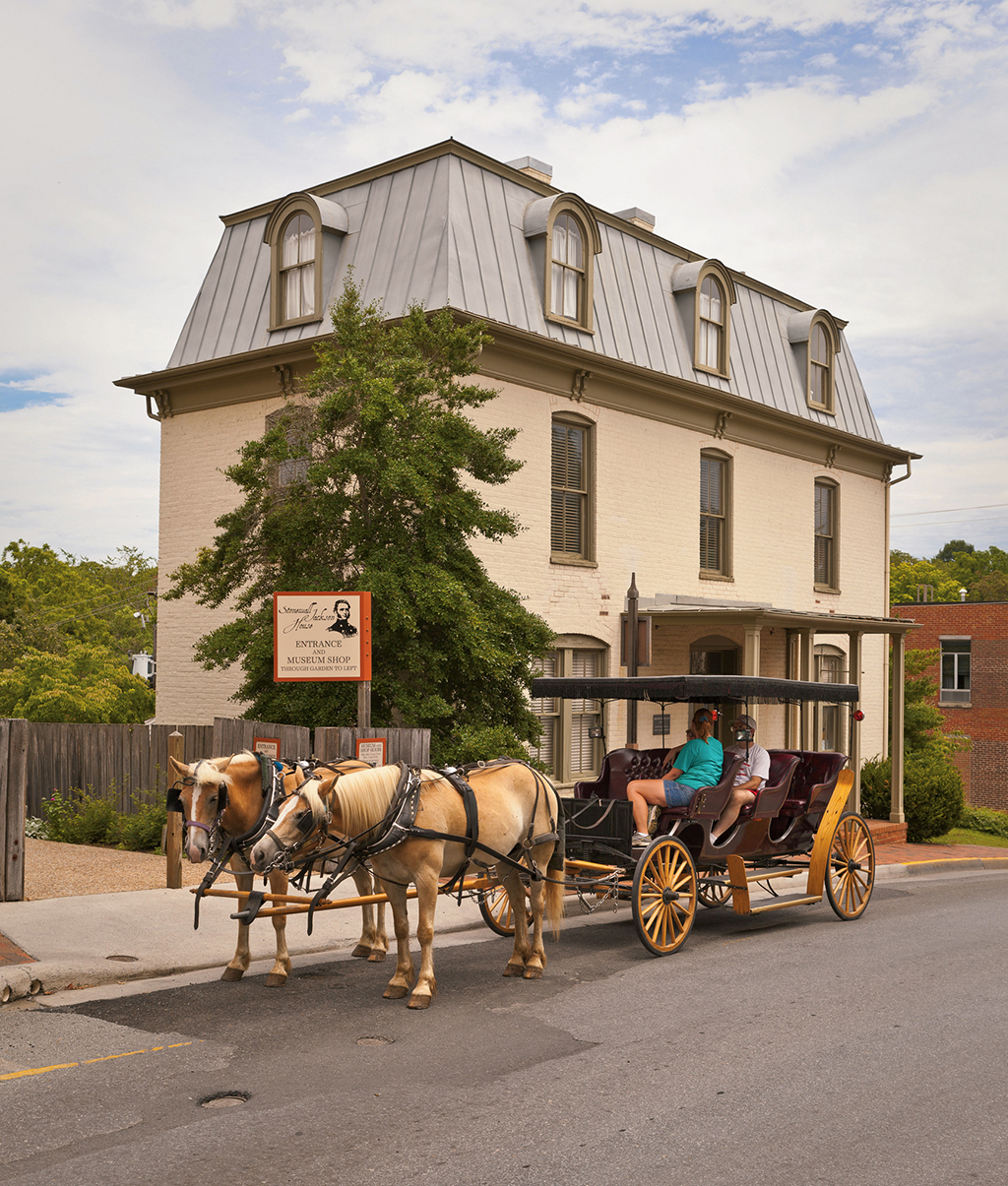 This article appears in the October 2017 issue of Washingtonian.