1. Smitten Kitchen Every Day by Deb Perelman
Sixth & I, November 2
Smitten Kitchen blogger Deb Perelman recently followed up her bestselling first cookbook with a second volume of recipes. At this appearance, the food personality discusses her approach with Sally Swift of the Splendid Table radio show/podcast, but we asked Perelman for some additional tips as we head into the holiday season. Here are three quick ideas for improving your pie game.
Round Is for Squares
Instead, make a "slab" pie using a rectangular sheet pan, which will give it a distinctive look—and produce a whole lot more pieces. "It just doesn't cut it to have a little pie with only eight slices," Perelman says. "No leftover pie for breakfast the next day? Absolutely not."
Go Nuts
But make sure you prep them correctly. "I may sound like a crazy person, but you just have to toast your nuts. I want you to go a shade darker than seems okay—they get much crunchier and will hold their texture better."
A Splash, Not a Glug
Of booze, that is. Perelman is especially fond of adding bourbon to her pecan-pie filling. "If you add a glug, it will overwhelm the pie. A tablespoon and a half is the perfect amount. You get the suggestion of it, but it's not, like, a bourbon pie."
2. Tori Amos
Theater at MGM National Harbor, November 3
Twenty-five years into her solo career, the former Washingtonian remains a passionate performer, mixing formidable piano and vocal skills with big statements and personal lyrics. Her latest album, Native Invader, is typically intimate: It's partly inspired by Amos's mother, who recently suffered a stroke that left her unable to speak. $64.75 to $92.15.
3. "The Sweat of Their Face: Portraying American Workers"
National Portrait Gallery, November 3-September 3
What does a worker look like? This exhibit offers 81 answers—paintings, sculptures, and videos with moving and inspiring depictions of mostly anonymous employees. From Norman Rockwell's kindly-looking coal miner to Gordon Parks's pointed 1942 photo of an African-Amer­ican "charwoman" in front of a US flag, these pieces add up to a statement about the meaning of labor.
4. "Mark Bradford: Pickett's Charge"
Hirshhorn Museum, November 8, 2017–November 12, 2018
LA artist—and MacArthur "genius" grant recipient—Mark Bradford has created eight huge paintings for this site-specific exhibit, which will encircle the Hirshhorn's third floor, creating a "cyclorama" effect. The abstracts, each more than 45 feet long, are inspired by a 19th-century depiction of the Battle of Gettysburg—and, the artist says, by our current political moment.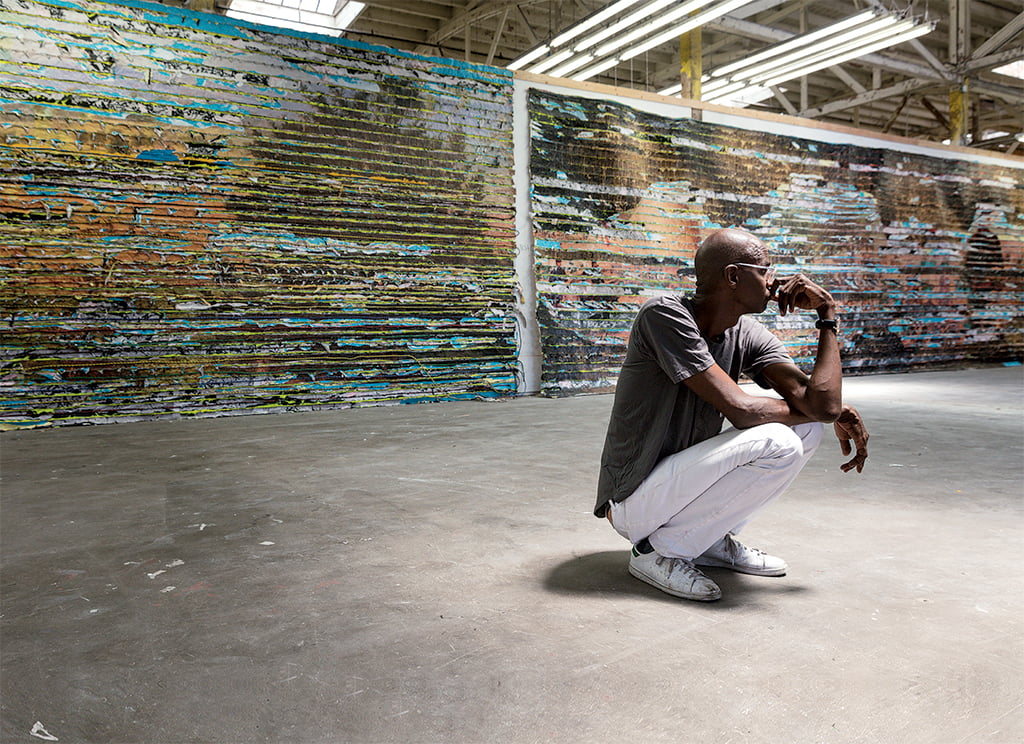 5. National Symphony Orchestra: Beethoven's "Eroica" Symphony
Kennedy Center, November 9–11
This fall, Milanese conductor Gianandrea Noseda kicks off his first season as the NSO's music director. We caught up with the maestro at his roomy new office in the Kennedy Center, which is decked out with a grand piano and—just as essential—a high-end Lavazza espresso machine. Though we chatted in English (one of four languages he speaks), Noseda couldn't resist describing his new gig with what appears to be a favorite word: "fantastico!"
So have you eaten anything good since you've been in DC?
Oh, Fiola Mare is a very good one. Cafe Milano—I experienced good risotto there, which is my testing dish when I go in so-called Italian restaurants. But I'm open to Chinese, a French brasserie, Mexican.
You're a big fan of soccer. Will you be watching DC United?
I don't know. How is the quality of the soccer here?
The risotto is probably better.
I like sports. Baseball, football—there is a good football team here?
Uh . . . let's talk about your plans for the orchestra. How do you hope to engage Washington audiences?
It's important to me to share and to spread energy that we can re-create onstage—to make the audience part of the performance. Because I can feel the energy coming at my back. The audience becomes part of this exchange of mutual energy.
Have you met with NSO artistic adviser Ben Folds?
We were Skyping! I don't like the word "crossover"—we both believe there is good music and bad music [in any genre]. For me, the important thing is to give a good account of Beethoven's Fifth, a good account of Brahms's Fourth, as well as an account from an Italian composer from the 21st century and an American composer who wrote musicals.
I do think when a lot of people first get into classical music, it's the repertoire that they discover, not the crossover stuff. It's being able to experience the real thing.
You know, sometimes the real thing is not as scary as people think. Just come and see, come and listen. If I try to explain the legacy or the heritage, it already sounds too "important." Music should be in our veins.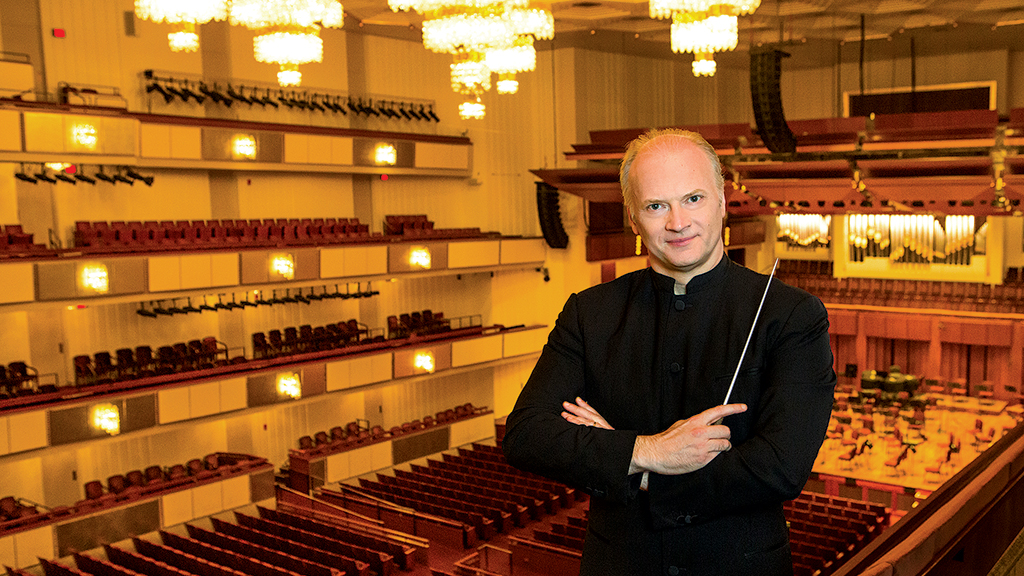 6. Emporiyum
Union Market, November 10–12
From Tibetan-dumpling cooks to slingers of tricked-out hot dogs, close to 100 vendors descend on Union Market for this semiannual food fest. You can sample both take-home pantry products (from the likes of ketchup company Sir Kensington's) and restaurant dishes (Timber Pizza Co.'s stall should be mobbed). You can also chat with the people behind each brand—conversation that will no doubt be lubricated via locally produced hard cider, mead, and whiskey. $15 to $80.
7. Nina Simone: Four Women
Arena Stage, November 10–December 24
Nina Simone's 1966 song "Four Women" paints intimate portraits of a quartet of African-American characters. Now playwright Christina Ham has turned those stories into a theatrical work with songs, opening here after a run in Minneapolis. Four Women is set in the ruins of Birmingham's 16th Street Baptist Church, where four girls died in a 1963 Klan bombing. The horrific event pushed Simone toward activism; in the play, it bonds the characters together. $40 to $90.
8. Crafty Bastards
Nationals Park, November 11–12
If you're in the market for punk-rock baby clothes or unusual jewelry, head to this Etsy-style handmade-goods festival, now in its 14th year. A move to Nationals Park (from Union Market) means significantly more makers hawking their products, along with food and beer vendors. $6 to $12.
9. FotoWeek DC
Various locations, November 11–19
From gritty photojournalism to gorgeous portraits, this growing festival shows off a wide variety of notable camera work. This year's FotoWeek actually spans nine days, and there are more than 100 events. We asked five Washington photographers to tell us about the pieces they'll have on display. Free to $400.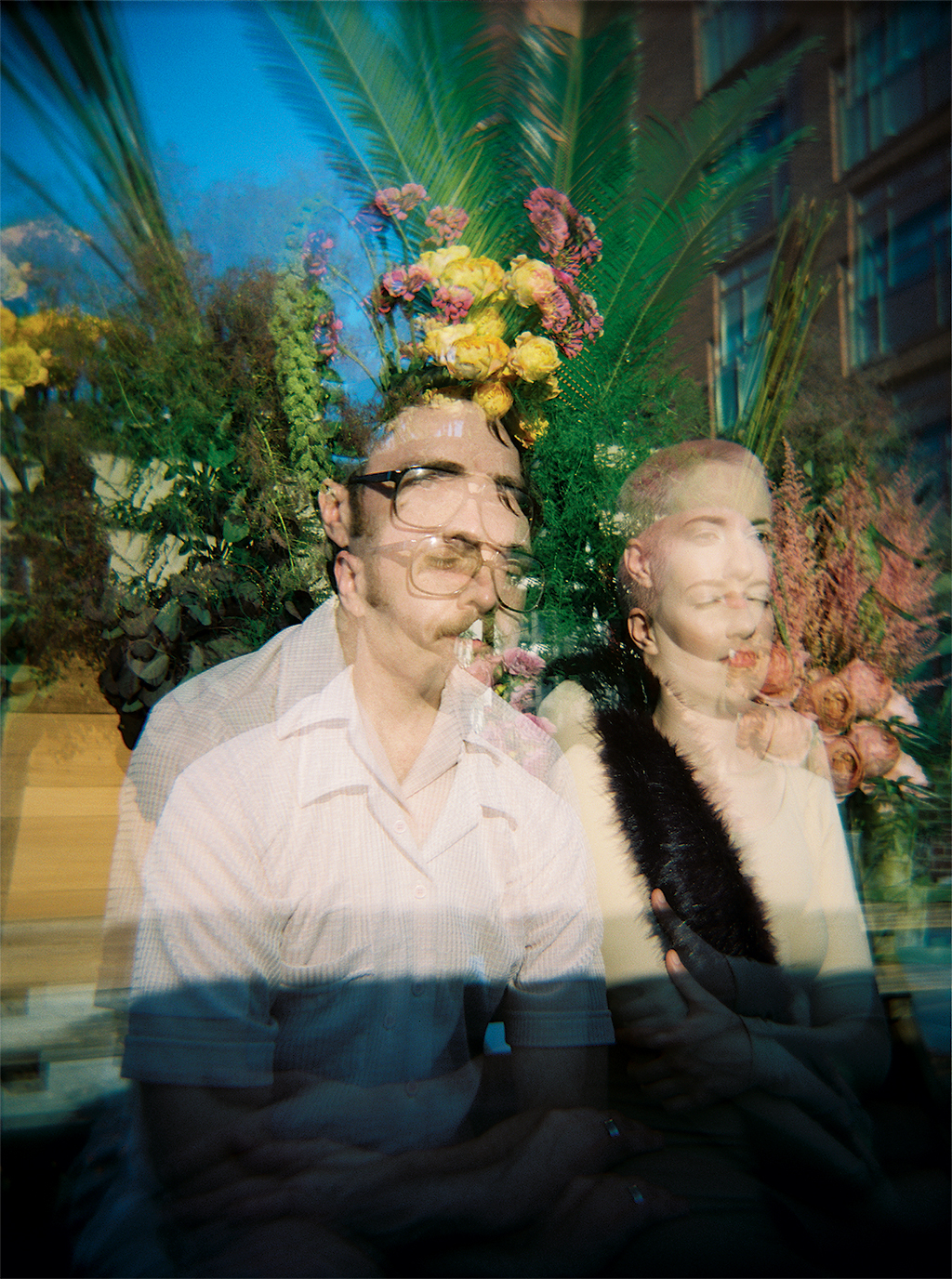 Photographer: Sallie Keena.
Where the photo was taken: A Harlem rooftop.
What's going on: The double exposure captures two subjects at a pair of intriguingly distinct moments.
What she was thinking: "I was feeling inspired and hopeful, yet under pressure because of the fading sunlight. There are things beyond words that only a visual image can express. Each time I create a portrait, I'm reaching for that."
Why it works: "The photo stirs a bit of instant curiosity—not only because of the composition and saturation of color but because the layering of the two exposures acts as a visual puzzle."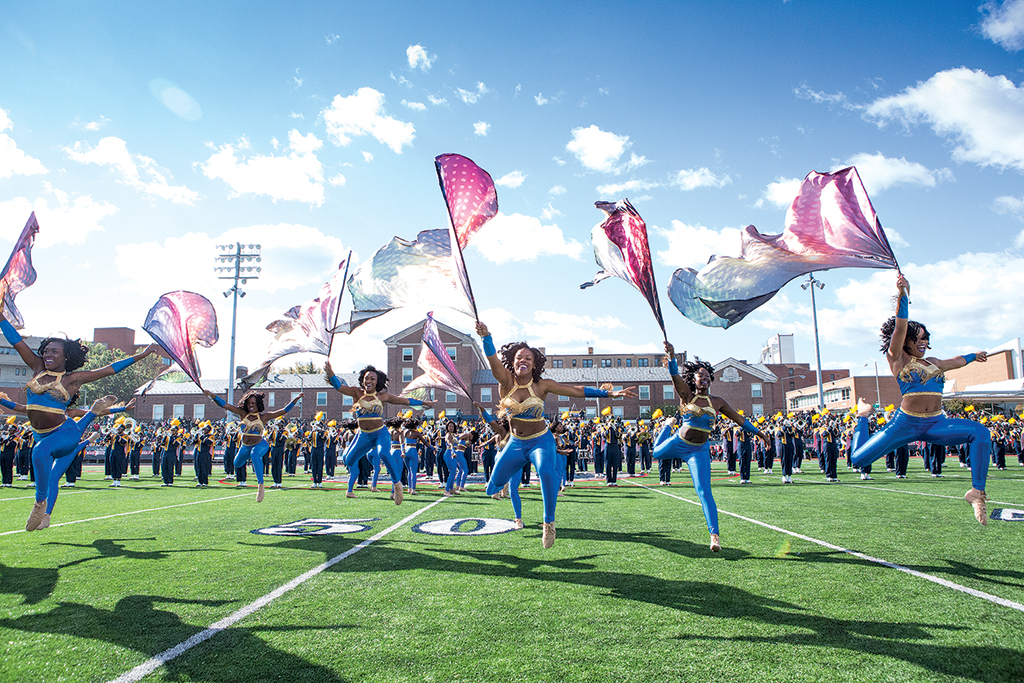 Photographer: Cheriss May.
Where the photo was taken: Howard University.
What's going on: A dance squad performs during a football game.
What she was thinking: "The energy gave me goose bumps. I'm a Howard University alumna and adjunct professor, so this holds a special place in my heart."
Why it works: "I lay on the ground to take it. That perspective brings viewers into the action, like they were there on the sidelines."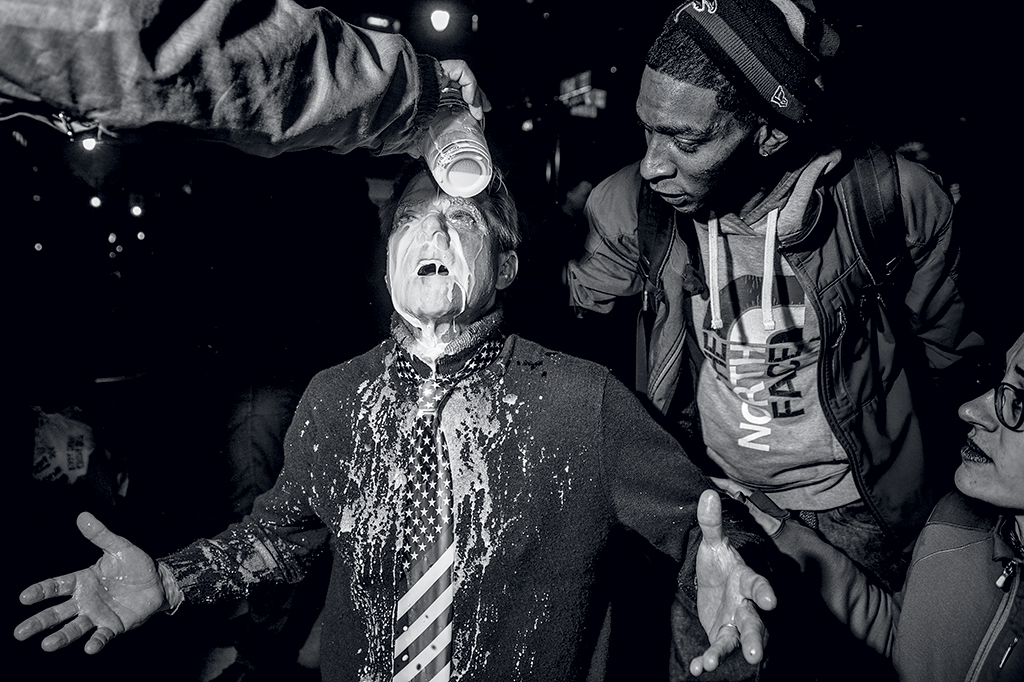 Photographer: Mukul Ranjan.
Where the photo was taken: 14th and K streets, Northwest.
What's going on: Protesters help a passerby who got sprayed by tear gas during Donald Trump's inauguration.
What he was thinking: "I was struck by how poignant it was. It was like a baptism."
Why it works: "The light, the shape and arrangement of the people, the strangeness of what is transpiring."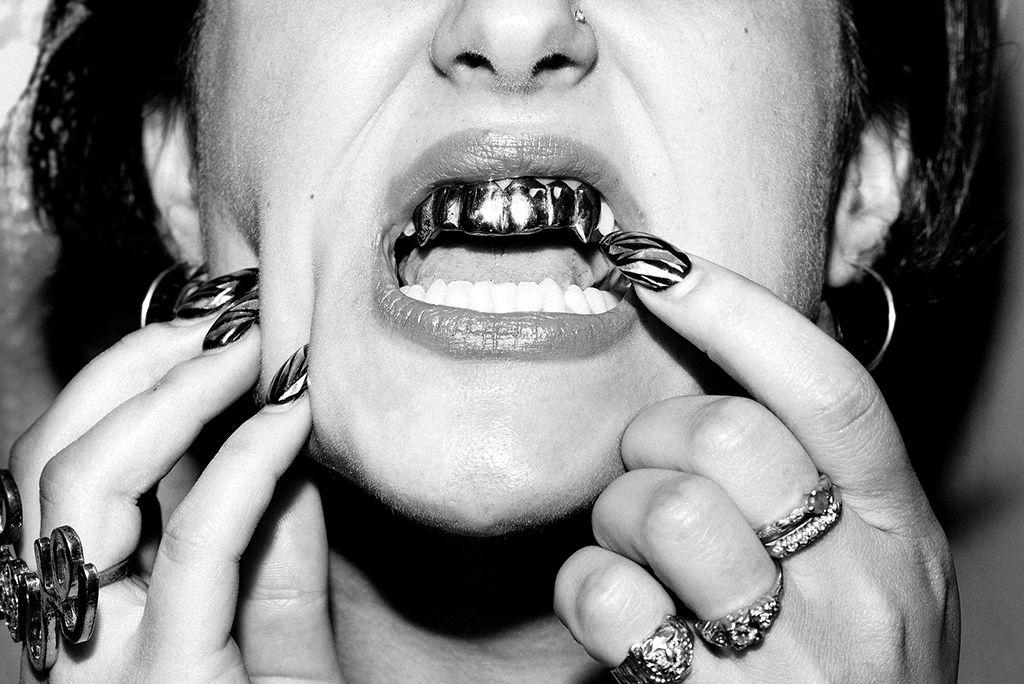 Photographer: Kate Warren.
Where the photo was taken: A DC alley at night.
What's going on: Musician Yasmin Radbod showed up to the shoot sporting a grill, which Warren decided to use in the portrait.
What she was thinking: "Women are told to be soft and quiet. We wanted to do the opposite."
Why it works: "The images are a study in contrast. A feminine manicure meets a masculine grill for an aggressive composition."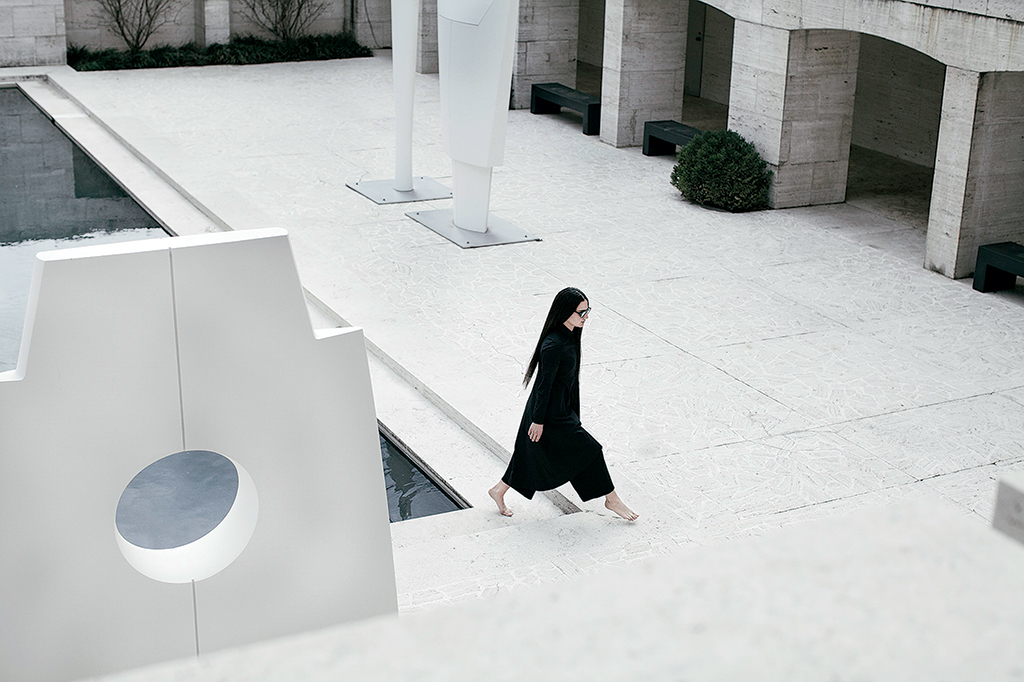 Photographer: Malek Naz Freidouni.
Where the photo was taken: Kreeger Museum.
What's going on: Freidouni had a friend walk barefoot through the museum's courtyard.
What she was thinking: "I was attracted to the striking outdoor space and its elegant lines."
Why it works: "The simplicity of the location, model's movement, and symmetry of her clothes and hair mimicking her surroundings."
10. Obama: An Intimate Portrait by Pete Souza
Sixth & I, November 13
For eight years, former White House pho­tog­rapher Pete Souza had unparalleled access to President Obama's day-to-day life, snapping memorable images of historic events (the Situation Room during the bin Laden raid) and more private moments (Barack and Michelle in an elevator on Inauguration Night 2009, above). Souza's book mixes some of his most famous shots with previously unseen work. At this event, he'll speak about it—and, we hope, his feisty Instagram feed. $25.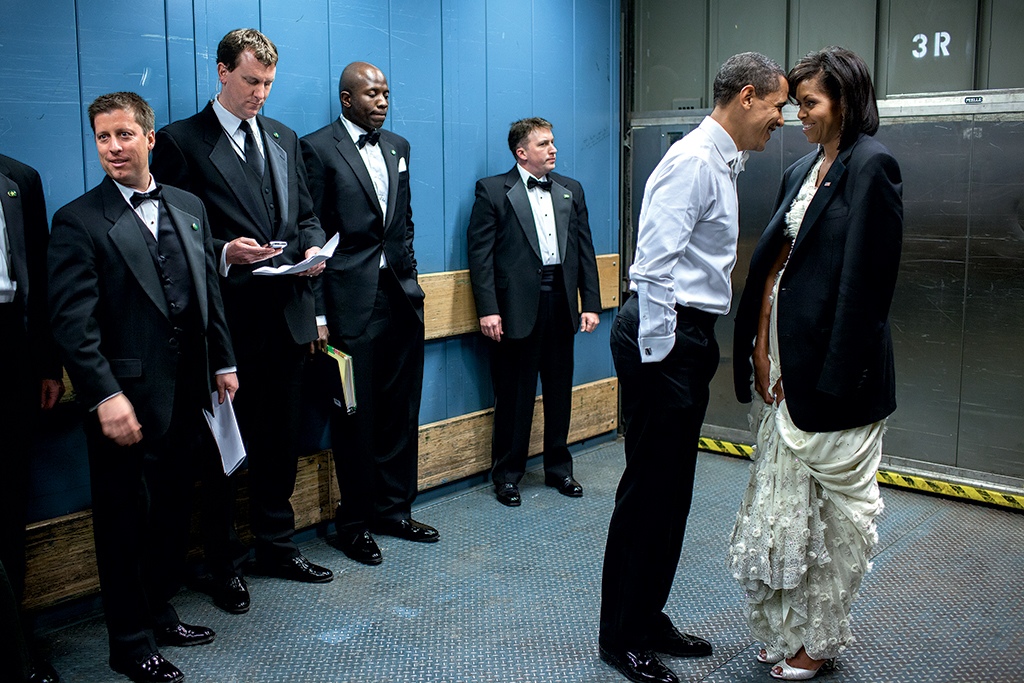 11. You Can't Spell America Without Me by Alec Baldwin and Kurt Andersen
Lisner Auditorium, November 14
Alec Baldwin has spun his devastating SNL Trump impression into a book. Written with novelist and Spy magazine cofounder Kurt Andersen, it's a satirical look at the President's first year, written in the voice of the short-fingered vulgarian (as Spy famously called him). Baldwin is apparently leaving his wig at home—he's not planning to appear as The Donald—but we suspect he won't be able to resist slipping into character. $45.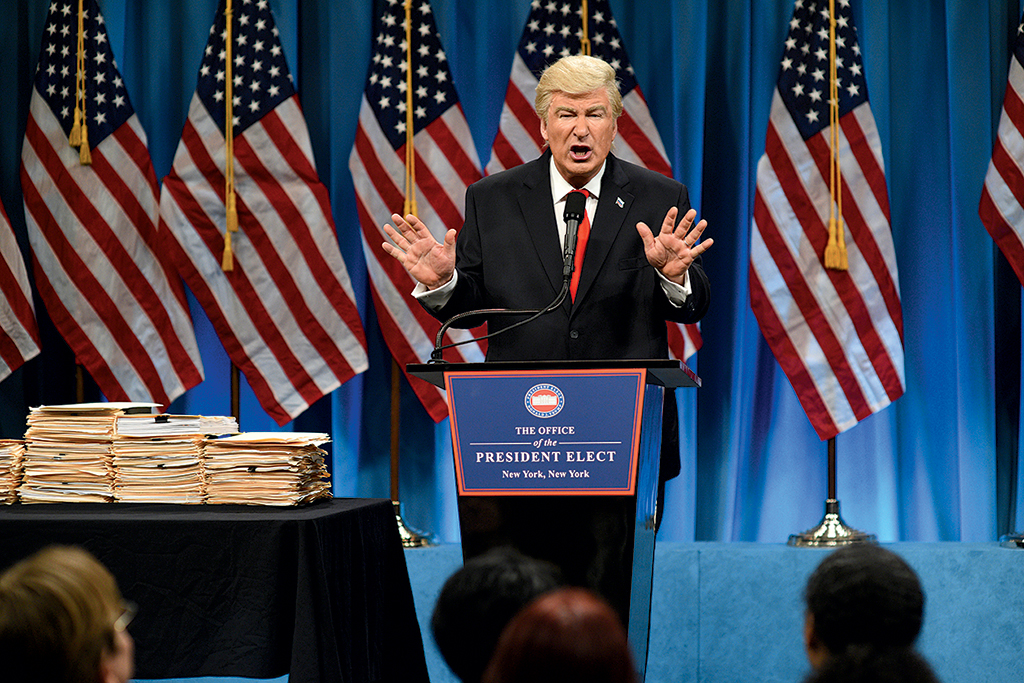 12. Dakhabrakha
Strathmore, November 17
This one-of-a-kind Ukrainian quartet plays a variety of instruments, including cello, piano, accordion, drums, and didjeridoo—all while wearing towering wool hats, white wedding dresses, and embroidered tunics. The group's music, which it calls "ethno-chaos," layers Ukrainian folk onto African rhythms, Indian vocals, and Middle Eastern sounds. It's both bizarre and utterly mesmerizing. $28 to $58.
13. "Making Room: Housing for a Changing America"
National Building Museum, November 18–September 16
Tired of your cramped apartment? This exhibit explores innovative solutions to housing-design problems. The centerpiece is a mockup of a 1,000-square-foot "flexible dwelling" with movable walls and built-in furniture. Also on display are blueprints and photos of "micro-apartments" in a New York high-rise, Crystal City's WeLive co-living space, and other forward-looking projects. $10.
14. "Jackson Pollock's 'Mural'"
National Gallery of Art, November 19–October 28
Almost 20 feet long and eight feet high, Pollock's largest painting is also one of his most significant, and it's never before been on display in DC. Go experience it in person: The pivotal early work—commissioned by Peggy Guggenheim in 1943 for the relative intimacy of her Manhattan townhouse—is meant to be seen up close. Free.
15. St. Vincent
The Anthem, November 27
Annie Clark—a.k.a. the unclassifiable musician St. Vincent—is coming to town promoting her fifth solo album, Masseduction, in which she continues to hone her performance-art persona, distinctive guitar technique, and raw lyrical sensibility. Live, she can be intriguingly unpredictable: Last year, she performed Mas­s­eduction's first single, "New York," in a toilet costume. $44 to $149.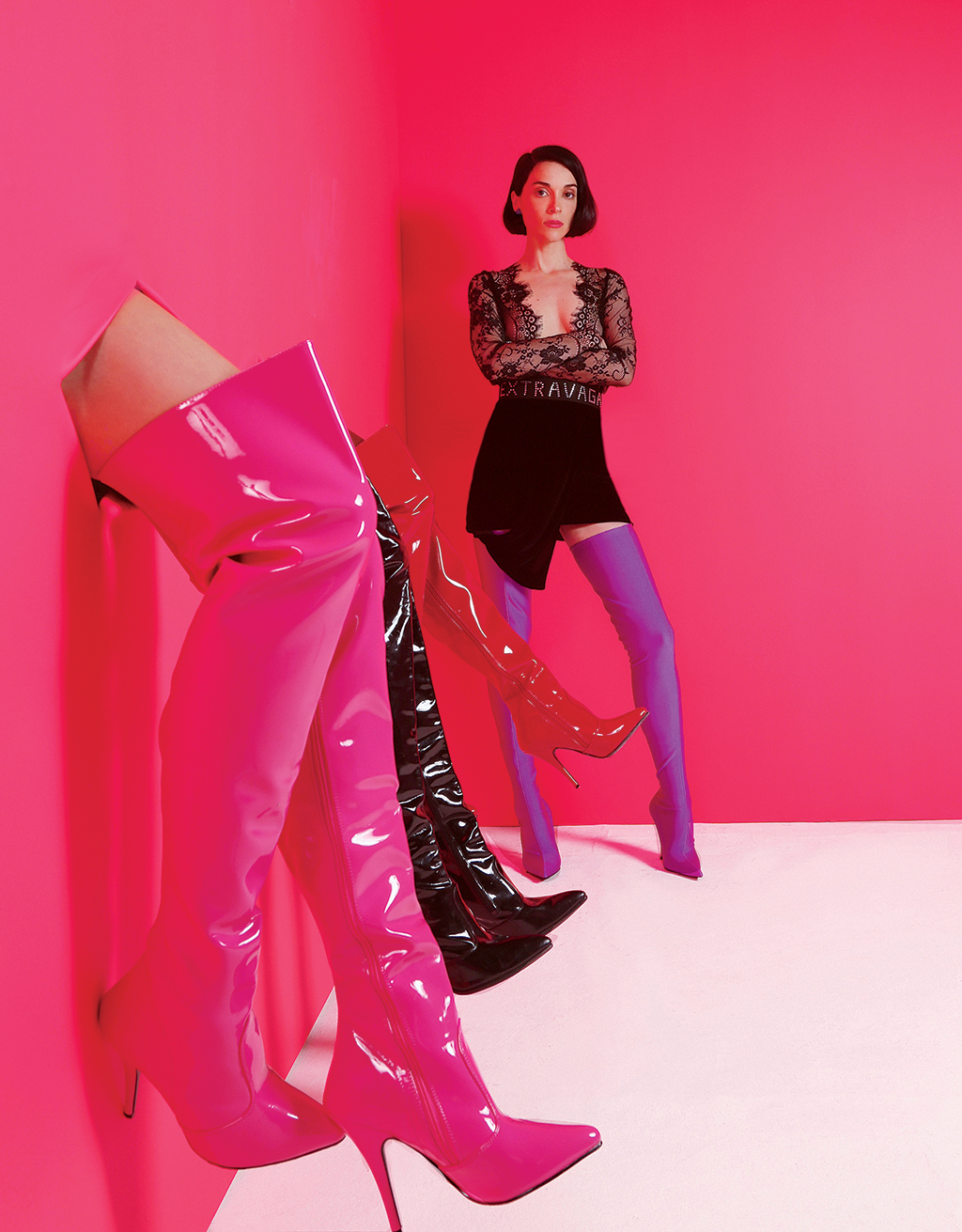 This article appears in the November 2017 issue of Washingtonian.