If it's seemed like a lifetime since Donald Trump took the oath of office, imagine how Inauguration Day protesters feel.
Two hundred and thirty-four people have faced the threat of long-term imprisonment after they were arrested on or after January 20 for what the government alleges is their role in a "violent riot" that morning. They were charged en masse the next day with felony rioting, which carries a maximum sentence of ten years. In April, a grand jury returned additional felony charges that left 212 defendants facing more than 70 years behind bars.
So far, 19 have pled guilty to misdemeanors and one to felonies, and the US Attorney's Office of DC has dropped charges against 20 of the arrestees, spokesperson William Miller. That leaves 194 people to be tried for a series of smashed windows and other property destruction downtown that prosecutors say resulted in $100,000 in damages and minor injuries to six officers.
Assistant US Attorney Jennifer Kerkhoff has argued that defendants didn't need to personally smash glass to be found guilty. "A person can be convicted of rioting without breaking a window," she said at a July hearing. "It is the group who is the danger, the group who is providing the elements."
In DC Superior Court Wednesday, the trial for first group of defendants, who face six felony charges and two misdemeanors, began with jury selection. Young and old Washingtonians filed into one of the courthouse's more august rooms for a series of questions about what they remember about Inauguration Day and their feelings about law enforcement, among other topics.
Multiple people were taken out of consideration when they voiced their anger with the protesters. A woman who said her nephew was a DC police officer injured during the scuffles in downtown DC that day was excused, as was a woman who said that she would "not give greater weight to police" testimony. "What about lesser weight?" asked Judge Lynn Leibovitz. The woman nodded. "That."
At the same time that trials are moving forward against defendants, there are lawsuits against the DC police department alleging unconstitutional arrests, excessive force, and other abuses against protesters at the scene. A report from the Office of Police Complaints observed indiscriminate mass arrests and the use of nonlethal weapons without adequate warning, and the office is currently undertaking an independent investigation of police conduct that day.
The city has stood by the police's actions, which were not the subject of discussion on Wednesday.
Among potential jurors who already knew about the events through the media, the image that remained most salient in their minds was a limousine burned by protesters at 13th and K streets, Northwest, later on the afternoon of January 20.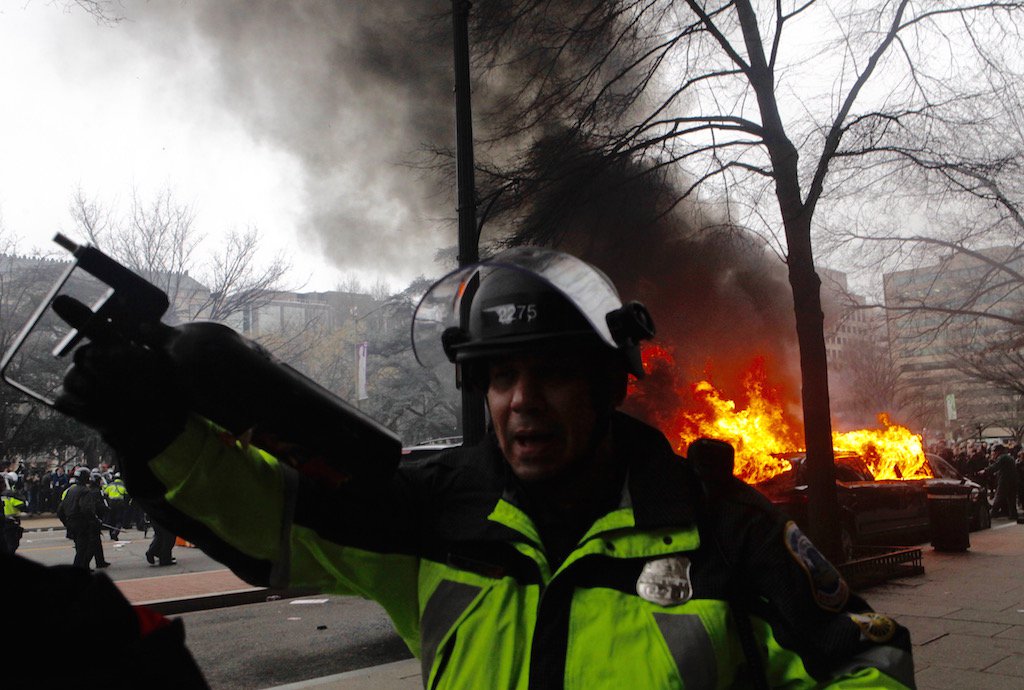 That and other familiarity with the events of the day didn't necessarily take people out of the running. As Leibovitz explained, the court wasn't looking for "blank slates" on the jury—a near impossible ask for the already difficult task of finding 40 people who would be available for four weeks during the holiday season. Instead, she emphasized the need for jurors who could "compartmentalize."
A contractor who designs websites for one of the banks whose window was smashed is still under consideration, after she said her work wouldn't influence her decision-making. A man who said his brother was partially responsible for coordinating the Coast Guard's involvement in the inauguration after a decade as a DC police officer was not excused, because he maintained that connection wouldn't sway his ability to remain impartial.
"The jury is ultimately what matters," said Alexei Wood, one of the defendants currently on trial. A photographer from San Antonio who covers resistance movements, he considers himself a journalist who was capturing the scene at the time of his arrest.
"If people want to critique my professionalism, I get it, but is it a criminal offense? Fuck no," said Wood outside the courthouse on lunch break, as he ate a sandwich wrap provided by advocates who've been performing court support for the better part of a year. "I stand firm that I broke no laws."
He's been driving or flying to DC from Texas for all of the pre-trial hearings. Wood's co-defendants for the November trial are Jennifer Armento, Oliver Harris, Brittne Lawson, Michelle Macchio, and Christina Simmons.
They learned earlier this week that the US Attorney's Office of DC is no longer pursuing felony charges against the seven defendants slated to go on trial in December, instead proceeding only with three misdemeanor counts: engaging in a riot, conspiracy to engage in a riot, and destruction of property.
"The US Attorney's Office typically does not comment on charging decisions and has no comment on this pending case," said Miller, the office's spokesperson. "Because this trial now involves misdemeanors, it will go forward as a bench trial. This decision applies to the December trial only. All other trials, including the one that starts with jury selection on Nov. 15, will proceed on the felony charges."
Kris Hermes, a longtime activist and National Lawyers Guild member who was handing out press packets in court on Wednesday, was flummoxed by the decision. "I've heard people speculate it had to do with lessening the workload for that trial to put more effort into vigorously prosecuting the November trial," said Hermes. "Whatever the motive, it's outrageous the government is using virtually the same evidence to go after these defendants more aggressively."
That's Wood's guess, too. He volunteered for the November group to sign up for a speedy trial, and said he has no regrets: "I wanted the biggest fight and I got it."
Elizabeth Lagesse is a defendant with a trial scheduled for July 2018 (groups are scheduled through October of next year), as well as a plaintiff in the ACLU of DC's lawsuit against the city and the DC police. She was at the courthouse "providing moral and logistical support—I hope that people will do the same for [my trial]."
She said the reduction in charges for the December group speaks to the larger issues at play during these trials. "The fact that prosecutors have that degree of discretion is insane," Lagesse said. "Honestly, that's been the story of this whole case. It's why we're all here."