Self-proclaimed "history nerds" Courtney and Eddie met and fell in love in Washington, DC. Their love story began with dinner at Old Ebbitt Grill, endured three years of long distance, and blossomed with a proposal over late-night drinks at the Jefferson Hotel's Quill. For their engagement photos, they wanted to capture everything they loved about the city. So, they headed back to Old Ebbitt and Quill, and then stopped twice more for stunning portraits at the Capitol and the Library of Congress. Check out their photos by Kir Tuben.

Follow B&G on Instagram | Like B&G on Facebook
Courtney Manders, a marketing consultant, and Edward Ross, an officer in the United States Marine Corp, met in the summer of 2013. At the time, she worked for a nonprofit in DC, and he was stationed in Quantico.
"Dating in DC always seemed so difficult," says Courtney. "So when I met a pianist from Connecticut, I figured I had nothing to lose." For their first date, Eddie picked her up in his Jeep Wrangler, (love, she says) and they went to Old Ebbitt for dinner. "We found comfort in our commonalities," Courtney says. "Middle-child syndrome, growing up Catholic, and a love for American history."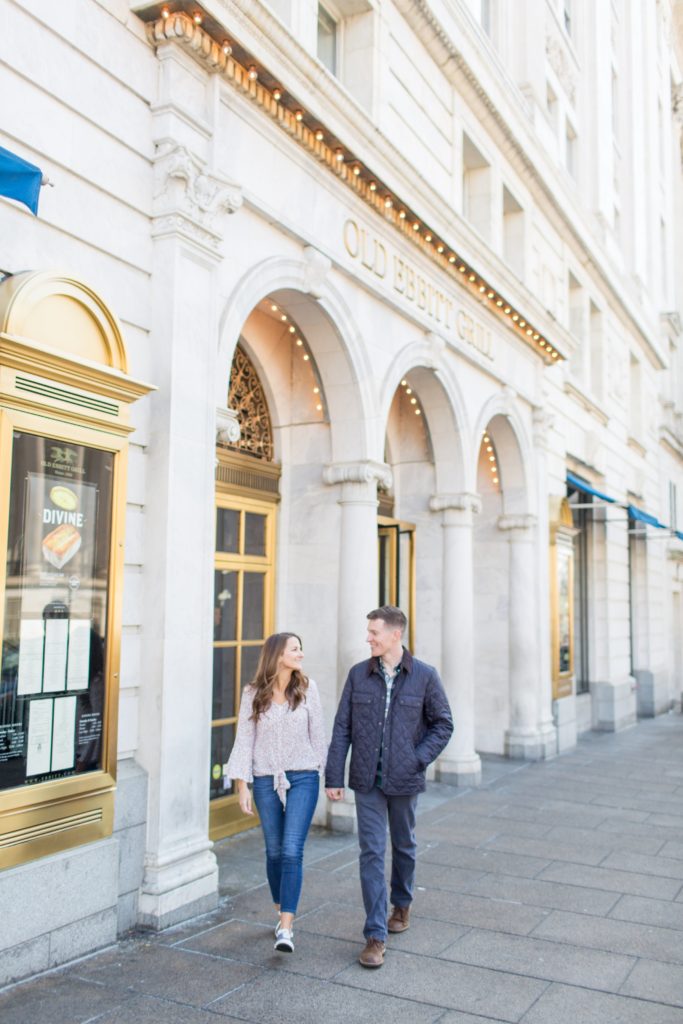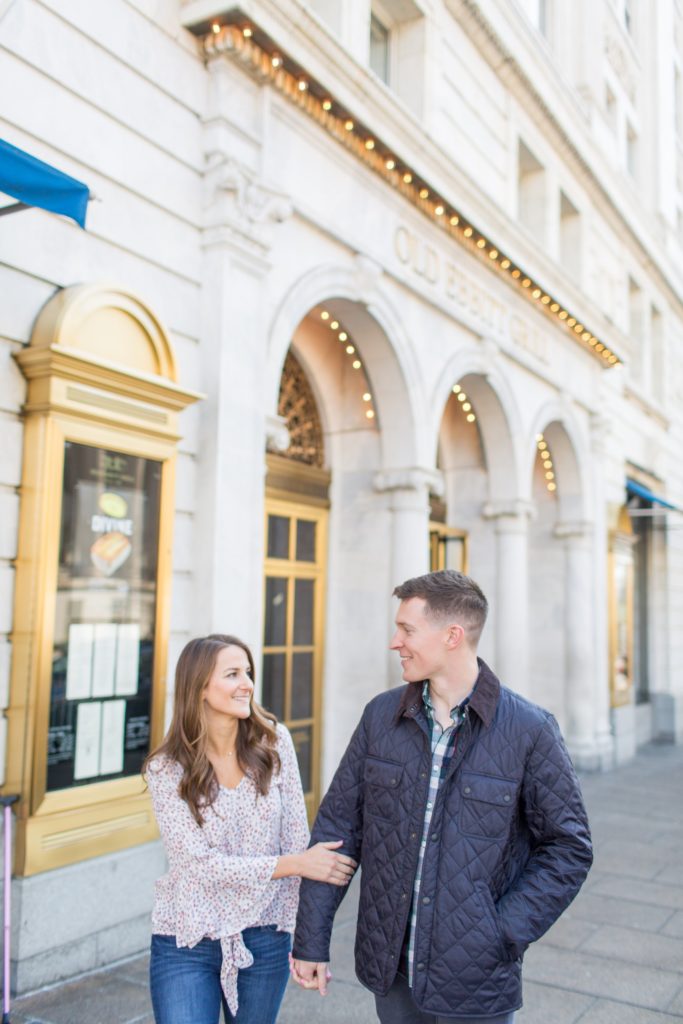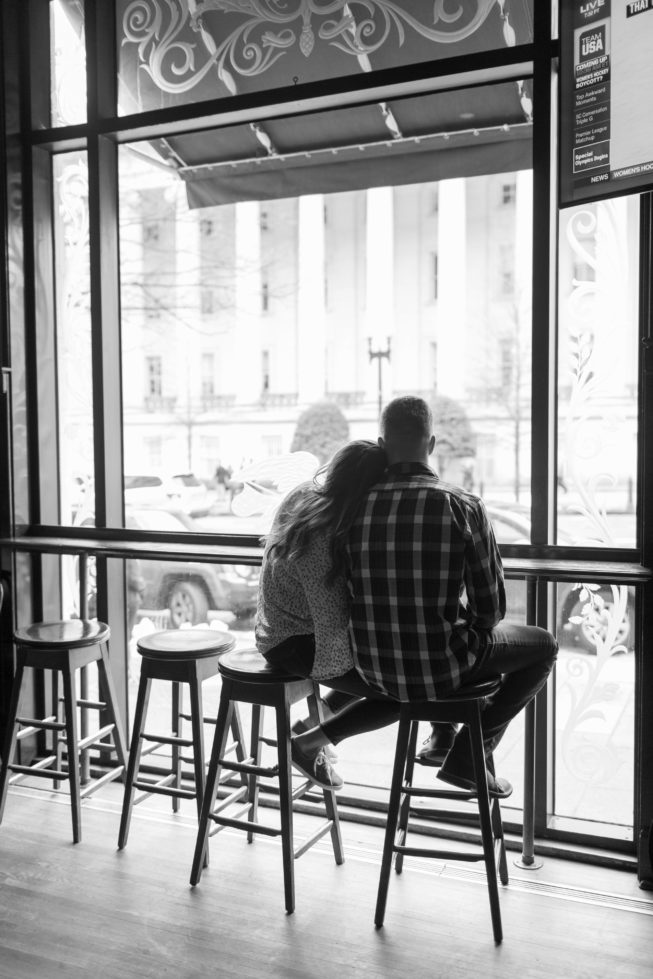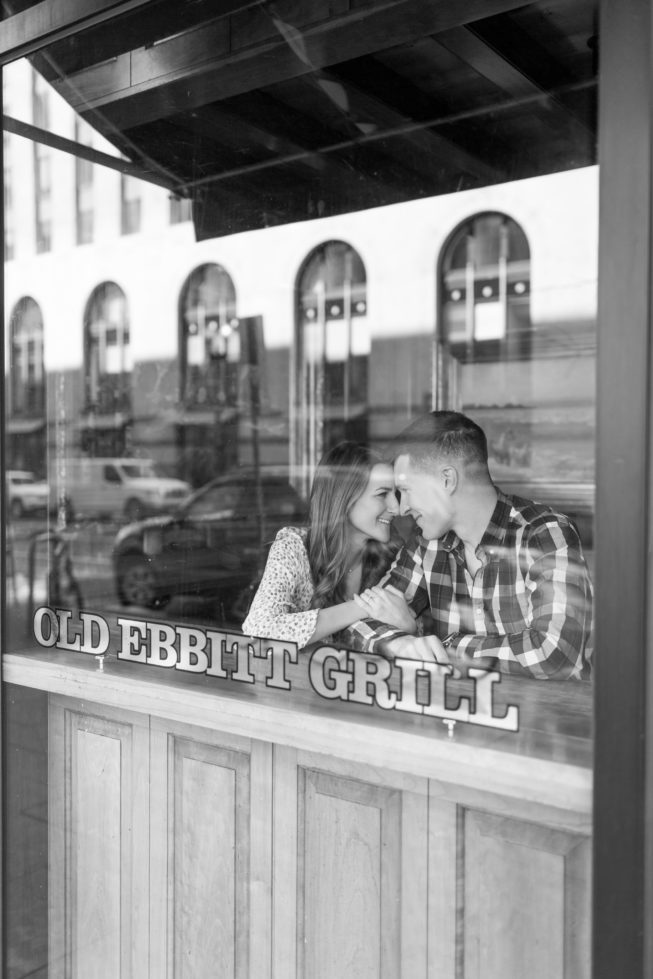 Her first impression? "He was so handsome and a little reserved, so I was intimidated at first." He says she was pretty, classy and had a great sense of humor. By the end of dinner, neither was ready to say goodnight. So, Courtney says, she knew Eddie was just as smitten as she when he suggested a walk around the Mall and gelato in Georgetown.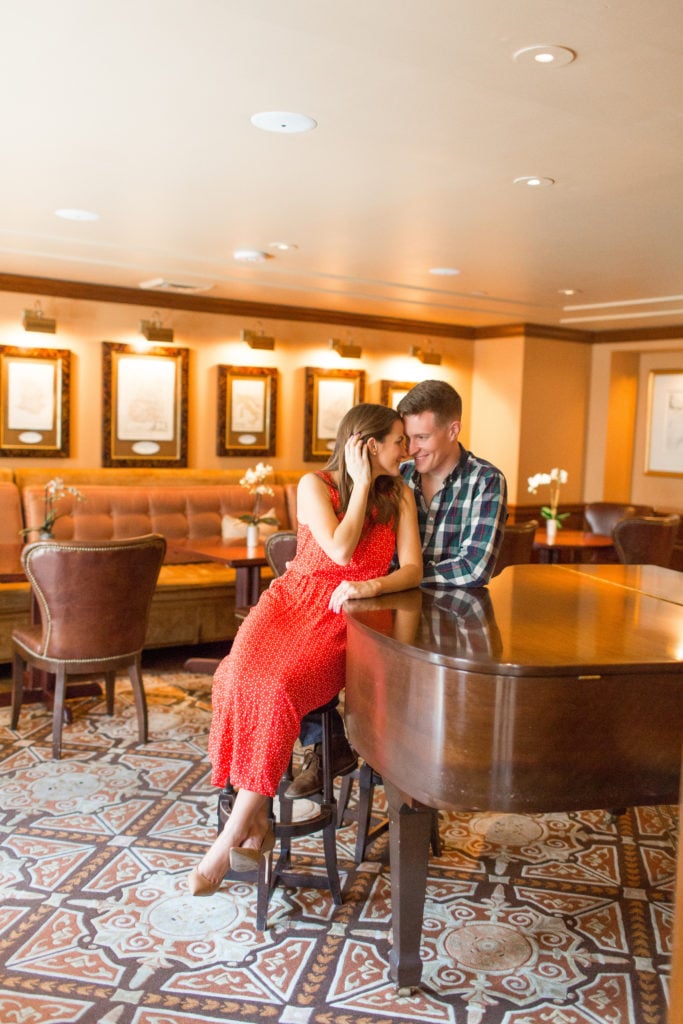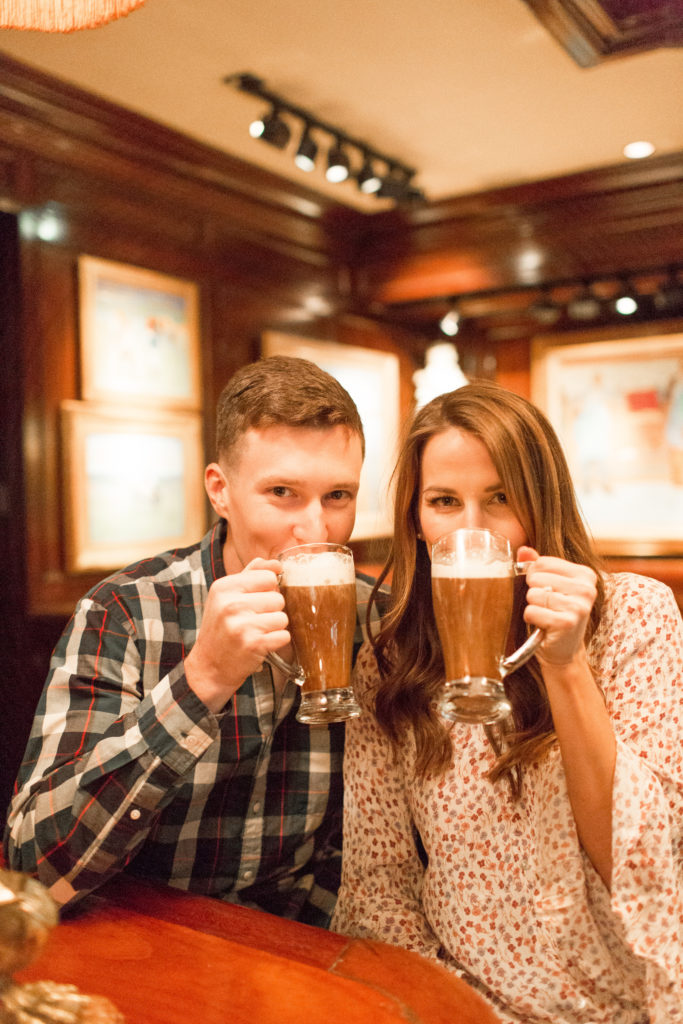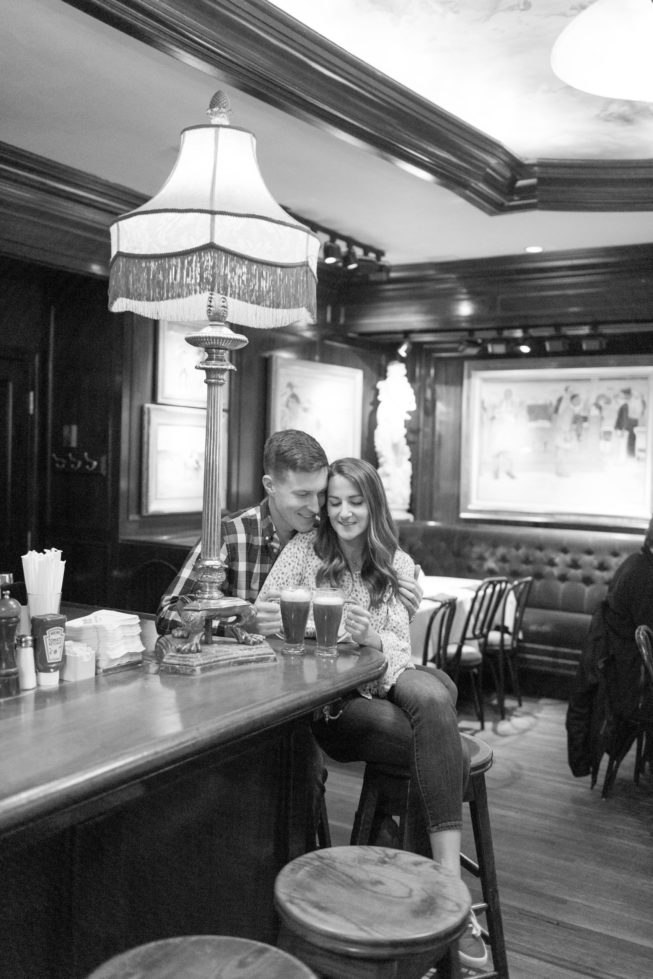 From there, they spent every weekend together, with the exception of a challenging long-distance stint through flight school. Three years into dating, and after a two-month training exercise in North Carolina, Eddie visited Courtney and her family in Florida for Thanksgiving.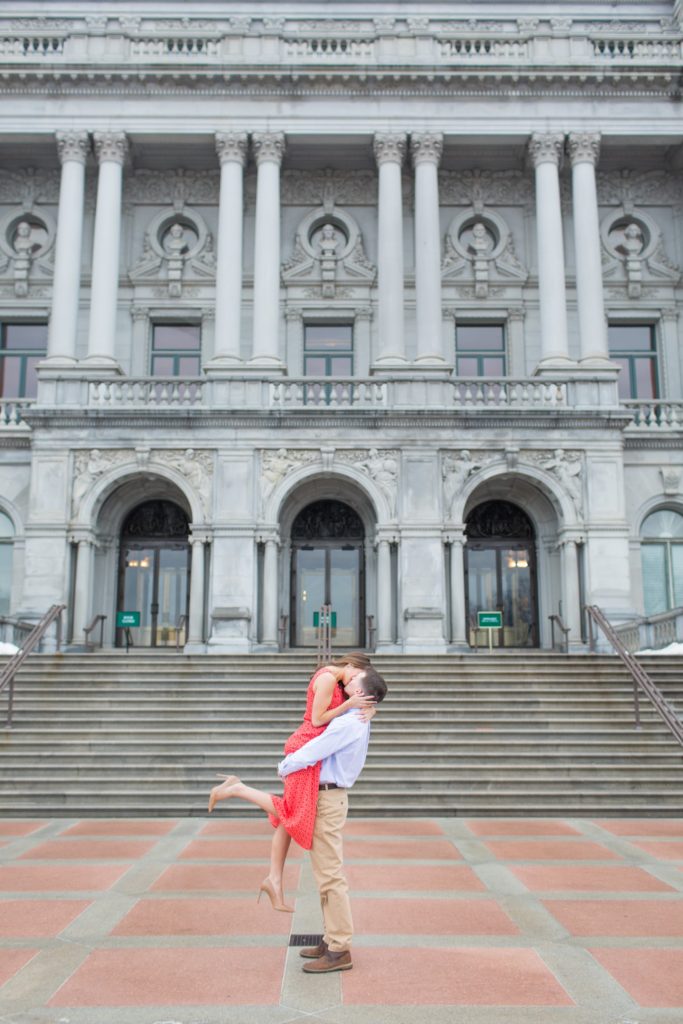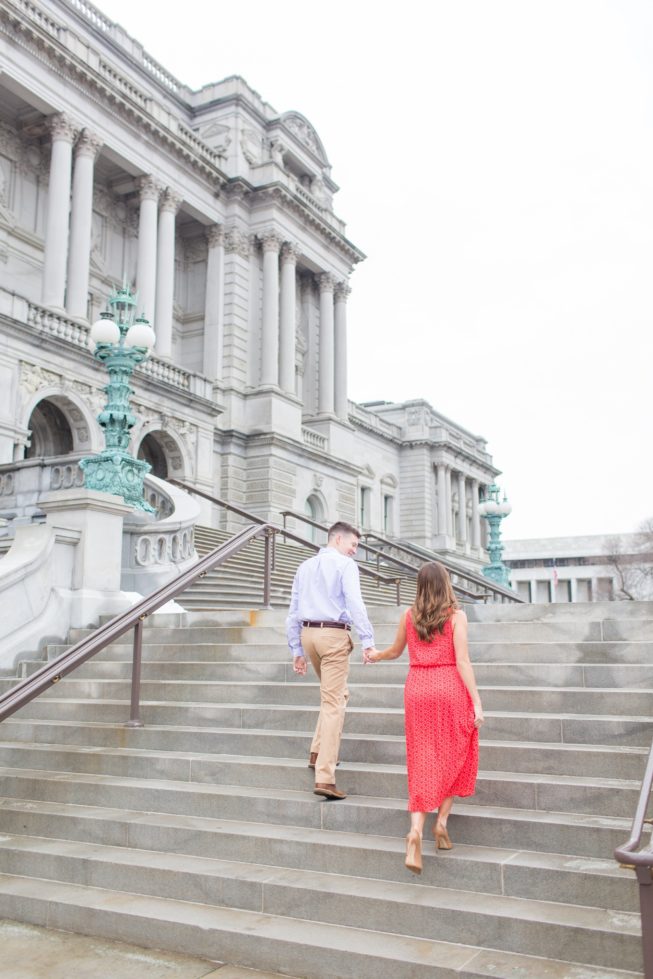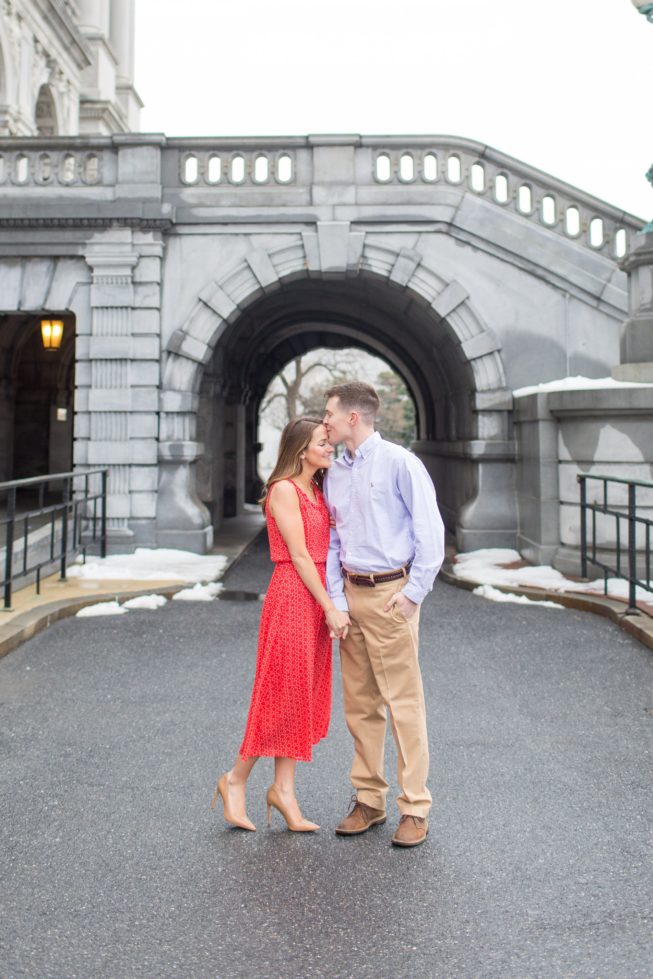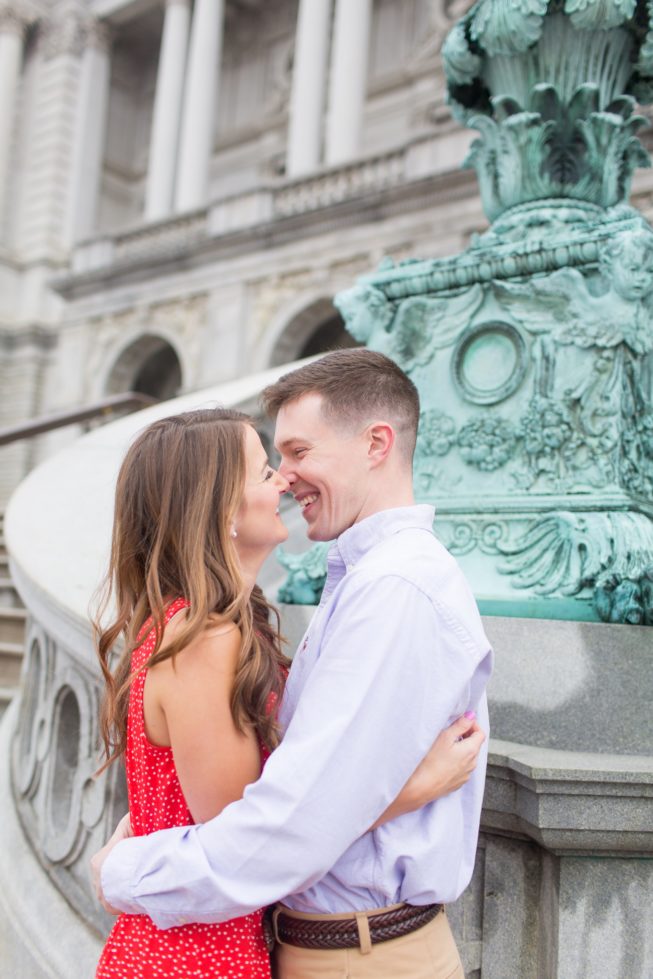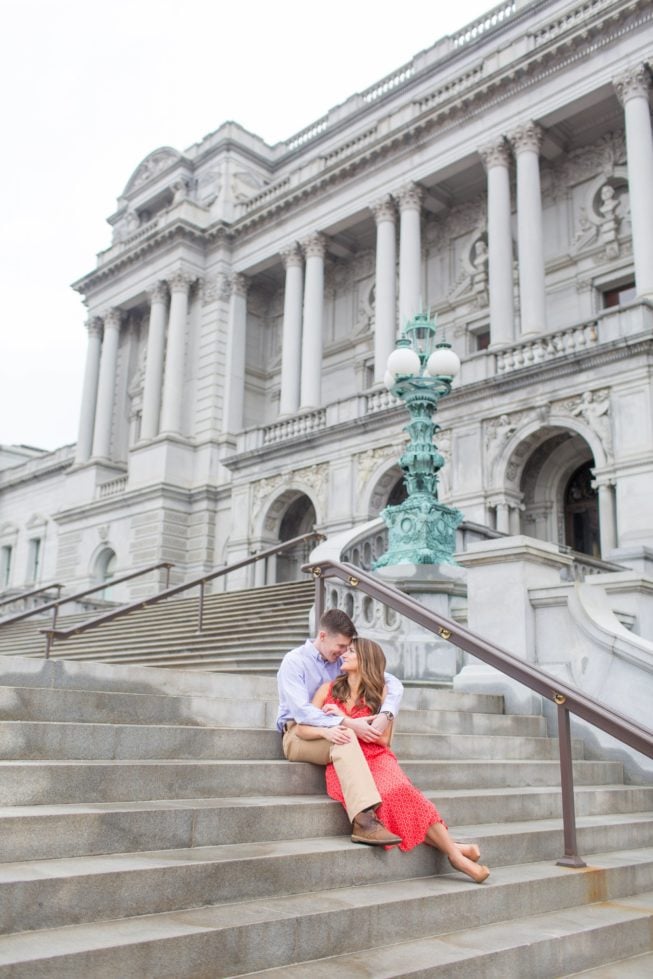 Their last night in Florida, they stayed out until midnight at the Florida vs. Florida State (Courtney's alma mater) football game. At 3 a.m. the next morning, they woke up to catch a flight to their nephew's christening in Annapolis. Finally, they drove back to DC for the night before Eddie had to leave again for North Carolina.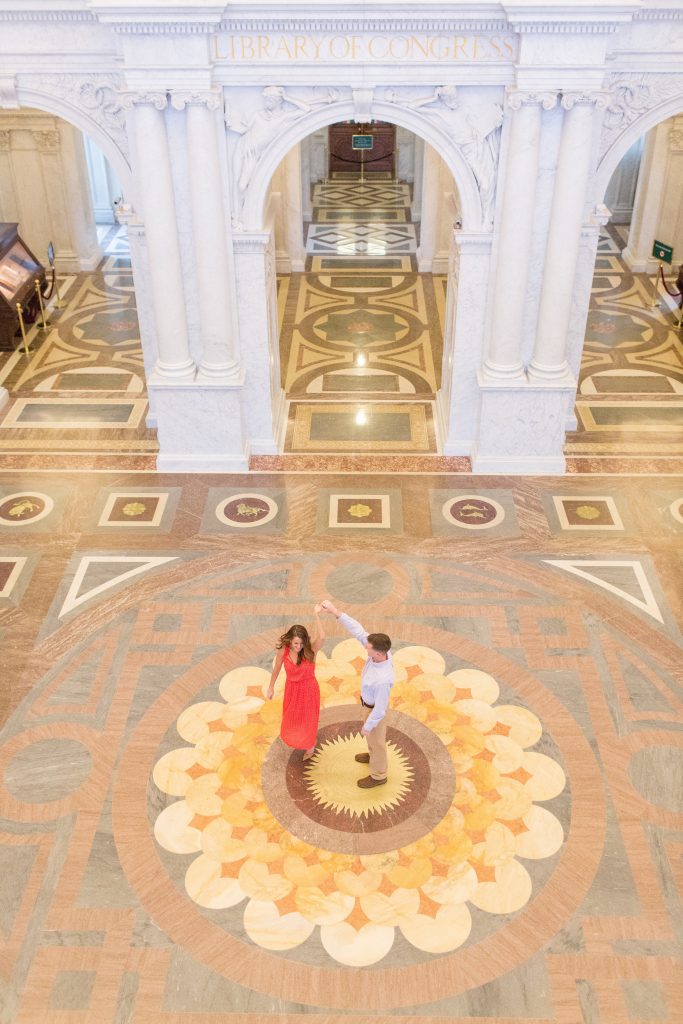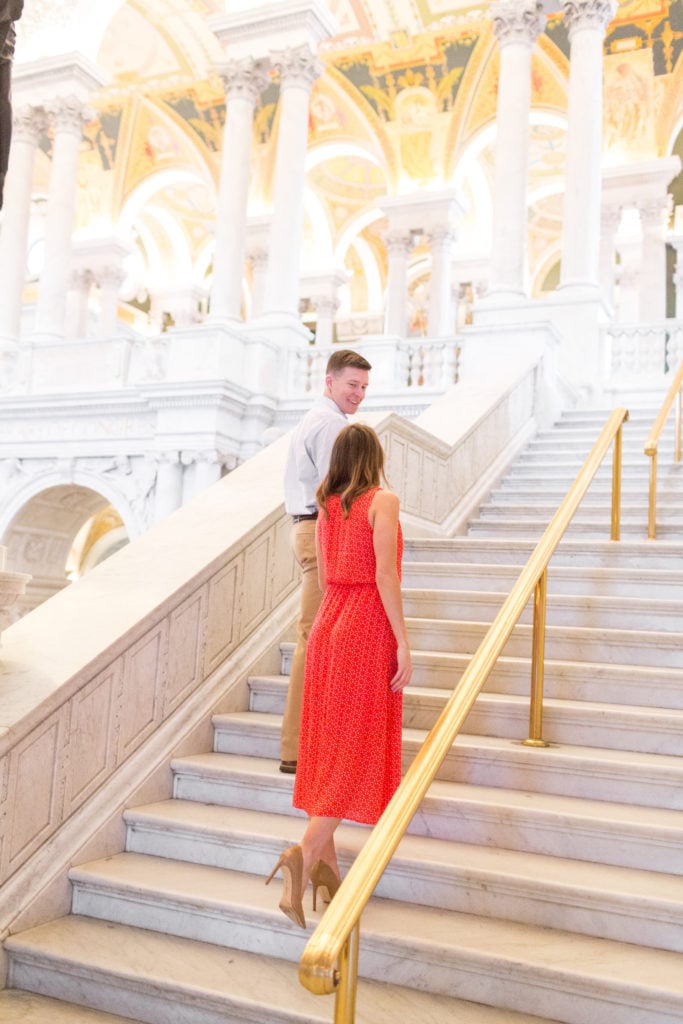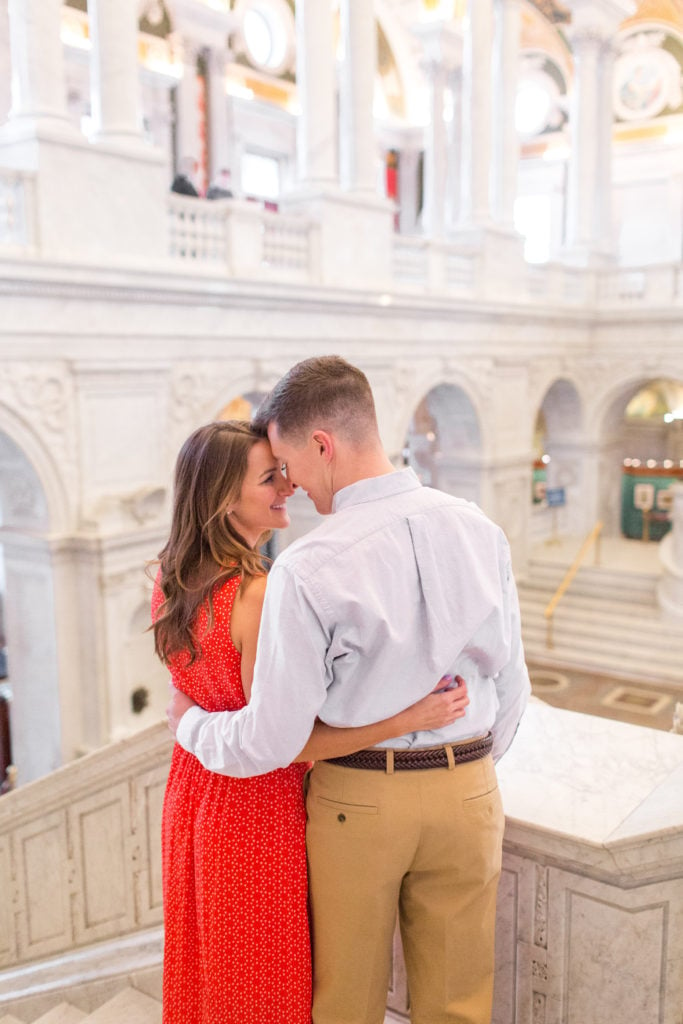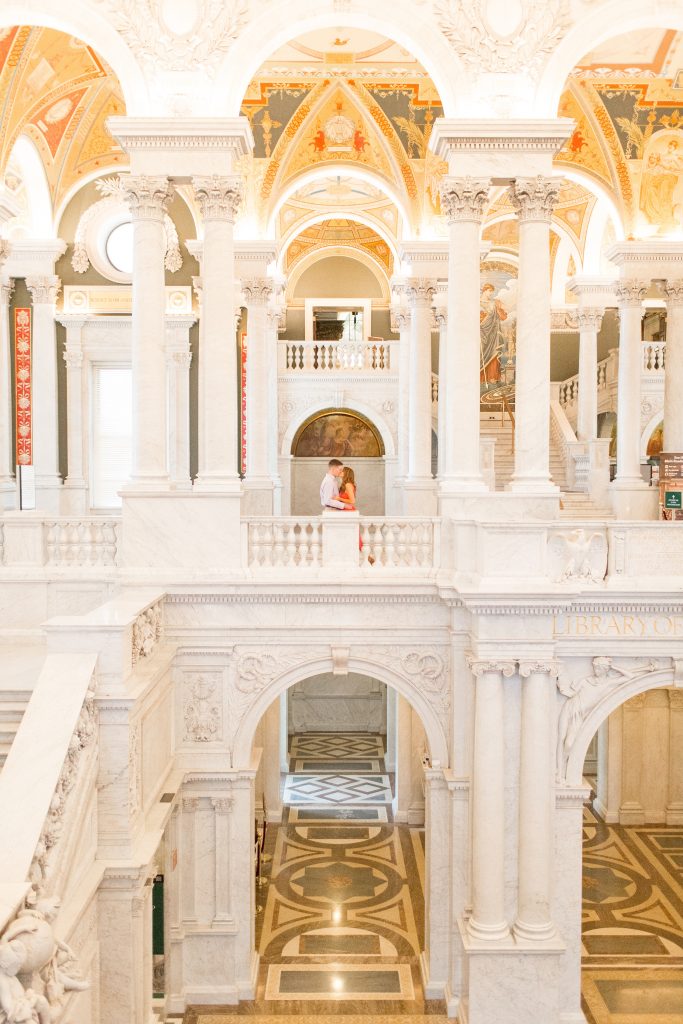 "Sleep-deprived and starving, Eddie suggested a drink at Trump Hotel since he had not seen the Old Post Office since its renovation," Courtney says. She begged for sweatpants and takeout, but Eddie persisted. After a some dessert and a bottle of wine, he then suggested a "night cap" at Quill, one of their favorite spots. (It has a piano for him and the history of Thomas Jefferson, her favorite president, for her.) "We were already out, dressed up, and buzzed off the wine, so I said "Sure, why not?" Courtney recalls.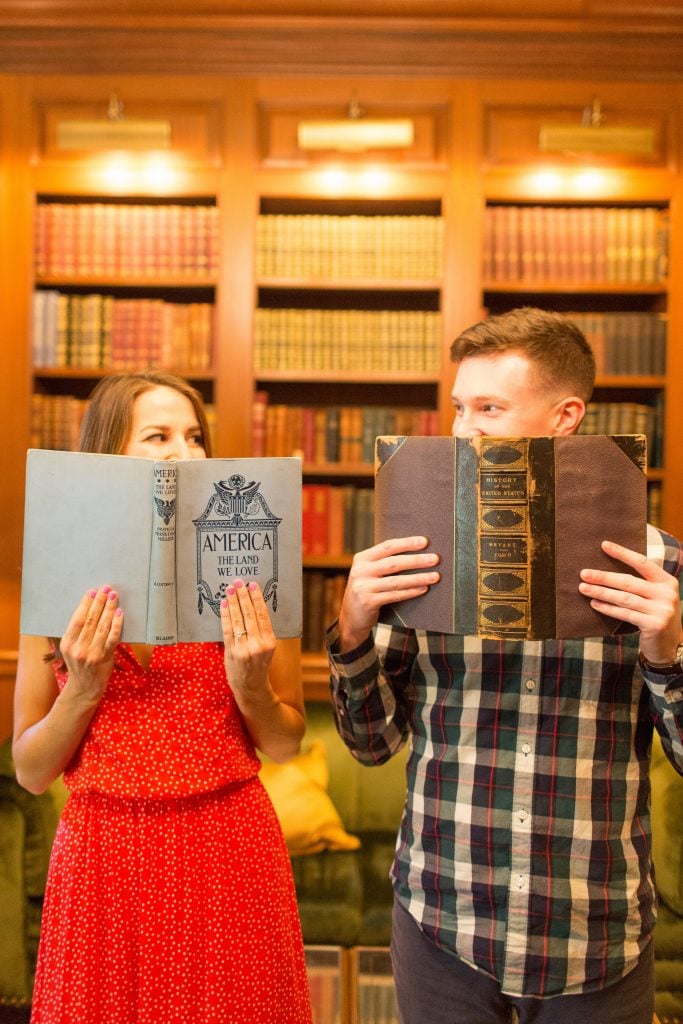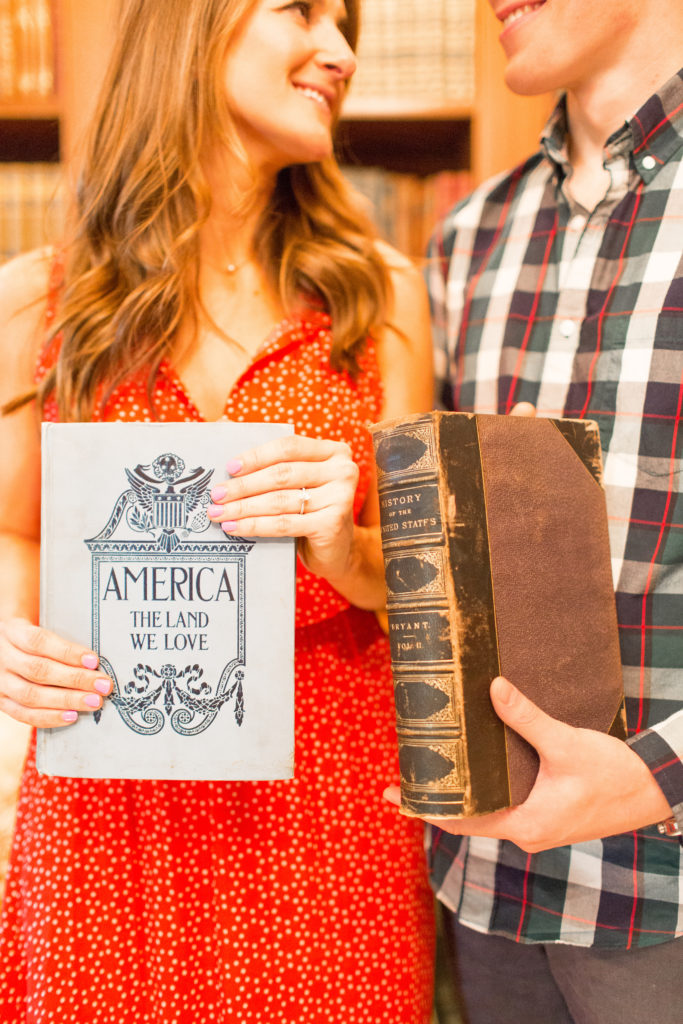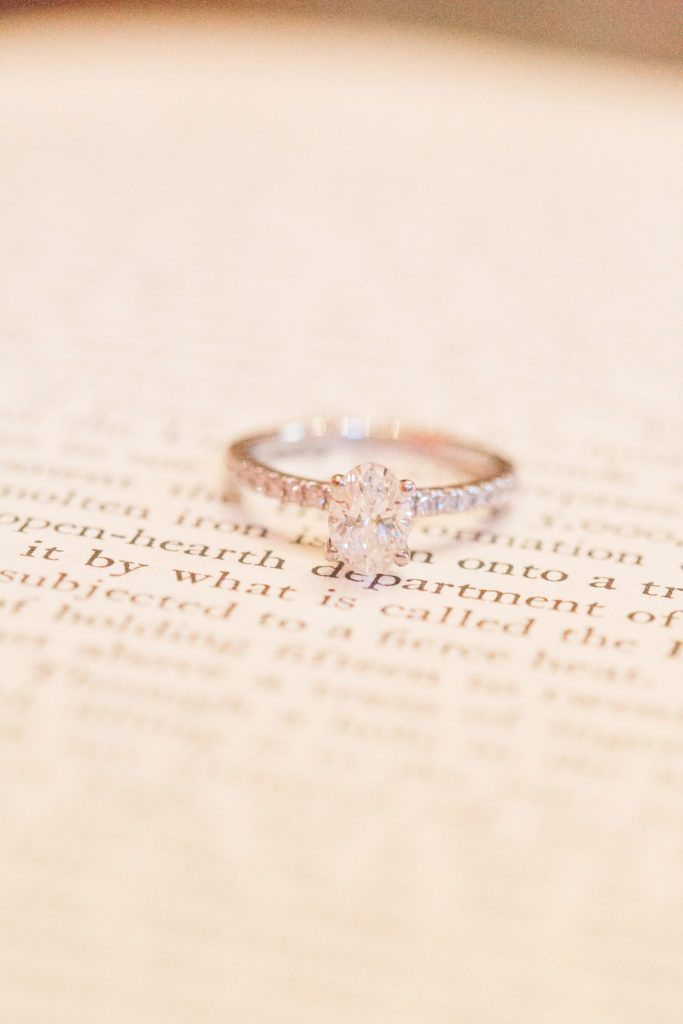 At Quill, they ordered their favorite drinks—Leopold's Gin & Fever Tree tonics. "Eddie asked me about work and whether my position would allow me to work from North Carolina," Courtney recalls. "I passively nagged saying, 'I don't think they see us as serious—they would only consider that if there was a "life-changing" event.' Then, Eddie got out of his seat, knelt in front of me with a beautiful oval diamond and said, "Is this serious enough for you?"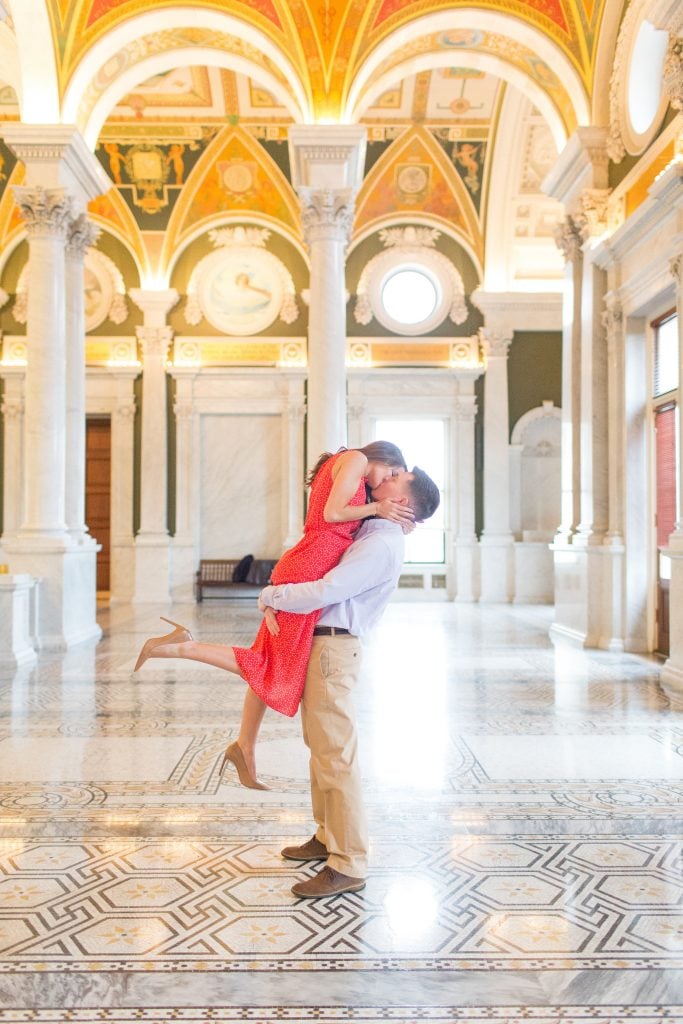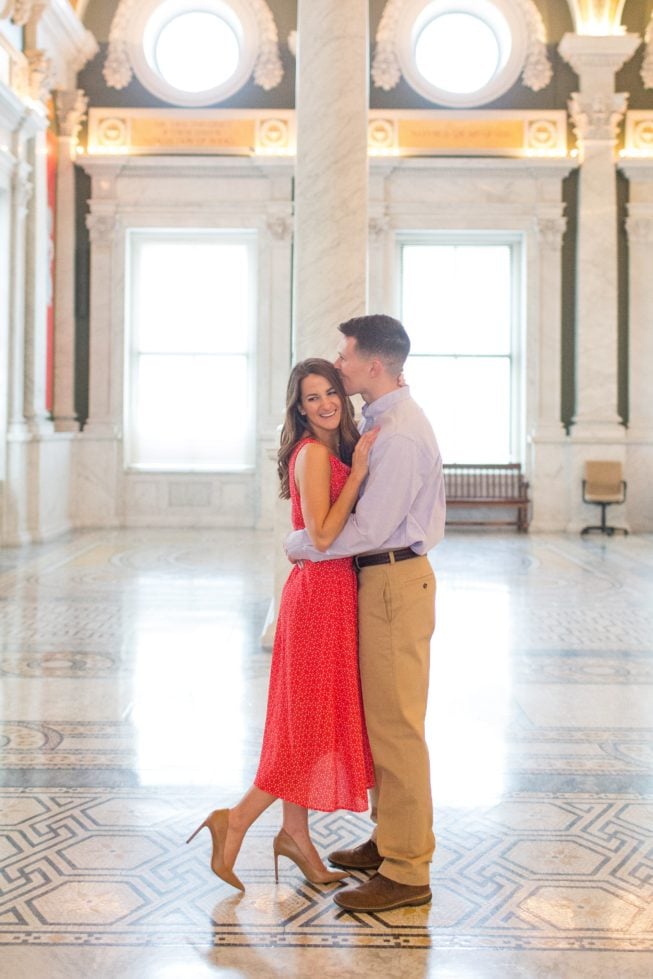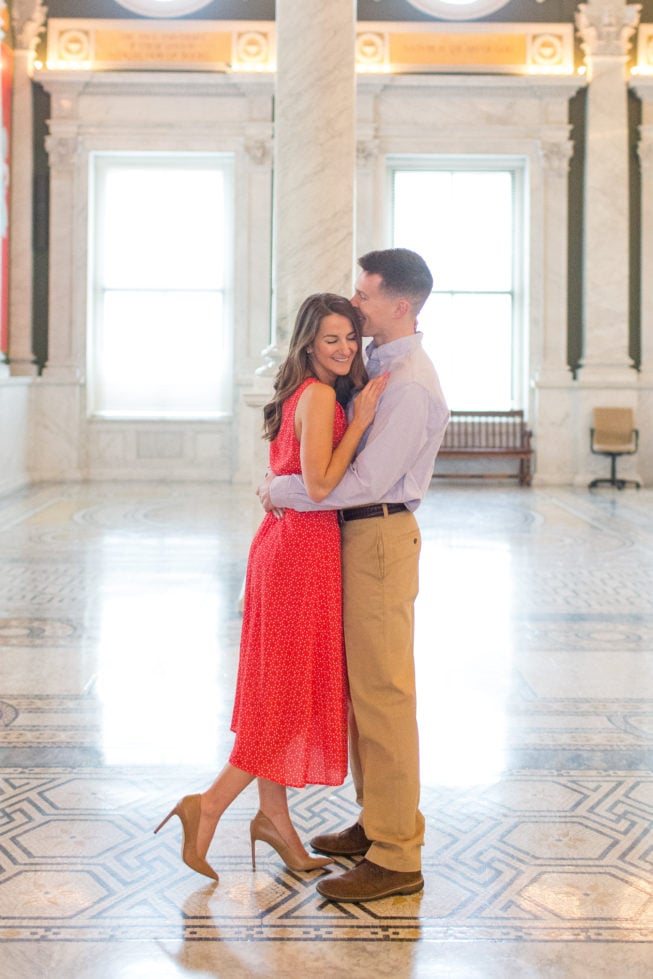 Knowing they'd be moving to North Carolina, the couple wanted to commemorate their DC story with their engagement photos.
"Every place we photographed holds a special memory," Courtney says. For their session, they chose Old Ebbitt Grill, where they had their first date; the Jefferson Hotel's Quill, where they got engaged; and The Library of Congress, Courtney's favorite city escape. And what DC engagement session would be complete without a stroll by the Capitol?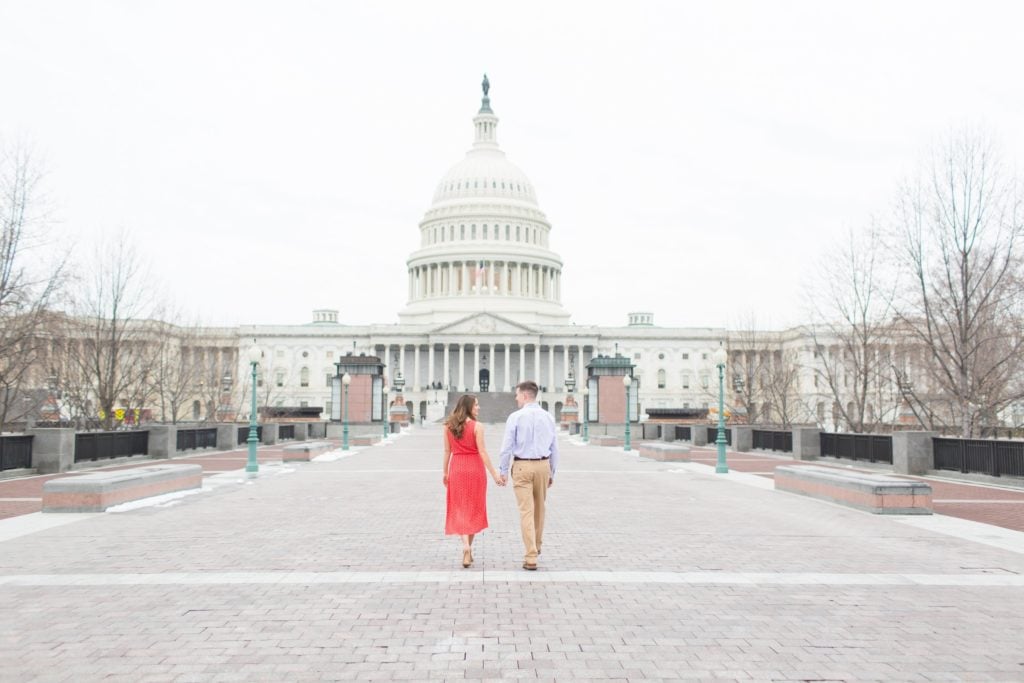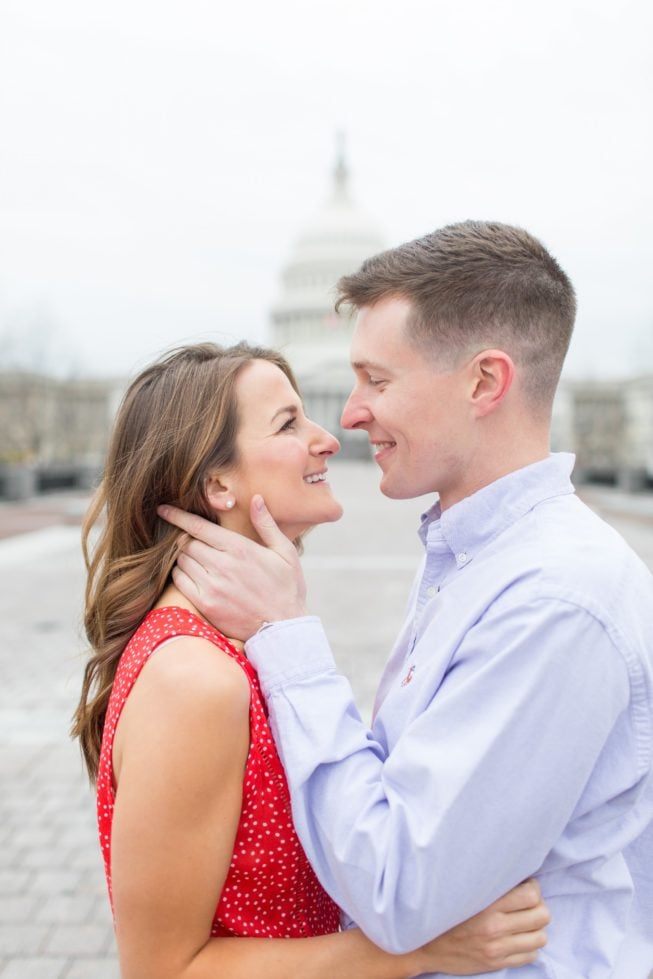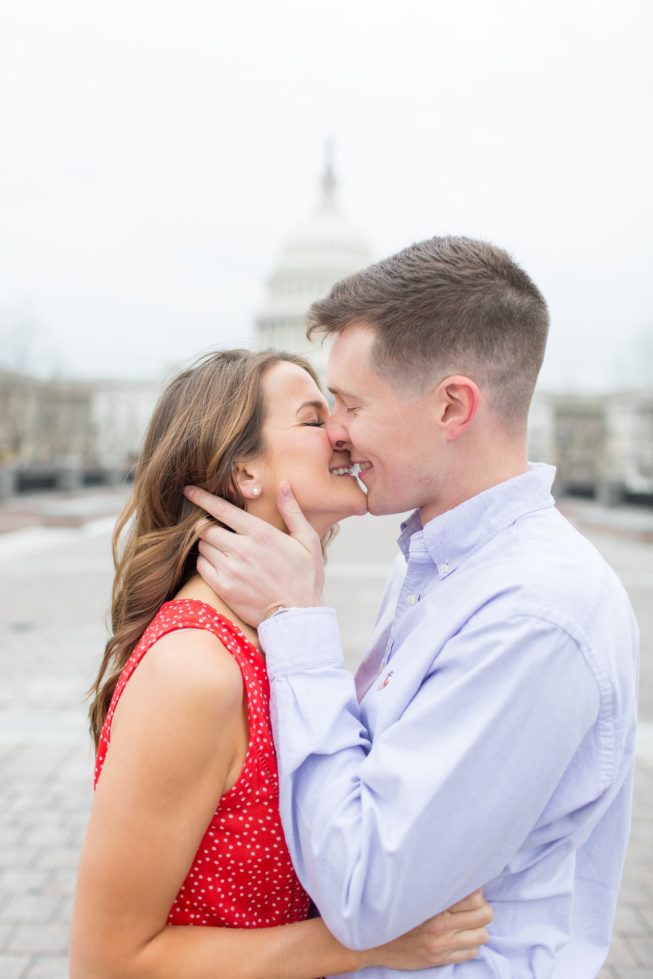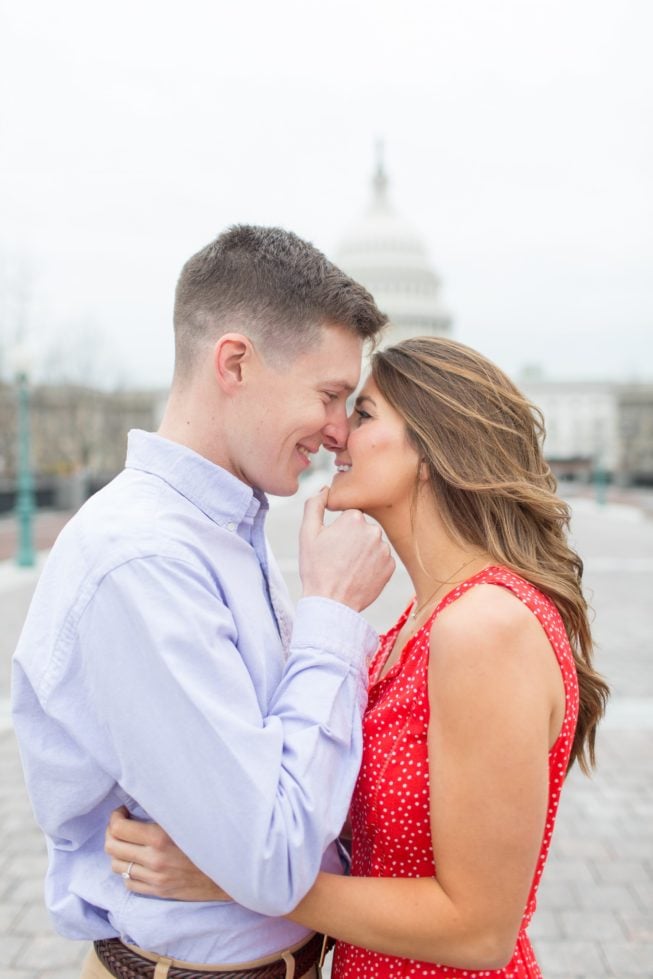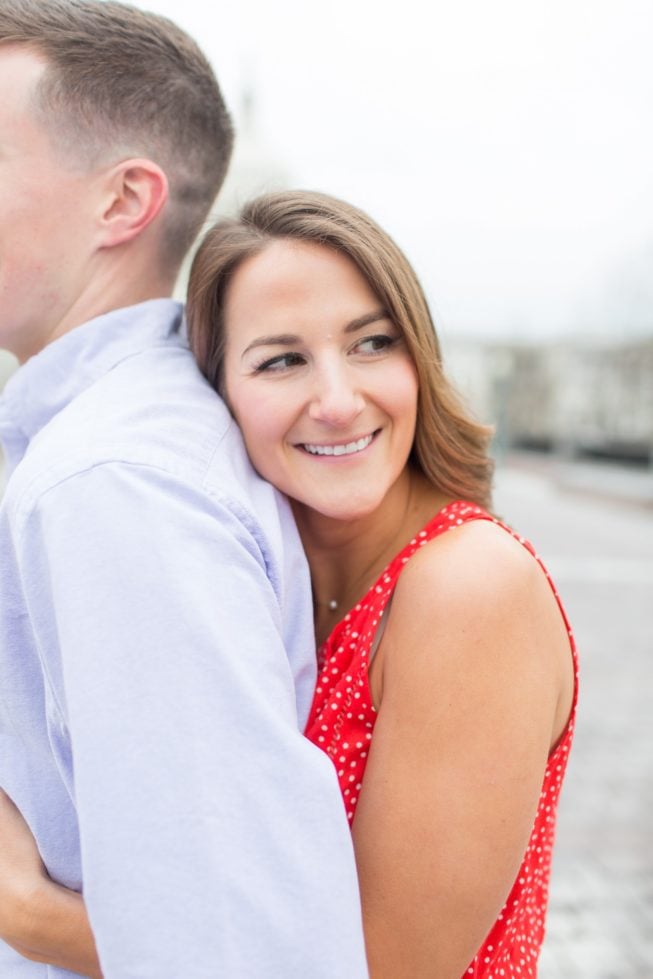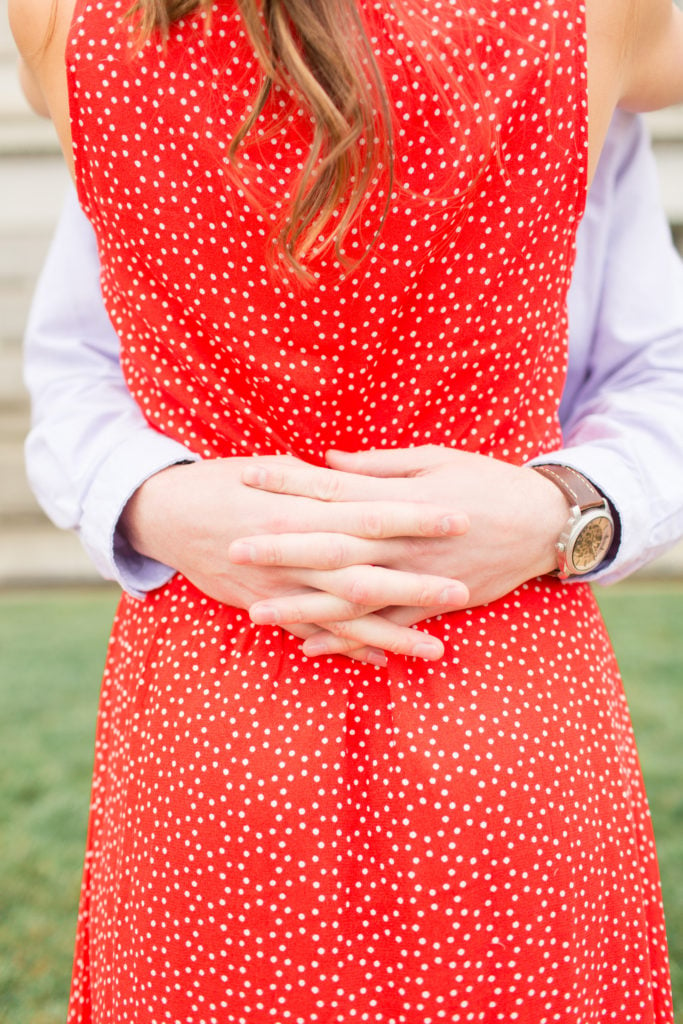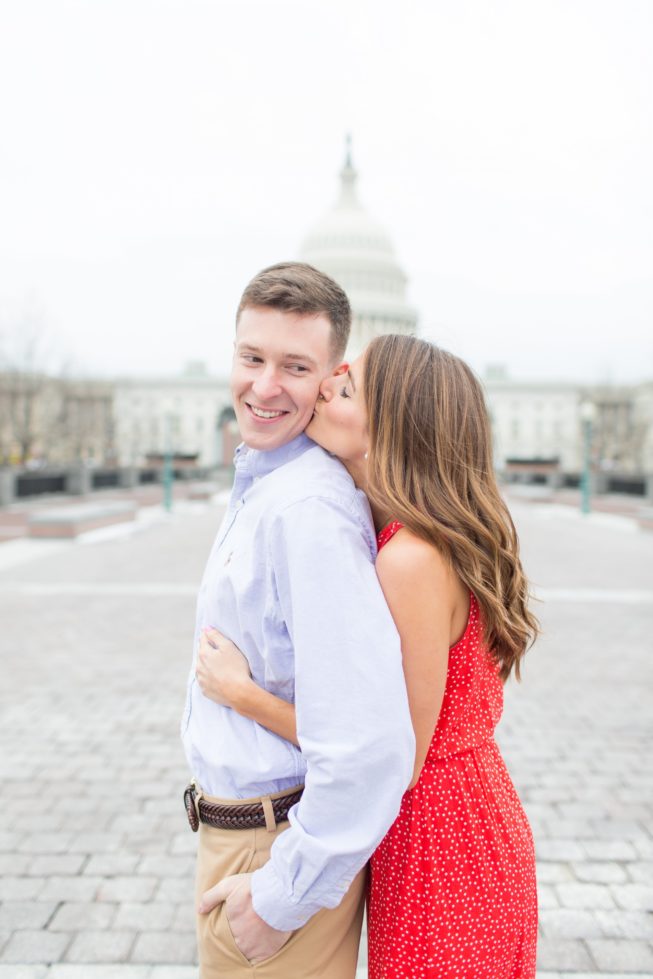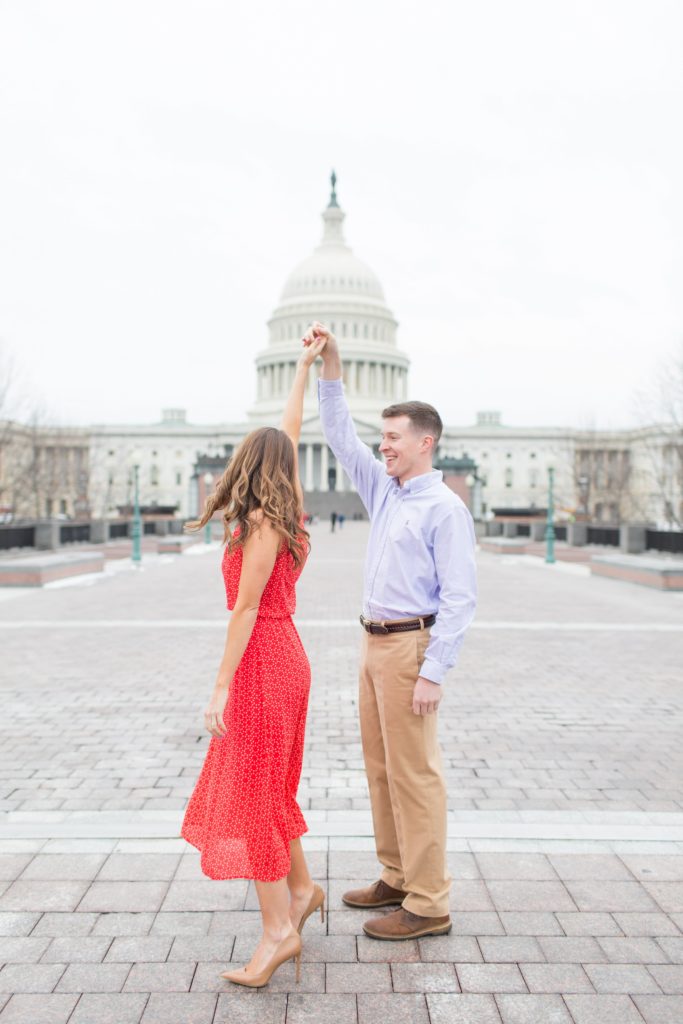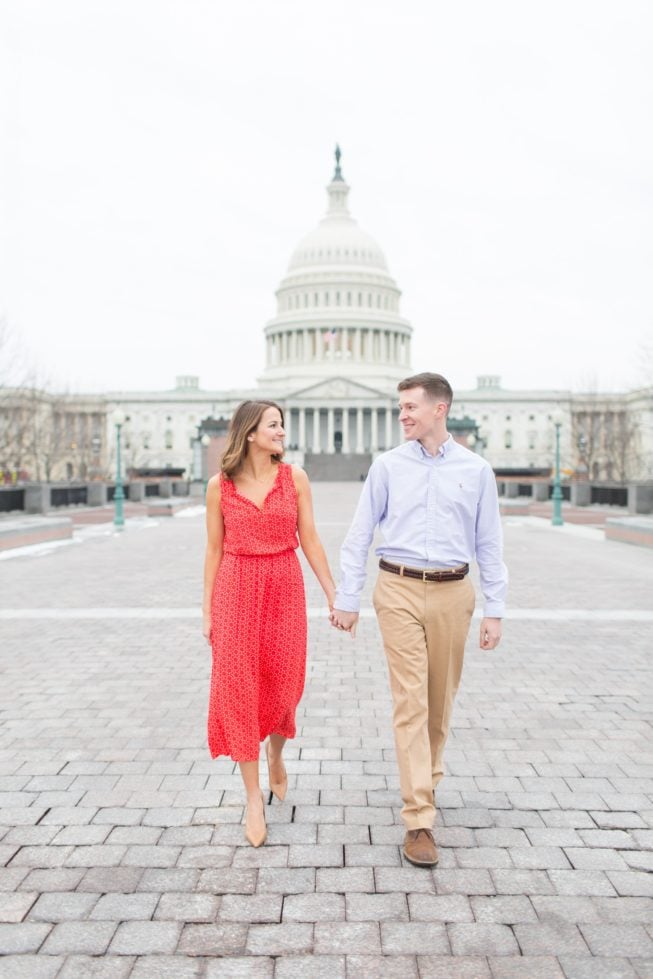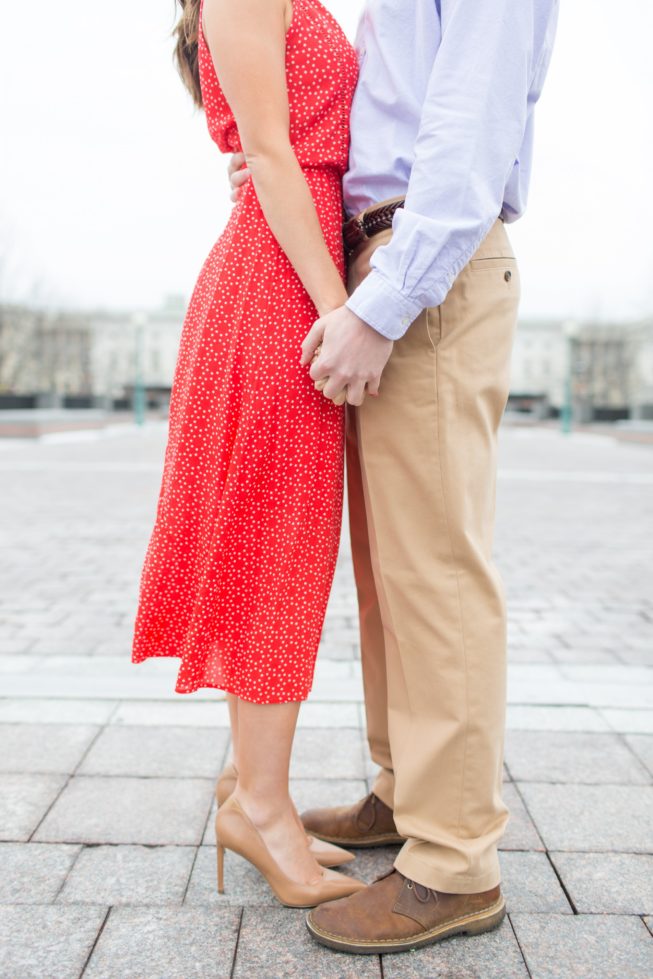 Earlier this month, Courtney and Eddie married at the United States Naval Academy Chapel and celebrated with a reception at the William Paca House and Gardens in Annapolis.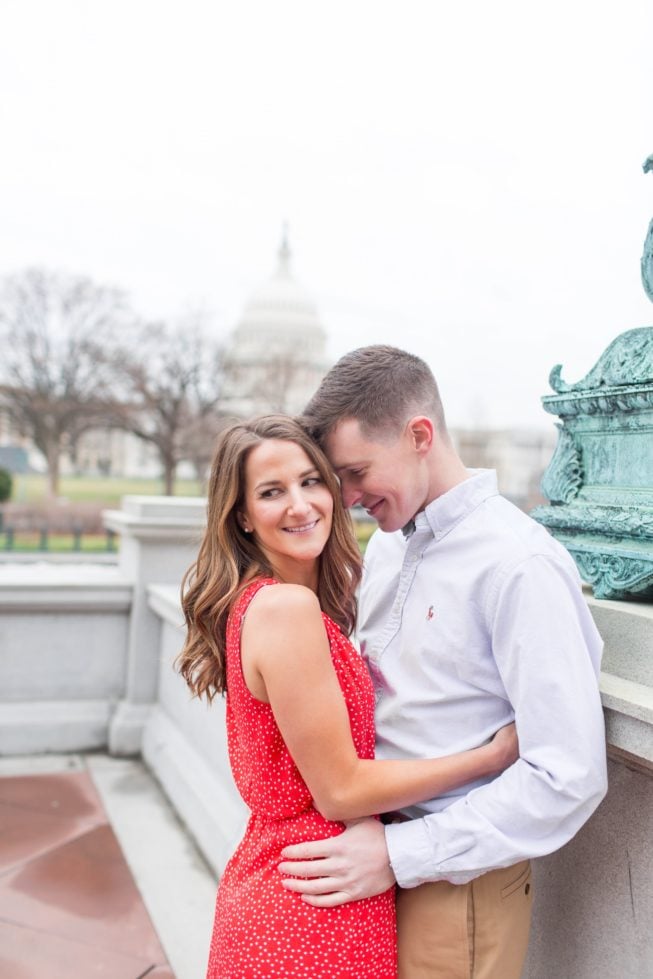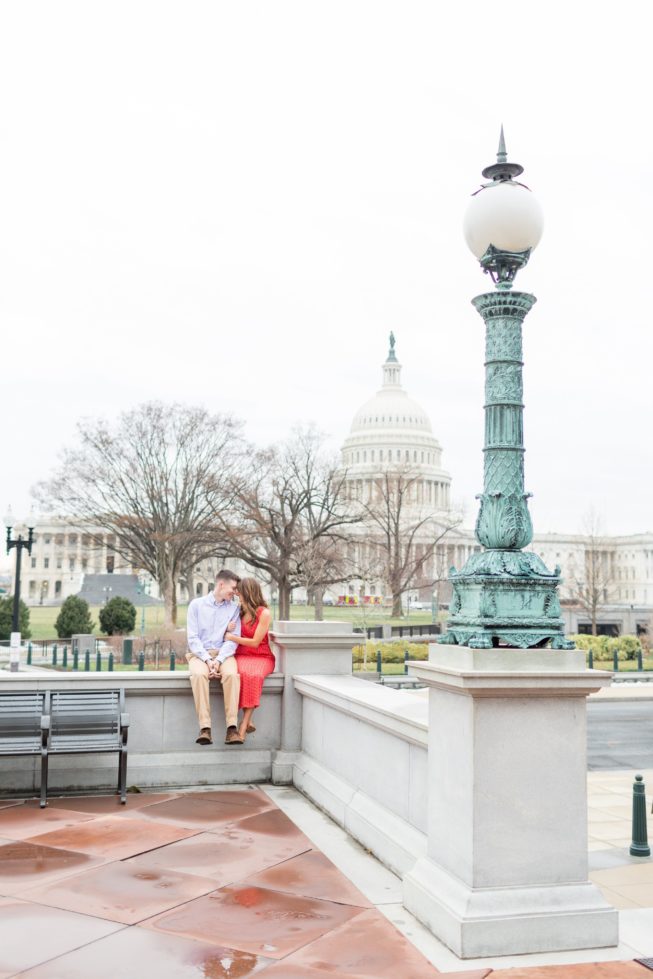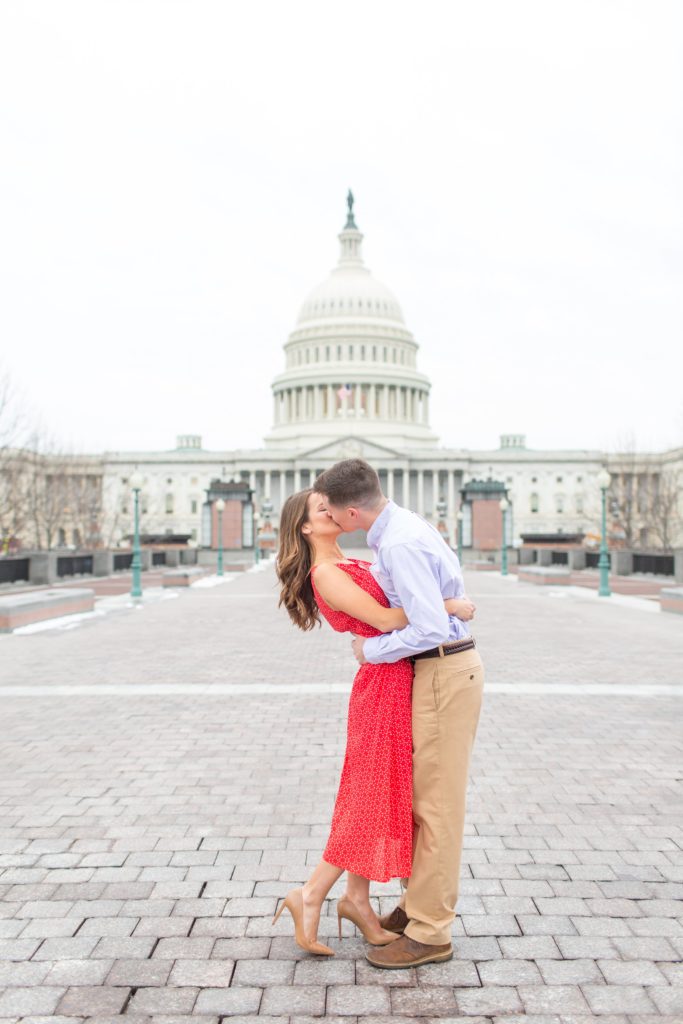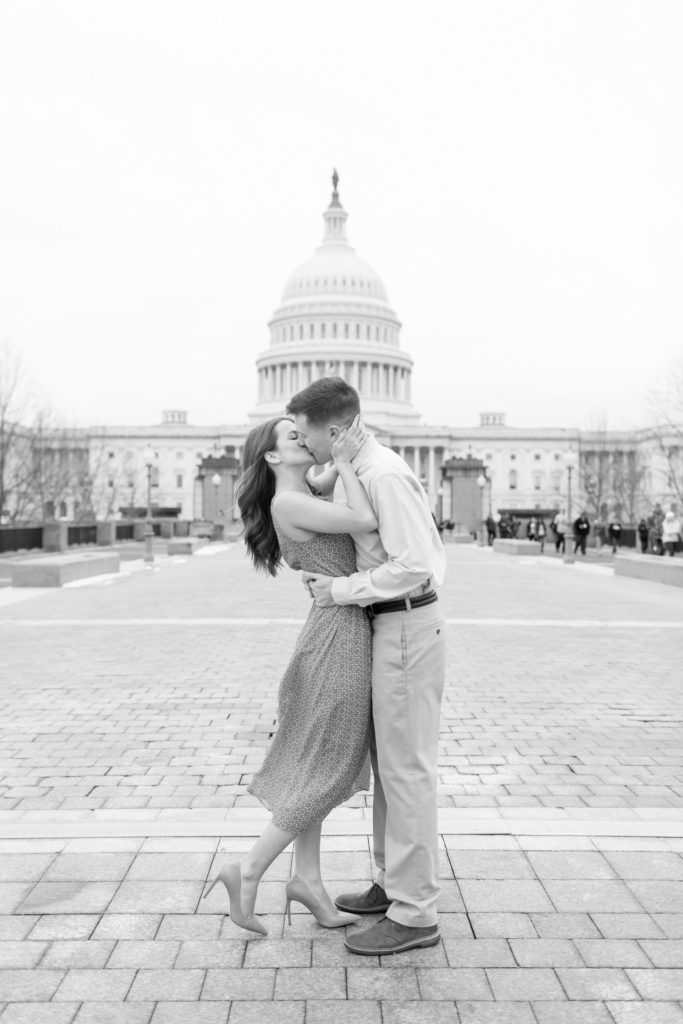 Photography: Kir Tuben