The holidays are coming, and so are out-of-town visitors. Here, four beautiful spaces to get you in the mood to welcome them.
More Is More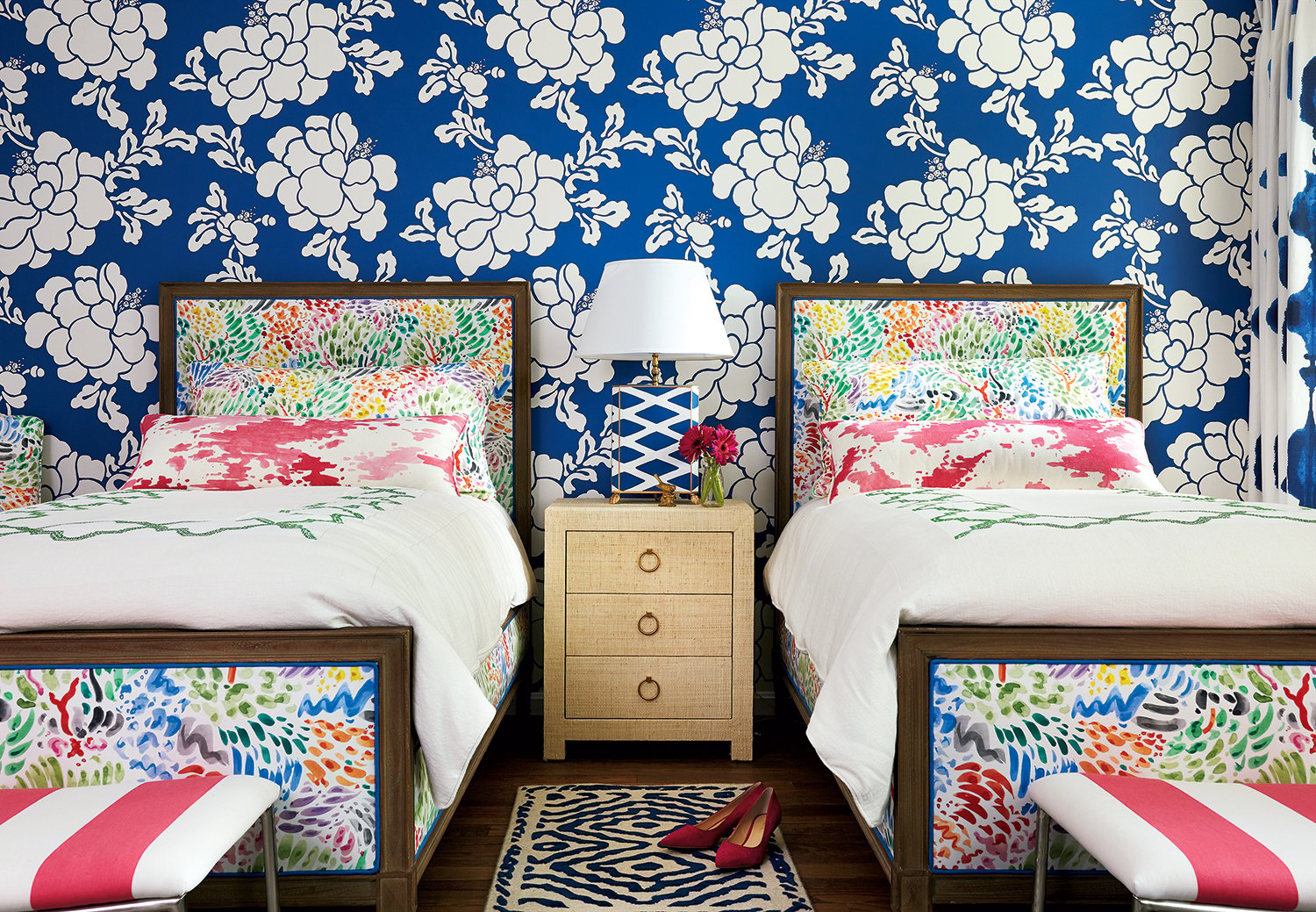 Bold colors and wild prints might be overkill in a boudoir that you snooze in every night. "But a guest room can let you have some fun," says interior designer Susan Nelson, who unleashed a rainbow of fabric, rugs, and wallpaper on her own Old Town Alexandria guest space.
Nelson, who also runs the pattern-mad Alexandria decor shop Home on Cameron, reupholstered twin Restoration Hardware beds in a brush-stroke print by Clarence House. "Because it's a small geometric, it mixes well," she says. From there, she layered in floral Dana Gibson wallpaper, Lucy Rose fabric curtains in indigo, and hot-pink accents. "It's definitely energetic. But if you love color like I do, a room like this actually helps you recharge."
Nelson's Tips:
The bed pillows should be cushy, not hard, and it's nice to have several types.
Twin beds can be more versatile. You can always push them together when you're hosting a couple.
If you've got the square-footage, a small sitting area lets guests have a cup of coffee in privacy.
Scandinavian Cool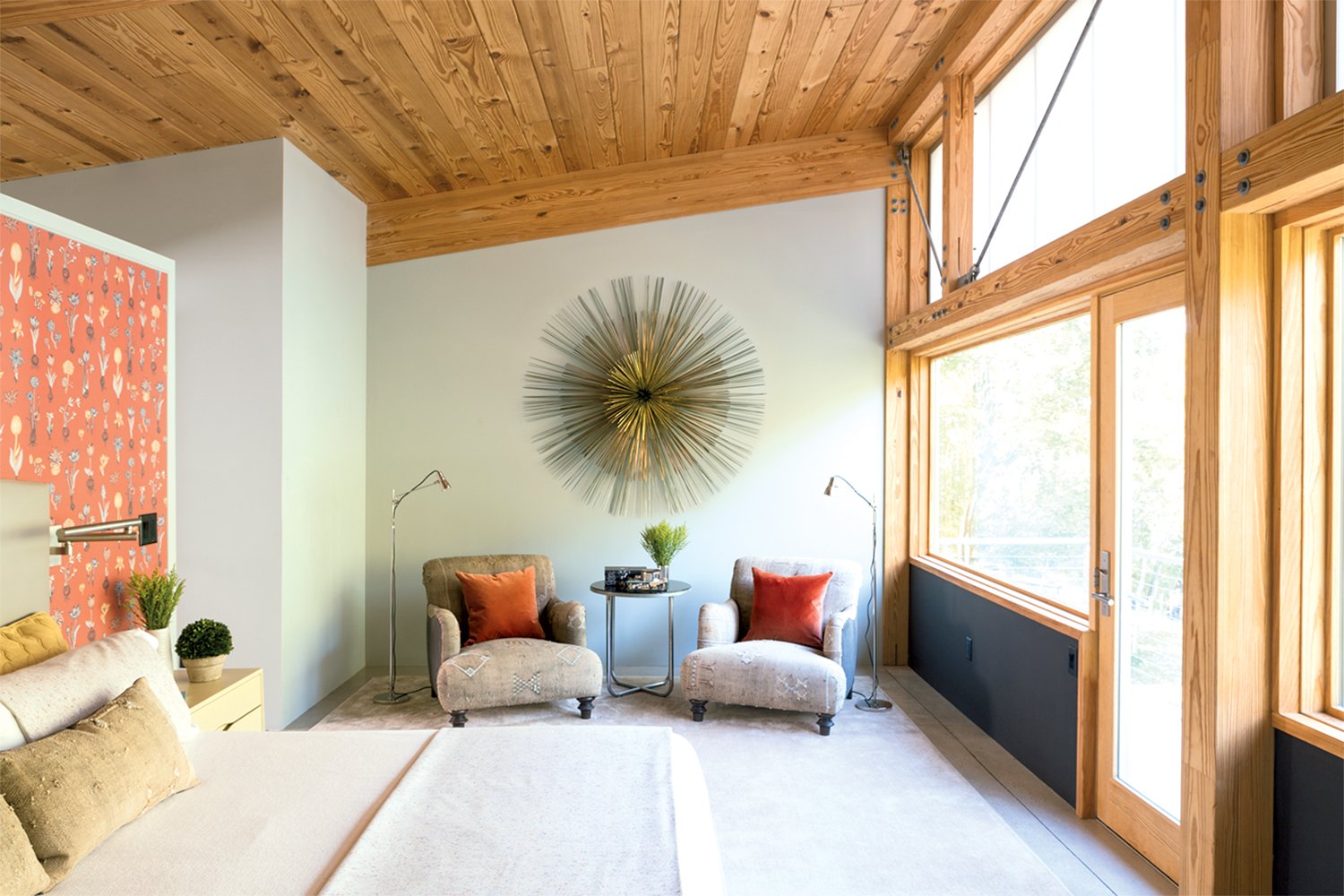 A Corsica River view, warm wood ceilings, and a flood of sunlight give this vacation-house guest room plenty of built-in advantages. So when designer Joe Ireland was called in to furnish the getaway on Maryland's Eastern Shore, his springboard was the architecture. "The owners have a Swedish background, and working with architect Greg Torchio, they created this very simple feel," says Ireland. "They wanted the guest rooms [this is one of three] to be places where a range of people would feel comfortable."
Ireland played off the concrete floors and pine beams, adding muted fabrics (vintage kilim-upholstered chairs from Timothy Paul, a greige carpet) and a 1960s brass wall sculpture he found on 1stdibs.com. But things aren't all stuck in neutral: The designer painted a pair of vintage end tables celery green and hung vivid floral wallpaper behind the custom leather-upholstered bed.
Ireland's Tips:
Even in the era of Kindles and smartphones, you still need a good reading light. Plus it creates a nice glow at night.
Don't fill your guest room with clutter. You want it to be a respite with thoughtfully chosen accessories, not an overflow spot for old knickknacks.
Quiet and Cozy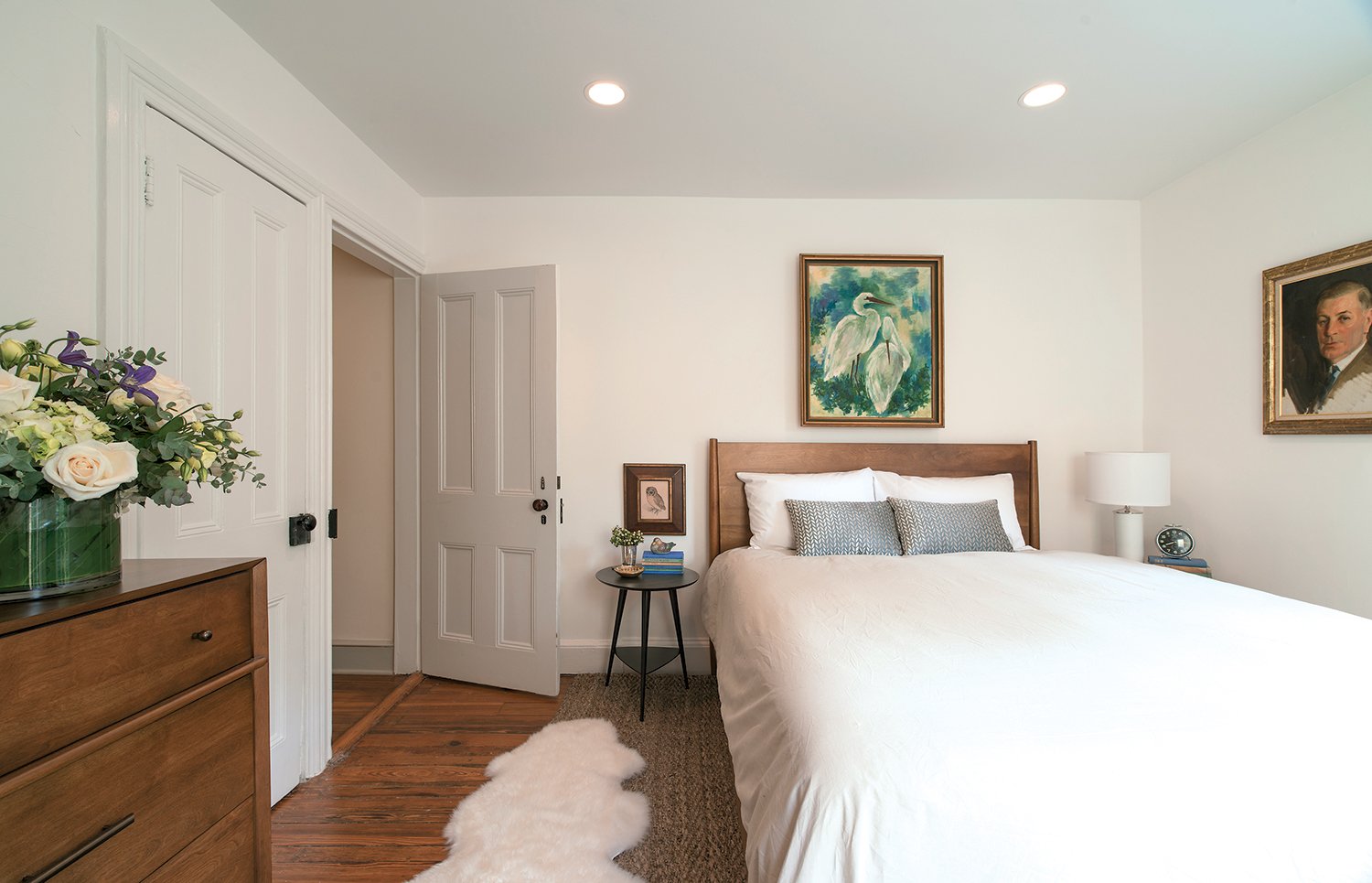 Friends and family shouldn't require a McMansion-size room to feel at home, says interior designer Annie Elliott of Bossy Color, who decked out this snug retreat on Capitol Hill: "Your visitors shouldn't be spending too much time in there anyhow—they've come to see you."
Elliott's clients, who had just had a baby, were seeking a comfortable crash spot for visiting grandparents. The designer blended vintage art—including paint-by-number landscapes and a portrait of a family ancestor—with walnut-veneer, midcentury-style furniture from West Elm. "Almost all of the color in the room comes from the art," she says. "It gives the space personality and keeps it feeling calm." A jute rug, simple bedding, and striped linen window shades reinforce the light, fresh feel. "It's mainly about different textures and keeping things restful."
Elliott's Tips:
If guests are coming, buy flowers for the dining table and re-serve some for a vase in the guest room.
It's nice to have a fuzzy place to put your feet in the morning. A bedside sheepskin rug does the trick.
Make sure there's an easy-to-reach plug so people can charge their electronics.
Merry, Not Bright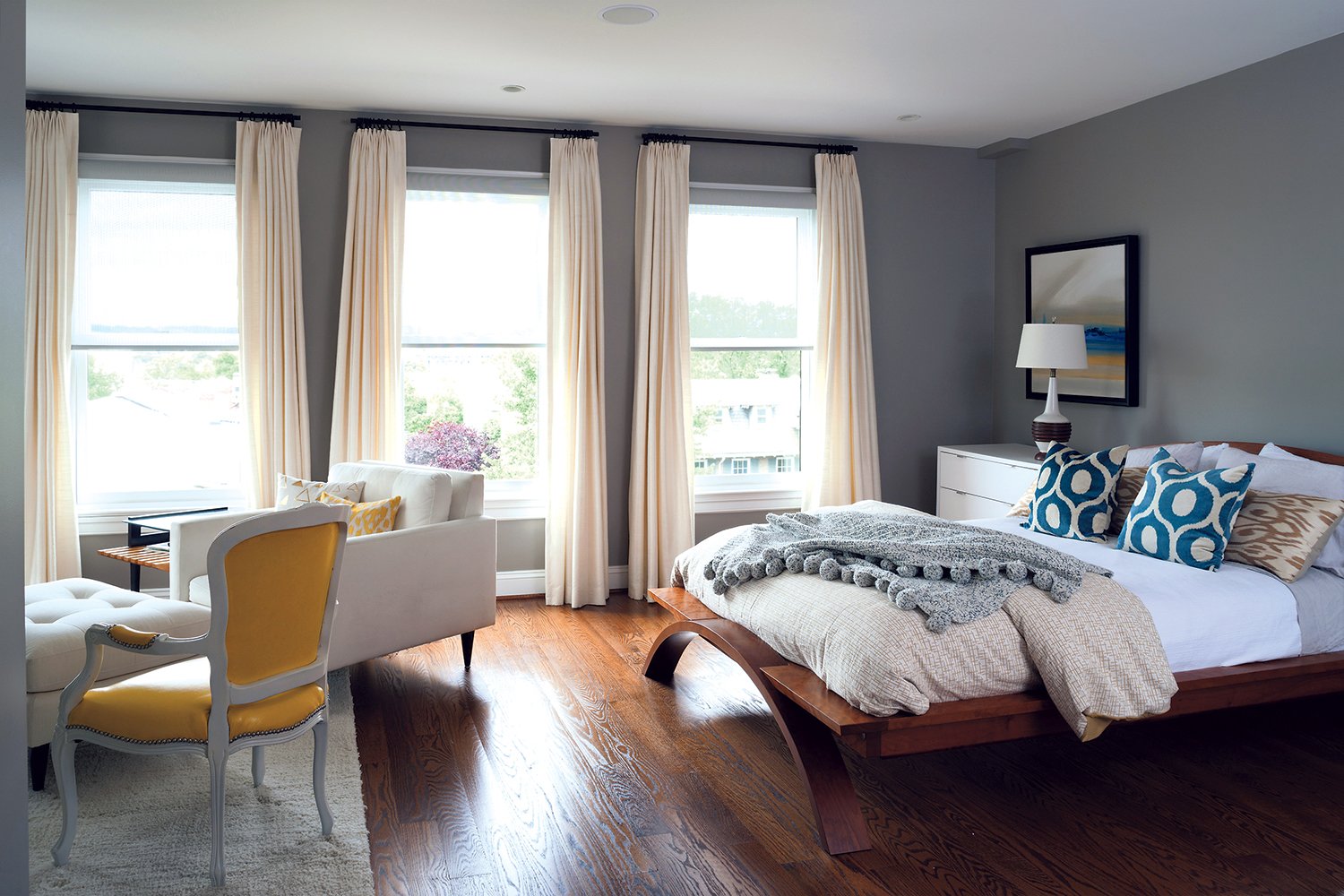 Sometimes a single piece can inspire a whole room. That's what happened when Arlington interior decorator Nicole Lanteri spotted an eye-grabbing yellow French-style chair online—the piece now stars in this glam-groovy guest escape on the top floor of a Capitol Hill rowhouse. "The clients wanted things cheery but not too bright," Lanteri says. "The chair is a nice pop." It's part of a small seating and TV-viewing area that lends the room a hotel-suite feel.
Lanteri wove in pieces the couple already owned (a Thos. Moser wooden bed frame, a mod white chair and ottoman from Crate & Barrel). Cozy touches in mostly neutral shades—such as a shag rug in the seating area and a fuzzy throw on the bed—don't distract from the room's other headlining feature: views of the Washington Monument and the Basilica of the National Shrine of the Immaculate Conception.
Lanteri's Tips:
Give people room to un-pack. "I placed a Room & Board dresser in this room just for that."
Layer the bedding—maybe a duvet, a quilt, even a throw. You never know if people will run hot or cold.
This article appears in the December 2017 issue of Washingtonian.