1. Think of the place you love most
It's a simple idea: Think of where you're happiest, and bring elements of that place into your home. In the case of this serene Clarksburg house that Lauren Liess designed for a family of four, the starting point was "on the water."
"That's where the inspiration came from—they love to travel, and they love adventure," says Liess. "The couple spent a year on a boat when they were younger."
The designer worked within a palette of soothing green, blue, and ivory. Though softer colors such as these are often associated with peaceful environments, Liess advises clients to use whatever hues they love most: "It's just how you put it together. So I always include natural elements to ground whatever color palette is going on."
In the Clarksburg house, Liess layered on the natural materials—sisal rugs, linen upholstery, plants throughout. "And then just some really great woods with different finishes. That was key in all of the spaces."
At the moment, the designer is getting her own crash course in figuring out how to find sanctuary at home. She and her husband, David, welcomed their fifth child in August. As if a new baby weren't enough, HGTV just ordered a full season of a renovation show starring the couple. In Best House on the Block—which starts production in March—the Liesses will help Washington homeowners transform their spaces.
Amid her crazy schedule, Liess says, "When I can get time with the family, that's my happy place. Food, a glass of wine, my kids and my husband, having music on. When that's happening, I feel like I have it together."
2. Build in some calm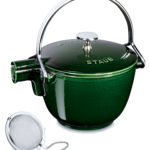 Life is hectic, but don't forget to carve out small moments for reflection. Even better if you can do it over a hot cup of tea. Staub cast-iron teakettle, $170 at Williams Sonoma.
3. Get extra-cozy

A luxurious throw makes just about any spot more comforting, whether you're relaxing on the couch or need an extra layer while working at the dining-room table. Mohair throw, $195 at hawkinsnewyork.com.
 4. Add some green
One way to put a little joy into your home?
Bring some of the outside in. We asked Holley Simmons—owner of the DC terriarium-making business Sill Life, an interior landscaper, and an all-around plant guru—how to get started.
• Why should stressed-out Washingtonians add plants to their homes?
As a plant parent, nothing compares when you see a little bud or signs of a new leaf. It's so rewarding to tend to plants and, if you choose the right ones, not at all overwhelming.
• What are your favorite plants for creating a happy environment?
I'm all about dialing up the drama, so I love tall, towering plants. They're the most eye-catching and are often the best bang for your buck. Just as in fashion, there are trends in plants. Right now, we seem to be in a fiddle-leaf-fig period, and while I love those plants, I find them to be very finicky. Plus, because they're so trendy, they can demand a high price. I've got my eye on majestic palms. When put in the right pot and setting, they can be just as classy.
• Are there strategic spots you recommend putting plants around the house?
Lighting, lighting, lighting. That's really the determining factor when you talk about placement. If you don't have ample natural light—usually strongest in south-facing windows—then I recommend snake plants or ZZ plants, which are incredibly resilient, low-light-loving, and stylish. They're a far cry from what I call "mall plants," that drab family of low-light plants you'd see in a mall or sad office building.
5. Put down the tech
These days, professional organizer Rachel Rosenthal says, clients aren't just fed up with messy closets—they also want help letting go of the technology cluttering their lives. If you can't put down Twitter no matter how much it's raising your blood pressure, consider her suggestions.
Out of Sight, Out of Mind
• If your home is large enough, store your laptop in an office or other room where you can shut the door. If you walk by, you won't have any visual temptation to log on.
• Dedicate a drawer for phones. Ask everyone to store them there during mealtime so you can actually, you know, talk to one another.
Fix Your Phone
• After 8 or 9 PM, put your phone on "do not disturb" mode, which silences calls, texts, e-mail, and other alerts. If you're worried about missing an emergency, you can adjust the settings to allow some contacts to get through (e.g., your kids) or to notify you if the same person tries calling twice.
• If you can't resist constantly scrolling through Twitter or Facebook, remove the apps. Force yourself to go to a computer—or at least take the extra step of logging on through your phone's browser—to check social media.
Create a Command Center
• Designate a central spot where you can charge your phone as well as store mail and other paperwork. Sort the paper items into folders marked "to do," "to read," and "to shred." When you plug in your phone, grab something from the "to do" or "to read" file. Not only will you accomplish something, but you might actually forget about your phone for a while.
Proceed With Caution
• They say it takes at least 30 days of building a routine to turn it into a habit, so start slow. Be honest with yourself about what's working. Better to take baby steps than get frustrated and give up altogether.

6. Make it smell great
Stock up on a few varieties of these Virginia-made soy candles so you can pick scents to match your mood. (It'll make you even happier to know a portion of sales goes to animal rescue.) Sydney Hale candle, $30 at Salt & Sundry.
7. Turn up the tunes
Go clutter- and cord-free with a minimalist bluetooth speaker. Your favorite playlists and a smartphone are all you need to give your morning an extra boost or to ease into your nightly wind-down. Vifa "Helsinki" bluetooth speaker, $449 at vifa.dk.
8. Make room to meditate
With its soothing lighting and total silence, the DC meditation studio Recharj has the ideal setting for finding Zen. Want to create a similar space in your home? Recharj senior meditation instructor Lu Hanessian offers these steps.
Set Aside a Space. If you don't have an entire room to dedicate to meditation, Hanessian recommends a shoji screen to divide a room, designating a space for meditating. Next, "decide whether you feel more comfortable with your back to a window, a wall, or a corner." You'll arrange the rest of the space according to how you're oriented.
Select Your Props. Start with your favorite blankets, cushions, or throw pillows. Then add pieces that represent a sense of calm—Hanessian likes including a blue vase or a fresh sprig of lavender in a bowl. Finally, select pieces that "promote a sense of well-being through association," she says. "Define your calm space in three adjectives: How do you want to feel? Go through your home and gather pieces that represent these feelings."
Test It Out. Arrange the objects in whatever way feels best. "This quiet space doesn't have to be specifically for meditation but can be thought of as a kind of personal comfort zone to reclaim peace and tranquility," says Hanessian. "Even a few minutes a day can change our perspective."

9. Add something beautiful
Brighten a bare wall, plus support the local art community, with a colorful piece by DC artist Lanie Mann. Price on request at laniemannart.com.
10. Get better sleep
As long as you don't suffer from a diagnosable sleep disorder, you can improve your bedroom's slumber power with some relatively easy fixes. Dr. Vivek Jain, director of George Washington University's Center for Sleep Disorders, has the following tips.
Don't bring work into the bedroom. Leave your screens (cell phones, laptops) at the door, and make sure you have a demarcation between work and sleep environments. Part of the reason people sleep poorly is because of that lack of boundary.
Set the thermostat and humidifier. Most patients report their ideal temperature for sleep to be between 65 and 70 degrees, with 30 to 40 percent humidity.
Invest in blackout curtains. In general, darkness is good because it lets the brain secrete melatonin. Blackout curtains can make a big difference for people who live in the city, where light can otherwise be inescapable.
Install dimmer switches. Start dimming your lights even before your natural bedtime. To help transition from wakefulness to sleep, create an environment of semidarkness to more darkness to complete dark.
Use cotton sheets. The body's internal temperature has to start dipping before we fall asleep. Cotton allows your body to aerate, losing heat and moisture.
Reduce allergens. One thing people forget is that allergies can affect sleep. If you suspect you suffer from them, buy bedding in hypoallergenic material and wash your sheets—especially pillowcases—at least once a week. Swap out carpet for bare-wood floors wherever you can.
This article appears in the January 2018 issue of Washingtonian.