These families designed spaces especially for their four-legged members.
Fine Dining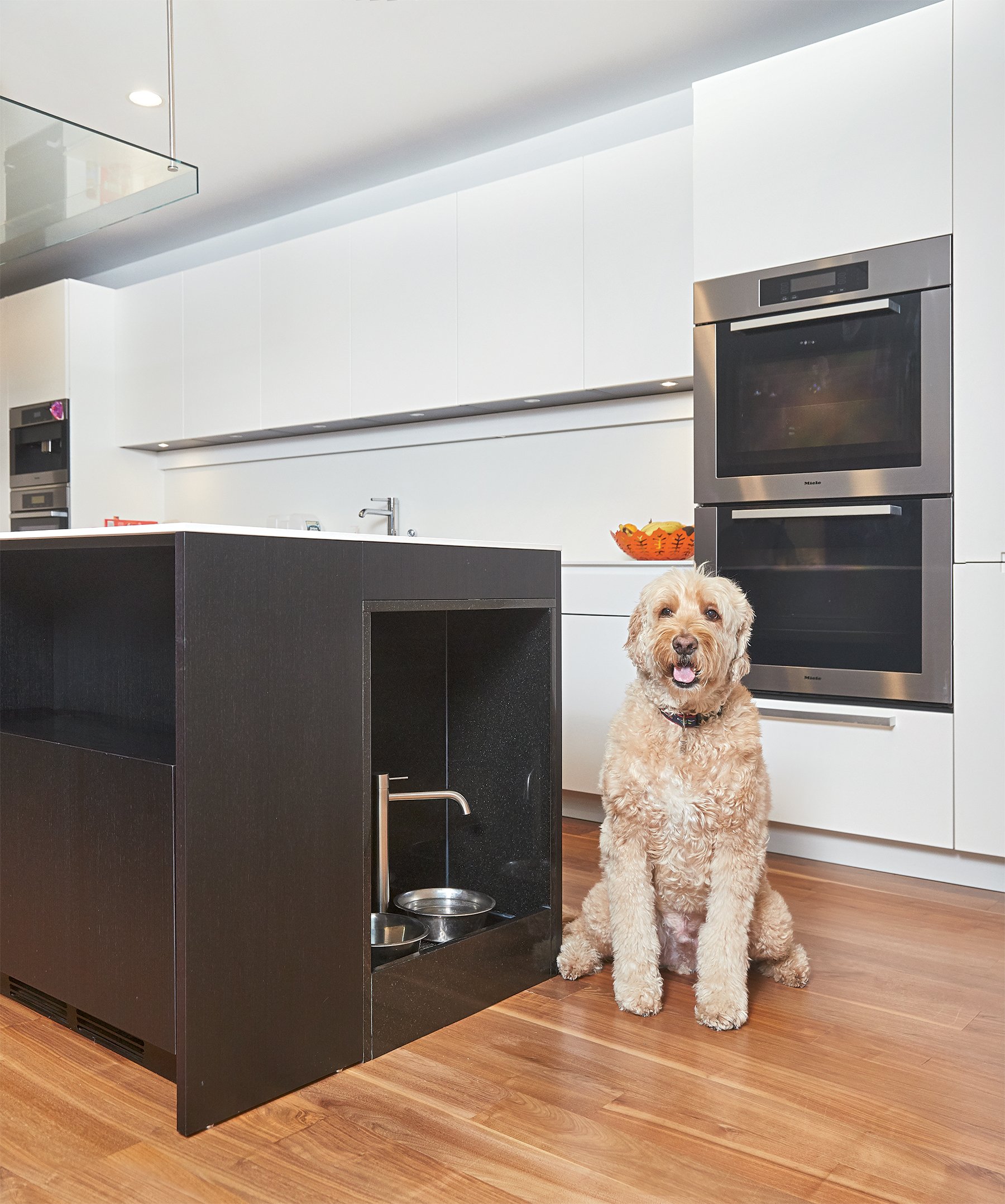 This slick Georgetown remodel proves that "pet-friendly" can actually be sophisticated.
For homeowners Kellee and Sean Glass, there was no question they'd consider their goldendoodle while they remade their historic rowhouse with the help of architect Robert Gurney. "Sawyer was our first baby," says Kellee.
During construction, the family stayed in a smaller residence where they often found themselves tripping over Sawyer's bowls. "Water would go flying and food would go flying," says Kellee. "It only got worse when the children were moving around, walking and bumping into each other." Thus, the idea for some kind of built-in area in the new house where Sawyer could dine in peace.
Gurney worked with the Italian design firm Boffi to dream up the home's black-and-white kitchen. They included deep drawers, perfect for dog-food storage. "It's all centralized in one area," says Boffi's Julia Walter. "It just makes everything very easy." And they tucked Sawyer's feeding station into one end of the nearly 30-foot-long island.
Not only does the custom cabinetry neatly contain the dog's dishes, but Gurney had the idea to install a faucet so the water bowl can stay put while it gets filled. The family's black cat, Coco Chocolate Ice Cream Puff (Coco for short), also stops there to hydrate.
No More Muddy Paws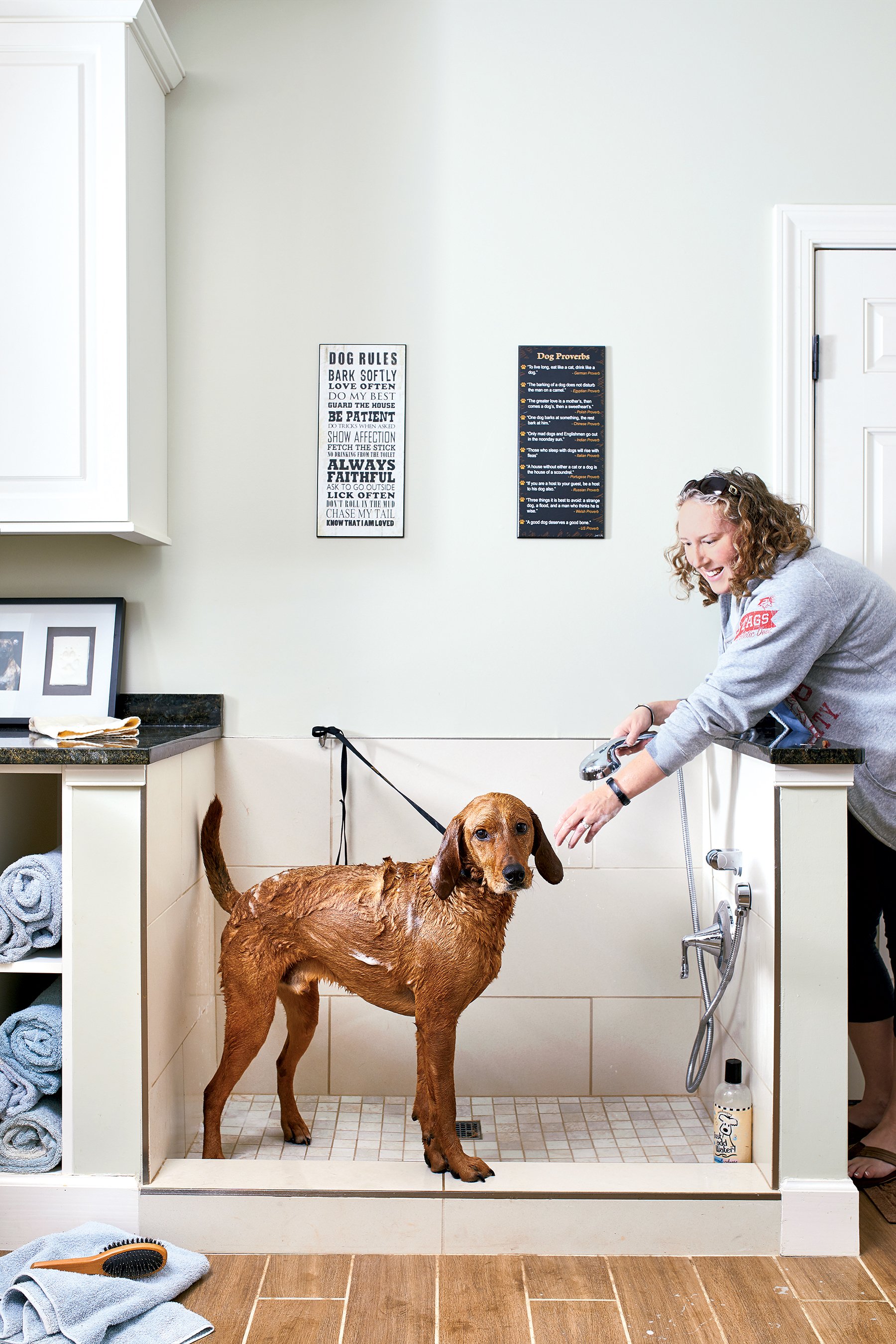 Meg Sappington adopted her mutt Bruno when she was single and just a couple of years out of college. "He was kind of a mess," she says. "He had some discipline issues."
Bruno forced her to learn much more about pet care and dog behavior than she'd bargained for, but in the process, Sappington says she found her calling. She now runs her own dog daycare and boarding business, the Board Hound, in Arlington. By the time she and her husband, Brandon, were building their home in Falls Church, they were up to three dogs—including now 14½-year-old Bruno—plus a horse. So, with Francisca Alonso of AV Architects and Builders, they designed a mudroom with the four-legged family members especially in mind.
On one side, they installed a dog shower that lets them wash the animals after hikes or romps in the yard before the pets make a mess in the rest of the house; it includes a tether so the dogs can't run off. On the opposite side of the room, Alonso built a wall of storage that houses pet supplies, and she added a washer and dryer exclusively for horse blankets and muddy dog towels. (A laundry room for human stuff is upstairs.)
An unexpected perk: Meg says friends often stop by with dinner, wine, and one request—"Can we give our dog a bath here?"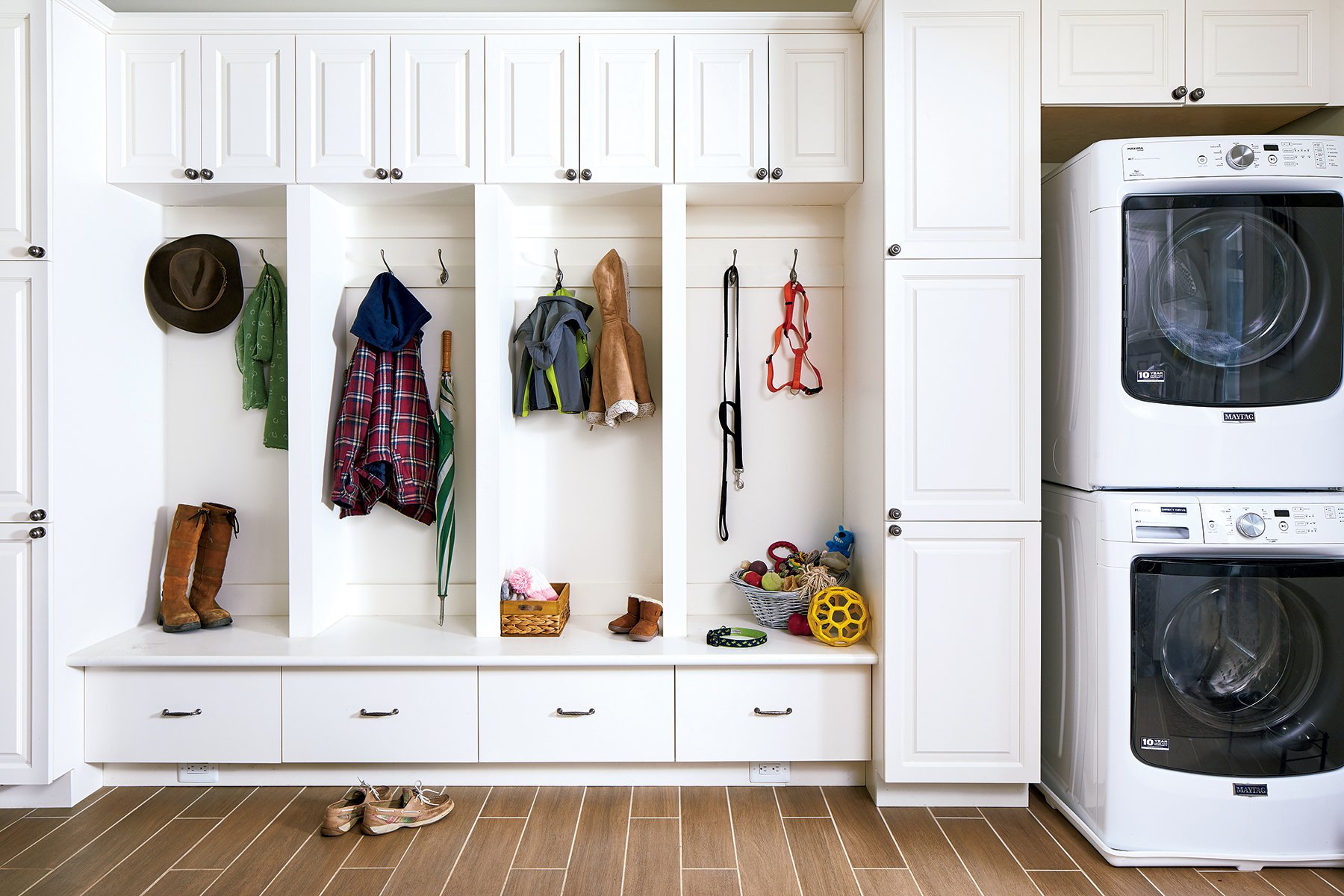 This article appears in the February 2018 issue of Washingtonian.