A guide to the newest places to eat and drink.
Major changes are in the works for chef Victor Albisu and the Penn Quarter space that houses his South American grill, Del Campo. The Latin restaurant, his first, will close on Saturday, March 24 after nearly five years. Taking its place are two concepts from the restaurateur: an all-day DC location of his popular taqueria, Taco Bamba, and Poca Madre, a new high-end Mexican restaurant.
"It's not goodbye, it's a 'see you soon' kind of thing," says Albisu, who's actively looking for a new space in DC for Del Campo. "It was never meant to be a white tablecloth, 200-seat behemoth. It needs to be a bit more rustic. It has to have a bit more of that South American grit to it."
Albisu revamped the sprawling 6,000 square-foot space last year, trading linens and downtown steakhouse prices for a more modern look and menu of share plates alongside pricey meats. It wasn't until he tested out a lunchtime pop-up version of Taco Bamba in Del Campo's bar that he saw the potential for duel concepts in one space. Pair that with a culinary research trip to Mexico City, and a new plan was born.
"When you go to Mexico City, there's the street food that you feast on all day long, and then there are high-end restaurants you go to at night," says Albisu. "That mid-level doesn't exist as much, and that's what struck me." 
Designer Maggie O'Neill of Swatchroom, the aesthetic talent behind a string of DC bars and restaurants (Morris, Sakerum)  has been tasked with creating two distinct spaces with separate entrances and patios. Taco Bamba, opening the week of April 2, will inhabit the front bar and dining room. Like the three existing Northern Virginia locations, the fast-casual taqueria will serve morning to night with breakfast items, sopes, torta sandwiches, and a mix of classic street tacos and new-wave creations that nod to the neighborhood (think a Chinatown kung pao shrimp taco). The bar will pour Mexican and local beers, margaritas, and cocktails.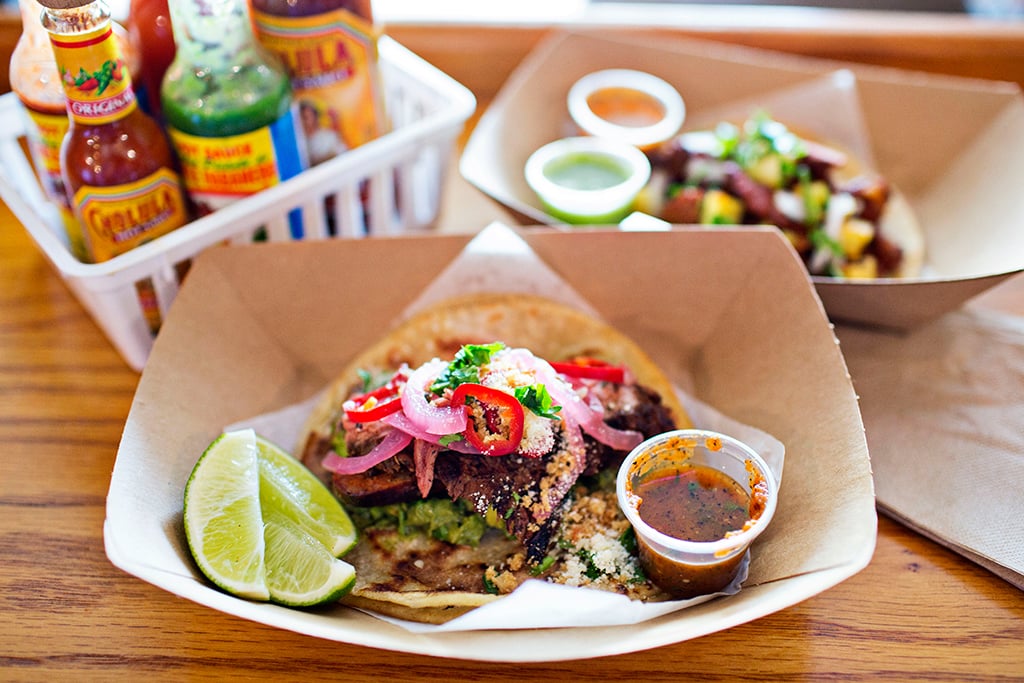 Contrast the street eats style to Poca Madre, which will take over the back and side patio of the existing restaurant later in April. Albisu says the 70-seat, dinner-only concept will have a modern, high-end feel that's unlike any other Mexican spot in DC. As he puts it: "We're taking the traditional and turning it on its head."
"We want to serve an amazing elevation of regional and indigenous food—foods from the Yucatan, Oaxaca, and different parts of Mexico," says Albisu, who took inspiration from renowned Mexico City restaurants like Pujol. "A lot of Mexican food is common. We want to make sure we honor it and make it uncommon."
The menu is still in the works, but Albisu says his team is playing with ceviches, crudos, moles—a "mother batch" is already brewing—and plenty of luxe ingredients. Dishes may include roasted Iberico pork pibil, chili-laced langoustines, and Mexican-spiced tomahawk steaks served with burnt onion tortillas ("like a fajita, but much more refined"). The bar will serve a variety of tequilas and mezcals, but Albisu says he's avoiding the "volume and margarita vibe" associated with mid-level Mexican. For that, there's Taco Bamba next door.
As for the name, Poca Madre is a popular slang term in Mexico City meaning 'cool' ("Maybe a little rougher," adds Albisu). A native Washingtonian of Cuban and Peruvian descent, he says the phrase always appealed to him because it doesn't entirely translate—in English it's 'less mother.'
"It reminds me of my mom in an abstract way," says Albisu. "When we opened the first Bamba she was like 'We're not Mexican, why are we doing it?' I didn't know, I was just feeling it. And I made her a believer. She's my Latin mom, so she defends me tooth and nail." 
Taco Bamba (opening the week of April 2) and Poca Madre (open in late April). 777 I St., NW.