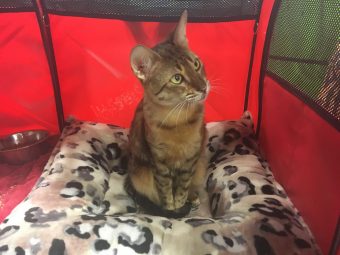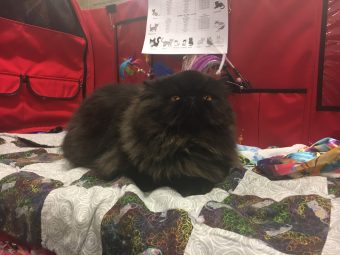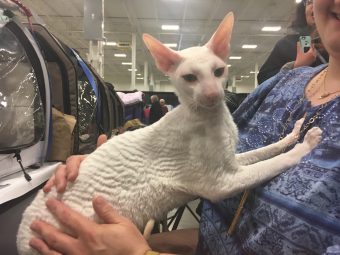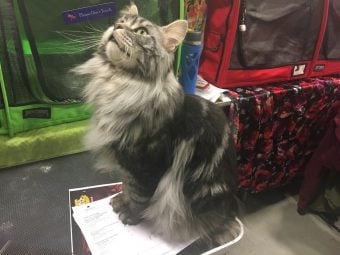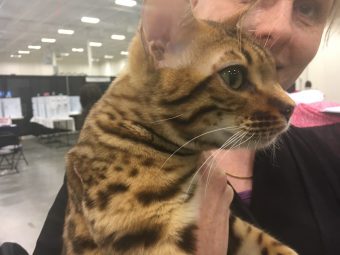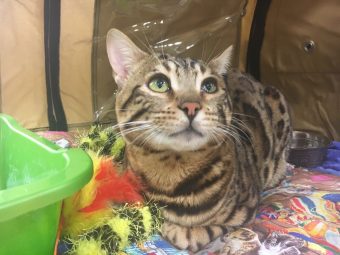 Dogs have their run of the joint at this past weekend's Super Pet Expo in the Dulles Expo Center. Canines trotted around the tables for all manner of pet accoutrements, as well as animal blood banks, doggy resorts, and creature welfare groups. They could even explore Repticon, a specialized exhibit room for reptiles and exotic animals that features 
tables filled
 with take-out containers of living, breathing snakes, along with shirts that say things like, "Just One More Gecko I Promise."
But there was one place they couldn't go.
"CAT SHOW," signs at every entrance to the NoVa TICA cat show says. "NO DOGS ALLOWED PLEASE." The main entrance has a huge inflatable cat with a solemn face standing guard. Compared to the rest of the Super Pet Expo, it was as quiet as a library.
TICA stands for The International Cat Association, which licenses shows for its chartered cat clubs, like its Northern Virginia branch. This is a "bring your own cage" show, and owners pay a fee an entry fee with the lure of cash prizes for the "People's Choice" and feline agility contests. Each cat competes in an individual judging ring, separated by age (kittens become cats at 8 months, per TICA) and pedigree, among other characteristics.
This show had 18 rings over the course of three days. TICA judge Adriana Kajon explained to the crowd that, while feline physical features matter, the most important factor in her decisions is personality. "Our ultimate mission as breeders is to provide somebody with a great companion," she says.
So who are some of these winning personalities? We caught up with a couple of the ribbon-earning cats and their owners to learn more.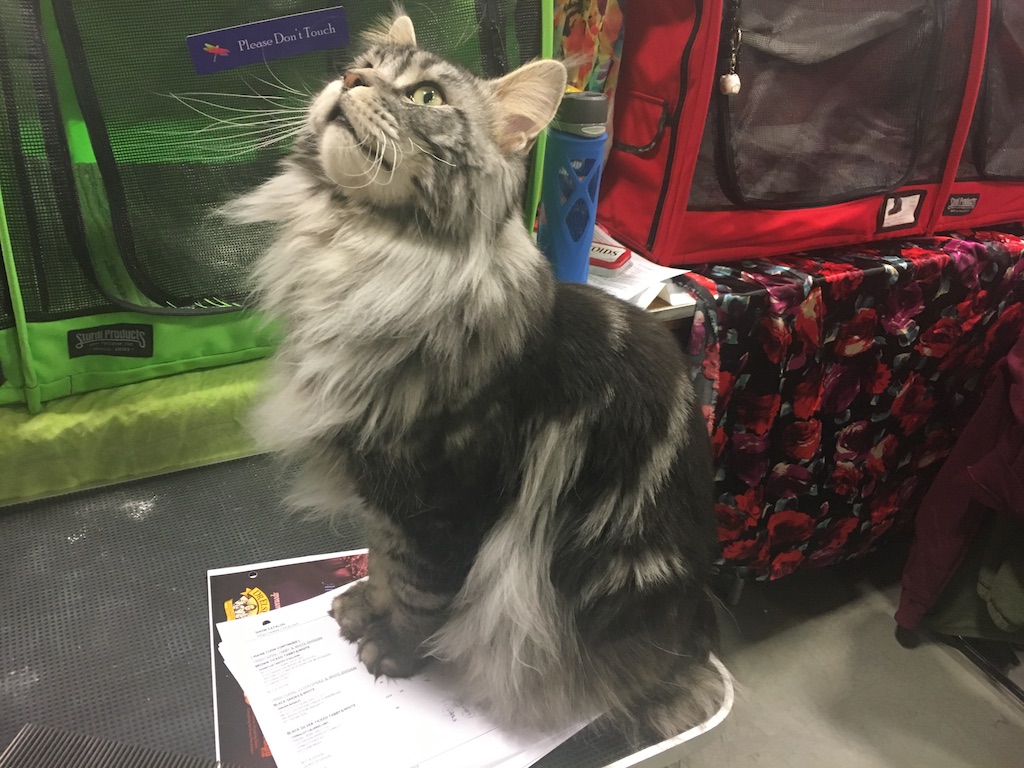 Name: Dracoonfly Prince Fergus
Breed: Maine Coon Cat
Home: Ledyard, Connecticut
Personality: "He's like a big goof. He's very talkative but he doesn't meow—he chirps, like all Maine Coons. He's very into people. He has to help people. He had to help me pack for the show. He has to help me brush my teeth. He's very engaged," says owner Sharon Stegall.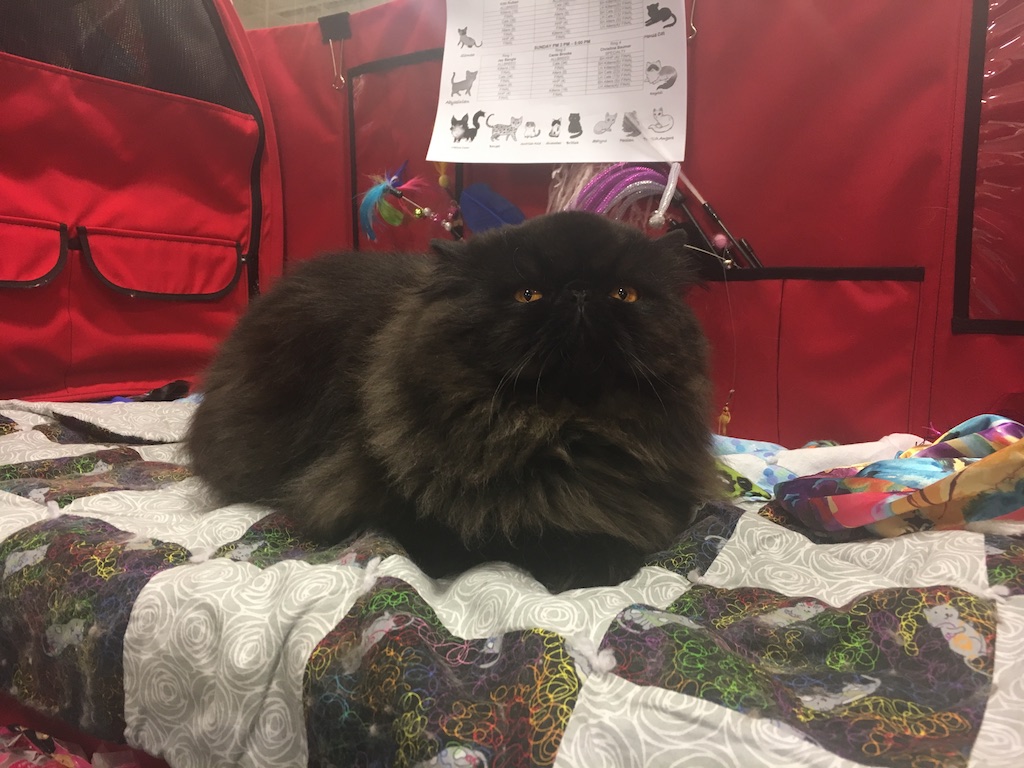 Name: Riverbends Kumbaya of Gil-v-tales
Breed: Persian
Home: Raleigh, North Carolina
Personality: "He's very laid back, playful, loving. He's a nice companion," says Lauren Gilvey, who co-owns Riverbends Kumbaya of Gil-v-tales with her husband, Scott.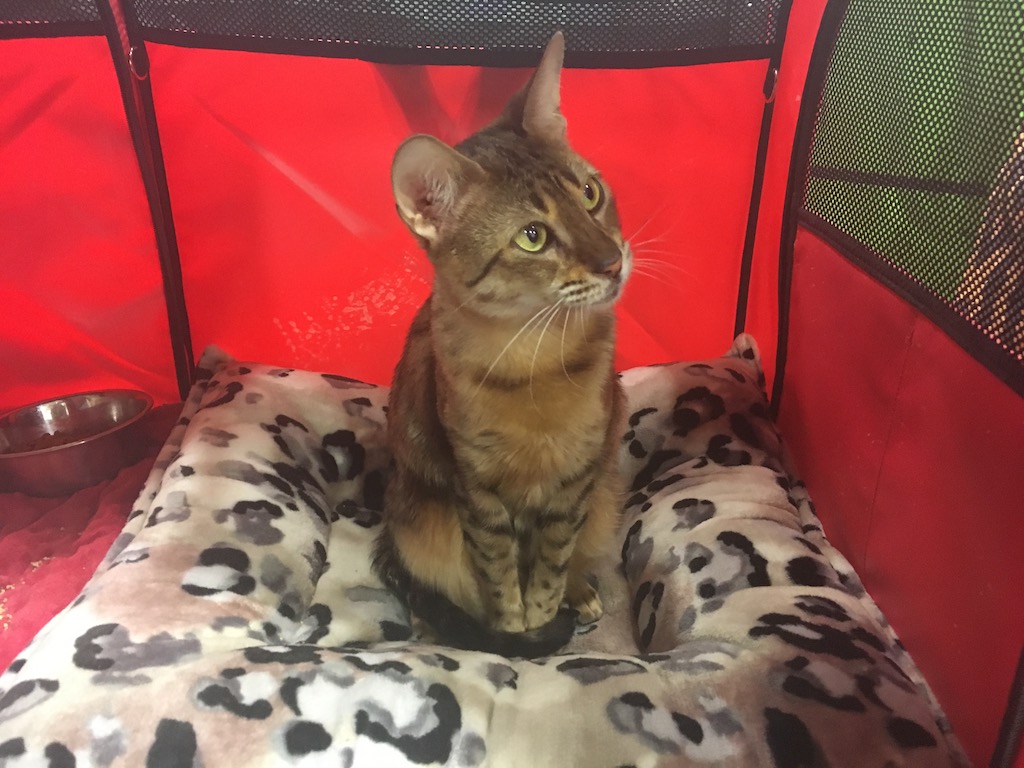 Name: Black and Spicy
Breed: Savannah
Home: Orange County, New York
Personality: "She's very energetic. She plays with the judges. She's very friendly, very personable—a very social cat," says Robert Rohrbaugh, who co-owns Black and Spicy with his wife, Janet.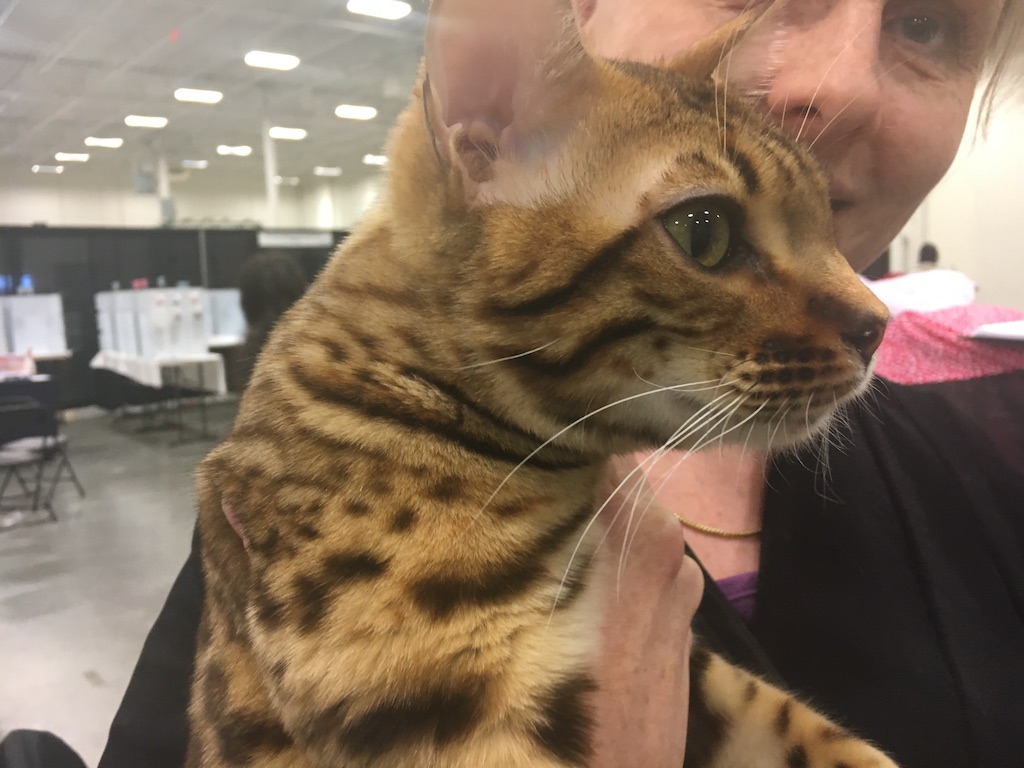 Name: Jungletrax Essential Elements
Breed: Bengal
Home: Richmond
Personality: "He's a very sweet cat. He loves kids. Like all kittens, he's high energy," says owner Emily Avesian.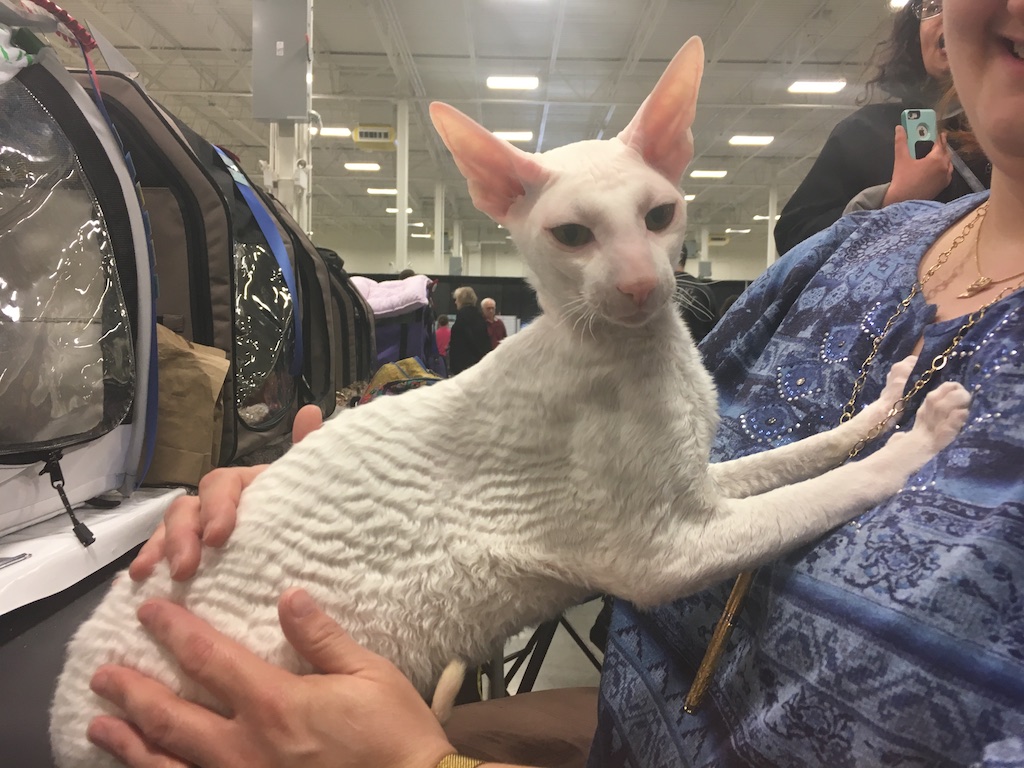 Name: Winston
Breed: Cornish Rex
Home: Hollywood, Maryland
Personality: "Cornish Rex—they just want to be where you are. They never meet a stranger. People say it's like a monkey in a cat's body. They look fragile but they are the exact opposite. They're heat seekers. They love to sleep with you, burrow in the blankets," says owner Tiffany Oliveras.

Name: Casanova
Breed: Bengal
Home: Baltimore
Personality: "He's very friendly, very cuddly. He loves everyone. He gets along with a pitbull, a corgi, French bulldogs. He's very awesome," says owner Christin Friend.