Georgetown nightlife is coming back—at least according to the owners of Church Hall, a massive new 7,000 square-foot bar opening in the former Georgetown Park food court tonight. 
The venue comes from Tin Shop, the group behind big beer-and-games spots like Franklin Hall near 14th Street and Chinatown's Penn Social. With a recent lift on a decades-long liquor license moratorium in Georgetown, owners Geoff Dawson and Peter Bayne knew they wanted to do something west of Rock Creek.
"This is the rebirth of Georgetown," says Dawson, citing neighbors like Jose Andres' forthcoming America Eats Tavern, Chez Billy Sud by the Hilton brothers, and the combo of Grace Street Coffee and South Block Juicery. In recent years, longstanding neighborhood haunts like Chadwicks and Rhino have shuttered their doors as nightlife scene moved east to U Street and Shaw.  But Dawson, a DC native who grew up in Georgetown, says things are far from the end.
Church Hall is designed for a crowd with long tables, board games, and a setup with multiple TVs and bars. A lounge area filled with leather couches, fireplaces, and chandeliers lends that posh Georgetown touch.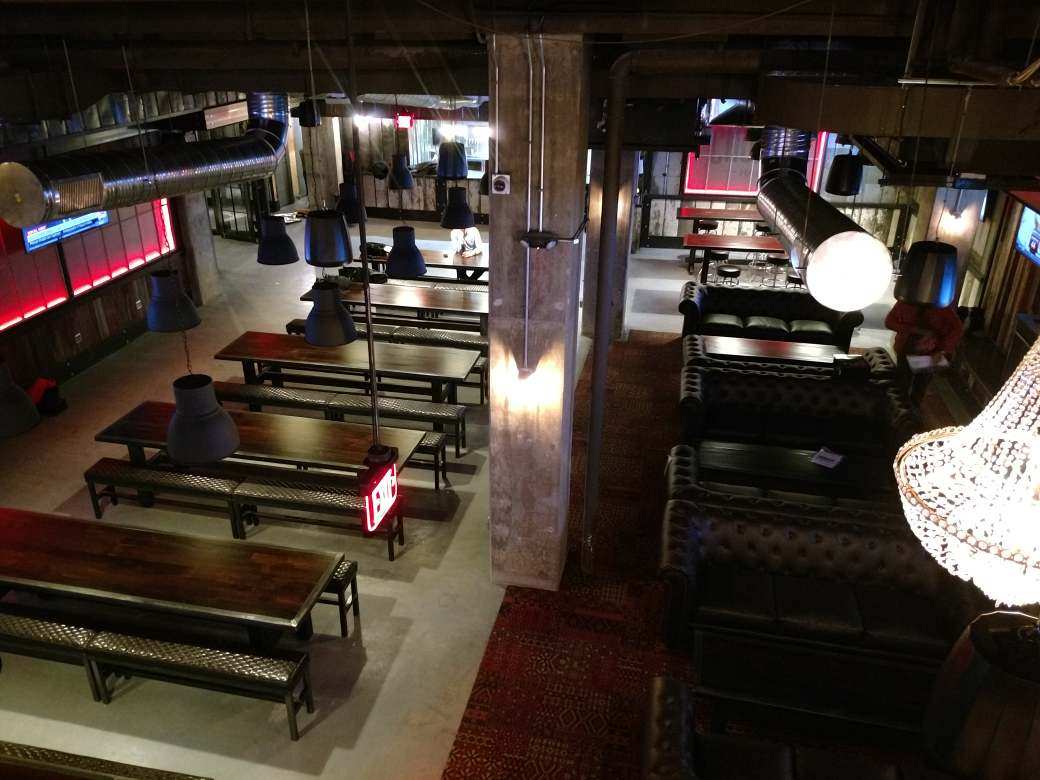 Looking around, it's hard to remember you're in subterranean space that once was a food court—Bayne says he remembers coming to Benihana there as a kid. The refurbished space can hold 274, with a mezzanine overlooking the main floor and a ceiling that soars cathedral-like over the space (hence the name). 
That's where the holy similarities end. Drinkers can choose from 32 rotating beers on draft, wine, boozy slushies, and draft cocktails (a cherry blossom gin and tonic and a hibiscus John Daly are up first). The menu's focus is bar food with a twist, with options like sweet potato tater tots, a chicken-waffle sandwich, and funnel cake. 
Everything is self-service to make things easy and casual—no flagging down a waiter to get another beer. They want it to be more of a gathering spot than someplace where you sit down, eat, and leave. It's a vibe they say is sorely needed in the area.
"[Georgetown] lost this nightlife, and I feel like it misses it," says Bayne. "Being able to come back so many decades later and make that happen and talk to people about it—it's fun."
Church Hall, 1070 Wisconsin Ave. NW