Date-Worthy Rambles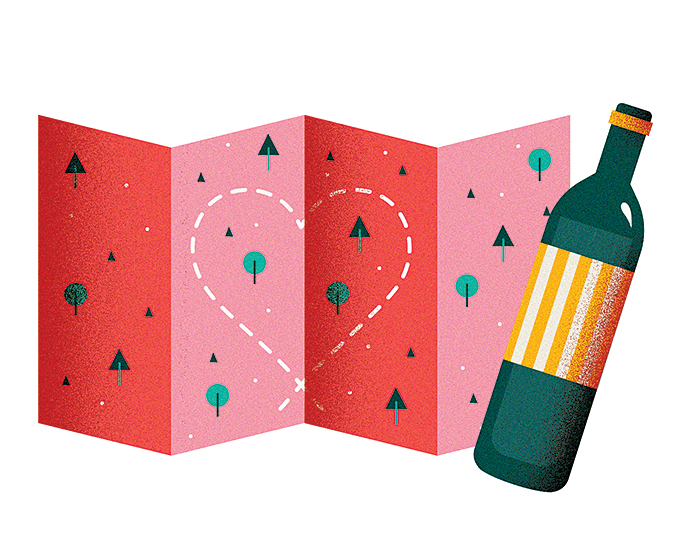 Sky Meadows State Park
Delaplane, Virginia
1.5 to 7 miles round-trip
Moderate to challenging
Grab your sweetie by the hand and head up the wide-open ridge at Sky Meadows to the Piedmont Overlook—and one of the best views of Virginia's green hills this side of Shenandoah National Park.
To the overlook and back is 1.5 miles. For more of a challenge, try the four-mile loop up the South Ridge Trail and through scenic forest to the North Ridge Trail and Piedmont Overlook. Benches and rocks offer perches to soak up the view. Finish with a relaxing glide back down the open ridge.
The park's 22 miles of paths include a portion of the Appalachian Trail. You can pick up a map when you pay the entrance fee ($5 a car). Watch for special events at the park, including trail runs, stargazing, and an annual Strawberry Festival on Memorial Day weekend.
For more on the park, see dcr.virginia.gov/state-parks/sky-meadows.
Immediately south of Sky Meadows is the 4,000-acre G. Richard Thompson Wildlife Management Area. Go in May when vast numbers of wildflowers bloom—trillium in particular. Start at the Trillium Trail kiosk midway up the west boundary, off Freeze­land Road (Route 638). For the 1.2-mile Marjorie Arundel Wildflower and Birding Loop, walk down the fire road, go right on the Tower Trail, left on the AT, and left on the fire road, which will bring you back to the start. For more information and a map, visit dgif.virginia.gov/wma/thompson.
Afterward, you could toast the day at one of more than a dozen wineries in the vicinity. We're partial to Blue Valley Vineyard, Cobbler Mountain Cellars, Delaplane Cellars, and Three Fox Vineyards.
Mural Tour
Downtown DC
2 miles
Easy
Dozens of terrific street murals have appeared across the District in recent years. One of our favorite jaunts is a two-mile tour of the works concentrated along the U Street corridor and Blagden Alley.
Begin at New Hampshire Avenue and U Street, Northwest, where you can't miss a muzzled George Washington—perhaps protesting DC's lack of a vote in Congress. Head east to check out the splash of celebrities outside Ben's Chili Bowl, near the U Street Metro. Peek inside the alleys along U for more interesting finds.
At Ninth Street, continue southeast along Florida Avenue toward Sixth Street for more, including "Girl With Monkey." Swing back west via S to Seventh for a tribute to DC's own Marvin Gaye, crooning near the corner. Then continue down to Seventh and Q for a stunning mural of Liz Taylor eyeing the street from Dacha Beer Garden.
Keep following Seventh to N, jog right a little past Ninth Street, then turn left into historic Blagden Alley for a surprising dis­play of more excellent works. You could sit and chat about what you've seen at one of Blagden's restaurants, bars, and coffee shops. Metro is close by at Seventh and M.
For more information, including artist bios, see muralsdcproject.com.
Bring Binoculars

Crow's Nest Natural Area Preserve
Near Stafford
1 to 8 miles round-trip
Easy to moderate
The new Crow's Nest Natural Area Preserve—a nearly 3,000-acre expanse of mature forest and tidal marshes in Virginia—opened just a year ago, with eight miles of well-maintained trails. A narrow gravel road climbs to the main parking area, where you can snag a trail map.
As the name suggests, it's a birding delight. Located between the Accokeek and Potomac Creek estuaries, the preserve attracts bald eagles, hawks, great blue herons, ospreys, woodpeckers, ever-present cardinals, and dozens more species.
Don't forget to look down, too—wildflowers bloom in spring and summer, including wild ginger, violets, bloodroot, spring beauty, orchids, and lady slippers. The three-mile forested Accokeek Loop features showy mountain laurel in May. You might also spot turtles, muskrats, or beavers in the marsh and open water, plus deer and foxes in the woods.
For more details, go to dcr.virginia.gov and search for Crow's Nest Preserve.
Patuxent Research Refuge
Laurel
1 to 8-plus miles round-trip
Easy to moderate
It may come as a surprise that just six miles outside the Beltway is a vast wildlife refuge—more than 12,800 acres of lake, wetlands, forest, savannah, and meadow that's home to hundreds of bird and wildlife species.
Watch for both green and blue herons as well as white egrets stalking the marshy edges while noisy belted kingfishers swoop over the water. Higher up, acrobatic swallows toil endlessly for insects as vultures and maybe a bald eagle circle in the updrafts. Look to the treetops for the elusive scarlet tanager. Birders will appreciate that more than two dozen warbler varieties visit the refuge in spring and summer.
With about 25 miles of trails and boardwalks to choose from, your easiest introduction to the refuge is at the South Tract, where a visitor's center and impressive exhibit hall are open every day except Thursday, 9 to 4:30. Left of the visitor's center, look for the trail around Cash Lake, a leisurely one-hour stroll.
Don't miss the half-hour electric-tram tours that run seasonally. (No tours Monday or Thursday or in bad weather.) Tickets are free at the desk, first-come, first-served. The refuge is closed on federal holidays but otherwise open from sunrise to sunset.
For more information on the refuge, see fws.gov/refuge/patuxent.
Take the Kids

Huntley Meadows
Alexandria
1 to 2 miles round-trip
Easy
Bald eagles often circle high above. An occasional osprey dives for a meal. Ducks and geese paddle around the sprawling beaver pond while other colorful birds flit around the marsh and along the forest edge.
Spring is when Huntley Meadows really comes alive. And it doesn't take much more to see it than a slow, easy walk.
The smooth gravel paths and boardwalks are generally suitable for wheelchairs. (No bikes or dogs are allowed on the boardwalks.) You're often just a step or two from the water, which is nearly always shallow. Watch for turtles sunning on logs or the furry nose and telltale wake of a muskrat.
Stop by the visitor's center on the way in for a quick primer on the birds and critters to watch for. Birds and other wildlife may be more active early or late in the day, but there's much to see even in the heat of the afternoon. Don't miss the view tower that overlooks the pond and marsh.
For more information, see friendsofhuntleymeadows.org.
Lake Artemesia
College Park
2.5 to 5 miles round-trip
Easy
Do your kids like airplanes? College Park is home to the oldest operating airport in the world—it's where the Wright brothers taught the first US military pilots how to fly more than a century ago. You can learn the airport's history at a worth-the-visit aviation museum, an easy walk from the College Park Metro station.
Also within walking distance is Lake Artemesia, excavated in the 1970s during construction of Metro's Green Line. The lake is surrounded by a mostly level, paved path well suited to young cyclists, kick-scooters, strollers, and wheelchairs. Spring birding is always good, and benches and a gazebo at water's edge offer places to sit a spell.
To get there from the Metro, walk east (not through the tunnel) to Campus Drive. Turn right and follow the sidewalk about 0.3 mile to find the trail on the right, a little beyond 52nd Avenue. Generally keep left at trail junctions to pass around the airport; you'll reach the lake in just under a mile.
For more, see outdoors.pgparks.com/sites/lake_artemesia_natural_area.
Knockout Views

Hog, Wolf, and Chimney Rock
Thurmont, Maryland
1 to 9 miles round-trip
Easy to moderate
Fair warning: The 25 miles of trails in Catoctin Mountain Park are so popular that they can get crowded on weekends. Our advice: Go early or go on a weekday.
There's a reason for the park's popularity. Near the eastern end of the Blue Ridge Mountains, Catoctin Mountain offers rocky overlooks, babbling streams, and such relics of history as an old moonshine still.
For great views and an introduction to the mountain's history, drive up the Park Central Road to Thurmont Vista or the kid-friendly Hog Rock nature loop. Both are scenic and well marked.
If you're looking to burn off breakfast, save Hog Rock for later. Instead, you could aim for a Chimney Rock–Wolf Rock loop, an excellent (i.e., popular) 3.9-mile hike. Grab a map at the visitor's center and start there.
Or leave part of the crowd behind by opting for a 3.1-mile loop to Wolf Rock via Thurmont Vista. To begin, park at the Wolf Rock trailhead on Park Central Road, a half mile from the visitor's center. Hike up and go left to the Thurmont trail, then right to the vista. That's the town of Thurmont below. Follow signs another mile to Wolf Rock, a great spot even without the bigger view over at Chimney Rock. Backtrack a little to catch the return path down to the Wolf Rock trailhead. But don't leave yet: Drive up the road to Hog Rock's one-mile loop with a fabulous view across the hills and farms of Frederick County. Finally, cross the road and amble a third of a mile to the Blue Ridge summit for a last, well-earned view of a good chunk of Maryland.
Vultures sometimes lounge around the rocks. Always watch where you step or put your hands—rattlesnakes and copperheads are occasionally seen in the park.
For more information, go to nps.gov/cato/planyourvisit/hiking.htm.
Buzzard Rock
Strasburg, Virginia
4 to 8 miles round-trip
Moderate to challenging
Fear of heights holding you back? Test your acrophobia with a hike to Buzzard Rock, a craggy ridge with an impressive rock face. The ridge, a 1.5-hour drive from DC, lies west of Front Royal and Shenandoah National Park. Two good trails, east and west, lead to overlooks with major drop-offs a few feet from the path, so keep kids and pets on a close leash. Expect light scrambling at the crest (hiking boots recommended) but no real difficulties for experienced hikers.
The west-side approach off Fort Valley Road is a great hike, not too steep but longer—about eight miles round-trip. A large parking area is shared with the Elizabeth Furnace Picnic Area. From Front Royal, take Strasburg Road to Fort Valley Road (Route 678) and follow the latter south past Mountain Road (it goes to the east-side trailhead) to the picnic area on the left.
Cross a bridge to the main parking lot. A path to the left of the restroom leads to two interpretive loops describing the area's pig-iron history. For Buzzard Rock, walk left past the big stone furnace at the base of the hill to the orange-and-blue-blazed trail. It soon leaves the creek and heads up the mountain to a junction at the ridge (2.3 miles). Hike left another 1.8 miles to the best views atop the cliffs.
The shorter, east-side hike—four miles round-trip—begins at a small parking area 1.2 miles up Mountain Road. The trail to a camp area is fairly gentle. Follow the white-paint blazes to an overlook with fish-hatchery ponds below. For the bigger views, hike up the sharp ridge crest. Stay back from the edge, of course, and listen for rock climbers ascending the steep face below.
For more details, see trailplanner.com/buzzardrock.
River Views

Waterfront Promenade
Southwest DC
1 to 4 miles round-trip
Easy
Haven't yet seen all the changes on DC's Southwest waterfront, including the Wharf development? Consider a stroll on the new promenade, where you'll enjoy wide views of the boat harbor, Washington Channel, and Hains Point beyond. Not to mention that you can choose from many a place at the Wharf to enjoy a drink or lunch, such as Hank's Oyster Bar, Mi Vida, and Kirwan's.
From the Wharf's curved wooden pier near Seventh Street, Southwest, you could saunter north to the historic fish market, as well as a half mile south to the Titanic Memorial, a moving tribute to the men who stayed with the ship.
For a longer outing, catch a water taxi from the Wharf across the channel to Hains Point, with its own water views. From there, it's two miles to the Jefferson Memorial, the FDR Memorial, and the Mall.
Check the calendar at wharfdc.com/upcoming-events for special happenings, including free outdoor performances. The Waterfront Metro station on M Street is close by.
Potomac Heritage Trail
Arlington
3.6 to 7.8 miles round-trip
Moderate
Already walked the C&O Canal towpath a bunch of times? Consider this alternative along the Virginia side of the Potomac River. Start at the parking lot for Theodore Roosevelt Island, a short trek from the Rosslyn Metro station. Pick up the path at the base of the trail bridge that crosses over George Washington Parkway. Expect muddy spots during rainy spells but good tread and good views otherwise.
Hike upriver past a short stretch of noisy traffic to quieter woods beyond. If not for the spires of Georgetown University across the way, you'd think you were hours from the city. You'll reach more good river views at the falls at Windy Run Park in 1.8 miles. Turn back here or keep hiking past a rusted steam boiler, a relic from a quarry dating back more than a century. In another 1.3 miles, you'll reach a second waterfall at Donaldson Run. Just past that, a good sitting rock and a vista await at river's edge.
Either return the way you came or hike up left of the Donaldson Run falls and along the creek, before turning left at the sign for Potomac Overlook Regional Park. The overlook is now obscured, but a very nice trail takes you upslope to the nature center less than a mile from the falls. Look for the docile copperhead snake (behind glass, fortunately). Three rescue birds are housed in a shelter outside, watching the curious humans ogling them.
If the river's low, it's feasible to continue up the Potomac Heritage Trail to Chain Bridge and beyond. But beware—after Donaldson Run, the trail can get rough and rocky. Keep out of the river, of course: The currents can be lethal.
For more information, see nps.gov/pohe.
Walks in the Park

Rachel Carson Conservation Park
Brookeville
1-to-6-mile loops
Easy to moderate
The great American conservationist Rachel Carson lived in Silver Spring later in life—it's there that she finished her landmark book, Silent Spring, in 1962. Fifteen miles to the north, a 650-acre enclave of nature along the Hawlings River—Rachel Carson Conservation Park—was preserved in her honor in 1964, shortly after she passed away.
Visitors will find six miles of good hiking on mostly gentle grades. Start at the trailhead on Zion Road, south of Sundown Road and a little west of Georgia Avenue. For a good loop that takes an hour or less, walk uphill on the grassy path and turn right on the Rachel Carson Greenway Trail. Follow it to a very nice stretch along the river that's lined with blooming mountain laurel in May. Turn left at a signpost for the Hidden Pond Trail, then left again on the Fern Alley Trail, followed by a quick right to continue to Hidden Pond. A left at Fox Meadow Trail takes you back to the start. You can check out the other end of the Rachel Carson Trail at Burnt Mills Park on the Northwest side of Colesville Road.
For more information, go to montgomeryparks.org and search for Rachel Carson.
While you're in the area, you could navigate to Robinson Nature Center, 25 minutes up the road, where a spiraling walkway through kid-friendly exhibits and a planetarium are well worth the admission fee ($5 adults, $3 ages 3 to 17). Outside are gardens, nature play areas, sculptures, and short walking paths. For more information, see howardcountymd.gov/robinson.
Blue Ridge Center
Near Harpers Ferry, West Virginia
1 to 5 miles round-trip
Easy to moderate
A few minutes south of Harpers Ferry, you'll find one of Virginia's largest land preserves. While improvements to the 900-acre park are under way, it currently offers ten miles of easy, interconnecting trails. The more remote paths might be a little confusing, but several trails, including the 1.3-mile Farmstead Loop, are scenic and simple to follow.
The park entrance on Route 671 has a small sign that's easy to miss. (It's two miles south of US 340.) Park below the barn, which serves as an education center and has restrooms. From the kiosk, walk past the gate and Wortman Pond to reach the trails.
The Farmstead Loop is mostly level, except for a moderately steep section halfway around. You'll pass several historic stone and log cabins as well as junctions to other loops—recommended only if you're good with a map and the creeks are running low. Otherwise, you might get your feet wet trying to cross. Near the high point of the loop, short spurs lead to Mountain View Vista and Jonathon's Rock, before descending to Wortman Pond.
For more details, see blueridgecenter.org.
Because you're so close to Harpers Ferry, you could head there next and catch the free shuttle into town. Kids will enjoy the short hike to Jefferson Rock, accessed near the bottom of High Street. The first hundred yards are steee-eep, but you'll be halfway there and the views are worth it. For more information, see nps.gov/hafe.
This article appeared in the May 2018 issue of Washingtonian.