Last week, 23 embassy chefs competed against each other in Events DC's annual Embassy Chef Challenge. Filipina chef Abie Sincioco-Mateo took first place in both the people's choice and judges' choice categories. Her winning dish? Sisig.
Sisig is a popular bar food that's often made from braised and chopped pig's head meat, which crisps up on a sizzling platter. It can also incorporate other offal treats: Sincioco-Mateo's version uses chopped pork cheek, chicken liver, calamansi (the Philippines' answer to key limes), and Thai chilis. If you don't have an invitation to the Embassy of the Philippines, where Sincioco-Mateo works as the ambassador's personal chef, here are a few nearby spots where you can sample the dish yourself.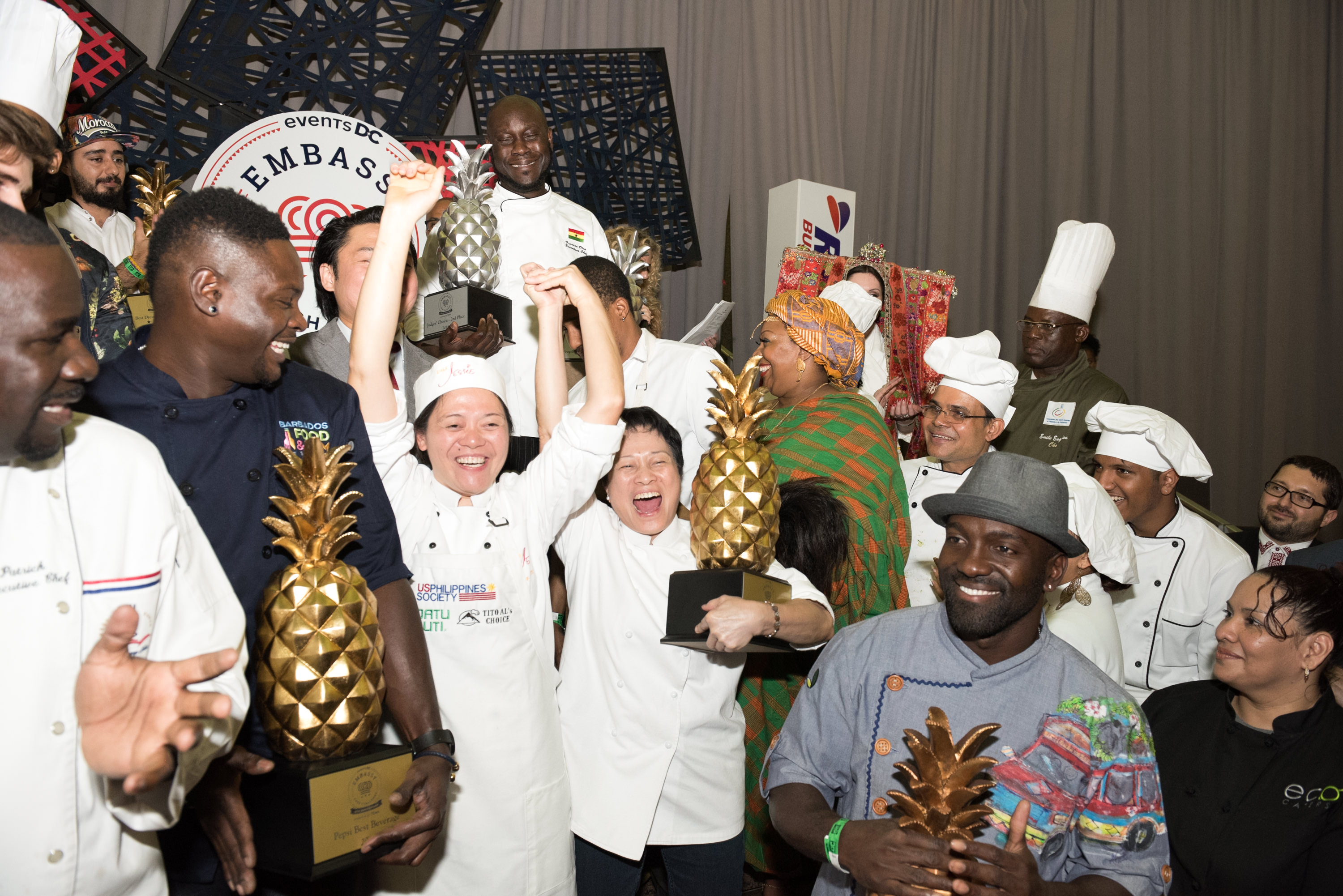 Bistro 1521
900 N. Glebe Road, Suite 100, Arlington
The generous $15 sisig appetizer, served atop a sizzling plate, mixes deep-fried pork belly, grilled pig's ears, and creamy beef liver aioli. The dish gets a sour kick from calamansi and spice from Thai chilis.
Purple Patch
3155 Mt. Pleasant St. NW, DC
This sisig, which derives its flavor from lemon, soy sauce, and birds-eye chilies, is made of pig shoulder and belly instead of head cheese. The entree ($18, with rice) comes crowned with a raw egg, which is quickly cooked by the heat of the sizzling platter. If you're hankering for a more unconventional variation, you can order a sisig burrito ($15, served with fries).
Kuya Ja's Lechon Belly
5268-H Nicholson Ln., Rockville
The newest addition to the Washington area's Filipino food scene takes sisig ($7.99 for an appetizer, $11.59 for a combo) fast-casual. The kitchen slow-braises the ears and snout of a pig with lemongrass and onions, then chops and sautés them with green and red chilis, green bell pepper, and more onion. One break from tradition? They don't use mayo or chicken liver for creaminess, instead adding flavor with soy sauce and chicharrón (pork skin) for crunch.
Filipino markets like Philippine Oriental Market and Deli (3610 Lee Hwy, Arlington) and Filipino Global Supermarket (5509 Leesburg Pike, Falls Church) serve the specialty too. Philippine Oriental Market's sisig uses chicken, not pork, and is a budget-friendly $6.50 per serving, but make sure to pick it up during the hot bar hours, 12-2 PM. Filipino Global Supermarket will prepare a sisig, rice, and egg combo fresh for $7.99. Want to mix it up? They have fish sisig too.